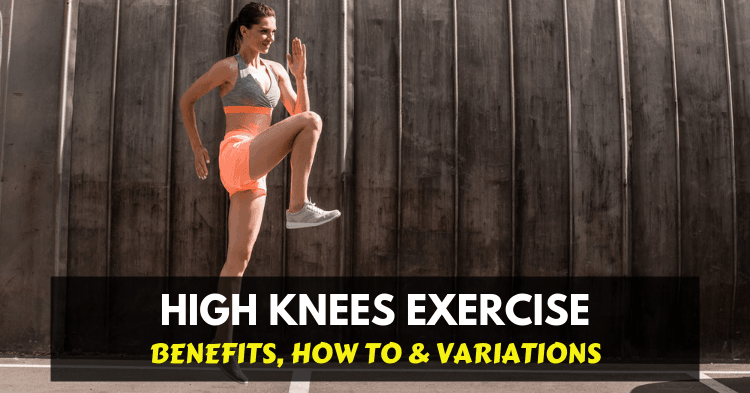 This post may use affiliate links. As an Amazon Associate I earn from qualifying purchases.
The sound of the P.E teacher haunts us all. Screaming "Get those knees up" as adolescents frantically push our legs higher and higher. I'm sure that most of us remember doing high knee exercise at school. We might not know how it can be used as an effective workout now that we are a bit older. Don't worry, we're here to tell you everything that you need to know about high knees!
What are High Knees?
They are an intense, cardio friendly exercise that will target various muscles.
It will tone your core, upper thighs, buttocks and calves. The act of raising your leg will target your hip flexor muscles along your inner thigh and your outer hip areas. This will encourage muscle growth in these areas., In addition, on your standing leg, you will also tone your calf, quads, buttocks and hamstrings.
Besides, because of the cardio friendly element of the high knees exercise, it is also a great exercise for weight loss. The explosive push up of the legs encourages high-intensity training. This has the effect of elevating your heart rate and maximizing calorie burn.
The exercise also provides you with an excellent opportunity to increase balance. This makes it a brilliant exercise for athletes and other people who want to maintain or improve balance. It will also help athletes, especially runners to improve their running form.
How to Do High Knees
The Correct Way to Do High Knees
The exercise itself is quite simple. As you complete the exercise, make sure to ensure that you keep your spine intact. We suggest that you start slowly and build up the amount of time that you are doing this exercise for.
Stand with your feet hip-width apart, with your arms by your side and your feet facing forward.
Raise your left knee to your chest, bringing it as high as you can.
As you go, bring your arms up to follow the natural running motion.
Lightly tough back down on the ball of your feet
Repeat with the other leg.
Repeat for the required time.
And that's it! You now know how to do high knee exercise.
High Knees Variations
We do of course have some variations for you, to make it more challenging.
High Knee Twists
A simple variation on the basic high knees, but one that will target your obliques as well.
Stand with your feet hip-width apart. Stand tall.
Bend your arms and make fists with your hands. Hold them in front of you at chin height.
Raise your right knee and bring it up to your chest. Bring it as high as possible.
As you do, twist your torso to the corresponding side. Your knee should come up between your elbows.
Lower your leg to the starting position and quickly raise the other knee and twist correspondingly.
Repeat until you reach the time limit.
Top Tip: As your knee comes up, crunch your body to create a shorter distance between the knee and elbow. Exhale rapidly during this part of the exercise.
Sliding High Knees
Quite a challenging variation on this exercise. To do this you will need furniture sliders.
Get into a press-up position on the floor. Ensure that you are on a surface that allows the wheels on the furniture sliders to move.
Place your feet on the furniture sliders and hold your balance.
Bring your left knee up to your right chest muscle. Ensure you maintain the press-up position with a straight back.
Quickly move the knee back to its starting position and repeat with the other knee.
That is one repetition completed.
Complete 20 reps.
Top Tip: Whilst you want some explosive speed in this exercise, make sure that you don't go too fast. Otherwise, you will lose your press up position and will find your feet slipping off the sliders!
Steam Engine
This exercise is a similar one to the High Knee Twists. It combines the leg workout provided by the knee raise with an upper-body workout.
Stand with your feet hip-width apart and keep a straight back.
Place your hands behind your head, interlocking your fingers. You want to open your elbows to the side.
Raise your right knee towards your chest.
Simultaneously twist your torso and touch your right knee with your left elbow.
Lower your knee and return your torso to straight. Repeat with your left leg.
Complete all repetitions ort until the time is done.
Top Tip: Start slowly until you are comfortable with the repetitions and then build up the speed. As you get faster, ensure you maintain balance.
You can also increase the difficulty of these variations by altering reps, length of the time or even adding small weights.
Putting High Knees in Your Workout
So we've sold you on why you should use high knees in your workout routines, but how do you incorporate them?
Well, there are two ways. You can either include them as part of your warm-up or include them as a dedicated exercise.
Personally, I like to do both.
The basic knee raise is an excellent warm-up for both a cardio day and a leg day! I then like to use more targeted variations of the exercise as part of my dedicated workouts. For instance, I would use the Sliding High Knees as a leg day exercise or the High Knee Twists when I want to target my abs.
It's the versatility of this exercise that makes it such a great one to include in your workouts!
Conclusion
To conclude, the High Knees exercise is one of the best cardio/weights exercises out there. It targets weight loss and muscle development and can be easily altered to achieve your fitness goals.
I use the exercise, or one of its variations, in every workout- either as a warm-up or as a leg exercise.
It's such a simple and useful exercise that there's no reason not to include it in your workout. So as the gym teachers used to say, "Get those knees up!"