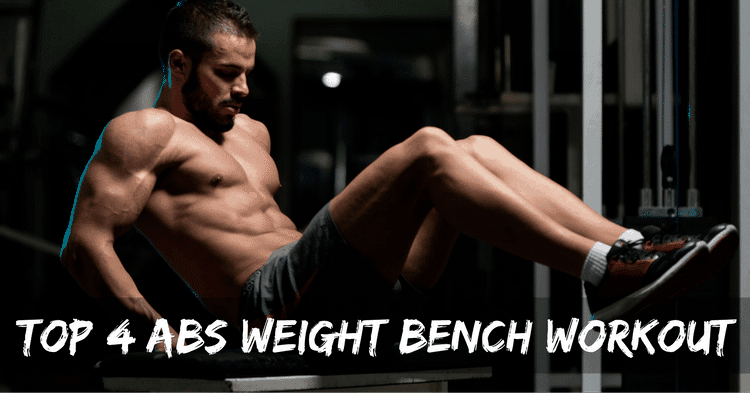 Working as a personal trainer for the last 10 years I have learned a ton about at-home workouts. My clients are constantly asking me for the best exercises that can be done at home with minimal equipment. In this article you will learn about the top abdominal weight bench workout at home!
Having an entire workout program with just one piece of equipment is awesome because it is very affordable and requires very little space. Give this workout a try and I guarantee your entire midsection will be begging you to stop 😉
What makes a good bench abdominal workout program?
In order for any abdominal routine to be complete it needs to be able to hit all parts of your abdominal section evenly. In this routine you will learn exercises that hit the rectus abdominis (six pack muscles), your obliques as well as your internal stabilizer muscles called your transverse abdominis. Most ignorant gym bros just train their superficial six-pack muscles while ignoring the other sections that are just as important.
How to execute your ab weight bench workout
My workout program has a total of four different exercises. One exercise will target your lower rectus abdominis muscles, one will target your upper rectus abdominis, one will target your obliques and one will target your transverse abdominis muscles. There are two different ways you can perform the workout.
You can either do 3 sets of each prescribed exercise with 45 seconds to 1 minute rest in-between each set before moving on to the next exercise. You will repeat the same fashion for all four exercises until all 12 sets are done. This is what I recommend for beginners just starting out with this routine.
The second method is you can perform this routine by doing all four exercise in a circuit training fashion with 20 to 30 seconds in between each exercise. After you complete each circuit of 4 exercises, take a one-minute rest before you repeat the entire circuit again. The goal should be to do the complete circuit 3 times. This way of Performing the routine is much harder and cardiovascular intensive.
Lying Leg Raises
The lying leg raises will Target your lower rectus abdominis muscles primarily.
To perform this exercise you need to lay your back on the bench with your hands over your head grasping the bench for stability. Your butt should be close to the edge of the bench or hanging over the edge slightly. With straight legs you need to lower your feet to the same level of the bench. For an additional stretch, you can go slightly below the bench. Contract your abs and lift your legs up so that you have a 90 degree angle between your upper body and lower body. This is considered one repetition.
An additional tip is to slightly lift your hips off the ground while lifting your feet straight up to the sky.
Repeat for a total of 10 to 15 repetitions.
abs flat bench lying leg raises
Leg Pull-Ins
Leg pull-ins will primarily target your upper rectus abdominis muscles.
While sitting on your weight bench, you need to lean back and lift your feet off of the ground. you should have your hands behind you in order to grab the bench for stability. With your feet out in front of you, bring your knees to your chest and vice versa. Lowering your legs so that your feet come close to the ground will conclude one repetition.
Repeat this exercise for a total of 10 to 15 repetitions.
Seated Flat Bench Leg Pull In - Abs Exercise
Twisting Reverse Crunches
This exercise will work a combination of your oblique muscles as well as your lower rectus abdominis muscles.
The starting position should be the same as when you are performing the lying leg raises. You should be on your back with your hands above your head grasping of the bench. With a slight Bend in your knee, raise your legs so that your knees come close to your chest. As they start moving towards your chest twist both knees to one shoulder. On the next repetition twist both knees towards the other shoulder.
Doing both directions counts as one complete repetition.
The goal should be to do 10 total repetitions.
Twisting Reverse Crunch Bench Exercise
Plank Knee-Ups
This exercise will primarily work the transverse abdominis muscles because you are held in a static position.
The starting position is a push-up position with your feet on the bench and your hands shoulder-width apart on the ground. The goal of this exercise is to have a flat back and flexed stomach. The first part of the movement is to bring one foot off the Bench while bringing that knee close to your elbow on the same side of your body. Bring your foot back to the bench before doing the same motion on your opposite side.
Performing both sides counts as one complete repetition.
The goal is to perform 10 total repetitions.
Prone Plank (Feet On Bench) Alternating Knee-Ups
Conclusion
Well there you have it ladies and gentlemen, the top abdominal weight bench workout at home! This workout can be just as intense as the P90x or Insanity ab programs especially if you do it in the circuit fashion that I explained above.
If you are not used to working out your obliques or transverse abdominis muscles, you can expect to be fairly sore the next day.
The great thing about this very effective workout is that is only requires one piece of equipment.
Now what are you all waiting for? Get out there and try this workout out!