With many people rethinking their gym membership in the past few years, the desire for effective at-home workouts has increased dramatically. Fortunately, you don't need a bunch of fancy equipment for a full-body strength training workout at home or to target specific areas like the shoulders.
If building your shoulder muscles and developing a strong upper body is important to you, you're in the right place. Here are the best shoulder exercises to do at home.
Understanding the Shoulder Anatomy
Before you can plan effective shoulder workouts, you must understand some basic shoulder anatomy. This collection of muscles and joints is one of the most complex structures in the body, making it prone to injury when building strong shoulders.
Here are the various moving parts of the shoulder joint and muscles.
Deltoids
The deltoid muscle is what most people think of when trying to build broad shoulders. The deltoid muscles make up the shoulder cap and are comprised of three separate heads that provide a different range of movements in the glenohumeral joint. The three heads are:
Anterior deltoid
Middle deltoid (or lateral deltoid)
Posterior deltoid (or rear delts)
The delts are also the primary mover in shoulder abduction and arm rotation.
Trapezius
Your trapezius or traps extend from the base of your neck, along the collar bone to the shoulders, and down to your mid-back. These shoulder muscles assist with neck and arm movement, as well as spinal stability. When you roll your shoulders back to improve your posture, it's your traps that aid in shoulder movement. When you lift your arm to throw a ball, it's your traps that pull your shoulder blade into position.
Building your traps adds to the look of your upper body physique and helps improve your shoulder movement while preventing injuries. While most people tend to focus on the delts for building mass and definition, it's important to target the traps too.
Rotator Cuff Muscles
It takes a multitude of muscles working together to move your shoulders, including your back and upper chest muscles. While the rotator cuff musculature isn't the focus for building Atlas-level shoulders, you need to understand how it works to prevent injuries. According to physical therapist experts and relevant studies, it's estimated that 22% of the general population will experience a rotator cuff muscle injury at some point, with the number being higher amongst athletes. These injuries reduce your range of motion and can lead to lifelong pain.
The rotator cuff muscles include:
Supraspinatus- this aids with upper arm stability and lifting.
Infraspinatus. – this aids with shoulder rotation and extension.
Teres Minor – this aids with external rotation.
Subscapularis – this aids with rotation and raising and lowering your arms in front of you.
While these muscles aren't the show muscles that help you build mass, keeping them safe ensures you're able to make progress week after week.
Best Bodyweight Shoulder Exercises at Home
If you're wondering whether you need a gym membership to build stronger shoulders, you don't. There are plenty of options for good shoulder workouts at home with no equipment. Here are the top five bodyweight exercises for home shoulder training.
Pike Push-Ups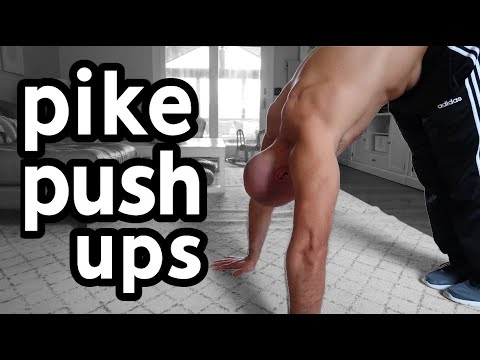 Push-ups are a classic compound upper body exercise that fits well in any fitness routine. The pike push-up is an evolution of this exercise that shifts the onus of the movement to the shoulders. This movement primarily targets the anterior deltoid muscle and lateral deltoid.
How to:
Start in a push-up position on the floor and lift your hips, walking your feet in until you reach an inverted V shape with legs and arms straight.
Keep your core tight, bend elbows, and slowly lower your upper body.
When your head is hovering just above the floor, pause, then reverse back to full extension. That's one rep.
The pike push-up is an advanced movement that takes practice to master. You can modify this workout for beginners by trying decline push-ups instead.
Handstand Push-Ups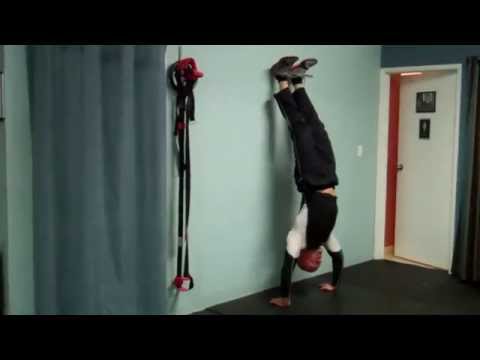 Handstand push-ups are another powerful shoulder burner that's favored among CrossFit athletes. These advanced push-ups primarily target the traps and lateral deltoid muscles.
How to:
Stand facing a wall, allowing approximately a foot of distance to move. You may need to adjust this for your body and style.
Place your hands firmly on the floor, and kick up into a handstand with your feet resting against the wall and legs fully extended.
Tighten your core and slowly lower the top of your head to the floor.
When you make contact, push back up until you're fully extended with elbows locked out.
You should be able to hold a wall-assisted handstand for at least one minute before trying handstand push-ups. To modify this movement for beginners, you can try wall walk-ups by facing away from the wall and walking your feet up the wall while walking your hands closer.
Wide Grip Inverted Rows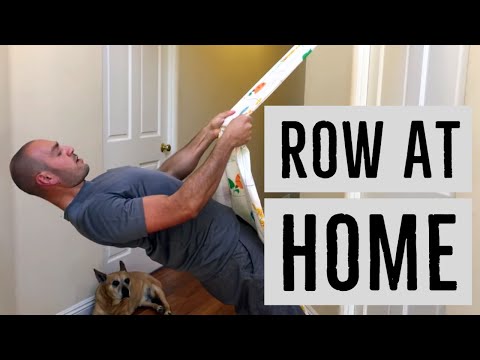 Inverted rows are a great calisthenics workout that hits the rear shoulder head, your traps, and your back muscles. If you don't have a bar or TRX at home, you can try this at the playground or use a bedsheet over a table for a makeshift row bar.
How to:
Set up your bar, TRX, or sheet so your grip will be at approximately waist height.
Position yourself beneath the apparatus facing upward, using an overhand grip to grasp the bar or TRX.
Tighten your core and glutes, then pull yourself upward toward the bar. For a wide grip, your elbows should be at a 90-degree angle at the top of the movement. Your body should be in a straight line, similar to a reverse plank position.
When your chest touches the bar, pause and reverse back to the starting position. That's one rep.
Adjust your grip until you feel the movement in your posterior deltoids. It can also be helpful to be your own personal trainer by recording the exercise from behind to see which muscles are engaging.
Neutral Grip Pull-Ups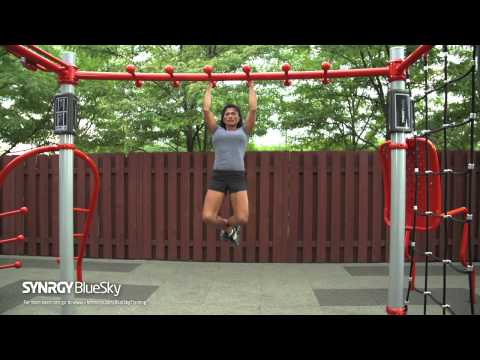 Pull-ups are another powerful calisthenics exercise that engages the back and shoulder muscles. While a wide grip pull-up will better engage the posterior head, a neutral grip— palms facing each other— will also activate the front deltoid muscles. If you don't have a bar at home, you can do this on the monkey bars at the local playground.
How to:
Grab parallel bars with a neutral grip, palms facing each other. Allow your body to hang with arms fully extended. This is the starting position.
Take a breath, tuck your shoulder blades, and pull yourself upward as you exhale.
When your chin reaches the bar, pause, and slowly reverse back to starting position. That's one rep.
If you're new to pull-ups, you can use resistance bands to modify the movement without sacrificing your shoulder strength.
Prone ITWY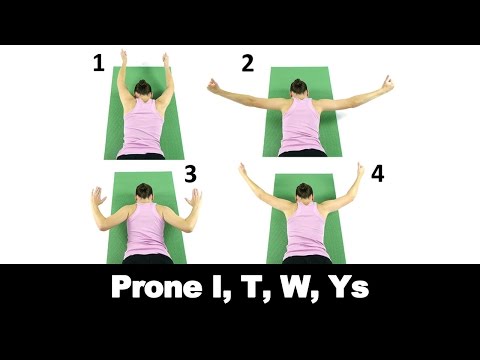 Your rotator cuff musculature will thank you as you move through the various plains of movement and improve your range of motion. This bodyweight exercise will help keep your shoulders healthy so you can bring your best to every shoulder workout at home.
How to:
Lay face down on the floor or on a bench with arms at your side.
Slowly extend your arms overhead so that your body creates a straight line. This is the I position. Pause, then lower back to starting position.
Pause, then extend your arms outward to create a 90-degree angle with your body. This is the T position. Pause, then lower back to starting position.
Pause, then extend your arms diagonally overhead. This is the Y position. Pause, then lower back to starting position.
Pause, then extend your arms outward in the T position while bending your elbows so that your forearms are parallel with your body. This is the W position. Pause and return to starting position to complete one rep.
Slow and controlled movement is the key to this shoulder exercise. You can also hold a light weight or water bottles to enhance the workout.
Best Shoulder Exercises at Home with Weights
While there's no need for a gym membership to build well-developed shoulders, it's beneficial to have a few basic pieces of equipment for at-home shoulder workouts. Grab a set of dumbbells and a few resistance bands, and you're all set.
Here are some of the best shoulder exercises at home with weights.
Shoulder-to-Shoulder Press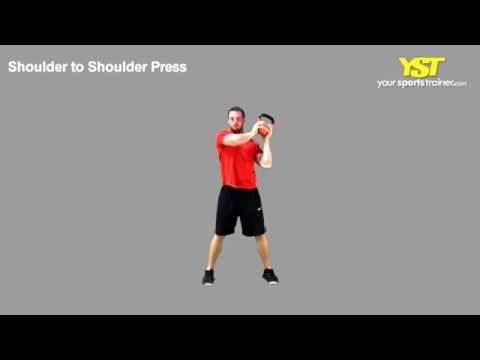 This alternative shoulder press exercise is a rare combination of both unilateral and bilateral movements. While both sides are engaged for each rep, the movement creates a unilateral effect which helps improve targeted isolation in the front and middle deltoid muscles.
How to:
Stand with feet shoulder width apart and hold a dumbbell upright in front of you, with arms extended and soft elbows.
Start by bending your elbows and moving the dumbbell toward your right shoulder. Pause when the top of the dumbbell is just above your shoulder.
Press the dumbbell overhead, extending your arms while keeping your core tight and elbows soft. Pause.
Bend your elbows as you lower the dumbbell to hover over your left shoulder.
Press the dumbbell overhead, extending your arms while keeping your core tight and elbows soft. That's one rep.
The key to perfecting this exercise is keeping the weights under control. It's better to start with a lighter weight until you get comfortable with the movement.
Upright Dumbbell Rows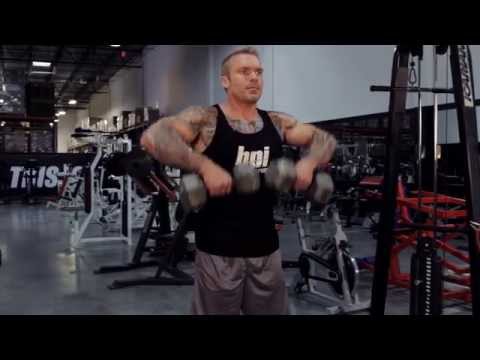 While traditional dumbbell rows rely more on the back muscles, upright dumbbell rows engage both the anterior head and posterior head while also hitting the traps.
How to:
Stand with feet shoulder width apart while holding two dumbbells with an overhand grip.
Slowly lift the weights while keeping them close to your torso, letting your elbows lead the charge as they bend.
Pause when your elbows reach shoulder height— do not go above this level, or the movement shifts from the delts to the shoulder joint and can cause an injury.
Reverse back to the starting position to complete the rep.
While you can use heavier weights for this at-home shoulder workout, it's integral to keep your elbows above your forearms and not to extend past shoulder level.
Dumbbell Raise Complex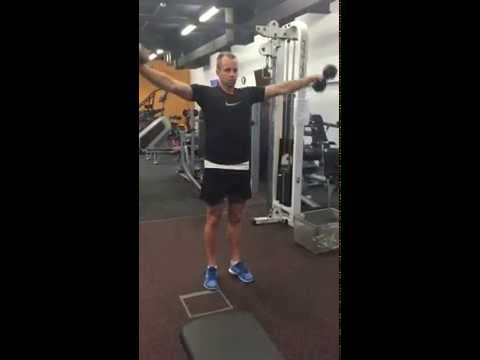 Do you know what's better than a lateral raise and a front raise? Doing them together to build superhuman strength and three-dimensional shoulders. As the name implies, front raises hit the anterior delt while lateral raises hit the lateral delt. The dumbbell raise complex hits both.
How to:
Stand with feet hip width apart and two light dumbbells in an overhand grip. The dumbbells should be resting at your sides.
Keeping your arms straight and core tight, raise the dumbbells to your side until they reach slightly below shoulder height.
Pause and slowly lower back to starting position.
Pause, then extend your arms straight in front of you, lifting the dumbbells in an upright position with your palms facing each other.
Pause at chest height then reverse the movement to complete the rep.
You'll want lighter weights for this movement— a couple of water bottles are appropriate if you don't have light dumbbells. You can also switch to a staggered stance with one foot slightly in front of you for the front raise portion.
Perfect Your Home Shoulder Training
Use these effective exercises to perfect your home shoulder training and build massive shoulders without fancy equipment or a costly gym membership. With time and dedication, you'll see progress and get the shoulder boulders of your dreams.