While building big shoulders is a common aesthetic goal, the path to shoulder boulders also plays a functional fitness role. Maintaining shoulder health is one of the most important focal points of training, as it's an important muscle group that connects with other major muscle groups in the upper body.
Compound exercises build strong shoulders that look great and help prevent injuries. Here are seven of the best compound shoulder exercises to add to your strength training workouts.
Shoulder Anatomy 101
The shoulder musculature is quite simple. Your shoulder consists of the anterior, medial, and posterior deltoids, and the teres major— the first three of which are the common focal points for building muscle mass. However, when you start getting into the joints and supporting muscles, things get complex.
Your rotator cuff muscles include the supraspinatus, infraspinatus, subscapularis, and teres minor. While these muscles aren't a focal point for building lean mass, it's crucial to protect them.
The shoulder muscles also interact with the chest and back, making them perfect for compound movements that engage numerous muscle groups.
Shoulder anatomy could fill a book, but the important thing to remember is practicing proper form and controlled movement when targeting this important part of the body.
With that in mind, here are the best compound exercises for shoulders.
1. Seated Single-Arm Dumbbell Press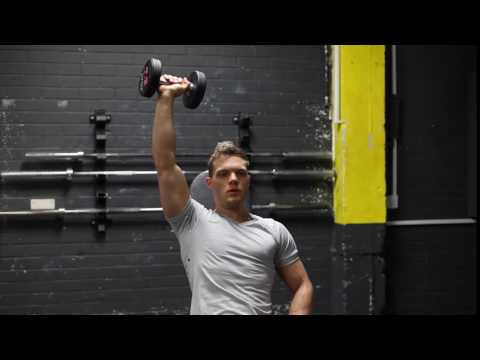 The dumbbell shoulder press is a classic accessory movement that yields big results. This movement targets the anterior deltoid and medial deltoid while also hitting the chest. By sitting for this movement and working unilaterally, you make it harder to cheat yourself with leg drives or momentum. The exercise consequently results in bigger shoulders faster, making for both an effective compound shoulder exercise and a strong consideration for shoulder muscle exercises in general.
How to:
Sit on a bench with one dumbbell held in an overhand grip. Raise the dumbbell so that your palm is facing forward with your upper arm at shoulder level, parallel to the floor.
Brace your core, and extend the dumbbell overhead until fully extended with the dumbbell stacked over your shoulder.
Pause, and slowly lower back to the starting position.
Complete all reps on one side before switching the dumbbell to the other hand.
Don't let your elbow fall below parallel when you return to the starting position when completing this movement. It can be helpful to place your other hand on your abdomen to ensure your core is engaged.
2. Supported Incline Dumbbell Row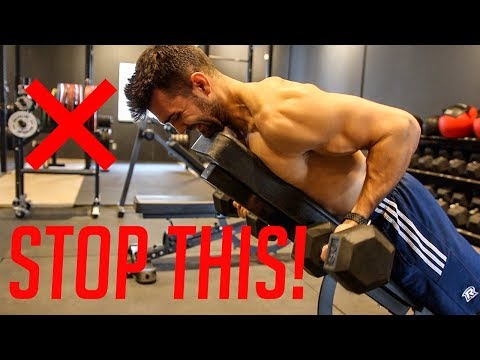 Incline dumbbell rows are one of the best compound movements for shoulders that don't require a full gym set up. It's also one of the best compound shoulder exercises to hit the medial deltoid while also engaging the back muscles.
How to:
Set up a bench at a 45-degree incline. Straddle the bench and allow it to support your weight as you lean forward. Hold two dumbbells in an overhand grip, letting your arms hang at full extension.
Pull the dumbbells toward you by squeezing your shoulder blades together and allowing your elbows to bend. Stop at the top of your range of motion, with your upper arms in alignment with your shoulders.
Pause, squeeze, and reverse the movement until you reach the starting position. That's one rep.
Keep the weight light until you perfect the form to prevent shoulder injuries during this movement.
3. Barbell Military Press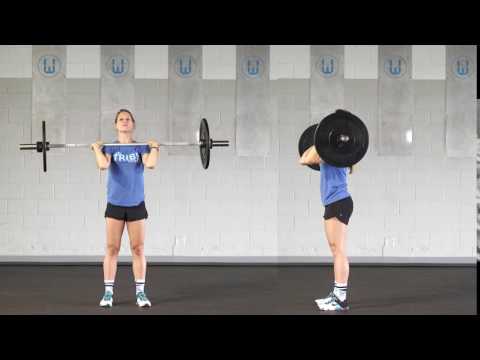 The barbell military press— sometimes called the strict press— engages the shoulders, chest, triceps, and back. This lift is often programmed in powerlifting to help improve one's bench press and works wonders in building strength and muscle mass.
How to:
Place a barbell in a rack at chest height— approximately at the top of your armpits. Grab the bar with an overhand grip, placing your hands in front of your shoulders or slightly outside.
Unrack the bar in a front rack position, and step back, placing your feet shoulder-width apart— this is the starting position.
Brace your core, keeping your pelvis tucked, and push the bar overhead until your arms reach full extension.
Pause and reverse the movement until you reach the starting position, keeping your elbows tucked to protect the shoulder joint.
Keep your pelvis tucked to keep the pressure off your lower back. Remember to keep your legs still and locked during the movement, using only your upper body to move the bar.
4. Pike Push-Ups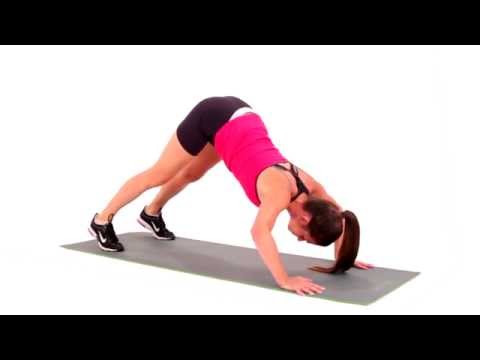 For an effective bodyweight compound exercise, you can't go wrong with pike push-ups. The primary movers in this push-up variation include the rear deltoid muscles and triceps. The secondary movers include the traps, lateral delts, and serratus muscles.
How to:
Start on the floor in a high plank position, with your hands placed just outside shoulder-width.
Lift your hips to create an upside-down V with straight legs and arms, AKA, the downward dog yoga position— this is the starting position.
Bend your elbows, keeping them tucked to your sides, and lower your head toward the floor.
Pause with your head slightly above the floor, and push yourself back up to the starting position. That's one rep.
The positioning of the pike push-up puts the onus on the shoulders to bear the load. You can also elevate your feet for a handstand push-up progression.
5. Arnold Press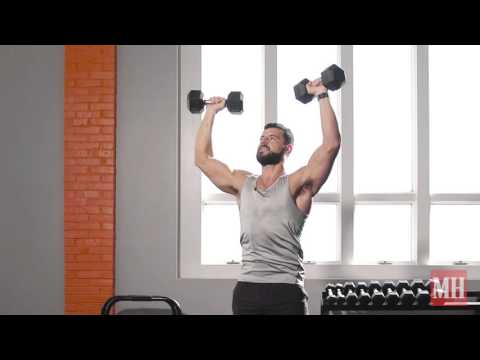 This shoulder press variation gets its name from the one and only Arnold Schwarzenegger. Unlike a typical shoulder isolation exercise, the Arnold press hits all three deltoids in equal measure. This shoulder exercise also engages the back and core muscles.
How to:
Sit on a bench with two dumbbells held in an underhand grip at shoulder height. Your elbows should be bent with your palms facing your body, similar to the top of a bicep curl.
Brace your core, and flare your elbows out while twisting the dumbbell and pushing upward to full extension with your palms facing forward.
Reverse the movement, bringing your elbows back toward each other while lowering and twisting the dumbbells so that your palms are facing you once more.
This shoulder workout is very similar to the shoulder press with a little more panache. The fluidity and position changes are an efficient way to hit multiple muscle groups.
6. Cable Machine Wolverines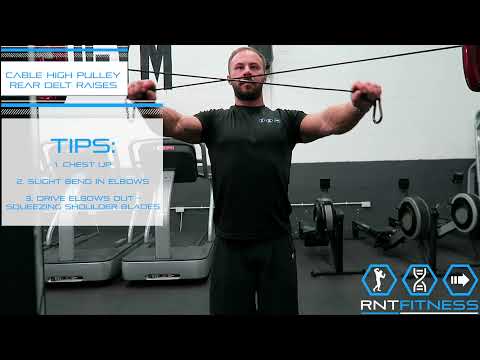 Cable machine wolverines, AKA cable high pulley lateral extensions, earned their name from Marvel's favorite X-Men hero, Wolverine. Uncoincidentally, Wolverine is depicted by Hugh Jackman at his best, making his shoulders a common goal for bodybuilders. This shoulder exercise effectively hits the rear delt while engaging the chest and back muscle groups.
How to:
Set up two cable pulley machines facing one another. Adjust the cables to the highest possible setting and remove the clips and handles.
Stand between the two cable machines with feet hip-width apart. Cross your arms to hold each end of the cable with the opposite hand in an overhand grip— left hand gripping the right cable and vice versa.
Brace your core and pull the cables, uncrossing and extending your arms until they are extended to the side.
Pause and squeeze your shoulder blades before reversing the motion and recrossing your arms over your chest.
This exercise is a fun way to shake up your shoulder workout routine and effectively hit your rear delt muscles, which can be challenging in both compound and isolation exercises.
7. T-Bar Rows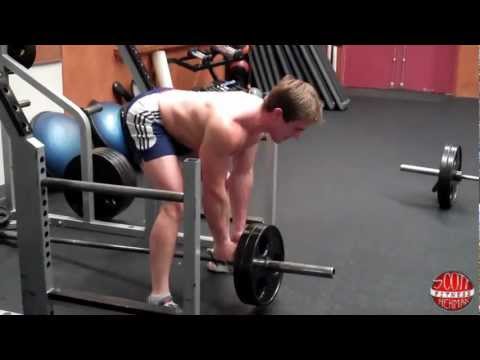 T-Bar rows hit many different muscle groups in one fell swoop. This compound shoulder exercise hits the lats, posterior deltoid, traps, rhomboids, teres major, and teres minor. It also enlists the biceps, triceps, hamstrings, glutes, and core as stabilizer muscles throughout the movement.
How to:
Place a barbell into a barbell landmine or brace it in the corner of a room with a heavy dumbbell on top. Place the desired weight on the bar using plates. Use a double D handle or T-bar grip as a handle.
Straddle the bar facing the handle furthest from the wall or landmine. You should be able to reach the plates.
Hinge your hips back, keeping your core braced and spine neutral, letting your knees bend as you grab the handle with arms fully extended.
Pull the bar toward your chest with your elbows tucked at your sides.
Pause at the top of the movement, squeezing your shoulder blades together, then reverse back to the starting position. That's one rep.
There are many attachments and variations that can impact how this exercise hits the different muscle groups. Your height and arm length may also have an impact. Play around with your positioning to find the sweet spot.
Conclusion
These effective compound movements for shoulders are a great addition to any strength training routine. Focus on proper form and control to protect your shoulder joint while building the shoulder boulders you desire.