This post may use affiliate links. As an Amazon Associate I earn from qualifying purchases.
We all know why the push-up is great. But there is more to the push-up.
By bringing the hands closer together and forming a diamond shape, the exercise becomes more difficult and yields additional benefits.
Also called the triangle push-ups or the close hand push-ups, this is an exercise you want to include in your workout for several reasons. Here they are:
Diamond Push Ups Benefits
1. Increased Tricep Activation
Due to the narrower position of the hands, more of the load is placed on the tricep. In fact, in a study by the American Council on Exercise (ACE), they found that the diamond push-up is the most effective tricep exercise, followed by dips and tricep kickbacks. This makes them a top choice for people who want to strengthen their triceps or bring more definition to them.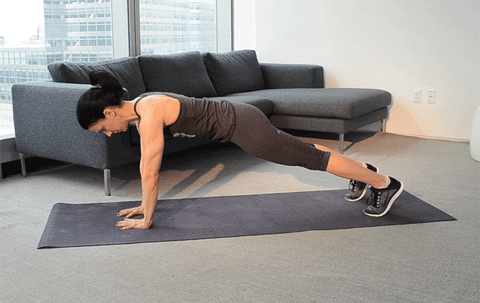 2. Great Chest Workout
Wait, isn't it common knowledge that the diamond push-ups activate the chest less? Well, this "common truth" isn't true at all. What the narrow position does is place more stress on the pec minor and the pec major, compared to the wide position, which is wrongly thought to activate the chest more (Source).
Contrary to common sense, the only thing the wide version does is put your shoulders in an unnecessarily bad position, which can be a cause of injury.
3. Progression Towards One Arm Push-ups
Many people want to get to the one arm push-up simply because it is badassness personified. But few know the right progressions. Once you are comfortable with normal push-ups (you can do at least 20 perfect repetitions), the next step is the triangle push-up. Then, you can progress to archer and finally, one arm variations. By then, you won't have to worry about the size of your triceps (or maybe because they will be too big).
4. Greater Balance Requirement
Since the hands are closer, they form a smaller base of support. If you couple that with the feet being together, you get an exercise that has a big balance component. Therefore, it will tax your core more: especially your internal and external obliques, the muscles responsible for trunk rotation.
5. Strong(er) Shoulders
The push-ups all work the shoulders, especially the anterior deltoid. However, diamond push-ups put more pressure on the shoulder joint, which is excellent for preparing you for further variations, in particular, the pseudo planche push-up, which has the highest anterior deltoid requirements.
Diamond Push-up How-to
Set up like you would for a normal push-up: body tight and straight, hands underneath the shoulders, arms extended.
Then keep that same position and bring your hands closer to make a triangle shape. The ends of your thumbs and first fingers should be touching.
From there, bring your chest down to the hands slowly and explode back up. Repeat until those triceps burns.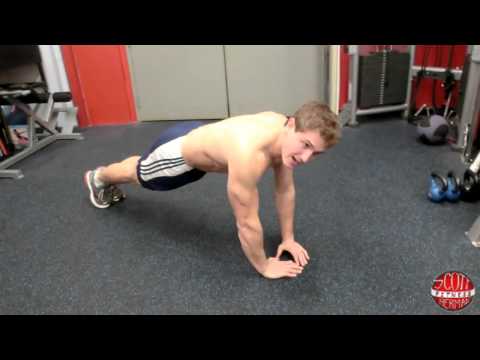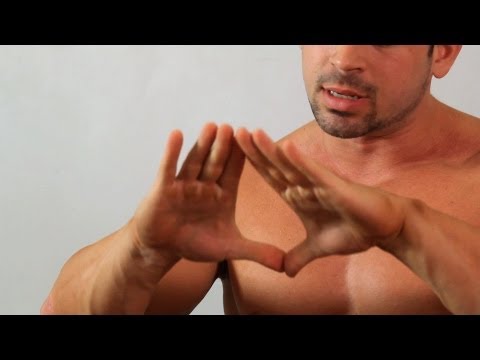 Common Mistakes
Remember not to flare your elbows out too much and keep them close to your body. The temptation to do it with wrong form is bigger than with regular push-ups as there is less space to fit your arms, but keep your form strict and you will reap the rewards. A 45-degree angle between your arm and your body is what you should aim for.
Also, don't allow your hands to go in front of your shoulders. In the bottom position, your hands should touch your sternum. If you want even more tricep activation, you could move your hands closer to your face: that would be called tricep push-ups and are a different, more advanced bodyweight exercise.
Sometimes people start with the diamond push-ups too fast and get elbow pain. That is because the narrow hand position places a lot more load on the elbows. If you experience pain, rest and then return back to normal push-ups and this time, slowly bring your hands together over the course of a few weeks. Remember, injuries only prolong the time it takes to get to your goals.
Frequently Asked Questions about the Diamond Push Up
Here's a collection of common questions about the diamond push up and answers to them, based on science.
What Muscles Do Diamond Push Ups Work?
The diamond push up works the triceps, the chest muscles, particularly the pec major, and the anterior deltoids. The rectus abdominus, obliques, glutes, and quadriceps act as stabilizers to keep your body in a straight line.
Do Diamond Push Ups Work Upper Chest?
No, the diamond push up is not the best choice for training the upper chest. The upper chest is also called the clavicular pectoralis and is best trained with inclined exercises, like the pike and handstand push ups.
If you're looking for some great upper chest exercises, check out this article.
Diamond Push up Vs Normal Push Up
The diamond push up puts more emphasis and is better for building the triceps and the pec minor compared to the regular push up. For some people, it is also harder than the regular push up, but some might find the reverse to be true.
Diamond Push up Vs Wide Push Up
The diamond push up is better than the wide variety in almost every way: it's better for developing the chest and the triceps. The only area where the wide push up showed greater activation was the serratus anterior muscle. Contrary to popular belief, the wide push up offers no benefit over other variations, and could potentially place more stress on your shoulders that could lead to an injury over time.
Diamond Push-up Form
When performing the exercise, focus on the following:
Make a triangle shape with your palms
Keep your elbows close to your body
Keep your hands directly below your shoulders
Keep your body in a straight line from your head to your toes
Extend your arms at the top of each repetition
Go slow on the way down and explosive on the way up
Diamond Pushups for Chest
The diamond push up is effective at targeting the pec major and pec minor, and is great for complete development of the chest together with an exercise that builds the upper chest, like the pike push up.
Diamond Pushups for Tricep
The diamond push up is the best push up variation for the triceps. In fact, according to the American Council on Exercise (ACE), it is the most effective triceps exercise.
Can't Do Diamond Push Ups?
There are a few solutions to this.
If you can do regular push ups, but the diamonds are giving your trouble, slowly start bringing your hands closer from workout to workout.
If you can't do full push ups yet, it's best to do them on a raised surface, like a bench. Do not do them on your knees, because that version can lead to incorrect form and less core activation.
If you can do regular push up, but experience pain when you go narrow, there might be a problem with your triceps. Consult with a health professional.
How Many Diamond Pushups Should I Do?
There's only one correct answer: one more.
But seriously, a good goal to aim for would be 5 sets of 20 reps. After that, you will be ready for a more difficult variation or for adding weight.
If you're not there yet, do 3-5 sets of push-ups. Don't go all out on any set but the last one. A sample workout may look like 12, 10, 8, 7, 9, if you go to failure on the last set.
Each workout adds a few more repetitions and try to beat your best last time. Over a few months, you will get stronger and be able to do much more.
Wrap-up
To recap, diamond push-ups are a great choice for building the size and strength of your triceps, as well as the chest and deltoids. When regular push-ups become too easy, they are a great progression and a stepping stone to advanced push-up variations. They should be a staple of your workout or interchangeable with dips for maximum tricep and chest gains.