Forearms are that one muscle we tend to not place too much focus on in the gym. The consensus is something along the lines of, "your forearms get enough stimulation from your other upper body exercises". This is not true.
Whilst your forearms do get stimulation from other arm exercises, it is not enough to encompass your forearm training. But fear not, because in this article I'm going to be sharing with you 16 of the best exercises for strengthening, conditioning and shaping your forearms.
Benefits of Training Your Forearms
There is a direct correlation between the condition of your forearms and your grip strength.
Weak forearms = poor grip strength = less output during (a lot of) exercises.
Your forearms can, therefore, be regarded as an integral link in your training chain and they shouldn't be neglected! Allocating specific time and exercises to developing your forearms will have a positive effect across all other exercises you perform.
Apart from the strength benefits, there are also the aesthetic benefits of not leaving your forearms out of your training regime. Shapely, defined forearms don't go astray beneath shapely and defined shoulders, biceps and triceps!
Before we move onto the list of amazing forearm exercises you can start doing, I want to touch on forearm anatomy briefly, so you understand the how's and why's!
Our forearm muscles are split into two – the brachioradialis and the flexors.
The brachioradialis are the bigger of the two, responsible for the flexing/contracting of your forearms. They are the visible forearm muscles. The flexors, however, are responsible for forearm supination – that is the motion of turning your forearm to have your palm facing upwards.
16 Forearm Exercises
This comprehensive list of forearm exercises will give you plenty to work on! To make things easier, I have split them into two categories: weighted (added weight) forearm exercises and bodyweight forearm exercises.
It's a given that more equipment-based forearm exercises exist than their non-weighted/bodyweight counterparts. There are, however, still plenty of bodyweight exercises to keep you busy if you do your workouts from home or have limited access to gym equipment.
Weighted Forearm Exercises
Below you will find a list of forearm exercises that use additional weight to your bodyweight and require a range of gym equipment to perform, such as: dumbbells, barbells, a cable machine, an EZ bar, a hand gripper and a bench.
1. Forearm Squeeze
This exercise provides a great way to increase your overall forearm and hand strength. Consistently performing the hand gripper forearm squeeze over time will assist in bulking up your forearms too! You do need a hand gripper or barbell clip to do this exercise, but other than that it can be done anywhere, anytime!
I recommend doing one hand at a time to fully focus on each individual forearm contraction.
Hold the barbell clip or hand griper in your palm between your fingers and thumb pad.
Squeeze the ends of the gripper together, fully contracting your forearm, and hold for a second or two.
Slowly release back to starting position where the ends of the gripper should be fully open.
Try squeeze closed over 2 seconds, hold squeezed for 2 seconds and release over 2 seconds, with minimal time at rest (starting position).
Pro tip: If you get bored of the standard hand gripper, try the individual finger gripper which will challenge your coordination as well as your forearm strength!
2. Dumbbell Wrist Curls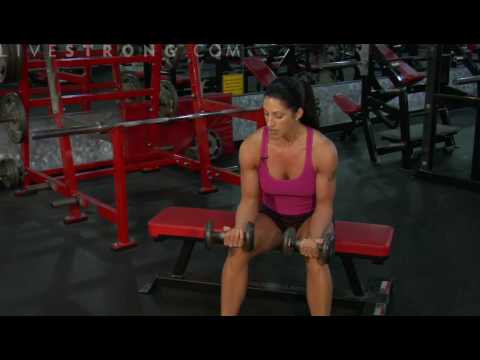 The movement this isolation exercise provides is slight, yet the exercise itself is substantial in strengthening your wrist flexors and, therefore, your forearms. Dumbbell wrist curls are harder than they look and should be performed with a light weight at first.
Have your forearms on a bench or resting on your legs with your hands extending just over the bench/your knees.
You should have a dumbbell in each hand with your palms facing upwards.
Ensure that your elbows and wrists are at the same height to assist you in maintaining the appropriate tension throughout the exercise.
Let the dumbbells roll down towards your fingertips allowing your wrist to bend backwards slightly.
Then squeeze the dumbbells and curl them upwards, closing your fists and flexing your wrists before returning to starting position.
Your forearms should stay put throughout!
Ease into it: If you're just starting out in the gym scene, or you haven't paid much attention to your forearms before now, it's best that you ease into this one to avoid injury. You can do this by following the same technique as mentioned above but implementing the use of a barbell across both your hands rather than a dumbbell in each of them.
3. Reverse Dumbbell Wrist Curls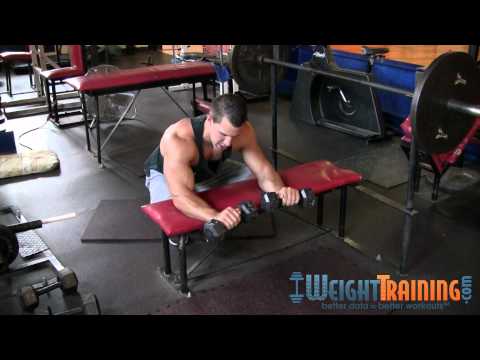 Like the standard dumbbell wrist curl, but in reverse!
It's worth mentioning that this version of the dumbbell wrist curl is especially effective at building outer forearm strength and size. So, if your goal is balancing out your upper body from an aesthetic standpoint, this is one for you to take note of!
And remember – start light and build up from there!
Have the underside of your forearms on a bench or resting on your legs with your hands extending just over the bench/your knees.
You should have a dumbbell in each hand and your palms should be facing downwards.
Have your elbows and wrists at the same height to help you maintain the resistance throughout the full range of motion.
Let the weight of the dumbbells pull your wrists downwards to begin with.
Then flex your wrists upwards, lifting the dumbbells, whilst keeping your forearms flat on the bench/your legs.
Hold for a second in the flexed (top) position before returning to your starting point.
Pro tip: To take the isolation component of this exercise one step further, do one arm at a time for the full 'mind-to-muscle' experience.
4. Behind-the-Back Barbell Wrist Curls
A complex looking exercise, though if the correct set up is followed, it's easy to perform and is a highly effective exercise for increasing your forearms' overall flexor power! As this exercise has a power focus, it's important to ensure that each repetition is performed quickly!
Because this exercise is done in a standing position with your arms hanging downwards instead of resting on a stable surface, additional strain is placed on the ligaments and tendons surrounding your hands and fingers. Therefore, the weight that you use for these wrist curls will not correlate to the weight you use in other wrist curls!
Rack a barbell at the height of your hands on fully extended arms in standing position.
Standing facing away from the barbell rack, grasp the barbell shoulder width apart, behind your body with your palms facing backwards.
Lift the barbell off the rack and let your arms hang in a fully extended position.
Keeping your arms still, flex your wrists to curl the barbell upwards and away from your body and then slowly relax your wrists and lower the barbell down to starting position.
Caution: There are recommendations floating around the internet that advanced lifters should be making use of a 'false grip' to maximize the effects of this exercise. Whilst a false grip (thumb-less grip) does place more load on your forearms, it also makes it easier for the barbell to slip out of your sweaty hands. Just a friendly forewarning.
5. Towel Grip Cable Row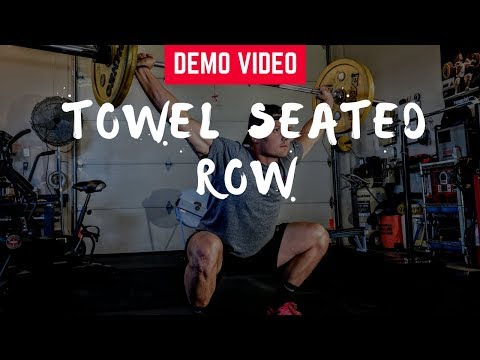 The grip that is required to grasp a towel as opposed to a metal handle will place extra load on your forearms. Take the cable row, for example. It is primarily a back and biceps exercise, though when performed with a towel in place of a traditional handle, like in this version, it becomes a targeted workout for the forearms too.
Loop a small towel around each side of the seated cable row handle (whether using a narrow grip or wide grip handle).
Sit in the row machine, gripping the ends of the towels in each hand with your palms facing each other.
Commence seated in an upright position with a small bend in your knees and your arms fully extended.
Squeeze the towels a pull the cable towards your stomach, elbows skimming past your sides.
Hold in the end position for a second or 2 before returning to the starting position.
Ease into it: I find that the seated version of this exercise places a lot more load on your upper body due to the stability provided by the bench. To make it a little lighter on the arms, the standing version is an option for you. Standing in front of a pulley machine as opposed to sitting on the seated row, provides a lot less stability, meaning you will be sharing the load around more of your body.
6. Dumbbell Hammer Curl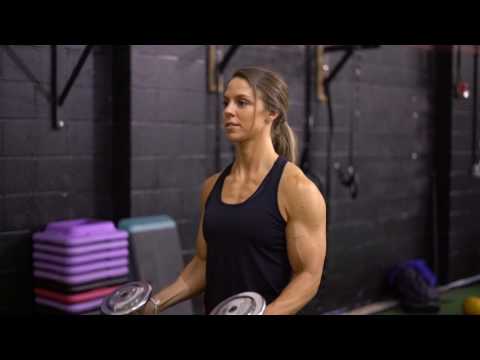 Isn't this a bicep exercise, I hear you ask? Well, yes, it is! But it works wonders for our forearms too.
The maintained hammer grip positioning of the hands during this exercise places a large emphasis on our forearms. Large enough of an emphasis that the dumbbell hammer curl totally has a place on this list of forearm exercises! It just means that you can give your biceps some love whilst you're at it too. Winning!
Hold a dumbbell in each hand on extended arms by your sides.
Your palms should be facing your body.
Keeping your elbows by your sides and your forearms and wrists free of any rotation throughout, curl the dumbbells upwards towards your shoulders.
Hold for a second at the top and then lower back down in a slow and controlled motion.
Caution: When lowering the dumbbells back down, ensure you aren't letting your arms go behind your body. This is usually followed by the swinging of the dumbbells back up into your next repetition rather than curling them up with muscle contraction only.
7. Reverse Barbell Curl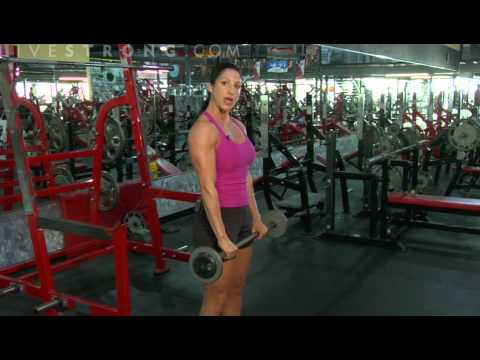 This variation of the standard barbell curl will see you curling the barbell upwards in an overhand position, thus making it a 'reverse' curl. It is a great exercise for building strength through your biceps and forearms. In terms of your forearms, the reverse barbell curl targets your brachioradialis which is the larger of your forearm muscles.
Grip a barbell shoulder-width apart with an overhand grip.
Begin with your arms fully extended in front of your body.
Keeping your elbows by your sides, curl the barbell up towards your chest.
Hold and squeeze at the top before returning to starting position.
Make sure your repetitions are slow and controlled, specifically the eccentric phase/the way down.
Pro tip: Try this tempo for an insane forearm burn – 2 seconds up, 1 second at the top, 4 seconds down, 0 seconds at the bottom.
8. Farmers Carry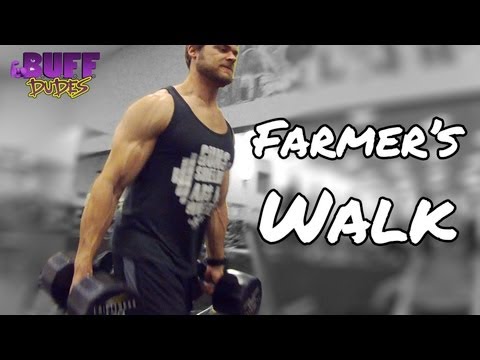 This exercise works a lot of things, but what you'll probably notice screaming first is your forearms! They get absolutely annihilated in this exercise (in the best possible way). Though the farmers carry is known primarily for its conditioning benefits, this exercise will help you pack mass onto your forearms as well as, if not better than, any other exercise on this list!
Hold a dumbbell in each hand on fully extended arms by your sides, with your palms facing your body.
Stand tall, draw your shoulders back and engage your core.
Walk for the set distance (usually 40m or so).
Ease into it: The aim of the game in the farmers carry is to use as much weight as you can safely manage to carry. A good approach if you're struggling to maintain your grip for the full 40m, for example, is to break the 40m up into two or three sections instead of lowering your weights.
9. Zottman Curl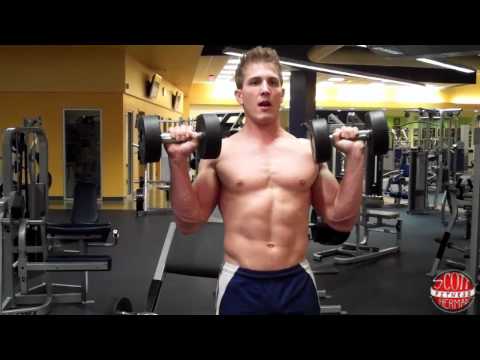 This version of the traditional dumbbell bicep curl requires you to switch your grip at the top of the curl from underhand to overhand. This means you return to starting position in a reverse curl position. The wrist rotation at the top of the curl and the overhand positioning in the eccentric phase is what makes the Zottman curl a prime forearm exercise.
Start by standing with your feet shoulder-width apart and a dumbbell in each hand on extended arms by your sides.
Your palms should be facing your body at the start of the curl.
As you begin to curl the dumbbells upwards, rotate your wrists to a supinated position (palms facing up).
At the top of the curl, rotate your wrists 180-degrees into a pronated grip (palms facing down) and return to starting position.
You should finish with your arms fully extended and the dumbbells back by your sides with your palms facing your body.
Caution: Like the dumbbell hammer curls, be cautious when lowering the dumbbells back down to starting position. Don't let your arms flop back down and go behind your body, as this will encourage you to swing the dumbbells back upwards using momentum rather than your muscles.
Bodyweight Forearm Exercises
The next lot of forearm exercises you will read about, in terms of resistance, use only your bodyweight. Believe me when I say this does not mean they are the "easy ones"!
Whilst there is no requirement for any added weights in any of these exercises, you will need a pull up bar, smith rack/racked barbell and monkey bars to be able to perform some of them.
10. Monkey Bar Hand Walk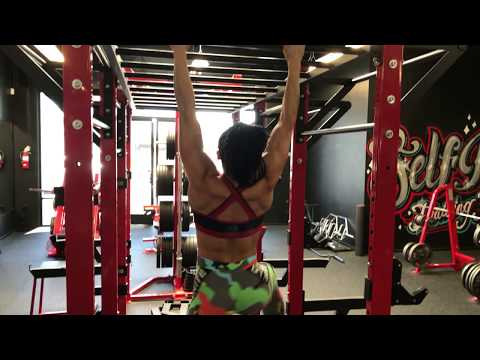 If you were a fan of jungle gyms as a kid, you're going to love this one! Technically, it's simple to do, but you're probably going to find it a bit harder than when you were 5. More weight to carry!
The monkey bar hand walk will highlight, very quickly, if your forearms are a weak link in your overall functional strength. Similarly, it is a great indicator of progress, if you perform it consistently enough.
Start with an overhand shoulder-width grip on 'bar 1'. Your body should be dangling in a straight-line underneath you.
Grip 'bar 2' with your right hand and swing yourself forward to grip 'bar 3' with your left hand.
Repeat until you have reached the end of the monkey bars or completed your set amount of repetitions.
Ease into it: If swinging to alternating bars with each hand is proving too much of a feat to start off with, you can take it one bar at a time. I.e. start on 'bar 1' with both hands, grip 'bar 2' with your right hand and then your left before moving onto 'bar 3'.
11. Towel Grip Pull Up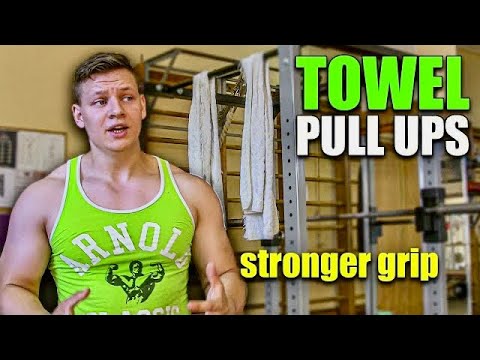 The towel stars once again in another super-charged forearm exercise! This version of the pull up will place a lot more load on your forearms as you are required to grip and squeeze the ends of the towel to pull yourself up on, rather than a fixed bar. It's important that you place the towels no further than shoulder-width apart to maximize forearm activation.
Loop two towels around a pull up bar, somewhere under shoulder-width apart.
Grip the towels (close to the bar) with your palms facing each other.
Allow yourself to be in a full hang position before pulling yourself up towards the bar.
Hold for a second at the top of the pull up and then lower yourself down slowly – do not let yourself drop or jerk down!
Pro tip: To keep the maximum load on your forearms and maximum time under resistance, perform only the top 50% of the pull up – from a 90-degree bend in your elbows and upwards.
12. Finger Press Against Wall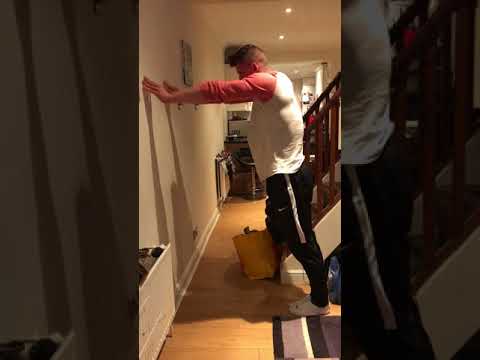 Performing this exercise is a great way to isolate your forearm muscles as not much else is required. Our fingers are controlled by tendons in our forearms. This exercise requires them to flex under our bodyweight, on and off, throughout the movement.
The finger press using a wall is a great starting point to being able to do the fingertip push up, which will be touched on later in this 'bodyweight forearm exercises' section.
Place your palms flat against a wall at shoulder height and at shoulder-width apart.
Take a few steps away from the wall, have your arms fully extended and your body in a straight line from your head to your heels.
Keeping your arms straight, push up onto your fingertips, then flatten your palms against the wall once again.
The presses should be done in reasonably quick, rhythmic repetitions.
Each press up onto your fingertips should see your forearms tense.
Caution: Whilst your forearms are the key muscles at work in this exercise, it is important to ensure that your core remains engaged as to not allow your hips to sag and cause any stress through your lower back. You need to lean against the wall on extended arms with your body in a strong and straight line.
13. Crab Walk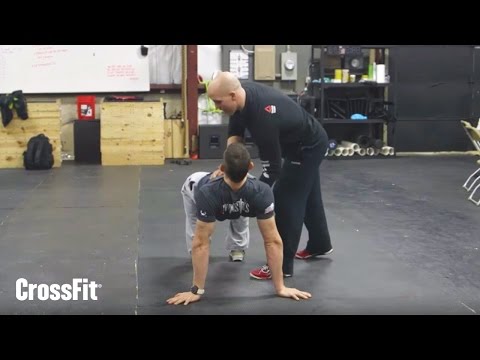 This exercise is often prescribed as a mobility or warm-up exercise for some of the bigger lifts. It can also, however, double up as a great forearm and wrist strengthening exercise. The walking motion makes it very effective as you shift your upper body load from one forearm onto the other.
Sit on the floor with your knees bent at 90-degrees and your feet flat on the floor in front of you, hip-width apart.
Your palms should be flat on the floor, by your sides with your fingers pointing away from your body.
Go into a reverse tabletop position by pushing your hips up so that you have an almost straight line from your knees to your shoulders with only your feet and hands on the floor.
Stepping forward with your feet and hands, perform the crab walk over your set amount of repetitions or distance.
Ease into it: If the walking motion is too much to handle in the first instance, for strength or mobility reasons, you can focus on getting into the crab walk position as best you can and holding it for a set amount of time. As your wrist and forearm strength and conditioning builds up, you can look to implement the walking motion.
14. Dead Hangs
If you're going to do one exercise for your forearms, I would make it dead hangs. This exercise is possibly one of the most overlooked forearm exercises that exists! Not only does the dead hang seriously improve your grip strength, but it is one sure-fire way to add mass to your forearms.
Grip the bar just over shoulder-width apart.
Allow your entire body weight to hang on fully extended arms, but with engaged shoulders. I.e. your head shouldn't disappear between your shoulders – your shoulder blades should still be drawn back and down to the best of your ability.
Hang for the set amount of time.
Pro tip: As this exercise has a muscular endurance component, a progression would be hanging for more time as opposed to adding a weight plate on a chained belt for extra resistance. If you're running out of time to "hang around", use a towel grip for an extra challenge.
15. Towel Grip Inverted Row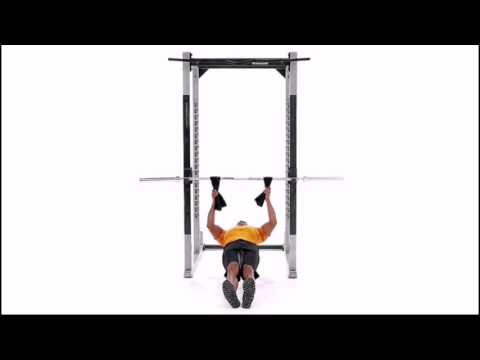 The only difference between this version of the inverted row and the standard version is the use of towels for grips instead of the bar.
As previously discussed, the towel grip requires more grip strength and, therefore, provides a harder workout for your forearms. The towel grip does slightly reduce your range of movement, but as the focus of this exercise is your forearms rather than your back, this doesn't matter much.
Loop two towels around a racked barbell or the smith machine bar at an appropriate height, shoulder-width apart.
Position your body under the bar in a straight line.
Holding the ends of the towels in each hand on extended arms, begin by lifting your hips off the ground.
Pull yourself up towards the bar by bending your elbows, which should skim close by to your sides.
Once you are at the top of the row, hold for a second before lowering back down slowly to having your arms fully extended again.
Pro tip: The more horizontal you can get your body for the starting position, the harder this exercise will be. If you need to, place a bench under your feet so that your body is in a straight line, rather than diagonal to the ground.
16. Fingertip Push Ups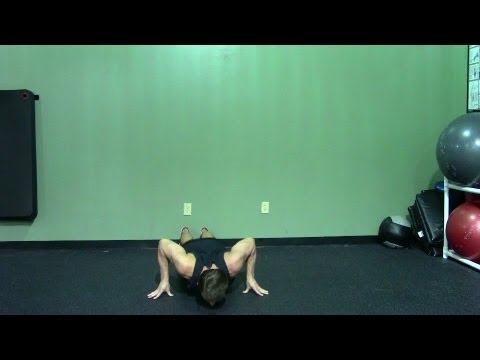 Harder than a standard push up, this one is not for the faint-hearted, neither is it for beginners. Saved the best (or the worst depending on how you look at it) for last! A considerable amount of pre-developed forearm strength and conditioning is needed to be able to perform this exercise at all.
Go into standard push up position, but on your fingertips instead of your palms flat on the floor.
Lower your body down to just above the ground and then push back up onto extended arms.
Ease into it: The fingertip push ups can be done on your knees to begin with. This will lessen the load on your fingers and allow you to build up to doing them on your toes, at full bodyweight, effectively.
Integrating Forearms into Your Training Regime
Before I wrap up, I want to quickly go over how to integrate all these new exercises into your training regime!
It's important to note that slow-twitch muscle fibres are what predominantly makes up our forearms. What this means is that performing many sets with a high repetition range i.e. high-volume training, will work best for these muscles.
You need to keep in mind that forearm exercises will exhaust your grip strength. For this reason, the exercises that target your forearms are best placed towards the end of your workout, as to not hider the rest of your exercises.
Personally, I like to scatter my forearm exercise throughout my weekly gym routine. I prefer this approach to piling them all into one day's workout, which requires extended recovery time and interferes with my other workout days.
Final Words
If your forearms are an area of concern for you, I hope you are feeling hopeful after reading this article. There are many exercises which in some way, shape or form, target your forearms. And this list of 16 touches on the very best of them!
As our forearms are, in general, underworked and therefore lacking in conditioning, it is important to pace yourself with these forearm exercises. Start slow and, where added weight is concerned, begin with a lighter weight. You can work your way up to using heavier weights as your hands, wrists and forearms improve and develop in strength.
Rushing these exercises, in terms of progression, will often result in injury. Don't let this put you off – be sensible, adhere to sound technique and strong and chiseled forearms will be yours in no time!