There are five types of weightlifting bars you might want for your home gym. For most, the first choice is between a standard or Olympic barbell.
While standard barbells have the benefit of being cheaper, they can't hold as much weight as an Olympic barbell and generally aren't made as well. If you are serious about lifting, you will eventually have to upgrade to an Olympic barbell – so you might as well get one from the start.
Professional-level Olympic barbells can cost well over one thousand dollars to buy. These quality barbells are guaranteed not to bend and keep their spin. However, most amateurs (and even pros) don't need this expensive of an Olympic barbell to train well. The following are some of the best Olympic barbells for serious lifters and they all cost under $300.
The Best Olympic Barbells to Buy in 2023
1. Rep Fitness Gladiator Bar
The standout feature of the Gladiator Bar is its 230k tensile strength and 1500lb static rating. Just holding the bar you can tell that it was made with quality steel and is a solid product. It even has a chrome coating to prevent rust. The only thing holding back this best Olympic barbell is that its warranty is for 5 years, not a lifetime.
Specs:
Center knurl: No
Bearings: Needle bearings
Tensile Strength: 230,000 PSI
Coating: Hard chrome
Warranty: 5 year
Pros
Needle bearings give great spin
Excellent tensile strength
Medium-knurl won't shred your hands
Great value for level of quality
Cons
Wish the warranty was longer
2. Rogue Fitness The Ohio Bar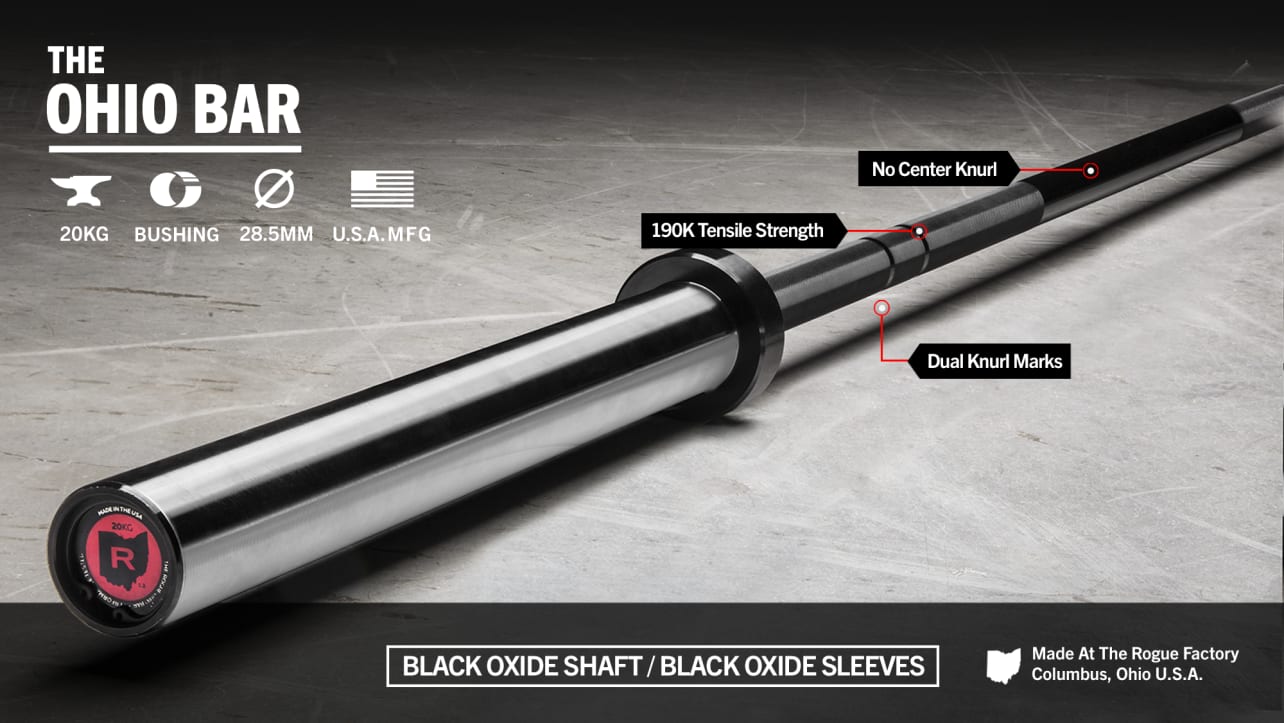 The standout feature of The Ohio Bar is how nice the knurling feels in your hands. I held the version with a black oxide coating, and it felt better than the other Rogue barbells I've tried. The Ohio Bar also comes in a mix of black zin/bright zinc coating too.
Specs:
Center knurl: No
Bearings: Bushing
Tensile Strength: 190,000 PSI (What is this?)
Coating: Black oxide or bright zinc/black zinc
Warranty: Lifetime
Pros
Knurling feels awesome in hands
Solid bar with lifetime warranty
Cons
Zinc coating wears down eventually
3. XMark Fitness Lumberjack
Compared to other cheap bars, the Lumberjack keeps its shape well and can be dropped without destroying the bearings. You can always upgrade to a better Oly bar later.
Specs:
Center knurl: No
Bearings: Bushing
Tensile Strength: Not listed; says it is rated to 700lbs
Coating: Black manganese phosphate shaft, chrome sleeves
Warranty: 90 day against bending
***Weighs 19.5kg, not 20kg!
Pros
Great intro Olympic bar
Nice knurling
Very cheap
Finish holds up well
Cons
Crappy warranty
Cheap product will eventually corrode and bend
Weighs 19.5kg instead of 20kg
4. Rogue Fitness The Rogue Bar 2.0
Specs:
Center knurl: No
Bearings: Bushing
Tensile Strength: 190,000 PSI
Coating: Black zinc shaft, bright zinc sleeve
Warranty: Lifetime
Pros
Solid feel and balance to the bar
Great value
Aggressive knurling
Can customize with replaceable colored bands
Cons
Zinc coating wears down eventually
5. XMark Fitness Voodoo
I'm was actually suspicious about how they could make such a strong bar (185k tensile strength) at such a cheap price. Yes, the coating might not be chrome, but it is still a very solid bar and the bushings seem to hold up well too – even after uneven drops. I guess they just keep the markup low to sell more products.
Specs:
Center knurl: No
Bearings: Bushing
Tensile Strength: 185,000 PSI
Coating: Black manganese phosphate shaft, chrome sleeve
Warranty: 90 day against bending
Pros
Affordable price
Great tensile strength
Finish holds up well
6. CAP Olympic Barbell "The Beast"
Annoyingly, CAP doesn't list the tensile strength of the bar, but it is static rated for 1000lbs. Using the bar, it really does seem like it is sturdy. The manufacturers skimped on the coatings, which is why it can be so strong yet still cheaply priced.
Specs:
Center knurl: No
Bearings: Bushing
Tensile Strength: Not listed; rated for 1000lbs
Coating: Black oxide with polished steel sleeves
Warranty: 3 year
Pros
Affordable bar
Seems to be very strong
Cons
Spin is weak
Bar gets scratched quickly
7. Body Solid Olympic Bar – Black
Center knurl: Yes
Bearings: Bushing
Tensile Strength: Not listed; rated for 600lbs
Coating: Black oxide
Warranty: 6 months on wear parts
Pros
Great bar for the cheap price
Nice style to it
Cons
Poor spin
Comes covered in protective oil coating that takes forever to come off
Confusing warranty
Olympic Barbell Buying Guide
There is so much variation in Olympic barbells that the only real way to know which is best is to try it yourself. You might find that two seemingly similar bars actually have a very different feel.
However, most of us buy our gym equipment online to get the better deals and selection. Even when buying Oly bars in a store, you don't get to really test them with loaded sleeves nor drop them to see how the bearings hold up. So, when comparing Olympic barbells, your best bet is to look at these 6 specs:
Price
Barbell strength
Knurling
Coating
Bearings
Warranty
Price
I'd like to say that you shouldn't pay too much attention to price when buying an Olympic barbell, but the truth is that you get what you pay for.
Quality Olympic bars are made from higher-grade steel (as opposed to recycled refrigerators). A heat treatment is used to strengthen the steel and prevent corrosion. Rogue Fitness has an awesome video of How Olympic Barbells are Made.
In addition to the bar itself, you also pay for the bearings, which give the bar its spin. With cheap barbells, the bearings break (especially during uneven drops) and the ends fall off.
Barbell Strength
There are two main ways that barbell strength is measured:
Tensile Strength: This is a measuring of how much force it would take to pull the steel apart. It is measured in pounds per square inch (PSI). Most barbells range from 130k to 220k tensile strength.
Yield Strength: This is a measurement of how much weight the barbell can take without permanently bending.
Of the two measurements, tensile strength is more reliable.
To measure tensile strength, the manufacturer actually has to test the metal. It is a very accurate number. Unfortunately, many manufacturers don't list tensile strength of their barbells.
By contrast, you have to trust the manufacturer when they tell you the yield strength. In the gym I used to work in, we had two different Oly barbells each rated for 1000lbs. One held up great. The other warped within a year at 600lbs. Yet, people are impressed by marketing claims like, "Rated for 1000 pounds" so manufacturers still list these numbers.
Tensile Strength and Whip
The higher the tensile strength of the Oly bar, the less whip it will have to it. Thus, high tensile strength barbells are good for powerlifting. For weightlifting, you'll want a lower tensile strength.
Knurling
Knurl Aggressiveness:
Manufacturers will often list the amount of knurling that their barbells have, such as "Light," "Medium," or "Aggressive." Most Olympic barbells have moderate knurling.
Unfortunately, these descriptions aren't always very accurate. I'd recommend reading through reviews of the best Olympic barbells to see feedback on the knurling. If you have smaller hands or are doing heavier lifts, you'll want more aggressive knurling – even if it will tear your hands apart.
Center Knurling:
You'll also want to look at whether the Oly bar has center knurling or not. Traditionally, the men's bar does have center knurling whereas the women's Oly bar does not.
However, many lifters prefer to get their Oly bar without a center knurl. That way their neck or chest doesn't get torn up while doing cleans or thrusters. Or, you can always use a barbell pad.
Coating
Confused about barbell coatings? You aren't alone. There are several options for coatings, and some Oly barbells will even have different coatings for the shaft and sleeves.
Bare Steel:
Cheapest
Terrible against corrosion
Black Oxide:
Knurling feels great
Decent against corrosion
Affordable
Manganese Phosphate:
Newer material
Not as much info about how it holds up over time
Great feeling knurl
Better corrosion resistance than black oxide
Zinc:
Holds up against corrosion better than black oxide
Knurling pattern varies
Costs slightly more than black oxide
Chrome:
More expensive
Higher protection against corrosion
Look awesome
Finish will still eventually chip and flake
Bearings
In order to have spin, the barbell sleeves contain bearings. Even if you don't care too much about spin, the bearings are still important. Cheap bearings will break, causing the sleeves to fall off the barbell!
Of course, you can avoid broken bearings by evenly dropping the barbell and not overloading the bar beyond its capacity.
Bushings:
Bushings are rings that go between the outer and inner sleeve of the barbell to reduce friction. You can see a picture of bushings here.
Cheaper
Not as good of spin
Durable and require no maintenance
Good for CrossFit, slower lifts, and people on a budget
Bearings:
Bearings are round balls or needles that fit between the bar and sleeve. Because they move freely, they do a great job of reducing friction. Bearing barbells have great spin.
Not all bearings are created equally. Ball bearings don't take loads very well and will deform. A better choice is needle bearings.
Cost more
Needle bearings are better than ball
Best for faster lifts
Require oiling and maintenance
Warranty
For an Olympic bar under $300, I wouldn't worry about warranty too much. Even if the bar does get warped (which it will), the warranty probably requires you to pay for shipping. You'd waste more on shipping than what the bar was worth.
Once you start spending a bit more on an Olympic barbell, you'll want to pay close attention to the warranty. A lifetime warranty is a sign of a quality barbell. Mid-range products will have warranties of 2-5 years. Just be warned that those warranties rarely cover the bearings.
Last update on 2023-09-30 UTC -5 / Affiliate links / Images from Amazon Product Advertising API - Details