Push-ups and dips are among the best exercises to build your chest, shoulders and triceps.
Often they are used interchangeably with the aim to support the main strength exercise – usually the bench press – and add more muscle.
Many people don't know which of the two movement they should be doing. This guide will dispel that dilemma and give you a practical guide to incorporating both exercises in your training.
For Beginners
If we are talking about beginners, there is no doubt: you should start with push-ups. A push-up – done properly – is a fairly difficult exercise for someone without a training background. Still, due to the fact that your feet are on the floor and you are not pushing your entire bodyweight, they are easier than dips.
It is the most basic of bodyweight movements, yet so often, people do it wrong. Before you tackle dips, you have to be able to do 15-20 perfect push-ups. After that, you should be able to bust out a few nice dips and be ready to have them as a regular exercise in your training routine.
Read more: Dips vs Bench Press
For Advanced Lifters
For the advanced lifter, things get a bit more interesting. When you have some training time under your belt, you will likely be doing dips, push-ups or a combination of both.
I will assume that you either have some sort of bench as your main pressing movement. In that case, a good way to go about it would be to have dips as a semi-strength accessory exercise (doing 3 sets of 4-6 reps) and push-ups as a higher rep accessory (3 sets of 8-12 reps, or even more if you respond better to that).
Dips can even replace bench as your main strength movement. In fact, they are excellent for that purpose. Some groups of athletes, for example someone who wants to do advanced bodyweight exercises like the 90 degree push-up or planche might find that it has more transfer over than any variation of the bench.
But, there are some considerations to look at first.
Should You Even Be Doing Them?
Before we dive in further, a word of warning is needed.
There isn't much evidence that the push-up would be a dangerous exercise. As long as you do it correctly, you can do it. Everyone can do it.
When it comes to dips, that isn't the case. Torn pecs, broken sternums, rotator cuff injuries are all possible when training dips, usually when done with a lot of weight for low reps.
This is not just the case of not training smart. Some people, due to the way they are built, won't be able to do dips without a significant risk of injury. It's hard to tell over the Internet who exactly should or shouldn't be doing them.
Your best bet is to, when you start doing dips, watch for any signs like sternum pain or pain in the shoulders. If you get those signs, STOP doing dips. You can still get the same results from weighted push-ups, so do not lose hope.
Learn how to choose the best weighted vest for push-ups
Muscles Worked
Both exercises work the pecs, anterior deltoids and triceps. Due to the nature of the movements, the emphasis is slightly different. Dips have been shown to target the lower pecs more, while push-ups were among the best to target the upper and lower pecs (Source).
This is in line with the wisdom of old age bodybuilders. They primarily used dips as an all around strength and muscle builder for the upper body, while push-ups, especially with added weight, are rightfully getting more and more recognition as an excellent chest movement.
Strength or Hypertrophy
The general rules apply here as well: lower rep ranges build more strength. The common misconception that higher ranges are better for hypertrophy have been debunked. Quick recap: the rep range you are using doesn't matter as much as the total volume (sets x reps x weight)
There are some completely practical problem when it comes to this.
Push-ups are just hard to weigh. Yes, you can get a plate on your back with some body contortion. But for more than that, you will either need some friends or a special set-up, which will include two tall boxes (or a box and a smith machine) and a weighted vest. All in all, not very convenient, which is why the push-up is usually used for higher rep ranges.
On the other hand, all you need to weigh your dips are dumbbells or a dip belt and some weights. The set-up is easy and can be done alone. All of this makes dips a much better choice if you want to train in the lower rep ranges.
People have shown that both exercises can be weighed to pretty insane loads.
Here are some weighted push-ups with an additional 220 pounds:
And here's Lu Xiaojun doing some dips with 165 lbs: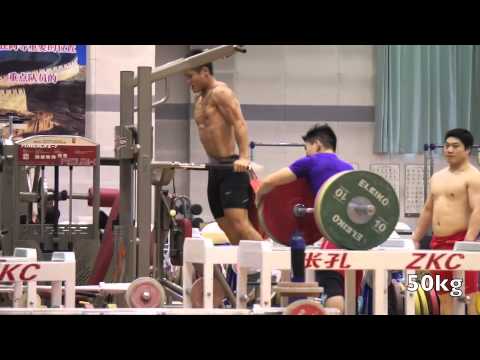 ?t=2m1s
Chest, Shoulders…Triceps?
I explained before that both exercises are great for all of the three muscle groups mentioned above. However, neither of them are the very best choice for the triceps. They absolutely do work them, but…
Rope and cable extensions take the throne of tricep-specific exercises. They have the greatest peak and mean activation. What is great about them is the fact that they are not a very fatiguing exercise and can be taken to failure, even if you train them two times per week.
The lesson: for maximal results for your triceps, you should include some tricep isolation at the end of your workout. Just remember to also keep the compounds.
One Or The Other…Or Both?
When it comes down to it, both the push-up and the dip are excellent movements.
Whether you want the use only one or both will depend on your personal goals, how you respond to exercise and how many times per week you train.
Some people will only need to do a movement once per week to see progress, while ootherswill have to do it twice, or even three times for the best results. This is completely individual and something you'll have to figure out with experimentation.
Since both will give you comparable and great results, I'd say that the most important factor is enjoyment. Do you think dips are particularly bad-ass? Feel free to do them two or three times a week. Are you more of a push-up guy or gal? Nothing wrong, push yourself up as much as you want (or if you're Chuck Norris, the Earth).