As the situation in 2020 looks to be extending into 2021, it's high time we start considering how we're keeping healthy in the long-term. 
Just like how overexertion will deteriorate your health, so too will a lack of exercise and fitness activities. In fact, you may have heard it said that sitting is a slow but sure way of reducing your lifespan potential, and nowadays a lot of us are doing a whole lot of sitting.
Introduction: Wellness & Exercise
With so many of us working from home, maybe it's time to start investing in your physical and mental fortitude. 
If you're working from home, you're probably sitting around more than you usually would, while if you're stuck at home without any work to do, you have plenty of time to pick up an exercise routine. 
Now is probably one of the better times to pick up a simple in-home routine to maintain your fitness and keep your mind sharp.
With this guide, we'll take you through the whole process. 
We'll start with how fitness and mental health can be linked and how exercise benefits the human body, before moving onto more practical advice that you can use to start working out, enjoy it, and have a successful workout under quarantine conditions.
Healthy Body and Healthy Mind: A Correlation
There's an entire selection of quotes from history's learned men that talk about how a healthy body helps to achieve a healthier mind. Pick your favorite one and keep it in mind as we go through some of the links between fitness and mental acuity.
Before we go into more detail, it should be said that physical activity of any kind is shown to have a marked effect on your mental health.
Getting fit is great, but when you're starting you can find that just a few minutes of exercise can be enough to increase your own mental awareness, which in turn promotes a more positive mood.
A brisk walk can help stave off the onset of certain mental health issues, and if you already suffer then it can improve self-reported quality of life metrics.
This doesn't mean that exercise is a solution to these problems, of course, or a replacement for medical or therapeutic assistance.
Exercise is just one other thing you can try that may brighten your outlook on life. This is especially the case if your mental health issues are because of low self-esteem or body image issues, which can be helped through lifestyle changes that promote fitness.
So, if brisk, non-intensive exercise already has a great effect on self-reported mental health, then which form of exercise is best.
As we've already said, if you desire a different body then achieving those goals will feel good, but that's more about the outcome than the act of working out itself.
Fortunately, we've got a library full of studies that analyze every level of workout intensity to find the best effects.
Working out for mental health improvement yielded the best results when that workout was low-intensity aerobic exercise.
What's that? It's light cardio, to use simpler terms, such as jogging, swimming, or rowing.
If you're panting, then that's anaerobic exercise, which can be great for cardio endurance and overall fitness as part of a routine, but if you're working out solely for mental health benefits then you'll be glad to know you don't have to run until you're breathless.
Pace yourself instead to avoid turning an aerobic exercise into an anaerobic one. A great test is if you can comfortably talk to people during the exercise since this is a sign you have oxygen to spare.
The linked study found that the positive-activation effects of low-intensity aerobic workout were activated by just a half-hour of exercise, three to five days a week, over a period of ten to twelve weeks.
Hit The Ground Running: Get A Head Start On Your Fitness
If you don't have any momentum when you start a routine, there's little chance that you'll stick with it long enough for it to become part of your lifestyle. 
You want to hit the ground running, so to speak, and there are quite a few things you can do before you even start working out that can help.
First, though, you do need to start in the first place. One of the surest ways to sabotage your fitness attempts is to get so focused on your plans pre-workout that they never come to fruition. 
This is especially the case for things like New Year's resolutions where many people fall at that first hurdle. There's going to be a lot of us staying indoors when 2021 comes around, so this year's New Year's resolution should be to actually start this time.
Otherwise, a great way to stay motivated when first starting your workout routine would be to apply positive habit reinforcements. 
A general rule is that doing something for thirty days will solidify it into a habit, and while the word has negative connotations, we actually have positive habits that we do every day such as brushing teeth or eating at scheduled times.
You can do this by journaling or other measures that improve how you self-talk, which is just your inner monologue. 
Any meditative actions that allow you to think on and rationalize where you are, who you are, and where you want to be can help physical habits stay around for longer. 
Having a healthy body will make it easier to get a healthy mind but the same can also be said the other way round.
The Benefits of Exercising
We all know that exercising is good for us but not everyone knows how it's good for us. Sure, you'll build muscle mass and burn fat, which will change your body shape and improve your overall health, but what about the benefits that people don't know?
We'll go through some of the other known and agreed-upon benefits here, so you can understand how exercising changes your body and find some more motivation to really step up your workout routine in 2021.
As far as the secondary benefits of exercise go, this is one of the more known advantages of a workout routine. 
Even if you don't know the specific terms like endorphins or serotonin, almost everyone knows that exercising releases the same neurochemicals that are associated with happiness. 
In reality, endorphins are your own biological painkiller that gets released when you're faced with stress. 
By working out, we release these chemicals in a controlled environment, so you don't actually have to experience pain to get its benefits.
Many experts think of endorphins as nature's opioid since it reduces pain and stress. In doing so, endorphins produce a feeling of euphoria. 
You may have heard of runner's high, and that's endorphins doing their work. A so-called addiction to endorphins is often cited by fitness fanatics as an incentive to keep working out but getting a taste for this neurochemical can only be positive assuming that you're not overstraining your body. 
Not everybody can feel endorphins in the same way that others can, so there is a genetic factor here.
While we're mentioning endorphins, it's worth mentioning exercise can release serotonin too. Often called "the happy chemical," serotonin facilitates nervous communication throughout your body. 
By making sure all of your functions are on the same page, serotonin creates a feeling of consistent wellness and regulates your mood. 
Those diagnosed with clinical depression often exhibit a lack of serotonin in their brain chemistry, and antidepressants remedy this by adding serotonin back into your system.
2. Improves Memory and Brain Power
If you're the forgetful type, your mind may become sharper once you start a regular workout routine. Exercise helps your memory in many different ways, many of them indirect. 
A routine will increase your resistance to insulin, inflammation, and it'll stimulate growth factor chemicals that add more brain cells and blood vessels to the neurological structure of your brain. This helps with a lot of things, with memory and thinking acuity being some of them.
A brisk one-hour walk twice a week, or approximately 120 minutes, has seen to be enough to trigger this positive effect. 
This is within most standard recommendations for physical activity that mandates 150 minutes a week. You can build up to these numbers if you're a beginner, however, so don't overexert yourself because you'll do more harm than good.
Exercise is also preventative to issues that would decrease your memory capacity. For example, the higher levels of oxygen that reach the brain during exercise will help stave away diabetes.
The same functions that help with memory loss are also increased when you have a consistent sleep schedule, so it's high time you get a bedtime again. If you want to read more about how exercise prevents cognitive decline, read below.
3. Prevents Cognitive Decline
It only makes logical sense that reinforcing your mind through physical activity will strengthen your brain against future threats, but what is the nature of this relationship? 
Exercise, mainly aerobic exercise, is a great way to keep dementia at bay. 
This means that Alzheimer's disease and other related illnesses can have their degenerative progress slowed down when the patient is physically fit. 
This is because some of the chemicals released prevent the degradation of the hippocampus, which is the part of your brain that's associated with learning and the retention of information, and the part that becomes smaller as dementia progresses.
There have been other studies performed with older people who are facing mild cognitive impairments, where it's been found that a half-hour of aerobic exercise four to five times a week helped with their cognitive ability. 
This isn't much of a surprise, given how much aerobic exercise has come up when we were talking about how a healthy body contributes to a healthier overall mind.
Even stretching has been shown to have positive effects, though you really want that aerobic exercise if you want to resist hippocampus atrophy. 
Why is this the case? Put simply, aerobic exercise is great for heart health, which in turn leads to a better vascular health profile as your blood circulation gets improved. 
This delivers more oxygen to your brain, expanding blood vessels, and facilitating the growth and rejuvenation of brain cells.
4. Reduces Stress and Alleviates Anxiety
Stress and anxiety are intimately linked when it comes to your brain chemistry. 
We've already mentioned how endorphins make it easier for people to sleep, which in turn is a great stress reduction process. 
So how does working out help those who suffer from stress or anxiety disorders? 
We already know that physically active people tend to have less anxiety or depression disorders than those who live sedentary lifestyles, but there are many factors here that can all contribute to this differential.
With anxiety disorders being the most common mental illnesses in the United States, there have been many studies into how exercise reduces stress. 
It has often been found that, if you get the positive neurochemical effects of exercise at all, it's a temporary stress relief that could be described as taking something for a headache. 
This effect can be achieved with as simple as a ten-minute walk, though federal exercise guidelines for adults suggest that you try for two and a half hours of semi-intense physical activity a week and one and a quarter-hour of intense physical activity, like jogging.
It only follows that if exercise is a temporary relief for stress and the anxieties that arise from having too much stress, then maintaining an exercise routine keeps this effect rolling so that your stress becomes regulated and more evened out over time. 
As always, exercise may not have this positive effect on everyone, and so some people won't get the same benefits from having one of these routines. 
Keeping fit is important for physical health reasons but working out shouldn't be considered a replacement for treatment on those with long-term mental health issues.
5. Helps Manage Addiction
Among the cocktail of neurochemicals that get released by your brain during strenuous physical activity, one of them is dopamine. 
Dopamine is also known as the happy chemical, but it's more accurately referred to as the reward chemical.
If serotonin keeps your body and mind well-regulated to achieve a consistently happy state, dopamine is the chemical that gives your body a spike of pleasure and feel-good achievement.
Dopamine is one of the leading neurochemical releases that get abused by addictive substances, with alcohol and some of the more addictive drugs hitting their users with large dopamine dumps when they take the drug. 
This is how addictions form, why addicts inevitably need stronger doses of their drugs, and how it can be so hard to escape from addiction since it's a natural neurological process that's being tripped.
Experts suggest that it can make it easier to kick addiction if you replace a toxic reward cycle with a healthy and natural one. 
You can probably see where this is going, if you have an addiction to the release of dopamine, it can be useful to exercise to get that dopamine instead of reaching for a bottle or a cigarette.
6. Increases Energy and Productivity
Speaking of addictive substances, alcohol is known to affect your circadian rhythm, the natural body-clock that regulates what your body is doing over a twenty-four hour period. 
Whether you have a bad habit or not, the lockdowns of 2020 have seen many people interfere with their circadian rhythms since we don't have the same social obligations that we usually have.
A study completed in 2010 suggests that the circadian rhythm in animals is helped by exercise, resetting their biological clock so that falling asleep is easier. 
There have since been attempts to map this effect on human beings too, with some evidence that working out helps those who have trouble falling asleep. I'm sure we don't need to over-explain that exercise makes you more tired than before you started.
7. Get Outside In The Fresh Air
When we talk about exercise, there are a series of secondary effects that are worth taking a look at. 
We've talked a lot about aerobic exercise, which ranges from walking to jogging, but to do most of these you'll be walking around in fresh air. 
There are more outdoor exercises that you can do too, if running isn't your speed, like hiking or rock climbing.
Now, it depends on where you live, but it can be hard to stay stressed when you're surrounded by nature. 
Even if the site of nature doesn't calm you down that much, you get a lot of fresh air and vitamin D from sunshine when you venture outdoors frequently. 
The air quality near you will differ too, but there are sites where you can check the approximate air quality of your local area. 
Otherwise, good air is great for chronic respiratory conditions, and getting enough vitamin D can help stave off depression, seasonal affective disorder, and schizophrenia.
8. Improves Self-Confidence
With all this talk about neurochemicals and air quality, there's something to be said for the confidence boost that staying fit can give you. 
That dopamine we mentioned earlier is great for instilling a sense of achievement that stays with you, improving your self-esteem.
If your ideal body image lines up with what you begin to look like after exercising for a while, then you've met a long-term goal and can expect to get a great sense of achievement as a result. 
All of the above health benefits will make you more confident too, as will finding yourself more attractive as a result of your exercise.
9. Reduces The Risks/Symptoms of Chronic Conditions
First, if you have a chronic health condition like diabetes, heart disease, or arthritis, please consult your doctor and agree upon an exercise routine that will build up your strength without causing too much stress or putting your health at risk. 
With that said, the right exercise can reduce the risks and symptoms of these conditions. 
We've already talked about depression, anxiety, and dementia, but here we're talking about more physical disabilities that harm your physical health more than your mental health. 
According to the CDC, a mix of aerobic and muscle-strengthening exercises 150 minutes a week can help make these chronic conditions easier to cope with.
10. Improves Relationships
This will depend on your social circumstances but engaging in a fitness routine can help improve your relationships. 
For most of 2020 and going into 2021, building and maintaining social relationships has only become more difficult, but when the lockdowns and quarantines eventually begin to end, those who have become more physically fit and mentally satisfied may find that their relationships with people have greatly improved.
So how do you start? We've already covered some ways you can prepare before the workout before it starts, but we've separated the process into a few easy steps that you can follow.
1. Invest In The Appropriate/Comfortable Gear
Depending on the workouts you want to do, you'll need the right gear. 
Many of the suggested exercises are aerobic, the most popular being walking or running. 
This is probably the simplest exercise you can do in terms of gear prep since you just need comfortable but functional shoes and clothes that won't hold you back too much.
Other aerobic exercises like swimming or rock climbing will need you to have the more specialized gear and you'll need to know what you're doing. Knowing how to swim would be a great start, for example.
If you're also going for muscle strengthening exercises, you'll need to get weights.
It'd be great if you can try the weights first since the sweet spot for repetitions is eight to twelve, and if you get adjustable weights you can easily increase the weight as you progress.
Don't spend too much money on any gear you get until you commit to an exercise routine. You don't want to spend a lot on some gear only for you to decide on a new form of exercise that doesn't even use what you've bought.
2. Identify and Set Your Goals
Just like how you don't want to spend too much money on your workout gear, you also shouldn't set unrealistic goals for yourself. 
If you're completely new to frequent exercise, you're going to want to approach exercise with a lot of humility and set yourself realistic goals. 
This not only allows you to feel more accomplished by hitting more, less intensive goals instead of one big one, but it makes the workout process much easier to start off with. 
Having short-term goals doesn't mean you can't have a long-term goal, however, just that you should celebrate each step along the way.
Start with the first goal, whether that's achieving 10,000 steps a day, learning how to do a push-up, or holding a plank for twenty or thirty seconds. 
These are scalable forms of exercise since you can then add more steps to your day, more push-ups or weight reps to your routine, and more planking time.
3. Set An Achievable Workout Schedule
How busy are you nowadays? Many of us are working from home, often in sedentary job conditions, whereas those who work more physical roles may be stuck at home. 
Whichever one applies to you; you can usually find the time to get some physical activity. 
As we've said, it can only be as little as thirty minutes of exercise a few times a week to get the mental health benefits of exercise. 
This can be thirty minutes after waking up or, if you're not an early bird, you can do it before you go to bed. Embedding a workout into a pre-existing morning or nightly routine makes it easier to make exercise a regular occurrence.
4. Try Different Types of Workouts To Find What Works For You
We'd recommend walking or running since that's easy and everyone hopefully knows how to do that, and many lockdowns have provisions that protect those going outside to get their exercise. 
For your other workouts, if you're trying any, make sure that you enjoy them and that they work for you.
Now, whichever exercise you pick will give you some discomfort. 
That's kind of the point, to stress your body in all the right places so that they get stronger, including strengthening your mind, but you do have a choice in which exercises you do. 
If any of your exercises result in injury, whether that's because part of your body is weaker than the rest or you consistently overdo it, then maybe you should try different workouts and pick the one that gets you results without causing harm.
5. Consider Working With A Personal Trainer
If you know you're inexperienced and need some help, there are many personal trainers that you can contact for help. 
Whether it's a professional or just a friend that knows what they're doing, getting someone with more exercise experience than you is a great way to get started quickly.
Now, a professional personal trainer will cost you money, of course, so you need to have assets to pull this off. 
There's also another obstacle in the lockdowns that many countries are undergoing and are likely to observe further into 2021. 
Some areas have let gyms and other communal workout areas stay open during lockdowns whereas others haven't, so it depends where you are. 
The lockdowns will also affect your ability to get an experienced friend who could help you for free.
While it's not the same as having a personal trainer, having a role model that you can look up to can also help you when you're starting out. They can also help you to establish a long-term goal to work towards. 
Tips For Enjoying Exercise
You won't keep exercising if you don't find a way to make it enjoyable, simple as that, so check out some of our tips that can make the experience more enjoyable for you. This will make your exercises more productive and help you reap more of the mental health benefits that exercising can bring.
1. Find Forms of Exercise You Find Enjoyable
There's no need to overthink this one if you don't need to. If there are already forms of exercise you know you enjoy, just do them!
If not, then that's why you should experiment with differing workout methods to find the ones that you do enjoy. 
By making a routine from activities and exercises that you find enjoyable, you're more likely to keep up with the routine and be more motivated to exercise.
2. Distract and Motivate Yourself With Music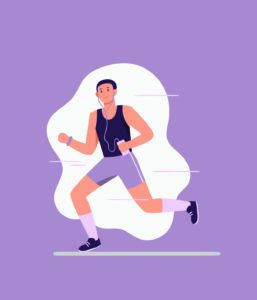 Many people find enjoyment when working out from listening to music. 
You can listen to any kind of music when working out, though there are types of music that are thought to be better. 
Music with a high tempo and/or motivational lyrics can sharpen your concentration and allow you to become further motivated. 
Faster music also increases your heart rate, making you able to endure more intense workouts before needing to stop. 
Think of how classical music or music without lyrics tends to help with studying since it's not distracting but makes for easy listening, but for exercising instead.
3. Recruit An Exercise Buddy
Everything is more enjoyable with friends, so exercising with friends can be a great time if you can manage it. 
We've already mentioned that the lockdowns may make finding an exercise partner harder, but if you can then you'll be able to enjoy exercise with all of the added benefits of a friendly social event.
4. Be Patient With Yourself
Sometimes, people get frustrated with exercise because they expect too much from it or they want results earlier than is realistic. 
If you're doing all of the above yet still finding exercise boring, maybe you just need to set reasonable expectations and some patience. 
There's always a chance that you will still find it boring, though. 
If so, it is possible to power through it and get the benefits of exercise anyway, so it'll depend on how much you want results. 
It goes without saying that if you don't enjoy exercise, you'll become more tolerant of that outlook the more you work out, so powering through it is possible.
The Quarantine Chronicles: Top 7 Home Workouts For 2021
There's every chance that we'll see continuing quarantines and lockdowns into 2021 after the COVID-19 pandemic, so if you're building a workout routine, you'll need to make one that you can practice indoors. 
You can always run on the spot, but that's not the most efficient way to work out when you're stuck inside all the time.
We've got five simple workouts that you can do in your bedroom, whether quarantine is active or not.
This one's pretty simple and doesn't even require you to move. All you have to do is stand in a shoulder-width stance with your knees out and push your knees out as you move your hips back. 
Your hips must go lower than your knees, and your feet should be directly below your hips during the entire squat. Then you stand with your knees locked.
If you're holding a weight, you'll want to pause at each end of the squad to get the full rep. If it's a barbell, you hold it across your shoulders, while you should hold smaller weights like dumbbells by, but not touching, your chest. 
We'd advise you to grab some dumbbells if you're working out in quarantine since you can add them to a lot of these exercises to work out the entire body.
If you aren't squatting with weights, you can keep your arms out in front of you. 
Some do it with their arms straight and their palm down, while others face their palms outward and bend their arms slightly like a soccer goalie anticipating a ball. 
Others also cross their arms over their chest, so do whichever is most comfortable with your body type.
Lunges work a lot like squats and can be completed with barely any space around you. There are quite a few forms but most of them share a foundation.
From a standing start, step forward and then start lowering yourself until both knees are bent at 90-degree angles.
It's a one-legged kneeling stance except your back knee shouldn't touch the ground. Keep your back straight during this movement to maintain proper form.
Make sure you don't tense your shoulders or lower your chin, too, so your core stays engaged.
Just like with squats, you can combine lunges with dumbbells and turn it into a full-body workout. In that case, your arms will be either side of you holding dumbbells.
Everybody knows what push-ups are, but you'd be surprised at how many people don't practice good form. 
The standard push-up form is where you lie prone to the ground and keep your hands shoulder-width apart. 
If you go a little bit wider, it's not a big issue as long as you're not overextending. Try to keep your middle fingers at twelve o'clock. 
Your core shouldn't be in contact with the ground and your feet should be holding your legs up as if you're maintaining a planking position.
From here, keep your core engaged and your back as flat as possible, otherwise, you aren't getting the full benefits of a push-up. 
This is where many people fail since their middle sags during the push-up. Lower yourself to the ground by bending your elbows and then push back against the floor until you're back in the resting position.
Since we've mentioned planking already, it shouldn't be overlooked as a core workout. 
Most people who don't practice core exercises will struggle to plank for just twenty seconds since it's deceptively hard, but it's a simple and very effective way of training your core, upper body, and even your thighs.
Your lower body will have the same position as if you're going to do push-ups, but instead, your forearms are laid on the floor. 
This includes keeping your back completely straight. When training planks, it's best to do sets of thirty seconds and add to them accordingly.
Many fit people are capable of two minutes, which doesn't sound like long, but you'll realize how much this is if you try it yourself.
You're going to need a pull-up bar for this one, so it'd be wise to have one handy instead of breaking any furniture you have in your home. 
After you've installed the bar, usually in a doorway, you should grab it with your palms down and a shoulder-width grip, as always. 
Hang from the bar, making sure that it's installed high enough so that your arms are straight, and your legs are off the floor. 
Pull yourself up until your chin passes the bar and then lower yourself until you're back in the resting position. Don't let yourself drop back to the resting position, it's important that you lower yourself.
Rotations, also called trunk or core rotations, are another core exercise that can be done as long as you have enough room to lie down. 
For rotations, you start by lying on your back in the supine position. Preferably this will be on an exercise mat, though any other soft floor surfaces can work fine. 
Bend your knees so that your feet are flat on the floor, and also keep your shoulders and upper body against the floor. 
From here, you should turn to one side. Keep your legs and one shoulder against the floor and extend your arms out in front of you as if you're diving. 
Then keep your feet in contact with the floor while turning your legs to one side, holding for three to five seconds. 
This stresses the hips and so-called trunk muscles. Do it with the other side afterward and remember to contract your abdominal muscles when doing so.
This is only part of a rotation workout since you can then do the same with your upper body. 
You do this by keeping your lower body the same but take whichever arm isn't in contact with the ground and spread it to the other side of your body.
It doesn't need to come into contact with the floor on the other side, and you should hold it for sixty to ninety seconds while controlling your breathing.
If it's good enough for pro boxers, it's good enough for you. Jump rope is a great endurance exercise, hence why so many athletes have sworn by it, and it's a full-body workout to boot. 
You'll need a jump rope, obviously, or at the very least a length of rope that's suitable to work with. 
Of all the exercises here, this is probably the most powerful one you can do to keep fit during quarantine since it keeps the whole body fit, keeps you moving, and it's less boring than some of the more static workouts above.
Get a rope that's the right size. You can do this by standing on the middle of your rope and checking if its handles (or the parts you'll be holding) come up to your armpits when you pull it upwards. 
If it does, you're in luck. There are many techniques that you can look into if you're pursuing jump roping further, but for most jumps, you should hold the handles loosely with your fingers. Also remember that it's all in the wrist movements, not arm movements.
Summary & Conclusion: No Pain, No Gain
With that, we've reached the end of our guide to keeping fit and healthy during 2021. 
We've covered everything from your brain's neurochemistry to the practical reality of how to prepare for workouts and advice on which workouts work best in quarantine. 
Of course, you can use much of what you've learned here to stay healthy for many years to come, but many of our workout options have been picked to specifically comply with any quarantines or social isolation that'll likely chase us into 2021.
If that does end up being the case and you find yourself getting a little too familiar with the four walls of your home, maybe try some of these fitness exercises here so that you can leave 2021 a better, healthier, and more mindful person.