A medicine ball partner workout helps build strength throughout your upper body and core and encourages you to stick with your training regimen. Adding variety to your partner workout with a medicine ball allows you to challenge yourself and receive support through the process.
Working out with a partner can be more fun and motivating than exercising alone. You can get a full-body partner workout for two with only a medicine ball.
These 6 exercises will challenge your legs, arms, chest, and abs.
Here are the step-by-step instructions for each movement, benefits, helpful tips, and suggestions for how many reps to do.
Grab a partner and a medicine ball, and get ready for a fun and challenging full-body workout!
1. Wall balls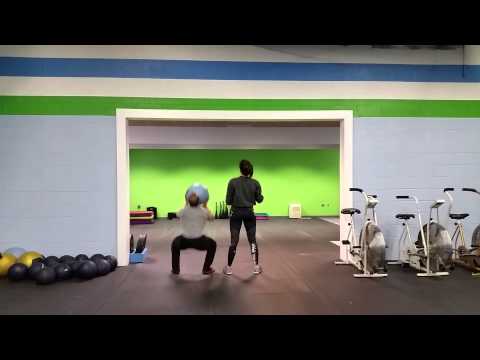 Wall balls are a full-body medicine ball exercise. By squatting with the ball, you engage your glutes, quads, hamstrings, and calves. Tossing the ball to an overhead target works your shoulders and triceps.
Doing wall balls with a partner means you get to rest a little between each rep as your partner performs the movement. You will be able to do more reps before taking a break, which will keep your heart rate elevated in the cardio zone for longer.
The following step-by-step guide explains how to perform the wall medicine ball partner workout.
Stand next to your partner facing the wall with your toes about two feet from the wall.
Position your feet shoulder-width apart with your toes pointed slightly out.
Squat holding the ball in front of your chest.
At the top of the squat, toss the ball at the wall to a target 8-10 feet above the ground.
Your partner catches the ball going directly into a squat to repeat the movement.
Continue passing the ball until you have both completed 15 repetitions.
Remember to keep your chest up as you squat with the medicine ball. Pick a target on the wall above you that you and your partner can both consistently hit. Challenge yourself to keep throwing to the target as you get tired.
2. Sit up ball toss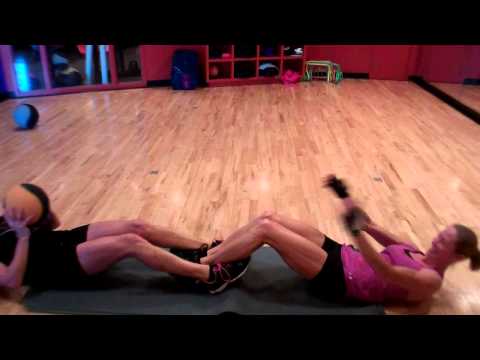 The sit-up ball toss works your rectus abdominis. These are your six-pack muscles, and working them is crucial to building beach-ready abs.
The addition of the ball toss to your partner activates your pecs and shoulders as you throw the ball. You will also engage your deep core muscles as your body braces against the force tossing the ball. Furthermore, the sit-up toss partner exercise with a medicine ball is especially superior to a sit-up performed alone because it challenges the core. You should consequently add such core-intensive medicine ball partner exercises into your core muscle workouts.
Below is a step-by-step guide explaining how to perform a sit-up ball toss.
Sit on the floor 4 feet away from your partner, facing each other.
Lay back to the floor, holding the ball by your chest.
Throw the ball from your chest to your partner as you sit up.
Rest while your partner completes a sit up.
Go immediately into your next sit up as soon as you catch the ball.
Continue passing the ball until you have both completed 25 repetitions.
Hold the ball to your chest as you perform the sit up. Don't use the ball for momentum to help you sit up. Make the exercise harder by resting in a partial sit up while your partner does their rep to keep your abs engaged for twice as long.
3. Medicine ball pass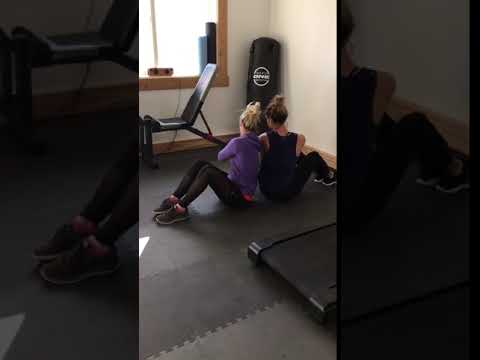 This twisting partner exercise with medicine ball engages your obliques on the sides of your abs. Your chest, biceps, and shoulders are also working to hold the ball.
The following step-by-step guide describes how to perform the medicine ball pass partner exercise.
Sit on the ground two feet away from your partner with your backs facing each other.
Sit back slightly until you feel your abs engage.
Holding the ball in front of your chest, rotate to your right as your partner rotates to their left.
Meet in the middle to pass the ball to your partner.
Both of you will rotate 180 degrees to meet on the other side and pass the ball again.
Complete 10 full revolutions in each direction.
Make the exercise harder by holding the ball with straight arms. Keeping the ball farther away from your body will make your abs and shoulders work harder.
4. Uneven push-ups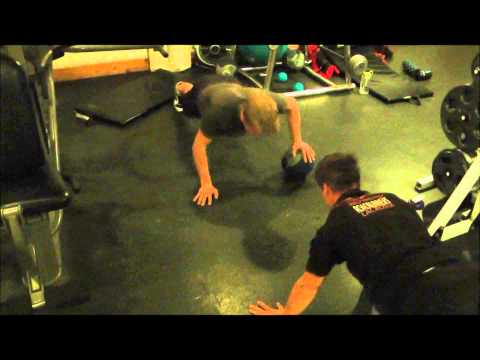 Uneven push-ups with a medicine ball works the pecs, triceps, shoulders, and core. Your obliques will also be working as you shift side to side, passing the ball.
Below is a step-by-step guide explaining how to do uneven push-ups as a medicine ball partner workout.
Start in a plank 2-4 feet from your partner, facing each other.
Perform a push up with one hand on the ball.
Shift the ball to your other hand and do another push-up.
Pass the ball to your partner to complete a push-up with each hand.
Continue passing the ball back and forth until you have both done 10 push-ups on each arm.
Drop to your knees if you cannot get your elbows to a 90-degree angle during the push-ups. Keep your abs tight while holding your plank. Don't let your stomach and hips sink toward the ground. Take short breaks when needed or reduce the total number of repetitions to maintain good form.
6. Wall sit & burpees
Wall sit and burpees is a partner med ball exercise that works the quads, chest, and shoulders. The burpees will also get the heart rate up to boost the cardio benefits.
The following guide explains how to perform wall sit and burpees with a medicine ball and partner.
Lower into a wall sit with your back flat against the wall and your legs forming a 90-degree angle with the floor.
Hold the medicine ball at your chest.
Toss the medicine ball to your partner who is standing facing you 8-10 feet away.
Your partner tosses the ball right back and performs a burpee immediately after throwing the ball.
The partner doing burpees jumps their feet back and lowers their chest to the ground.
Press yourself back into a plank and then jump the feet back in toward the hands to stand.
Hold the ball by your chest until your partner has completed their burpee, and then repeat.
Switch positions once one partner has completed 10 burpees.
Motivate your partner doing burpees to move as quickly as possible. The faster the burpees are completed, the less time you will be holding the wall sit!
7. Lunge with partner ball toss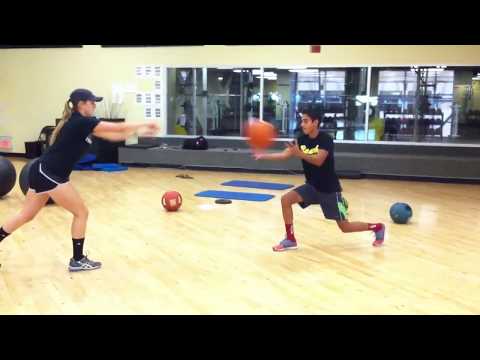 The lunge with partner ball toss is a lower body exercise that works your glutes, quads, hamstrings, and calves. It also challenges your balance. In addition to the benefits of the lunge, throwing the ball works the obliques to stabilize you while you catch and toss the medicine ball with your partner.
Below is a guide that describes how to do the lunge with partner medicine ball toss.
Step your right foot back into a lunge. Your partner will step their left foot back into a lunge facing you 6-8 feet away.
Toss the ball underhand toward your partner from your right side, twisting toward your front leg as you toss the ball.
Your partner catches the ball as they rotate toward their left leg.
Your partner then rotates back toward the center, tossing the ball back.
Stay in the lunge until you have both completed 10 repetitions.
After each person completes 10 repetitions, switch legs and complete another 10 repetitions.
Switch legs and complete 10 reps on the other side.
Stand closer to your partner to make the exercise easier or to get the hang of it. This exercise can be tricky, but it's worth the hard work!
Medicine ball partner workout: Conclusion
Turn on your favorite playlist and power through 4 sets of this medicine ball workout with your favorite workout partner.
These exercises will challenge your whole body and get your heart rate up better than working out alone.