One of the obstacles that holds people back from mastering double unders is the choice of rope used.
Because you need to have close control of the rope and adequate speed to execute a double under, the choice of rope really matters, as do the handle and rotating mechanism of the jump rope.
I'll review some of the best double unders jump ropes for CrossFit. I also want you to learn how to choose a double under rope so you can find one that's perfect for you.
Top 5 Jump Ropes for CrossFit & Double Unders (Comparison Chart)
For more of my top CrossFit gear recommendations, have a look through these guides: Climbing Ropes, Gloves, and Weight Lifting Belts.
Best Jump Ropes For CrossFit & Double Unders
1. WOD Nation Speed Rope
The bearing system gives the jump rope a smooth rotation. The added swivel from the bearings also helps the rope maintain speed and shape – even if your form isn't the best.
I just wish the handles were a better quality. The nylon can get slippery with sweat, and there is no grip. The nylon-covered steel cable does a decent job of holding up, considering the price.
Pros
11 foot cable
Spare cable included
6 3/4 inch extra-long handles
8 colors
Free carrying bag
Good price
Cons
No contoured grip
Handles might be too long for people with small hands
Best For: Beginners who want a quality jump rope for learning double unders but don't want to spend a fortune.
2. RPM Fitness 3.0 Session
The handles are 6-inch machine-molded hollow aluminum with knurled contoured grip. They are light, comfortable, and don't slip.
Note that the Fitness 3.0 rope comes in "Session" and "Competition" versions. The Session version (listed here) has a coated cable. For a coated cable, it is still very thin and gets a lot of speed.
The dual-axis rotation of the handles means that the handles stay put on the end of the rope. It also gets rid of torque buildup in the cable. Not only does this mean it gets rid of kinking, but the rope will hurt less when it hits you!
Pros
Hollow aluminum 6-inch handles with knurled grip
Dual-axis rotation
12-foot cable
Very fast cable with thin coating
Can swap the cable with speed version
5 colors
Less than 4oz total weight
Cons
Pricy
Only two rope options
Best For: Serious athletes who want a speed rope.
3. FitSkuad Jump Rope
The handles are sturdy aluminum with a nice foam grip. At nearly 6 inches, the handles are good for all hand sizes and maintaining control.
A double ball bearing system helps provide smoother rotation of the jump rope. They will start to wear down eventually but are pretty durable for a cheap CrossFit jump rope.
Pros
Long handles with foam grip
Double ball bearing system
Durable PVC coated cable
Carry bag
5 colors
Cons
No other types of cables offered by company
Screwing mechanism for ends not very secure
Best For: Beginners looking for an all-around quality double under rope that won't break the bank.
4. Elite Surge 2.0 Jump Rope
The cable that the Elite Surge 2.0 comes with is a 3/32" nylon-coated steel cable. The handles are compatible with 6 other cable types offered by the company.
The weight of the handles is decent at just 4 ounces. The foam grip is a nice touch for people whose hands tend to cramp up.
Pros
2-year warranty on handles
Dual ball bearing head for smooth rotation
9 colors
Lightweight handles with foam grip
Compatible with 6 different cables
Cons
5 ¼ inch handles a bit short for large hands
Some complaints about tiny screws for adjusting the length
Best For: People who want durable handles that they can use with different ropes as they progress.
5. Survival and Cross Jump Rope
For the price, the quality and design of the rope are actually decent. You've got two sets of collars for adjusting the length, smooth bearings, and a rubber-coating cable that holds up even during abuse.
Don't expect much in terms of durability, speed, or handle comfort though. If you are serious about double unders, then go for a more durable jump rope right away. If you just want something cheap until you figure out the basics, this rope will suffice. You might even like the extra weight for the tactile feedback it gives.
Pros
Cheap
Slow rope gives good feedback
Two sets of collars for adjusting length
Cons
Plastic handles with poor grip
Lower-quality materials break down faster
5 inch handles are short
What Are Double Unders?
The name says it all basically. A double under is a jump rope exercise in which the rope has two complete rotations beneath your feet during the course of one jump. Double unders offer an intense workout which improves balance, endurance, strength and even cognitive function.
A less known quality that CrossFit double unders have is that they are also linked to superior speed. According to a Kanazawa University study, sprint speed can be enhanced by performing double unders.
How to Choose The Best Jump Rope for Double Unders?
You can't use a standard jump rope for double unders. These ropes are generally sized too long, have handles with poor grip, and produce too much friction to get adequate speed.
If you go to a gym, they might have some quality jump ropes. However, it is still best to get your own jump rope so it can be sized correctly. Communal ropes in gyms also take a lot of abuse. They'll probably kink from overuse.
Competition vs. Crossfit Jump Ropes
Before you start shopping for a double under jump rope, you need to decide how you are going to use it. Ropes for CrossFit double unders are different than those for competition.
Competition Double Under Ropes: The goal in competitions is to do the most amount of double unders in a specified time.
The rope is very short. Competitors will even bend over to reduce the revolution time of the rope.
Lightweight and thin. This gives the rope more speed.
Cross Fit Double Unders Ropes: With CrossFit, the goal is endurance. You want to do double unders for the longest amount of time.
The rope will be longer. This is important for keeping proper form.
Thicker and heavier. The rope will be slower but provides better feedback
Here we will be looking at features CrossFit jump ropes. Some CrossFit jump ropes will still work for competition. They'll just have to be sized shorter for speed rather than endurance training.
Jump Rope Handles
Standard jump ropes usually have dinky handles made out of plastic. These suffice for standard jumps, but won't cut it for double unders.
You want a handle that is longer so it fits better in your hand. This will give you better control. Likewise, it is nice to have a sturdy material for the handle.
When you can't decide between two jump ropes, look at the handle grip. It is worth it to pay a few extra bucks for a contoured grip with padding– especially if you plan on spending significant time mastering double unders.
More advanced jump ropes will also have sliders on the handle. These keep the handle tight so the cable doesn't start sliding.
Look For:
Longer handles
Sturdy material
Contoured grip
Padding on the grip
Sliders to keep the handles tight on cable
How the Cable Is Set in the Handle
This is what really sets quality jump ropes apart from the cheap ones. There are various mechanisms to get the cable to move in the handle. The best jump ropes will move very smoothly.
Cheap Cable Jump Ropes
The cheapest jump ropes – probably the ones you used as a kid – have a hollow handle with a cable stuck through it. AVOID these jump ropes for double unders!
The cable doesn't have any way to roll in the handle. It will quickly get kinked up. You also get a lot of friction slowing the rope down.
Make sure you choose a jump rope which has some sort of rotating mechanism for the cable. The cable must be able to get at an efficient 90-degree angle. Which brings us to rotating mechanisms and side-mounted jump ropes.
Jump Ropes with Rotating Mechanism
CrossFit jump ropes will usually have a ball set inside the handle. The cable attaches to the ball, so the cable can do to any angle. The cable can be moved in the handle to adjust the length.
Ideally, the rotating mechanism won't rust or corrode. Even so, expect the rotating mechanism to eventually wear down. At that point, you'll have to replace your jump rope. I don't know of any jump rope company which sells just replacement rotators for their handles.
Side Mounted Jump Ropes
With these jump ropes, the cable comes out of the handle at a 90-degree angle. It stays fixed in this position as its rotates, so you consistently have the rope coming out.
Side mounted jump ropes are great for double unders, and all of the best jump ropes reviewed here are side-mounted. Unfortunately though, side mounted jump ropes aren't suitable if you want to use the jump rope for any crossovers or jumps where the hands aren't strictly held at the side.
The Cable
Here's where things can seem a bit confusing. CrossFit jump rope cables come in different thicknesses, materials, and with coatings.
As a general rule:
Beginners should choose heavier and thicker ropes.
As you advance, most to lighter, thinner ropes for speed.
Outdoor double under ropes need to be sturdier and coated.
Cable Thickness and Weight (aka Speed)
Jump ropes for beginners are generally made out of a thicker wire and/or have a coating around them. The extra weight and thickness of these cables make them much slower. They are much easier for beginners because they provide tactile feedback as they hit the ground.
Speed jump ropes are designed to be as light and thin as possible to cut down on friction. It takes a lot of skill to manipulate these ropes, but you can really get going fast with these cables! However, they come with the downside of not holding their shape very well. Often, thin cables will start to waver as they go over your head.
Oh – I should mention that those speed jump ropes hurt like hell when they smack into you! Don't try to use a fast-speed jump rope until you've mastered double unders with a thicker cable.
Speed ropes are usually about 2.4 ounces
Standard ropes are usually about 3.5 ounces and up
Cable Coating
Virtually all jump ropes for double unders or CrossFit are going to be made from a steel cable. Some of these steel cables are thicker or thinner than others. What really matters though is the coating.
Beginners will generally want a cable coated with PVC or nylon. The coating provides you with better tactile feedback as the rope hits the ground, allowing you to perfect your double unders.
Coated cables also hurt less when they hit you!
As you progress and want more speed, you can switch to bare wire or Teflon-coated cables. Just don't use these outdoors ever. The asphalt will cause them to get abrasions. Dirt will then get into the cable and cause corrosion.
Adjusting Mechanism
Unless you are sharing your jump rope with someone else (not recommended), you will only need to adjust the length once when you get it.
Thus, the "easiness" of the adjustment mechanism isn't so important. However, you do want to look at whether the adjusting mechanism has collars.
Collars can be used to hold the jump rope in place on the handles so it doesn't slip. Most ropes adjust from one side only, but some allow adjustment from both sides and have collars on both.
Interchangeable Cables
As a beginner, you will probably be using a thicker cable on your jump rope. As you progress, you can usually fit any smaller cable into your existing handles.
The opposite is not true though: you can't put thicker cables in handles made for speed ropes
If you think you will be switching ropes frequently during training, look for a CrossFit jump rope that lets you swap out ropes easily. Though ropes from other companies might fit your handles, it is generally safest to buy ropes from the same company that are listed as compatible.
How to Size a Jump Rope for Double Unders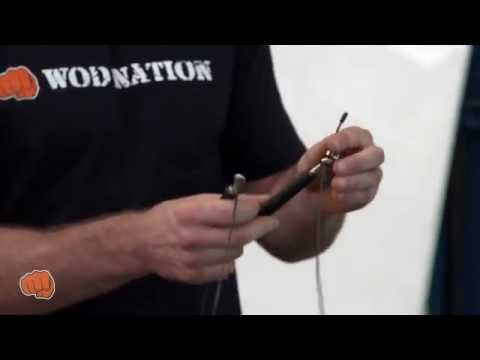 Sizing your jump rope correctly is the most important thing you can do for improving double unders.
As a beginner, the jump rope will be a bit longer and have more clearance over your head. As you progress, the rope gets shorter until there is as little as 1-inch clearance overhead. Shorter ropes mean you go faster, but there is less room for error.
Amount of Jump Rope Clearance:
Beginners: EliteSRS Fitness recommends leaving 8 to 12 inches of clearance over your head.
Intermediate: 4-7 inches of clearance provides a nice balance between speed and control.
Advanced: David from Paradiso CrossFit says that 1 inch of clearance while maintaining perfect form is ideal.
Form for Double Unders
To size your jump rope properly, you've got to pay attention to form. Your arms need to be put in towards your sides. The further your arms are from the sides, the longer the rope will need to be.
Steps for Adjusting the Rope Length
Find the middle of the rope and put your foot on it.
Slide the rope so one handle is against your pectorals (right in front of your nipples). Hold the other handle will be up as high as it can go.
Slide the higher handle so it is level with the one at your pecs.
Remember to hold the handles close to your body!
Take the adjustable collar and move it down.
Retighten collar.
Using wire cutters, cut the excess cable. Leave a few inches on the ends.
Test the rope length. If you feel any drag, adjust the collar and test again.
Once you find the ideal length, cut off any remaining cable.
Tips:
When cutting your jump rope to size, it is generally best to size the rope gradually. Shorten the jump rope an inch or two at a time. This way you don't accidentally take off too much rope
Have someone watch you jump during your first test. This ensures that you are using proper form, which is important for getting the rope length correct.
Last update on 2023-09-29 UTC -5 / Affiliate links / Images from Amazon Product Advertising API - Details