The deadlift is sometimes referred to as the ultimate depiction of strength. If you can pick a heavy object off the floor from a static starting point, you can do anything.
While not everyone has goals of lifting a car or breaking world records, deadlifts are foundational for all training modalities. They train functional movement patterns that replicate activities of daily living and engage every major muscle group in the body.
If you're looking for a barbell deadlift variation to help you build strength and muscle mass, you can't go wrong with the trap bar deadlift. Here's everything you need to know about how to do a trap bar deadlift and why you should.
What are Trap Bar Deadlifts?
Trap bars, also known as hex bars, are named for the shape of the bar— a trapezoidal shape or hexagon. There's a misconception that this bar was named after the trapezoid muscles and that this bar is better for working the traps, but it's a myth. The bar was actually invented as a rehabilitative tool for injured powerlifters.
Trap Bar vs Barbell Deadlift
While the basic mechanics of trap bar and barbell deadlifts are similar, there are a few key differences to keep in mind.
With trap bar deadlifts, you stand inside the apparatus and lift the weight using handles placed to your left and right. The steps and movement are similar to a conventional deadlift, with a different range of motion and center of gravity. This shift changes the mechanics of the movement.
The reduced range of motion and positioning shift which muscles are worked and allow the lifter to go heavier.
Trap Bar Deadlift Benefits
Trap or hex bar deadlifts offer several benefits that make them a great deadlift variation exercise as well as a worthwhile addition to back muscle exercises. Here are seven benefits of trap bar deadlifts to consider the next time you're in the gym.
1. Beginner-friendly
Deadlifts are a complex movement and can be intimidating to beginners. Furthermore, making a mistake while deadlifting can cause back pain and a plethora of other issues.
Trap bars somehow look more intimidating than straight barbells, but they're more beginner-friendly. The design makes it more intuitive to use and requires less thought about form and muscle activation.
The limited range of motion also helps reduce over-extension while teaching the functional movement pattern of a conventional deadlift— i.e., hip hinging and engaging the shoulders.
2. Ideal for a limited range of motion
The trap bar deadlift is an effective deadlift variation for those with existing back injuries or a limited range of motion. In other words, it's great for seniors who are using strength training to offset age-related muscle loss (sarcopenia), people with movement disorders, and seasoned athletes recovering from an injury.
As mentioned previously, the trap bar was invented as a rehabilitative piece of exercise equipment. Inventor Al Gerard was an engineer and competitive deadlifter. After experiencing a low back injury, he designed the trap bar to help him and others keep deadlifting without causing further damage.
3. Less stress on the back
That limited range of motion when trap bar deadlifting creates another benefit: less stress on the lifter's back. It's been theorized that the upright posture and weight load shifting behind the knees when using a trap bar puts less stress on the lumbar spine. A comparison of peak moments during conventional and hex bar deadlifts showed a significantly lower impact on the spine during the hex bar deadlift.
To cut through the science and biomechanics, the trap bar alters the center of gravity and positioning to put less strain on your lumbar spine. Of course, form, bone length, and technique will always have an impact as well.
4. Better weight distribution over the posterior chain
Both the conventional deadlift and hex bar deadlift engage the posterior chain. Yet, the trap bar engages the posterior chain while distributing the load more evenly— another rehabilitative consideration.
Instead of relying on the lower back muscles and glutes to get off the ground, the hex bar also engages the ankles, knees, hips, and quads. Yes, you're shifting some of the focus to the front part of your body, but that also has benefits.
5. Easier on upper body
Barbell deadlifts are typically viewed as a leg day or lower body workout. These compound exercises also require a lot of engagement from the upper body muscles, as it is a "pull" exercise.
If you have shoulder or bicep issues, the barbell deadlift can cause further damage. Trap bars are also easier on the hands if you're still working on building your grip strength— yet another benefit for beginners.
6. Helps build power
Trap bar deadlifts aren't just for injured and new athletes; they'll also help you increase your barbell deadlift. Studies show that the muscle activation that occurs when deadlifting with a trap bar could be more effective for developing maximal force, power, and velocity than a barbell deadlift.
If you've reached a plateau with your conventional or sumo deadlift, try switching to a trap bar for a while.
7. Strengthens lock-out in conventional deadlifts
The combination of the reduced range of motion and increased power with a trap deadlift help you focus on improving your lock-out. If you're great at getting the weight off the floor but struggle to push your hips through with a conventional deadlift, try trap deadlifts for a while.
Trap Bar Deadlift Muscles Worked
The trap bar deadlift hits the same lower body muscle groups as a conventional deadlift, just in a different way. Trap bar deadlifts engage your:
Glutes
Quads
Hamstrings
Hip flexors
Core
Erector spinae
Upper back
And yes, your traps
Compound exercises are the best way to make the most of your time in the gym.
How to Trap Bar Deadlift
Trap bar deadlifts are generally viewed as easier because the setup is more intuitive, and you can lift heavier. Here's a step-by-step guide for doing trap bar deadlifts correctly:
Stand in the middle of the loaded bar with your feet hip-width apart.
Roll your shoulders back and hinge your hips while keeping your shins straight to grasp the handles— think hips bending before knees.
Brace your core, lift your chest, and drive down through your feet to lift the bar as you extend your knees and hips back toward a standing position.
At the top of the movement, your back should be straight with your pelvis tucked forward and your glutes squeezed.
Pause, and lower the trap bar back to the ground with control. That's one rep.
Be sure to pause and adjust your stance between reps to ensure your hex bar deadlift form holds up and avoid using momentum to power the lift.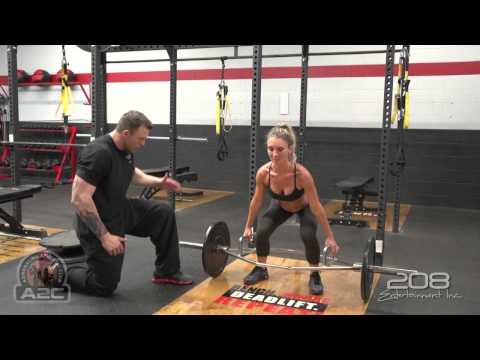 Trap Bar Deadlift FAQs
So, where do trap bar deadlifts fit into your training? How often should you do them? Here are your questions, answered.
Can trap deadlifts replace squats?
Trap deadlifts are a great accessory to help improve your squat. It takes a lot of power to push a loaded barbell back up after squatting, and a trap bar deadlift is designed for improving strength and power.
However, this exercise won't replace squats; nothing can. The limited range of motion and lack of upper body engagement compared to a barbell squat will affect your results. Positioning plays a pivotal role in squats— lower body strength alone won't cut it.
Why can I lift heavier with a trap bar?
Are you shocked at how much you can deadlift with a trap bar? Are they easier? Have you gotten stronger overnight?
You can lift heavier with a trap bar because of your positioning and the limited range of motion. Starting more upright allows you to take off with more power, while the shorter range of motion means less pull time. It's similar to doing heavier rack pull deadlifts to improve your lock-out.
How often should I trap bar deadlift?
Your hex bar deadlifting frequency and volume will depend on your goals. Barbell deadlifts tend to be the most taxing lift on the body. Trap bar deadlifts are still tough but less so.
If your goal is to build mass with trap bar deadlifts, go lighter weights and higher reps a few times per week. You can also include tempo training to enhance the effects.
If your goal is to build strength and you plan on doing conventional deadlifts once per week, add a second lower body day with the trap bar as an alternate.
What other exercises can I do with a trap bar?
Trap bars are incredibly versatile, making them a great training tool for bodybuilders, powerlifters, strongman competitors, Olympic lifters, and CrossFitters.
Use your trap bar for:
Farmer walks
Jumping deadlifts
Romanian deadlifts
Seated deadlifts
Rows
Shrugs
Lunges
Step-Ups
Presses
You could do a full-body workout with this one piece of equipment.
Can I do trap bar deadlifts with dumbbells?
You can do trap bar deadlifts with dumbbells or kettlebells. Place them to your sides, using boxes or benches to replicate the height of the trap bar handles. Then, proceed as you would for a trap bar deadlift.
Grab a Trap Bar and Get Lifting
Trap bars are versatile tools that make deadlifting more accessible for new, senior, and injured athletes. Seasoned athletes can use trap bar deadlifts to get over plateaus while improving strength and power.
Don't overlook this absolute gem the next time you head to the gym. It may be the training tool you've been missing.