The trap bar is an interesting specialist barbell that you've probably seen in gyms around the world.
We've already discussed the best trap bars on the market, but if you're not sure what they're for, it can be bewildering. We're going to discuss the best trap bar exercises and why they're our favorites.
We're also going to talk about how you can get the most out of a trap bar. This includes how to perform trap bar exercises for the best results, or how to fit them into your training plan.
1. Trap Bar Deadlift
The main exercise you think about when discussing the trap bar is the trap bar deadlift (or hex bar deadlift).
This was one of the main reasons the trap bar was made in the first place: a type of deadlift that is easier to learn and use. This movement is great for its accessibility, it's application to sports training, and how it adjusts the conventional deadlift for different muscles and joint positions.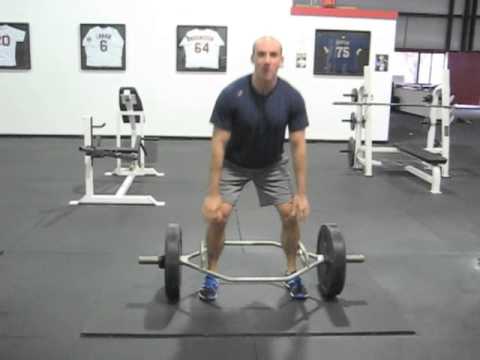 Why use the trap bar deadlift?
The trap bar deadlift is a great alternative to the conventional deadlift because it's easier to learn, reduces strain on the lower back, and is a great balance of leg and glute training. These add up to make it one of the most under-rated movements for strength, size, and athleticism.
You'll see this movement in the training of athletes because it is widely-applicable to sports performance. It also allows you to train the extension of the knees and hips together more closely than the conventional deadlift, which is usually more useful for athleticism and power.
It can be hard to learn efficient heavy deadlifting so, if you don't have the time or have other priorities, the trap bar deadlift can simplify the training process. You still need to learn how to brace the core and keep the body aligned, but it's less posturally-demanding than the conventional deadlift!
The best and worst parts of the trap bar deadlift come from how it shifts the weight away from your back towards your quads. This means a reduced risk of back rounding and thus injury – a common problem for those who don't know how to deadlift effectively.
Obviously, this does take out some of the more back- and hamstring-dominant work from the deadlift. You should make this up with some specific hinging movements like Romanian Deadlifts or good mornings.
2. Trap Bar Jump
This is like a trap bar deadlift, but with a powerful extension at the top of the movement. This movement causes you to leave the floor, like in a jump, with the weight.
This is a key movement for developing power in athletes and can be an amazing choice for simple, effective heavy-weight power training. It's a simpler alternative to Olympic lifts for power development, which are often performed incorrectly due to the technical demands and nuance.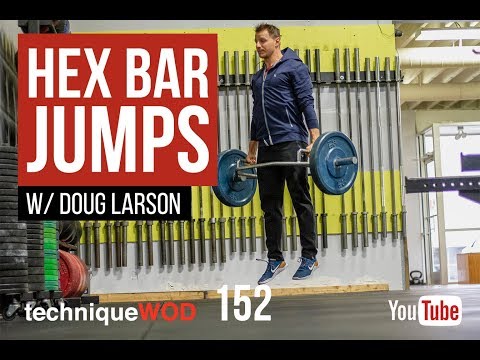 Why use the Trap Bar Jump?
These are great for reducing axial loading during power work, and they combine beautifully with other power movements. Try super-setting them with box jumps or broad jumps, sled pushes for speed, or even med ball throws.
Trap bar jumps open up a whole world of possibilities for power training supersets and combinations. They're one of the best ways to improve power without any significant time investment or injury risk.
There are no downsides to this kind of training, but you should make sure to get it right. Work on bracing the core properly and getting the landing down: practice with light weights to improve technique.
3. Trap Bar Shrugs
The shrug is another one of the central movements for which the trap bar exists. It's right there in the name: big traps are the goal and this movement is a way to build your own.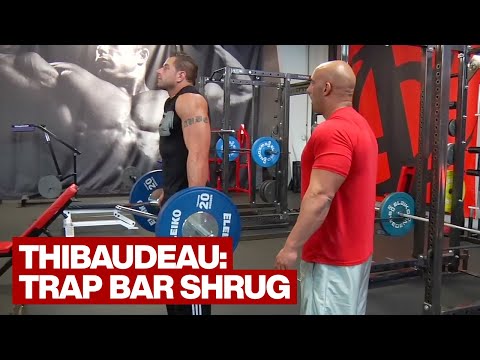 Why use the Trap Bar Shrug?
The position of the handles and the shape of the hex bar make the shrug so much easier than with a barbell. There are a few aspects that are really effective, but there are two we're going to focus on: the angle of movement, but also the grip position.
The angle of the movement is much better with a trap bar than with a conventional straight/Olympic barbell. Because of the position of the weight around the body, there's no limitation to the upward movement of the barbell or movement forward/ backwards.
The result is that the hex bar and the arms move in a straight line along the direction that the traps move. This means there's less transfer of the weight to stabilizers and you can focus on squeezing the traps, not allowing the bar to move unless your traps are moving, meaning direct training.
The grip position also helps with improving the trap focus. The regular double overhand (pronated) grip is far from ideal for shrugs. This tends to roll the shoulders forwards into internal rotation, reducing the activation of the lower traps – a problem the neutral grip trap bar doesn't present.
Between these two changes, you're going to target the traps in their two key functions and train them at the right angles.
4. Trap Bar Farmers Walk
The farmer's walk is one of the most underrated heavy weight movements. It trains the core, back, traps, hips, and grip in a unique and effective way.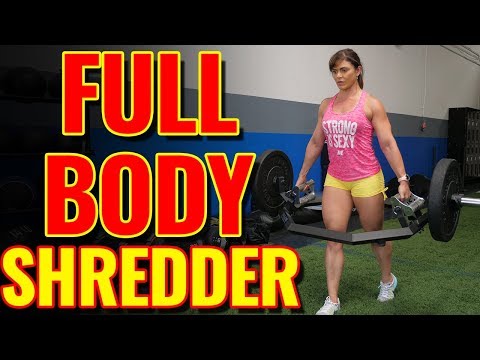 Why use the Trap Bar Farmer's Walk?
This is a great exercise for integrating some strength work into movements that you might not normally train. It's great to work single-leg strength and forces you to actively stabilize your core, upper back, and hips simultaneously under dynamic weight.
This is something you're built to do as a human, so it's worth practicing it. However, it will require some significant weight, so we recommend taking your time to work on the basics of this kind of movement.
If you're not bracing properly, take long strides, or don't stabilize your hips then you'll run into problems. These need to be worked on with lighter weights to develop better body awareness and technique, then you can add load over time. Get it right, then focus on getting stronger!
5. Trap Bar Shoulder Press
These are a hit and miss exercise, but they can be amazing if you're struggling with shoulder health or equipment.
Usually, we'd recommend performing this kind of movement on a 'football' or Swiss bar. However, these are oddly niche pieces of equipment and your gym might not have one, especially if you're training from a home gym.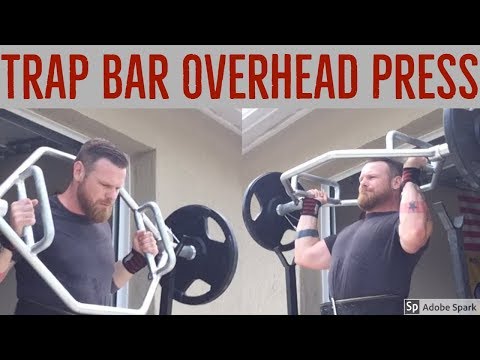 Why should you use Trap Bar Shoulder Press?
The neutral grip of the trap bar makes it an interesting choice for overhead pressing if you can rack it and get into a good position. It reduces the challenge on the shoulders associated with a straight barbell since you don't have to work around the head and the shoulders are already in position.
The trap bar makes for a good alternative on the low handles. Be sure to keep the wrists active and the elbows under the wrists/bar at all times. Be sure to control your way down, too, as the major risk here is letting the shoulders go weak and inactive at the bottom of the press position.
Keep your upper back, core, and butt active throughout. As ever, start light and build control, then add weight when you have the hang of the movement!
6. Trap Bar Floor Press
This is an interesting movement in the first place and can be performed with loads of different implements. We prefer the trap bar, however, due to the width and neutral grips providing a solid alternative to classic floor presses.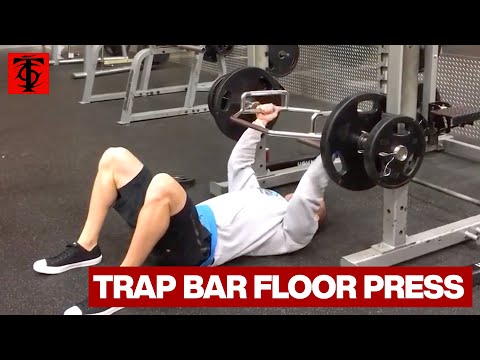 Why should you use Trap Bar Floor Press?
The trap bar floor press is a pretty good work-around if you're struggling to understand the positions of the floor press. If you have a standard/Olympic barbell and a trap bar, then you can use the two pretty much interchangeably.
Obviously, this isn't going to be as specific to the bench press, but the width and neutral grip further decrease stress on the shoulders while keeping the chest and triceps active in the movement. This means good gains, a great chance to build muscle, and all with a reduced internal rotation stress.
This is a great work-around if you're experiencing shoulder impingement or just want to take a lighter session for your pressing. This can save the shoulders and provides enough variety to help spur additional gains when you're facing a plateau.
7. Trap Bar Rows
The trap bar row is an interesting movement that changes the angles you're used to with a conventional barbell row. This has some benefits and some drawbacks you'll need to consider, providing a different stimulus – not necessarily the best.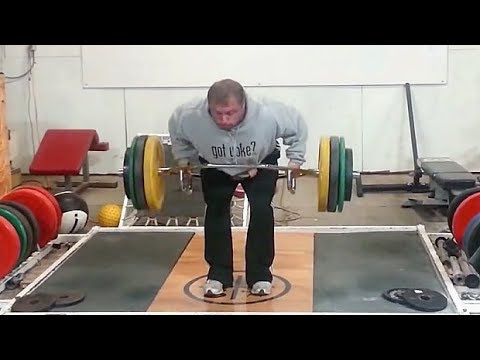 Why Use Trap Bar Rows?
The trap bar row changes from a vertical pull towards a more horizontal pull – though aspects of both are still present. True to its name, this increases the involvement of the traps, while reducing the role of the rhomboids and other retractors.
This makes it a good tool to have in your training toolkit, but not the only one. We recommend using this exercise in combination with other, specific retractor exercises. Consider movements like the reverse flye, cable row, and dumbbell row – some of our favorite exercises.
8. Trap Bar Suitcase Carry
The suitcase carry is an interesting and underused form of core training. It allows you to train the obliques in a lateral fashion – something you're probably not doing enough of.
A Trap bar makes this exercise both possible and easy. Once again, it opens up your training to a whole new world of possibilities that you might not have even considered before!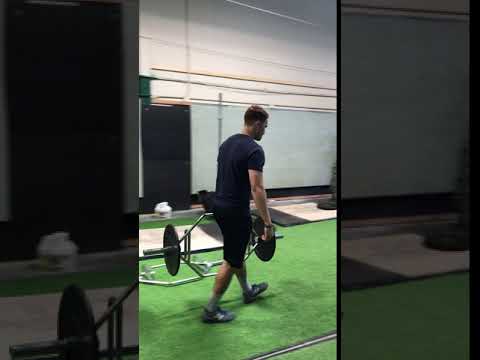 Why Use the Trap Bar Suitcase Carry?
Trap bar suitcase carries are much easier than the barbell equivalent, since this adds a significant challenge of balance. The trap bar cuts out this struggle and lets you focus on the movement and the core activation.
This is a change from the kind of core training you're used to. Carries are a great choice that is underrepresented in most training plans. The dynamic stability challenge is great for carryover to sports and life, supporting the spine and reducing lower back injury risk.
If you can train the suitcase carries effectively over time, you'll notice significant improvements to back and core strength. Definitely worth a try, and the trap bar is our favorite way to perform them.
9. Trap Bar Incline Push Ups
This is a less significant movement than you'll see with a trap bar deadlift, but it's still useful. The high handles of the trap bar can be used to perform incline push ups, as well as incline bodyweight tricep extensions.
These are possible with other methods, but equally, they're likely to be a real challenge in a home gym still. They require a stable, solid surface that you can weight, so your couch probably isn't the best alternative.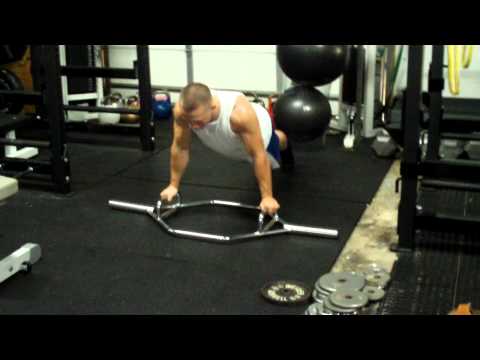 Why Use Trap Bar Incline Push Ups?
Bodyweight training is a great adjunct to your strength training and inline push-ups/tricep extensions are no joke. You might want to introduce these at the end of workouts to improve the strength and size gains in the arms, shoulders, and chest.
They're not revolutionary exercises, but they are more versatile on the high handles of a trap bar rested on the floor. This is just another
Programming and structure
So, how do you fit these 8 key trap bar exercises into your own training plan?
We can break these movements down into two categories that really helps understand how to use them. First, the heavy alternative lifts (deadlift, press, and shrug) and then the accessory exercises (like the trap bar jump or floor press).
Trap Bar Alternatives for Compound Lifts
It's easy to start with the trap bar deadlift, press, and shrugs. These exercises are good examples of direct replacements. They take something you're already doing and change it slightly to reduce stress on certain parts of the body and train specific muscles more effectively.
This kind of movement just swaps in for the type you'd normally use – or it can be used as an alternative on a lighter training day. This will allow you to keep building strength in the muscles with reduced stress to the shoulders or back, for example.
Trap Bar Assistance Exercises
The second group is assistance exercises that you might not be performing now. These include the floor press or trap bar jump. These are well suited for later in a session, or even as a superset.
For example, the floor press is a great piece of bench assistance work but can also be paired with flyes for a great finisher. Equally, the trap bar jump is great alone, but pairs well with lighter high-velocity movements like the med ball throw and chase, or explosive step-up.
These types of movements are pretty effective in lower rep ranges (e.g. 1-8 for floor press, 1-5 for jumps). This means they pair well with other exercises to increase volume, such as the flyes or throw/chase in the examples above.
Look at why you're using these trap bar exercises and consider lighter, complimentary movements you can combine them with. This often maximizes the benefits and gives you the most bang for your buck (whether that's time, effort, or 'recoverability').
How the Trap Bar Affects Different Muscles
Crucially, the trap bar changes exercises by making them more vertical. This sounds odd, but the main feature is you don't have to move the bar around your body. This means that rows, deadlifts, and presses all lack the horizontal or sagittal (forward/ backward) movement of a straight barbell.
As a result, you'll want to make sure you're balancing out these demands. Where the trap bar deadlift removes most of the hinging, add in extra light, controlled hinging movements. If trap bar rows don't use the retractors, use some isolation exercises to target them specifically.
Just think about what you're using (both more and less) and make sure you're balancing this up within your program/training sessions!
Our Final Thoughts
The trap bar opens up a world of interesting possibilities and is one of the best choices for some simple, effective weight training. It allows an average Joe to get strength, power, and size training without having to worry as much about the technique.
You still need to take your time, build up effectively, and make sure you're moving properly. However, if you're looking to fast track your physical changes and results without having to spend hours in the gym worrying about hip positioning in the deadlift, for example, it can be a great choice.
If you're liking the sound of these trap bar exercises, you can take a look at our review of some of the most popular trap bars on the market. Whether you just want an economy piece for occasional use or a brilliant blend of quality and value, it's a good read before you drop your cash on a bar.
We love a trap bar – we think you will too – and definitely recommend trying these. If you're training at a gym, give the trap bar some of your time, and if you've got a home gym you can actually pick them up pretty cheap. Either way, it's a great alternative and can really help improve your training!