This post may use affiliate links. As an Amazon Associate I earn from qualifying purchases.
The Romanian deadlift (or RDL) is an excellent exercise for strengthening the glutes, hamstrings, and the lower back muscles. If it doesn't feel great to you, though, or if you want to shake things up a bit, there are plenty of other exercises you can try instead.
For those looking to take a break from the RDL, listed below are some of the best Romanian deadlift alternatives to try today.
1. Good Mornings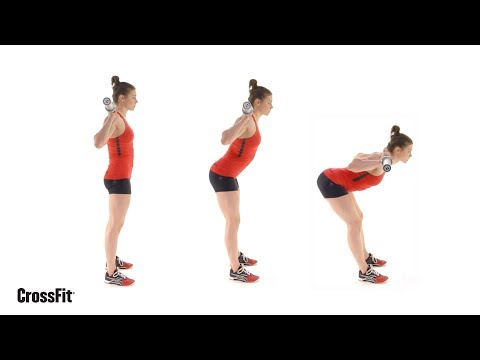 A lot of people struggle with Romanian deadlifts because they haven't first taken the time to master the hip hinge.
Proper hip hinging is essential to correctly perform a Romanian deadlift (or any other type of deadlift, for that matter). If you have a hard time doing this and find yourself rounding your back, practicing good mornings for a while before going back to the RDL can be a helpful option.
Here are some tips to keep in mind when doing good mornings to get the most out of them:
Start by holding a barbell on your back as though you were going to do a back squat
Use an empty barbell or choose a lightweight pre-loaded one so you can focus on form without overloading your muscles and joints
Inhale as you lean forward and send your hips back behind you while holding the barbell in place on your back
Keep your legs and back straight and aim to form a 90-degree angle with your legs and torso
Exhale as you push down into the floor and rise back up to the starting position
If you still have trouble with the hinging pattern, consider standing close (about six inches or so) to a wall while doing this exercise. As you lean forward, try to tap the wall with your glutes. This will help you to feel more comfortable hinging and sending your hips backward.
2. Glute Hamstring Developers (GHDs)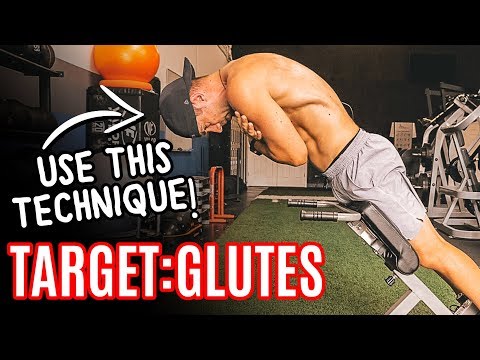 The great thing about glute hamstring developers (or GHDs) is that you can adjust your position so that they place a greater emphasis on different muscle groups. For example, when the knees are bent, it's easier to isolate the glutes and hamstrings. When the knees are straight, though, that helps you to better strengthen the middle and lower back.
If you're looking for an alternative to Romanian deadlifts, chances are you're more focused on finding a different way to target the glutes and hamstrings. Here are some cues to keep in mind when performing GHDs to experience those desired results:
Set yourself up on the GHD machine with your hips pressing into the pad and your arms crossed in front of you
Stand with your knees bent and lean forward over the machine while inhaling
As you exhale, squeeze your glutes and begin to straighten your back to rise up into the starting position
Keep your upper back rounded as you rise up to place more of an emphasis on your glutes and hamstrings
Inhale and fold at the hips to lower back down
Learn more: The Glute Ham Raise: Techniques, Benefits & Common Mistakes
For many people, GHDs with bodyweight only are very intense. If you want to make this exercise more challenging, try holding some weight while doing it. You can hold an empty or loaded barbell in your hands or hang onto the handle of a kettlebell. Some people like to hold a plate against their chests, too.
3. Block Deadlifts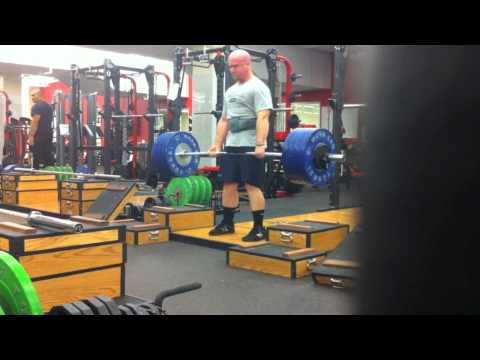 A lack of mobility in the hamstrings can make RDLs difficult. You may find yourself rounding your back or excessively bending your knees to compensate. If this is the case, block deadlifts can be a good substitute for the Romanian deadlift.
Block deadlifts bring the weight closer to your body and save you from having to reach as far as you might normally to lift them up. They can also help you work through the sticking point in your regular, heavier deadlifts, making them an excellent exercise to add into your routine regardless of your specific goals.
To do block deadlifts correct, follow these tips:
Set up two boxes that are about knee-height and place the barbell across the top of them
Stand behind the barbell and grip it with your hands positioned slightly outside of your thighs
Hip at your hips and send them back behind you
Make sure your shoulders line up with the barbell
Inhale, brace your core, and squeeze your lats
Exhale and push into the floor while rising up to a standing position, lifting the barbell off of the boxes
Squeeze your glutes at the top of the exercise and drive your hips toward the bar
Keep the barbell close to your thighs through the entire movement
Inhale as you hinge at the hips and lower the bar back down to the boxes
4. Single-Leg Deadlifts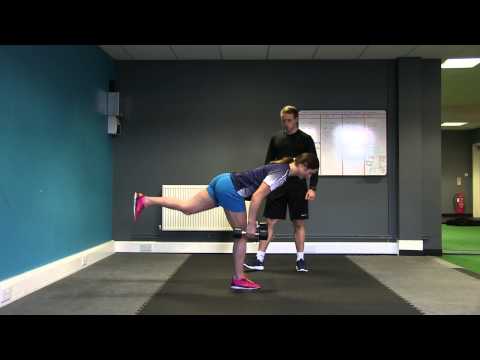 Single-leg deadlifts are a good alternative to the Romanian deadlift that also help you to correct strength or mobility imbalances between your two legs. By working on single-leg deadlifts, you can create more balance. You can also ensure that your weak side doesn't hold you back when doing Romanian deadlifts or other deadlift variations.
You can do single-leg deadlifts with dumbbells, kettlebells, or even a barbell. For the sake of this example, though, we'll talk about doing them with dumbbells. Here are some cues to help you when doing single-leg deadlifts for the first time:
Stand up straight while holding a dumbbell in each hand (start with a lighter weight if this is your first time doing this exercise)
You can hold the weights in front of your body or on either side
Inhale as you shift your weight onto one foot and let your other foot hover off the ground a couple of inches
Hinge at the hips and send the hovering leg back behind you (think about it going straight back toward the wall, rather than up in the air)
At the same time that the leg is going backward, you should be leaning forward with your torso and bringing the dumbbells down toward the floor
Stop leaning forward when the dumbbells reach the mid-shin (keep the weights close to your body, the same way you would when performing another type of deadlift).
When you've reached this point, exhale and press into the floor as you return to the beginning position
5. Seated Hamstring Curls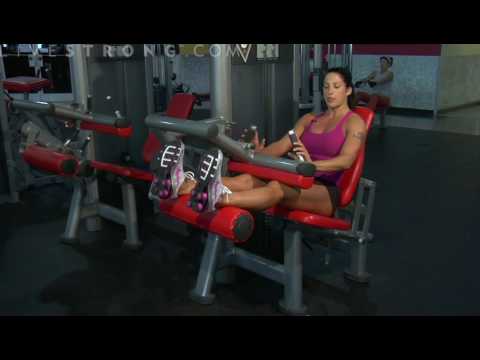 If your main goal is to target your hamstrings, seated hamstring curls are an effective exercise to add to your routine. They can replace Romanian deadlifts while you work on increasing your hamstring strength or aim to further develop this part of your body.
Here are some cues that will help you get the most out of your seated hamstring curls:
Sit on the seated hamstring curl machine with your ankles resting on top of the bar
Adjust the machine to your desired weight (consider starting with a lighter weight if this exercise is new to you)
Inhale and sit up straight on the machine, then exhale and bend the knees to curl the weight back toward your body
Inhale and straighten your legs to return to the starting position
Don't let your legs straighten out all the way; keep a slight bend to maintain tension on the hamstrings
6. Hip Thrusts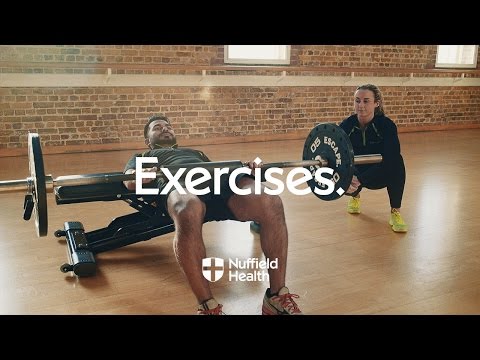 Most people think of hip thrusts as a glute-building exercise. It's true that they do target the glutes in a significant way, making them a staple exercise for those whose fitness goals include "booty building".
What you might be surprised to learn, though, is that hip thrusts strengthen the hamstrings, too. In fact, a 2019 study showed that there is no statistical difference between the hip thrust and the Romanian deadlift when it comes to activating the glutes and hamstrings.
To get the most out of your hip thrusts, follow these instructions:
Sit on the floor with your upper back leaning against a bench or box
Position the weight so that it sits in the crease of your hips (you can use a barbell, dumbbells, or a kettlebell, but most people report best results using a barbell & a barbell pad)
Separate your feet so they're a bit farther than shoulder-width apart and the toes are pointed out slightly
Inhale, then exhale and press into the floor as you lift your hips to send the weight up toward the ceiling
Squeeze your glutes, tuck your pelvis, make sure your knees form a 90-degree angle when you're at the top of the exercise; if they don't, adjust your feet before setting up for the next rep
Make sure your chin stays tucked throughout the exercise to keep the spine properly aligned and place more of an emphasis on the glutes and hamstrings
Inhale and lower your body back down to the floor
7. Cable Pull-Throughs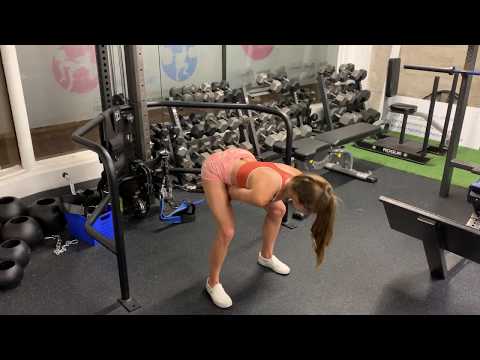 Cable pull-throughs are an excellent hamstring and glute exercise, and they also can help you to feel more comfortable when performing the hip hinging pattern. They can be a bit awkward at first, but they definitely provide a lot of benefits.
Keep these cues in mind when doing cable pull-throughs for the first time:
Hook a rope attachment onto the cable machine and adjust it so it's at the bottom of the machine
Face away from the machine, hold one end of the rope attachment in each hand, and stand with the attachment between your legs
Keep a slight bend in your knees as you hinge forward, inhaling while sending your hips back toward the machine and keeping your back in a neutral position
When the torso is parallel to the floor, exhale and press into the floor as your return to the starting position
Squeeze your glutes at the top of the exercise, then inhale as you hinge at the hips again and begin to perform another rep
If you find that you have trouble maintaining your balance while doing this exercise, consider keeping your weight in the front part of the feet. This will help you avoid getting pulled backward.
8. Walking Lunges
At first, walking lunges might seem like a strange Romanian deadlift substitute. After all, they're typically thought of as an exercise for the quads, rather than the hamstrings. In reality, though, lunges are very good for the glutes and hamstrings. They can help you build more strength in the legs, in general, too.
You can do walking lunges with just your body weight, or you can hold dumbbells, kettlebells, or even a barbell on your back. If you're just getting started with them, try doing them with your bodyweight-only. You can always add weight later if they feel too easy.
Follow these cues when doing walking lunges to get the most out of them:
Stand with your feet together and hands on your hips
Take a big step forward with your right foot as you inhale
When your right foot hits the floor, bend both legs so they form 90-degree angles, and your back knee hovers just an inch or so above the ground
Exhale as you press into your right foot and rise back up to a standing position
Inhale and take a big step forward, repeating this same pattern with the left foot in front this time
When stepping forward, be sure to keep your torso straight and perpendicular to the floor. Engage your core, and don't let your torso tip forward. This will be especially helpful when you start adding weight to this particular exercise.
Try These Romanian Deadlift Alternatives Today
As you can see, there are plenty of Romanian deadlift alternatives that you can do during your workouts if you want to strengthen your hamstrings, lower back, and glutes in a different way. Keep these versions in mind so you can shake up your workouts and make progress toward your fitness goals while also staying safe.