This post may use affiliate links. As an Amazon Associate I earn from qualifying purchases.
Building big triceps is a common goal for bodybuilders. Tricep work adds balance and size and acts as the foundation for other movements— like the bench press.
Focusing on long head tricep exercises will help you build mass, as it makes up the majority of the tricep muscle. The long head also aids in shoulder extension and health.
Tricep Anatomy 101
The tricep comprises of three main muscles, hence the "tri" included in the name. The muscles are the long head, lateral head, and medial head. The long head is located at the back of the arm. This muscle has a lot of potential for growth and can enhance your physique when targeted.
Isolation is a challenge when working on the triceps. Fortunately, controlled extension exercises put the onus on your long head tricep throughout the movement. This can help with targeted strengthening and growth in the long head muscle.
Here are the top long head tricep exercises for building big arms.
1. Incline Dumbbell Tricep Kickbacks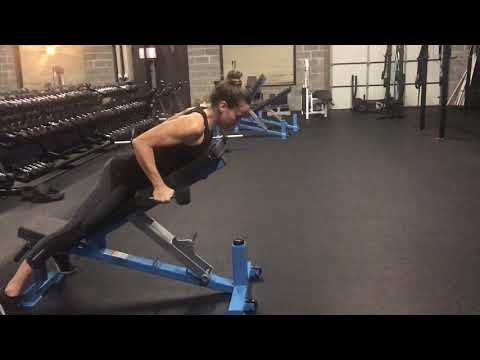 While overhead movements are usually the go-to for targeting the long head tricep, incline dumbbell kickbacks are incredibly effective.
When performing this exercise, the incline is a must— gravity plays an essential role in the effectiveness of this exercise. Using a bench takes the focus off your stability to improve the quality of the movement.
How To:
Lay chest-first on an incline bench at approximately a 45-degree angle. Engage your core and straighten your spine, to maintain a straight posture while lying down.

Tuck your elbows into your sides.

Extend your elbows to straighten your arms until they are parallel with your body. Pause and squeeze the muscles at the top to ensure maximum contraction.

Slowly lower the dumbbells back to the starting position. Your upper arms should remain still throughout the entire movement.
Proper form is necessary to get the benefits of this movement and ensure maximum contraction in the long head tricep; use lighter weights and more reps to get the best possible results with this exercise.
Looking for an incline bench? Check out Top 12 Weight Benches for Your Home Gym (Reviews)
2. Triangle Push-ups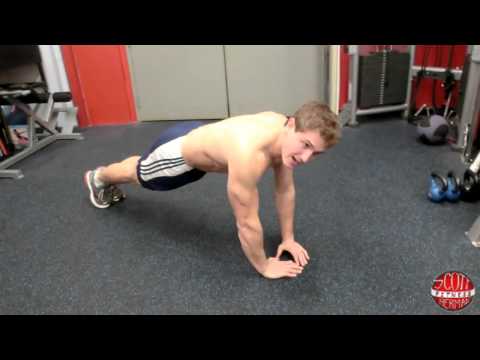 According to a study by the American Council on Exercise (ACE), triangle push-ups (AKA diamond push-ups) are one of the most effective exercises for targeting both the lateral head and long head triceps.
Unlike a traditional push-up, this exercise requires that the hands are brought together under the chest. Your splayed fingers should make a diamond or triangle shape.
How To:
Start in a high plank position with your toes tucked, and core braced.

Move your hands inward until they are centered under your chest, with your fingers forming a triangle or diamond.

Slowly lower yourself while maintaining proper form: elbows tucked, spine straight, and core braced.

Pause at the bottom of the movement before lifting yourself back up into the starting position.
Elbow pain indicates an issue with your form in this movement, which is common in tricep exercises. Adjust your setup until you feel the squeeze in your tricep muscles and no pain in your elbows.
3. Tricep Pushdowns with a Rope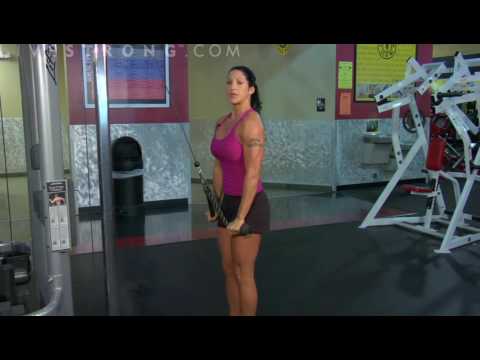 Tricep pushdowns (AKA pulldowns) give you the same type of flexion as kickbacks. Using a rope (like this) instead of a bar can help you target the long head of triceps without shifting the focus to the lateral head.
Proper form is the key to successful isolation exercises. Don't hesitate to ask a training partner to keep an eye on your triceps to monitor the flexion in the long head.
How To:
Start by standing in front of a cable pulley machine with your feet hip-width apart. You should have a slight bend in the knees.

Grab the rope apparatus with an overhand grip, one hand per side. Keep your elbows tucked to your sides.

Pull the rope downwards, bracing your core and keeping your chin tucked. Your upper arms should remain still throughout the movement.

When the ends of the ropes reach your hips, pause and squeeze the muscles.

Slowly release and come back to the starting position with a controlled movement, trying not to crash the weight.
Resist the urge to lean into the movement by keeping your torso upright. When using a cable pulley machine, you may also have to adjust the height to maintain proper form.
4. Overhead Rope Extensions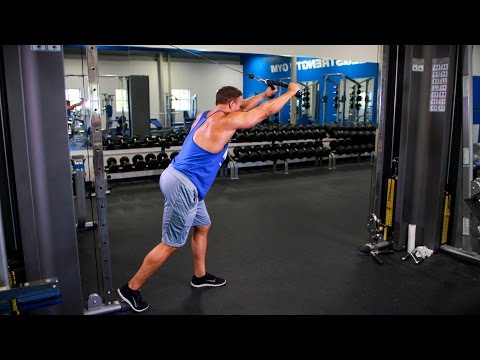 One of the benefits of using overhead rope extensions is that you can use the same setup as tricep pushdowns. Adjust the cable pulley machine so that the ropes are situated so that you can grab them in an overhead reverse grip. This is a great exercise for targeting the long head triceps, thanks to the stretch the overhead position provides.
How To:
Stand facing away from the cable pulley machine. Assume a split stance position, with one foot stepped out in front of the other. This starting position will provide you with stability throughout the movement.

Reach overhead and grab the rope in a neutral grip with your palms facing each other. Lean forward and adjust your stance as needed for balance.

With your elbows parallel to the floor and tucked in, extend your arms, flexing the triceps, and pull the rope overhead.

When your arms are fully extended, pause, and squeeze the muscles before slowly returning to your starting position.
Many bodybuilders prefer the high pulley setup, as outlined above, when building bigger arms. However, you can also do this exercise with a low pulley setup. Try both to find which one works for you.
5. Overhead Dumbbell Extensions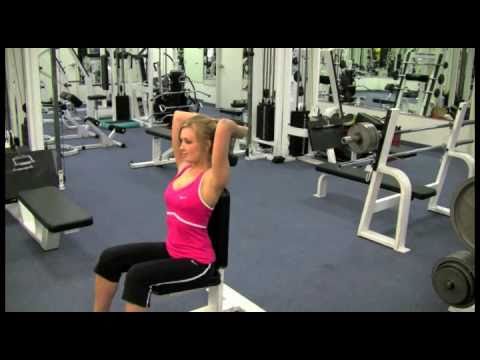 Overhead dumbbell extensions are the best tricep long head exercise you can do with minimal equipment. All you need is a dumbbell and your strength. This exercise uses the stretch position that helps with long head tricep isolation and is a beginner-friendly bodybuilding exercise.
Need a dumbbell? Check out The 5 Best Rubber Hex Dumbbells to Buy [Reviews]
How To:
Grab a dumbbell and stand with your feet hip-width apart.

Stretch your arms overhead, keeping your elbows tucked toward your ears.

Keeping your upper arms erect, bend your elbows, and carefully lower the dumbbell behind your head until you feel a stretch in your triceps.

Squeeze the muscles and extend upward, lifting the dumbbell until your arms are fully extended. You should feel the flex in your triceps at the top of the movement.

Continue to lower and extend to add repetitions. When you're done, carefully bring the dumbbell back overhead and set it down.
Finding the right grip can be a challenge with this movement. Try the same hand positioning you would use for a triangle or diamond push-up, with your fingers and palms supporting the base of the dumbbell.
You can also use a unilateral variation to this exercise to improve your muscle isolation. Instead of a two-handed grip, use a single hand in a neutral grip and repeat the repetitions on each side. You can also perform this exercise sitting on the edge of a bench to ensure you aren't cheating the movement.
Learn more: 9 Dumbbell Tricep Exercises & The Best Way to Do Them
6. EZ Bar French Presses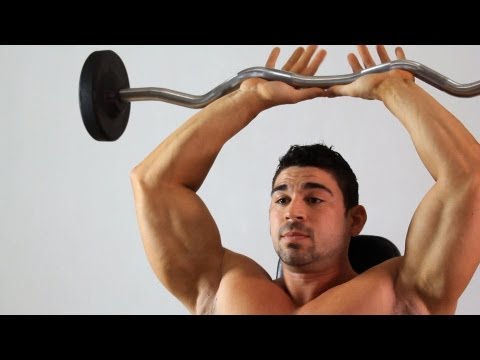 The French press is more than just a coffee maker. This exercise is like a combination of overhead extensions and skull crushers— an exercise that is great for the lateral head tricep. The extended range of motion with the EZ bar French press helps focus the strength on the long head more so than with skull crushers.
How To:
Grab an EZ bar and sit on an upright bench or slightly inclined (think 75-80 degrees).

Use a narrow overhand grip to grab the bar. Some bodybuilders prefer to do a false grip with their thumbs in alignment with their fingers, rather than wrapped around the bar.

Stretch the bar overhead, keeping your elbows tucked and triceps engaged.

Keeping your upper arms upright, slowly lower the EZ bar behind your head until you feel the stretch in your triceps. Go as far as you can without moving your upper arms out of their upright position.

Pull the EZ bar back over until you are almost extended. It's essential not to fully extend your elbows for this movement.
To overload this movement, focus on adding repetitions rather than pushing the weight. Coming out of form on this exercise can easily cause an injury; quality of movement is essential.
More on this: 6 Killer EZ Curl Bar Exercises for Bigger Arms
7. Barbell Behind the Neck Presses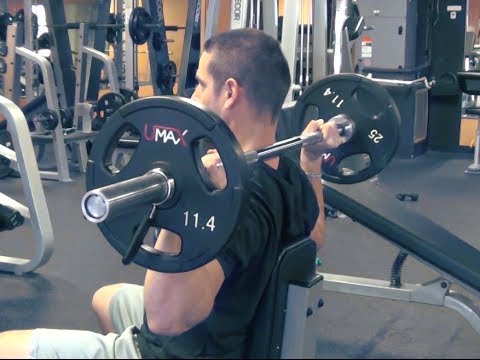 There's a lot of controversy regarding barbell presses behind the neck, which is a common shoulder exercise. However, it's also one of the surprisingly effective exercises for the long head of the tricep.
A study adapted from Boeckh-Behrens & Buskies, Fitness Strength Training: The Best Exercises and Methods of Sport and Health showed a surprising level of long head EMG activity during barbell behind the neck presses. As the long head tricep plays an essential role in shoulder stability, it makes sense.
How To:
Grab a barbell with an overhand grip while standing with feet shoulder-width apart.

Raise the barbell overhead and rest it across your shoulders, similar to a high-squat position. For heavier weights, use a rack. You want your hands to be just outside of shoulder-width in a narrow grip starting position.

Brace your core and press the weight overhead until your arms are extended. Squeeze your muscles at the top and lower back to the starting position with slow, controlled movements. Keep your elbows tucked and engage your triceps to prevent flaring.
This is not a beginner-friendly exercise, and proper form and control are essential for engaging the long-head triceps.
Pro Tips for a Killer Tricep Workout
Proper form is key when targeting the triceps, long head, or otherwise. Control your movements and up the repetitions before pushing the weight. With a combination of compound movements and isolation, you can get stronger long head triceps and bigger arms.