This post may use affiliate links. As an Amazon Associate I earn from qualifying purchases.
Building your triceps adds balance and mass to your overall physique. If you want the arms of a bodybuilder, using targeted tricep exercises is a must.
The lateral head of your tricep is the outermost tricep muscle and the most visible from the side. While you can't wholly isolate this muscle, using targeted lateral head tricep exercises can help you increase muscle mass to reach your physique goals.
What to Know About Your Triceps
Your triceps brachii consists of three muscles: lateral head, long head, and medial head. Together, this muscle group makes up around 60% of your arm mass. So, if you've been doing endless bicep curls to get bigger arms, you're missing out.
It can be very challenging to isolate the different heads during tricep exercises. However, by using an exercise that targets one tricep head more than another, you can accelerate growth in that area.
Generally speaking, the best way to target your lateral head is to keep your arms tucked into your sides with an overhand grip. While overhead exercises are great for targeting the long head, they also engage the lateral head. As such, it's worth including some of these exercises in your training as well.
Here are some of the best lateral head tricep exercises for building big arms.
1. Weighted or Bodyweight Dips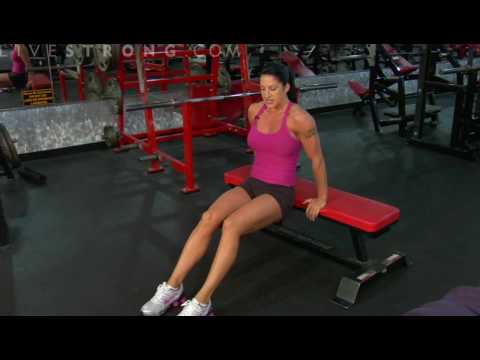 Dips are a challenging exercise, but they yield massive results. Fortunately, there are progression variants to tricep dips that make them accessible for athletes of all levels.
The first progression would be a seated dip using a bench or a chair.
How To:
Stand in front of a bench, facing away from it.

Sit on the very edge of the bench, with your palms resting on either side of your hips.

Slowly lift your bottom off the bench and step out so that your legs are fully extended in front of you.

Keeping your head and chest elevated, slowly lower yourself down toward the floor. Your palms should remain flat against the surface of the bench with your elbows tucked to your sides.

Lower until your elbows reach 90-degrees, then extend upward until your arms are fully extended.

Repeat the motion, keeping a tight core.
For beginners, keep your feet planted closer to your body and allow a slight bend in the knees. For more advanced bodybuilders and fitness enthusiasts, you can use a dip machine or parallel bars for progression.
How To:
Stand between the bars and grip them firmly.

Push yourself up into full extension, then lower your weight slowly. Be sure to keep a neutral back and not to extend your elbows past 90-degrees. Proper form is essential for dips.

When you reach 90-degrees, extend your arms, lifting your body back up.
For assisted dips on the machine, you can use a resistance band to help you during the extension. To progress the movement, add weight.
2. Tricep Pushdowns with a Bar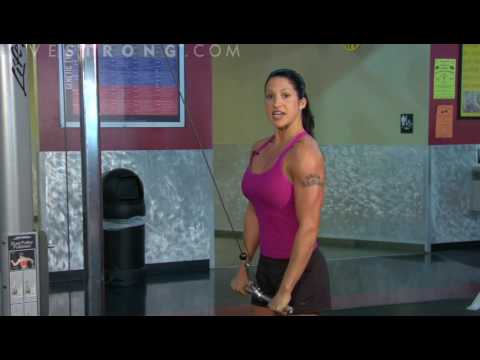 Tricep pushdowns are a classic tricep workout. To target that lateral head tricep, using a bar or V-bar rather than a rope is optimum for isolation. It's easier to control the movement to keep the focus on the lateral head. With a rope, the wider range of motion makes it easier to shift the movement into the long head tricep.
How To:
Stand in an athletic stance in front of a cable pulley machine with a straight bar or v-bar attached. Your feet should be together with your knees slightly bent.

Using an overhead grip, firmly grasp the bar at chest height.

Keeping your back straight and your core tight, press the bar downward. Your elbows should remain tucked, with only your forearms moving— your upper arms should remain locked in place.

At the bottom of the movement, hold and squeeze your triceps.

Come back to the starting position using slow and controlled motion.
It's natural to lean forward while doing a tricep pushdown. While a slight lean is natural, be sure to hold your chest upright and keep your back straight as to not transfer the motion out of the triceps.
3. Diamond Push-Ups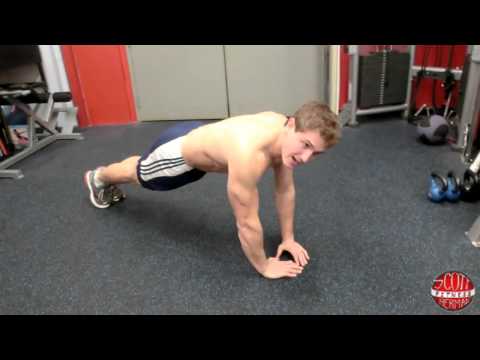 Diamond push-ups— also known as triangle push-ups— are one of the most effective exercises for targeting both the lateral head and long head triceps. An ACE-sponsored study showed that this push-up variation elicited the most muscle energy usage over other tricep exercises, including dips, and pushdowns.
How To:
Get into a high plank starting position.

Bring your hands inward, so the thumbs are almost touching. You should be making a triangle or diamond shape with your hands.

Keeping a strong core, lower your body until your chest is almost touching your hands. Be sure to keep your elbows tucked for the entire movement.

Pause for a second at the bottom, then push yourself back into the starting position.

Repeat for as many reps as possible or prescribed.
Depending on the length of your arms and mobility, you may need to adjust your base slightly. If you feel any pain in your elbows, stop the movement.
More like this? Do These 7 Compound Exercises for Bicep and Tricep Gains
4. Dumbbell Crush Press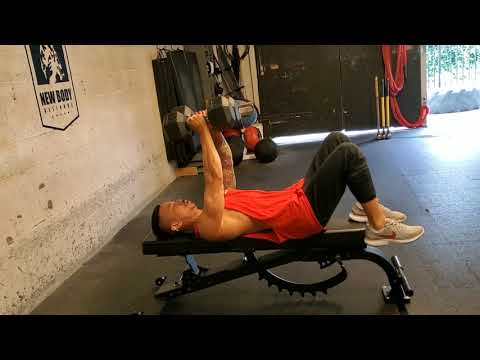 The crush press— also known as the dumbbell close grip press— is a variation of the dumbbell bench press that puts more resistance on the triceps than the chest. This is a great exercise for improving strength in push movements.
Lay back on a bench with dumbbells gripped close to your chest. You will have an overhand grip for this movement.

Place the dumbbells close together— about an inch apart— with the tops facing toward your head.

Slowly extend the dumbbells upward together, maintaining stability, until you reach full extension.

Hold and squeeze at the top, then return to the starting position.
Be sure to keep your elbows tucked. It's natural to feel some of this movement in your chest. If you feel everything in your pecs rather than your triceps, move the dumbbells slightly outward. Some bodybuilders find the exercise more effective when the weights are touching. Adjust until you find the right positioning for you.
5. Medicine Ball Overhead Throw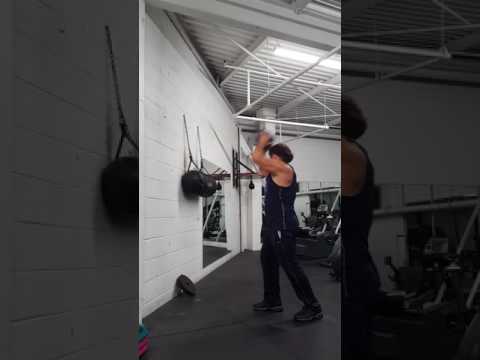 Medicine balls are a versatile tool that can be used for bodybuilding, Crossfit training, and general strength and conditioning. You can still get a great lateral head tricep workout if you only have a medicine ball to work with.
How To:
Stand facing the wall with your feet shoulder-width apart. You should be a couple of feet from the wall.

Hold the medicine ball overhead with your elbows tucked in.

Extend your forearms back, holding your elbows upright and upper arms in a static position.

Throw the medicine ball forward with an explosive movement while maintaining stability in the upper arm.

Catch the ball and repeat.
You can also do this tricep exercise with a partner or by tossing it overhead. Proper form is essential and will keep the motion in the lateral head and long head of your triceps.
6. Close Grip Bench Press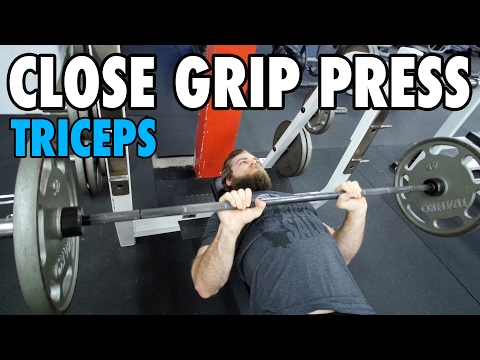 The close grip bench press is an excellent exercise for bodybuilders who want to practice their bench form while isolating their triceps. If you'll be adding this bench variation to your work at the gym, maintaining proper form and tucked elbows is essential.
How To:
Grab a barbell and a bench and set up as you would for a standard bench press.

Position your hands over your shoulders, stacking the wrists to prevent injury.

Lift the bar out of the rack until the barbell is positioned over your mid-chest.

Lower the barbell in slow and controlled motion until touching the chest. Squeeze the triceps and push the bar straight up, keeping your elbows tucked to complete the movement.
To train your triceps, opt for lower weight and higher reps. It's normal to feel this movement in the pecs as well as the triceps.
Learn more: 5 Close Grip Bench Press Benefits You Might Not Have Heard About
7. Kettlebell Floor Press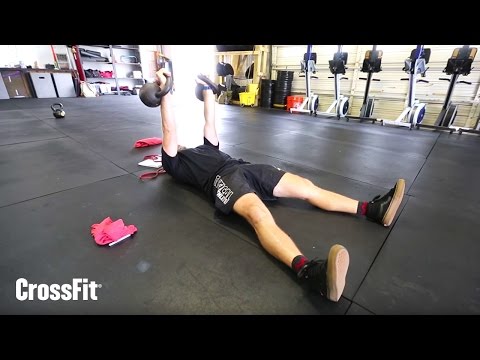 Floor presses are often overlooked during bodybuilding. These are great exercises for targeting the triceps and adapting to a gym that doesn't have cable equipment.
How To:
Lay on your back on the floor with two kettlebells. Grip each kettlebell so that the weight is resting on the back of your wrist.

Start by stretching your arms toward the ceiling with the kettlebells stacked above your shoulders.

Slowly lower them toward you, bending your elbows until they touch the floor. Your elbows should be tucked to target the lateral head tricep effectively.

Pause briefly at the bottom, then push the kettlebells back up into the starting position.
You can also do this exercise with dumbbells or resistance bands.
8. EZ Bar Skull Crushers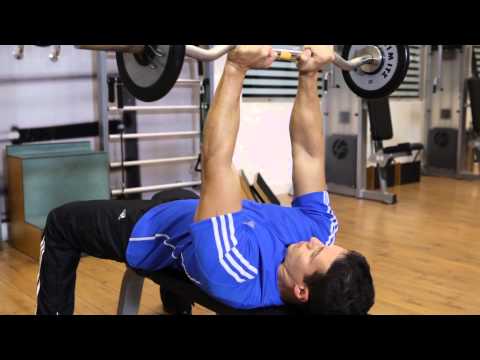 Skull crushers are a tried and true tricep workout. While this movement also targets the long head tricep, it actively engages the lateral head as well. Using an EZ bar helps you stabilize and hit both sides evenly as opposed to using dumbbells.
How To:
Lie on a bench with an EZ bar held in an overhand grip, with your hands shoulder-width apart.

Stretch your arms overhead with your wrists stacked to take the pressure off of them while you flex through the movement.

Keeping your elbows tucked and upper arms still, lower the weight toward your head until you reach 90-degrees.

Pause and squeeze the triceps before extending back up into the start position.
Start with a lighter weight until you get comfortable with the movement. You don't want to tire out quickly and experience how this exercise earned its name.
Learn more: The 5 Best EZ Curl Bars to Buy (Reviews and Top Picks)
Form is Everything
When using lateral head tricep exercises, form is everything. Keep your elbows tucked to your side and control the movements. Don't hesitate to use a mirror or a workout partner to ensure you're engaging the lateral head effectively as you train.