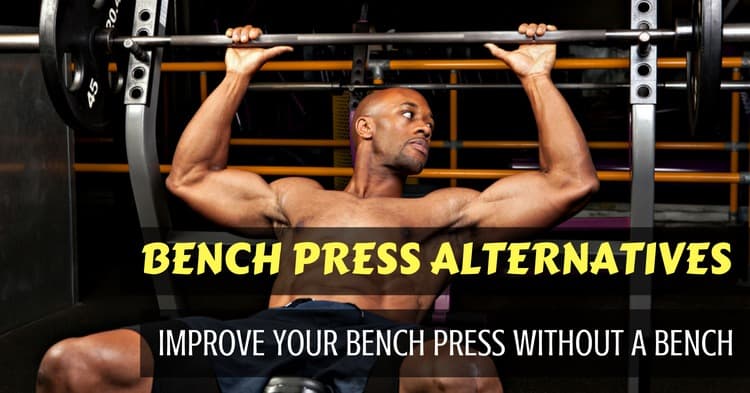 The bench press is an iconic and trusted symbol in the exercise world. It's a measure of strength for big-chested gym buffs and professional athletes alike. It's one of the first exercises you might try at the gym, and with good reason; it works.
Okay, the bench press is great – we get it. But what if I don't have access to a bench? Or a barbell, or weights, or money for a gym membership?!
I hear you. Bench press isn't for everyone, and fortunately, this doesn't mean missing out on those bench press gains. There are ways to bench press without a bench, but better yet:
There are countless exercises you can do to target the very same muscles.
I wanted to create a post for people who are looking for great alternatives to bench press. Whether this is because you have no other choice, or maybe you're adjusting for an injury (shoulder problems, etc.), I'll outline the reasons for changing things up, then show you how to do it.
Bench Press: Why People Do It
Before you get the wrong idea, let me just say this: Bench press has survived this long because it works. When it comes to building and testing overall upper body strength, there are few exercises that can compete with traditional bench. I'm not here to convince you that there's something wrong with it--I'm here to tell you there are other ways to build muscle that are just as good.
This is because when we bench, we are recruiting a whole set of muscles groups. It isn't all about chest; bench press also works your shoulders, lats and triceps. When you're doing it properly, you are also drawing power from your core and legs--it's a full body exercise when you're lifting heavy weight.
This also means that the weight is being distributed across the various muscle groups. You might be benching 300lbs, but that 300 is the sum of many parts. Your body is sharing the load.
3 Bodyweight Alternatives to Traditional Bench Press
If we take the three major muscle groups that bench press focuses on, we get: pectorals, triceps and latissimus dorsi. By breaking it up into these groups, we can target each one specifically just with our bodyweight--we don't need a bench, or heavy weights to throw around.
By targeting specific muscle groups, it's possible to build strength and tone with nothing but our bodies. Here are three great ways to target the very same muscles being recruited for traditional bench press:
Wide-base push-ups
For the chest, we're going to start with an adaption of the most famous bodyweight exercise: the push-up. The standard push-up is basically the bench press without a bench, and without the weight. That's great, but if we want to target the chest, we need to alter our base position.
Related: Bench Press vs Push Ups: Why The Bench Press Isn't Enough
Instead of having your hands at shoulder-width, spread them out until your arms are at 45-degree angles with the ground. This is your rest phase; when you are at the top of the push-up. In the working phase, at the bottom, your arms should bend to 90 degrees. The body will be forced to recruit power from your pectorals and shoulders in order to lift you back up. By lowering the role of your lats and triceps, wide-base push-ups are a great starter for chest workouts without a bench. (source)
How to Do a Wide Grip Push-Up | Chest Workout
Triceps Dips
Another major muscle group recruited by traditional bench press is the triceps. That big meaty section on the back of your arm is actually made up of three bundles of muscles, hence the name 'three heads' (tri = three, & ceps (from caput) = head). The triceps dip activates all three of these, serving as a great exercise for both strengthening and toning your arms.
Related: Top 6 Benefits of Dips Exercise & How To Dip The Right Way
All you need is a chair or somewhere sturdy to rest your hands and space for your legs to extend out straight. Begin with elbows locked (top of the movement) then, keeping your core tight and body in a straight line, bend at the elbow to lower your whole body toward the floor. Return to the top of the movement to complete the exercise, aiming for 3 sets of 12 repetitions.
How to Do a Tricep Dip | Boot Camp Workout
Variety-grip & assisted pull-ups
Lastly, let's focus on the lats. A large portion of the weight on big bench pressers is being pushed from the back. That being said, working your latissimus dorsi is one of the easiest things to do with bodyweight. Did I say easiest? Maybe I meant hardest. It just depends on how you look at it.
Pull-ups are the fear of all gym classes and with good reason. There's no better way to get the full bang for your bodyweight buck. Gravity is working against you with 100% efficiency. It isn't like those push-ups or tricep dips we were doing earlier--when you are hanging, there is no distribution of weight.
For those of you who can comfortably pump out 8-12 pull-ups, I recommend a variety of grip series. That's one set wide, medium, and close. If you have a pull-up bar, that will mean (in order): – Thumbs-in on the angled, outer grip;
Thumbs-in on the ends of the straight grip; and
Thumbs-out with hands almost together on your final set.
If 8 pull-ups is something you've never even dreamed of touching, that's okay--I still want you to be able to do it. Assisted pull-ups often get a bad wrap. People say it's cheating, but they're wrong: it's the perfect way to get the maximum effort out of your muscles. The same principle as having a partner spot you on a heavy bench press applies to assisted pull-ups; you carry as much of the load as physically possible, then get some help to push you over the line. It's so important to do this, because it allows your body to finish the movement, even if you don't do all the work yourself.
You can do assisted pull-ups with a friend holding your legs (a workout for them, too) or on an assisted pull-up machine. Or you can use these pull up resistance bands.
Pull Up Variations and Muscles Worked
3 Resistance Alternatives to Traditional Bench Press
If you do have access to a gym or weights equipment, then I would strongly recommend taking advantage of this. While a home bodyweight workout will get you sweating and keep you in shape, there are some perks to resistance training that you just can't fake.
First, I'll run you through the 3 exercises you need to know for increasing your bench press without a bench. Then I'll tell you exactly why resistance training deserves all the hype it receives.
Three-way cable chest-flys
Most gyms will have some sort of set-up for this, either weighted or pressurized. It's the perfect exercise for targeting and building your chest--much better than bench press or anything else in this article. And for that reason, you're going to feel the burn.
Grab a handle in each hand and make sure that you are balanced, standing in a semi-lunge position. For the entirety of the exercise, keep a slight bend at the elbow so that you don't overstrain your shoulder.
You're going to bring the handles together, against resistance, to three different positions. First, just above your head. Second, directly horizontal (out in front of your chest). And third, down by your belly button. These three angles work the full range of your chest, and I suggest doing six repetitions at each position. Choose a weight you are comfortable completing three sets with.
Three-way Cable Chest Fly
Dumbbell floor press
This is ideal for anyone who is moving away from bench due to sharp shoulder pain. By laying flat on your back on the floor, your shoulder joint isn't able to drop below the 90 degree range (past that angle is when the pressure really starts to build on your anterior deltoid).
The exercise is simple and just as it sounds. Lay on the floor with dumbbells you are comfortable performing twelve repetitions with. You won't be able to recruit as much power from your lats as traditional bench and so it's a good idea to start lower than you might think on weight.
Final prayers (Svend press)
I call this the final prayers because it's the perfect way to give yourself that little extra push at the end of a workout.
It's simple:
Take a 5lb plate in each palm and squeeze them together just in front of your chest. Don't hold onto them with your fingers--the pressure of squeezing them together should be the only thing stopping them from falling (and likely crushing your toes!). Extend your arms away from your chest horizontally, all the while squeezing the two plates together. Bring them back to your chest and repeat for 8 repetitions.
If you want the hardcore version, try the same movement, but begin by moving the plates away in 45 degree angle increments; up, horizontal, then down. This will truly have your chest and shoulders burning, so save it for your last upper body exercise!
Svend Press | Exercise Guide
6 Benefits of Resistance Training
I have outlined a trio of both bodyweight and resistance alternatives to bench press. While bodyweight exercises are ideal for working out at home, I would urge those of you with access to a gym to use it. Here's why.
Resistance training is another term for weight training, only it's a little more accurate (because it includes things like band resistance and pressurized machines). Any time we deliberately contract our muscles against some external weight or force, with the goal of building strength, tone or endurance, we are resistance training. So don't be too thrown off by the expression.
The main thing to know is that it's been shown to have a number of benefits. This is why you should still consider lifting or pushing some weight around when working on your bench press without a bench.
Here are six benefits of resistance training:
Build muscle
This is obvious, but understanding how it works is more important than just knowing it. When your muscles strain against heavy resistance, fibers are torn in the process. The body responds; it realizes that in order to meet that resistance, it's going to need stronger fibers to replace the old ones. This is a simplistic explanation of muscle recovery, but it also helps to understand why the recovery phase is so important for building muscle.
Build bone
This point may not be so obvious, however, it's incredibly important. Research has shown that resistance training can help to build bone and fight the effects of osteoporosis, even in the elderly.
Support joints
When you strengthen your muscles and tendons through resistance training, you are also protecting your joints. Shoulder joints can be particularly problematic as people age, and staying active may not be so easy when you are feeling sharp pains whenever you try to lift something above your head. Resistance training can strengthen the tendons which keep your shoulder socket in place, ensuring that the arm moves as it should in its socket and is protected from damage at awkward angles. By performing resistance training exercises like the ones listed above, you can keep your shoulder joints strong and healthy into old age.
Burn calories
Heavy resistance training is just what it sounds like: using your body to push and lift heavy things. The gym is the easiest place to set this up with easy-to-use equipment, but there are plenty of ways around it. The main point to note is: when you lift heavy, you burn calories like nothing else. While you are feeling the burn, your body is under intense stress and is burning energy to keep up. However, the benefits of resistance lifting on weight loss doesn't stop there…
Boost your resting metabolism
Resistance training has also been shown to help you burn calories after your workout is finished. Weightlifting is one of the most well-understood means of raising your resting metabolism--which means that whether you are working or resting, heavy resistance training boosts the rate at which your body burns fuels.
Challenge yourself with target weights
Another benefit of resistance training is that it's pretty simple to track your progress. If you begin with any of the weighted alternatives to bench press, it's obvious when you are making progress. Maybe you begin with 35-pound dumbbells for eight repetitions: if in three weeks, you are able to lift 45 pounds, or you can lift the same weight for two more repetitions, you are getting stronger. This serves as a positive cycle of motivation and reinforcement, as you are consistently setting new targets and working to achieve them. It helps to give you workout a sense of purpose, too. Suddenly, when you are working towards that 50+ pound goal, every workout has a focus. You're not just trying to stay fit, you're building and growing stronger with good reason.
The Take-Away
I'm not going to lie: bench press is one of my favorite exercises and I will continue to do it until I'm an old man just pushing the bar. However, this doesn't mean that there aren't ways of working the same muscles that are more efficient, more affordable, and with a greater variety than plain old boring bench press.
The key to all good workout regimes is variety and keeping your body on its toes. If you are able to try the exercises I've listed for just a month, or two months, that's a great start. See how you feel with it. You might find that your body responds better to bodyweight workouts than resistance training, or you might be able to build enough shoulder strength by increasing your floor press, and reduce your shoulder pain.
Whatever your reason for reading, I hope you enjoyed this post. I would love to hear your feedback, so leave a comment before you go. Also, if you enjoyed the post, share it with a friend--maybe a buddy who needs to work on their chest!
Enjoy and happy lifting.