When most people think of gear for their home gyms, they think of things like dumbbells or ab rollers. There are plenty of other great pieces of equipment, though, including dip bars that you can use for a full-body workout.
Described below are some of the best portable dip bars & dip stations for home workouts. You'll also learn about the benefits dip bars have to offer and how you can start using them.
1. XMark Fitness Dip Station
The XMark dip bars have 2″ cushioned grips to comfortably accommodate a variety of hand sizes while also preventing slipping. They are heavier than some other options, weighing in at 57 pounds, so they might be a bit trickier to move, and they're less portable. What they lack in transportability, though, they make up for in their stability.
Pros
Heavy-duty steel marks them extra durable
Sturdy construction with little-to-no movement during use
Good for tall users
Can support up to 500 pounds with ease
Cushioned grips provide extra comfort
Cons
Heavier weight may make them harder to move and set up
Not easily portable
2. ProSourceFit Dip Stand Station
These bars are very lightweight, weighing in at just 23.5 pounds. They're powder-coated and made of iron, though, so you won't have to worry about them wobbling, tipping over, or rusting. They're extra durable and can support up to 400 pounds easily.
With extended rubber feet, there's little risk for slipping, and these bars will hold steady on many different floor types. The dip station comes with an additional stability feature, too, in the form of an extendable safety connector.
Pros
Lightweight and easy to move throughout your home gym
Iron construction makes them extra durable
3 different color options
Adjustable height
Supports up to 400 pounds
Safety connector and rubber feet provide additional stability
Cons
Some heavier users find them to be a bit shaky
3. Lebert Fitness Equalizer
These dip bars come with padded grips to help you stabilize yourself and avoid slipping while working on dips or other exercises. The set has a high weight capacity (it supports up to 400 pounds) but is only available in one height, so it may be difficult for very tall people to use comfortably.
Pros
Variety of colors
Easy to assemble and store
Lightweight design
Stainless steel bars make it extra durable
Portable
Foam grips and textured feet prevent sliding
Supports up to 400 pounds
Comes with free instructional DVD
Cons
Only one height option
Some users complain that it wobbles
4. Ultimate Body Press Dip Bar Fitness Station
The Ultimate Body Press dip station is three feet tall and can be used by exercisers who are up to 6'6" in height and weigh up to 350 pounds. It's accessible to a wide range of people and can be adjusted to fit many different body types.
There are some potential drawbacks to this station. Even though it can support heavier weights, it's not as sturdy as some other options on the list. It has a higher-than-average price, too.
Pros
Adjustable bar width
Folds up for easy storage
High height and weight capacity
Color-coded for easy assembly
Angled grips prevent sliding
Cons
Higher-than-average price point
Less stable than other options
Shifts slightly when in use
5. Fuel Performance Deluxe Dip Station
Fuel Performance's dip bars are made of 14-gauge steel and have a powder-coated finish to prevent rusting. The bars themselves are highly durable, although their plastic-coated feet have been known to crack slightly over time.
These bars are a little less than three feet in height (35 inches). They're good for those who are of average height or shorter, but some tall people find them to be difficult to use. They can also be tricky to put together, and many people report that their assembly instructions are confusing.
Pros
14-gauge steel makes them extra durable
Bars feature padded grips to prevent slipping
Take up very little space
Affordable price point
Cons
Plastic feet are likely to crack over time
Assembly instructions are difficult to understand
6. Body-Solid Dip Station
A potential downside to this station is that it takes up more room than some of the other options on this list. If you're working with a small space, this set of dip bars might feel too big. Some have complained that the assembly instructions are confusing as well.
Pros
Heavy-gauge steel construction increases durability
Textured feet provide additional stability
53-inch height makes it a good fit for tall users
Rubber handles prevent slipping
Cons
Takes up more room than other dip stations
Assembly instructions may be confusing
7. Fringe Sport OneFitWonder Wall-Mount Dip Bars
These bars are made of 14-gauge steel. They're made to last and can support up to 600 pounds. They also feature a tapered design and allow users to adjust the width of their grip for increased comfort and better target various muscle groups.
Despite being able to support a lot of weight, Fringe Sport's wall-mounted dips only weigh 25 pounds, so you can feel confident that they'll stay mounted to the wall once they've been attached. Because they're wall-mounted, they're a bit more complicated to assemble than some other bars. However, most users find that the extra effort is well worth the end result.
Pros
Take up very little space
14-gauge steel construction makes them extra durable
Hold up to 600 pounds
Tapered design allows for easy adjustment
Cons
Can be difficult to set up
Require extra equipment for assembly
8. AmazonBasics Dip Bar
These bars are made of steel and are extra durable. They feature foam grips on the handles for extra support and to prevent slipping as well. They're very affordable, and their minimalist design makes them extra versatile.
Some users complain that the assembly for these bars is a bit tricky. They've found that the bolt holes are not as well-aligned as they would like. They're also not adjustable or collapsible, so they take up more space than some other popular home dip bar setups.
Pros
Lightweight but durable design
Holds up to 661 pounds
Foam grips provide extra comfort and minimize slipping
Cons
Assembly can be difficult for some
Not collapsible or adjustable
Take up more space than some other bars
Home Dip Bar Buying Guide
There are tons of different dip bars and dip stand options from which you can choose. When deciding which set will work best for your home gym, there are a few factors to keep in mind, including the following:
Dip Bar Height
One of the most important things to consider when buying a set of dip bars is their height. This is especially important for folks who are very tall.
In general, most dip bars aren't designed for people who are over 6'6" tall. If you fall into this category or are close to the 6'6" mark, you may have to experiment with a few different dip bar setups to find one that works for you.
Adjustable dip stands can be helpful when it comes to overcoming the height obstacle. The same is also true for wall-mounted options. With a wall-mounted set, you can decide on the optimal height for you and set it up so that it works perfectly for your body type.
Dip Bar Weight Limit
Consider the weight limit of your dip bars, too, before you make a purchase. The best and sturdiest dip bars will be able to accommodate quite a bit of weight without you having to worry about them tipping over or bending.
Pay attention to each set's weight limit before making a decision. If you're technically under the weight limit but are close to it (e.g., the bars can support up to 300 pounds and you weigh 290), you might want to look for a set with a higher limit.
If you do this, you can rest easy and get your workout on while knowing you're well supported. You also won't have to worry as much about any wobbling, sliding, or other stability issues.
Width Between Bars
The width between the dip bars matters as well. You should be able to fit comfortably between the bars so you can perform dips and other exercises with ease. If the space between the bars is too narrow, you'll have a hard time using them properly.
For those who have concerns about width, look for a set of dip bars that is adjustable. One that features a tapered design can be useful as well, so you can change your grip accordingly.
Dip Bar Stability
Nobody wants to worry about their dip stand tipping over or sliding around on the floor while they're using it. Lightweight dip bars are portable and great for travel, but they can also be a bit less stable than those that are heavier. A heavier set will be less prone to movement and may last longer than a lighter option.
Consider the assembly process for your dip bars, too. That can have a significant effect on their stability.
Does everything line up properly when you're putting the bars together? Do they screw together tightly and feel secure? If this isn't the case, you might be setting yourself up for a wobbly feeling when you start trying to practice dips and other exercises.
You may also want to look for bars that have some kind of rubber or textured gripping agent on the bottom. That can help to minimize the risk of sliding, especially if you're setting them up on a wood floor or another slick surface.
Dip Bar Materials
The best dip bars are often made of heavy-duty material like steel or iron. Be wary of plastic bars, as they're often less durable and won't hold as much weight. They might be more prone to cracking and bending as well.
If you're purchasing a set of metal bars, you may want to check that they're powder coated. Powder-coated bars are less likely to rust, which is a nice bonus if you're going to be using them outdoors or in your garage. This is especially beneficial if you live a humid climate.
Grip Quality
Many dip bar sets feature foam or rubber grips that you can hold onto while using them. These grips should be fairly thick so that they provide adequate support. At the same time, though, if they're too thick, they may be difficult to hold, especially for those who have smaller hands.
Consider how the grips feel when using your bars before you commit to a specific set long-term. If they're too thick or don't have enough texture to them, they might end up having a negative impact on your workouts.
Portability and Storage
If you have a small home gym space, you might be worried that your dip bars will take up too much room. It's true that some dip bar sets are rather large, but there are also plenty of portable and easy-to-store solutions.
If you have concerns about space, look for a collapsible set that can be folded up and set against the wall or stored in a closet until you're ready to use them. You might want to look into a wall-mounted option as well.
Wall-mounted bars are extremely convenient and take up very little space. This is especially true when you're able to fold them up against the wall when you're finished.
FAQs About Using Dip Bars
You might still have some questions about dip bars before you move forward with purchasing a set for your home gym. Below are answers to some of the dip bar questions we receive most often to help you decide if they're right for you:
What Is a Dip Station Used For?
A set of dip bars is the perfect piece of equipment that you can use for a full-body workout. It's highly versatile and helps you target a wide range of large and small muscle groups.
The most obvious dip bar exercise you can do is, of course, a bodyweight dip. They're great for plenty of other strength exercises, though, including the following:
Inverted rows
Modified push-ups
Modified plank holds
Leg raises
Biceps curls
Kneeling tricep extensions
Tricep dips
Knee raises
Hip extensions
The more you practice with your dip bars, the more prepared you'll be to do more advanced exercises, too. Lots of people use them to practice gymnastics-style movements, including things like handstands.
What Muscles Does a Dip Bar Work?
Dip bars are primarily used to target the muscles of the upper body. Some of the primary muscles you'll strengthen when performing a bodyweight dip include the triceps, the pectoralis major, the anterior deltoid (front part of the shoulder), and the anconeus muscle (a muscle located at your elbow that helps you extend the forearm).
You can use dip bars to strengthen other muscles as well. For example, when doing inverted rows on a set of dip bars, you can strengthen your back muscles, including the latissimus dorsi and rhomboids, and the biceps. Dips bars can help you strengthen your core muscles, too, when you use them for exercises like L-sits and modified planks.
Are Dip Bars Good for Beginners?
Some people might shy away from dip bars at first, assuming that they're only meant for more advanced exercisers. Indeed, you can do a lot of advanced exercises using a set of dip bars, but they're also good for beginners. Just about everyone can benefit from adding a set of dip bars to their home gym.
Beginners who can't yet do exercises like pull-ups and push-ups on their own can use dip bars to perform modified versions, for example. An inverted row helps you to strengthen your back muscles and prepare for a pull-up, and placing your hands on the bars instead of the floor when doing a push-up is much easier than trying to do one from the floor.
Are Dip Bars Worth It?
For most people, the answer to this question is a resounding yes! Dip bars are highly versatile and can be used for all kinds of exercises. They come in lots of different styles, too, so it's easy to find a set that works for your specific needs, preferences, and budget.
If you have limited space in your home gym and want to work on a variety of bodyweight exercises, a set of dip bars would make a great investment. They're more cost-effective than a lot of other pieces of exercise equipment, and they're good for beginners as well as advanced exercisers.
Sample Dip Bar Workout Plan
Here's how you can program a quick and effective workout plan using your dip bar.
All exercises will be done in supersets. For each exercise, do as many reps as you can do minus two. So if you can do 10 dips, do 8.
The L-sit is done for time. Do five seconds less than your best hold time. If you find the version with both legs extended too hard, just extend one or bend them at the knees.
The workout will look like this:
Dips x 1 set
Bodyweight rows x 1 set
L-sit x 1 set
Repeat for five rounds with 1-minute rest between. If you want to add some lower body work like squats, feel free to do so. I know it looks simple, but after five rounds, you'll be down to just a few reps on each exercise.
Don't forget to keep the proper form for all the exercises to get the most out of your training.
Dip Bar Workout for Men
Dip Bar Workout for Women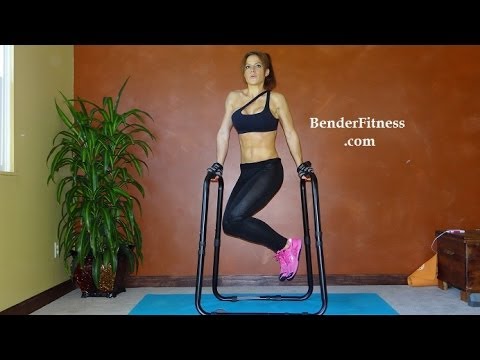 Get the Best Dip Station for Your Home Gym Today
Are you ready to buy a home dip station? If you keep the information listed above in mind, you'll have no trouble choosing a great one.
Of all these options, we've decided that the XMark Fitness Dip Station is the best set of dip bars for home workouts. It's very sturdy, works well for people of all heights, and can easily support a lot of weight (up to 500 pounds).
For those who need a more budget-friendly option, consider the ProSourceFit Dip Stand instead. It's lightweight but also quite sturdy and can support up to 400 pounds.
Last update on 2023-11-29 UTC -5 / Affiliate links / Images from Amazon Product Advertising API - Details