Dip alternatives are a type of exercise that break away from standard dip workouts. Dips and dip alternatives are popular exercises that target the chest, triceps, and shoulders. Standard dip exercises can be challenging due to the level of strength and stability required. Alternative dip exercises are just as effective at targeting these muscles, while also being more accessible to a wider range of fitness levels.
Not everyone has the form, functionality, or equipment required to execute the standard dips correctly. We're here to assure you there are plenty of exercises to choose from when looking for an alternative to dips. Incorporating dip alternatives into your workout routine provides a more well-rounded approach to upper body training—improving overall upper body strength, muscle definition, and balance. Alternative exercises also help to reduce the risk of injury, improve posture and enhance athletic performance.
Below, we'll go over the difference between alternative chest dip and triceps, as well as ten dip alternatives to try out.
Chest dips vs. Tricep dips
Chest dips and tricep dips have two main differences. Tripcep dips are a type of exercise that bodybuilders use to build bigger triceps which are located on the dorsal part of the upper arm. A slight shift forward during dips shifts the target muscles to the chest, leading to larger chest muscles. When you're looking for an alternative exercise for dips, it's essential to clarify what you're trying to target.
For beginners, tricep dip alternatives provide a more accessible and less intimidating way to target the tricep muscles, while also helping to build the necessary strength and stability needed to progress to more advanced exercises.
The list below includes some examples of tricep dip alternatives.
Cable pushdowns
Dumbbell kickbacks
Dumbbell overhead extensions
Close-grip bench press
Lying tricep extension
For beginners, chest dip alternatives provide a more accessible and less intimidating way to target the same muscle groups.
The list below includes some examples of chest dip alternatives.
Push-ups
Dumbbell bench press
Dumbbell fly
Cable chest press
Incline press
Chest press machine
10 Dip alternatives to try right now
Below we'll go over ten dip alternatives that target your chest or triceps. The dip alternatives are done with a variety of equipment and may be modified to suit a wide range of fitness levels. The following exercises work the chest, triceps, and shoulders, but with less stress on the shoulder and the elbow joint.
1. Single-Arm Resistance Band Extensions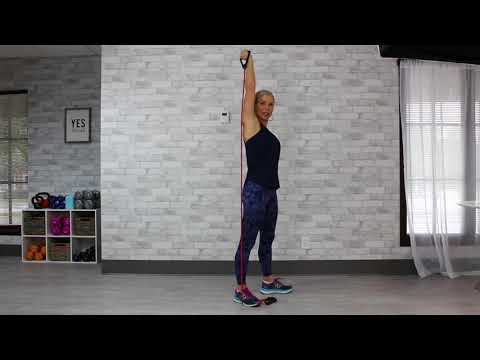 A resistance band is a must-have piece of equipment for dip alternatives. Resistance bands allow you to do an upper-body workout from anywhere. Resistance bands are versatile and powerful, offering a unique bell-shaped strength curve when used in resistance training.
Band extensions target the triceps muscle group, with an increased focus on the long-head tricep muscle. As the long-head tricep muscle makes up the bulk of the arm, targeting this area can effectively increase your arm mass.
How to:
Stand in a staggered stance with feet at shoulder width. One foot should be slightly ahead of the other.
Place the resistance band under the back foot, extending your arm upward until straight while holding the band.
Keeping your arm extended and your core tight, slowly lower the band behind your head until your elbow reaches a 90-degree angle. Keep your upper arm and shoulder in a fixed position.
Pause at the bottom then extend upward until your arm is fully erect.
Adjusting your footing on the resistance band can intensify or lessen the resistance.
2. Close Grip Push-Ups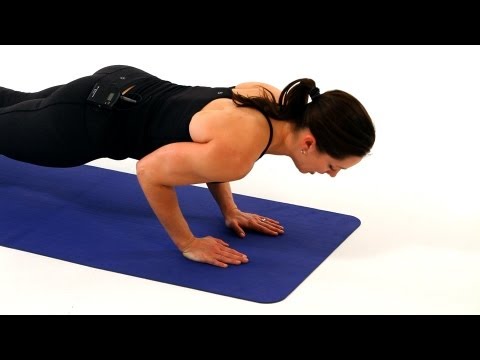 Close-grip push-ups are a tricep dip alternative exercise that builds off the standard push-up position. Dips are a push exercise— a movement that causes muscular contraction when weight is pushed away from you. Push-ups, like dips, use this form of movement with your body weight and gravity. It's this similar motion that makes push-ups such an effective substitute for dips.
Maintaining a close grip position ensures that the movement targets the triceps rather than shifting to the shoulder joint during this bodyweight exercise.
How to:
Get in a plank position with your hands just outside of shoulder width, your toes stacked, and a strong core.
Keeping your elbows tucked close to your side, lower yourself until you are about an inch from the floor, or your chest touches your thumbs. Allow your elbows to bend back to accommodate the movement— avoid flaring out to the side.
Pause at the bottom, then push up forcefully until you've returned to the starting position.
Allowing the elbows to flare will shift some of the movement to the chest muscles. However, this can put undue stress on the shoulder muscles. It's better to adjust your hand positioning rather than allow your elbows to flare out of alignment.
3. Close Grip Bench Press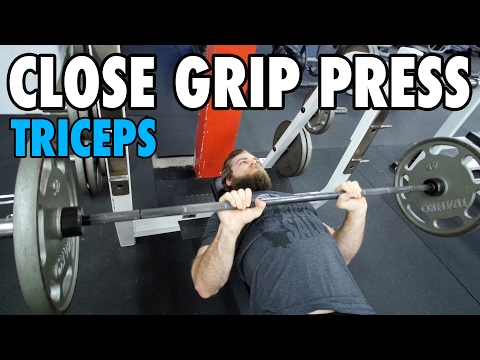 The close-grip bench press is a dip alternative that operates similarly to close-grip push-ups. Tricep dips and bench pressing have a complementary relationship, each helping to strengthen the other in a training regimen. Like the close grip push up and dips, the triceps muscle group is the main target of this movement.
How to:
Lie on the bench with your feet flat on the floor, and your scapular muscles tucked and engaged.
Grab the bar with your hands at shoulder width and your wrists stacked under the bar.
Brace your core and lower the bar in a slow and controlled motion, keeping your elbows tucked to your sides.
When the bar touches your chest, push upward forcefully until your arms are extended. Beware of over-extending and pulling your shoulders out of engagement.
You must keep your elbows tucked, and wrists stacked to prevent injury when doing this dips replacement exercise. Start with a lighter weight than your usual bench press, as the close grip reduces shoulder and chest engagement.
4. Cable Machine Tricep Pushdowns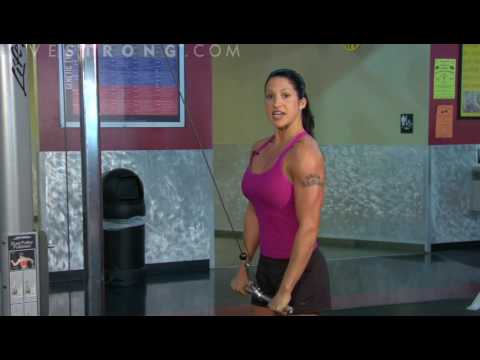 &t=21s
Cable machine tricep pushdowns are a beginner-friendly dip alternative. You can complete this exercise with either a rope or a straight bar on a cable machine. The straight bar targets the long head of the tricep muscles, while the rope hits the lateral head more effectively.
How to:
Stand in front of the cable machine with your feet slightly apart. The rope or bar should be at about chest level— adjust as needed.
Grab the bar with an overhand grip, placing your hands at shoulder width if you use the rope grip each side so that your palms are facing each other.
Brace your core and push the bar or ropes downward toward your hips. Keep your elbows tucked and your upper arms in a fixed position.
Pause when your arms are fully extended, ensuring your back is straight, and your chest is high. Allow the bar or ropes to come back up to the starting position in a slow and controlled manner. That's one rep.
You can use a resistance band to replicate this substitute for dips if you don't have access to a cable machine.
Learn more: 6 Tricep Pushdown Alternatives for Serious Size and Strength
5. Dumbbell Tricep Kickbacks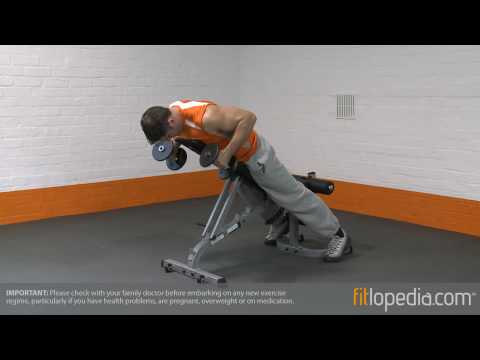 Dumbell kickbacks are a type of dip alternative that specifically targets the triceps. Kickbacks serve as an effective alternative to dips because it uses an extension motion to target the long head tricep. These are best performed on an incline bench to ensure proper stability while working through the complete range of motion. (Check out our weight bench reviews here).
How to:
Lay on an incline bench at a 45-degree angle with your feet firmly planted and your chest resting against the bench. Brace your core and ensure that your spine is straight and aligned.
Holding two dumbbells, tuck your elbows with your wrists resting against your sides.
Extend and straighten your arms until they are parallel with your body. Pause at the top of the movement.
Lower the dumbbells back to the starting position in a controlled motion. Your upper arms should remain in a fixed position throughout the movement.
Use a lighter dumbbell to get used to this movement, as good form is paramount for getting the best possible results.
6. Decline Dumbbell Bench Press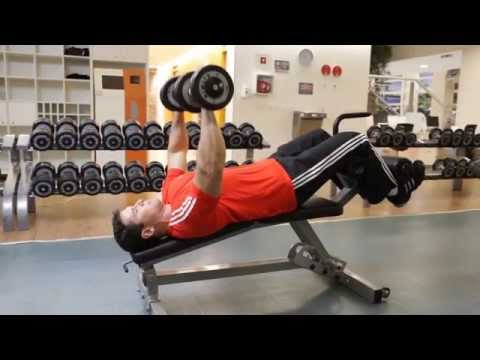 The decline dumbbell bench press is an accessible alternative to chest dips because it's beginner-friendly, easily scalable, and requires limited equipment. The decline position puts the focus on the lower chest muscles, engaging the pectorals as you push the weight.
How to:
Position a bench so that it's at a slight incline. If you have a fixed bench, putting a plate or bumper underneath will be sufficient.
Lay on your back on the bench with your head at the lower side. Rest your feet over the high end of the bench.
Pick up your dumbbells with an overhand grip, positioning them just above your chest with your elbows tucked at your side.
Push up, extending your arms until your elbows are locked out.
Lower the dumbbells in a slow and controlled motion until back in the starting position. That's one rep.
Don't let the dumbbells connect at the top of the movement, as the momentum can impact your shoulder joint. Instead, keep them at least an inch apart at the top of the movement, squeezing tightly to keep your shoulders engaged.
7. Dumbbell Hex Press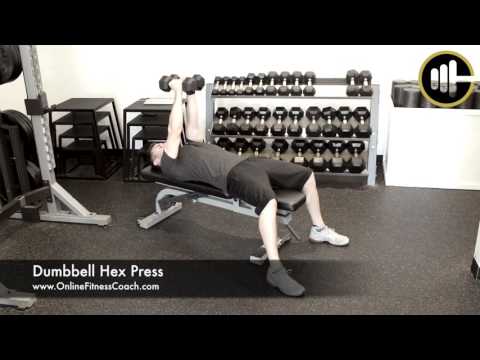 The hex press is an alternative to weighted chest dip exercises. Hex presses are often overlooked accessory movement targets the pectorals, as well as engaging the delts and triceps. The extended range of motion throughout this exercise makes it an effective warm-up with lighter weights as well.
How to:
Lie on your back on a flat bench and grab two dumbbells with an overhand grip.
Press the dumbbells together with your palms facing each other, holding them about an inch above your chest.
Squeeze tightly and push the dumbbells together, extending your arms upward until they are locked out. The dumbbells should remain firmly pressed together.
Lower the weights in a slow and controlled motion, maintaining contact between the dumbbells. Pause just above your chest before moving into the next rep.
This chest dip substitution is best performed with hexagonal dumbbells, hence the name. If using round dumbbells, be mindful of bumping throughout the movement.
8. Pec Deck Fly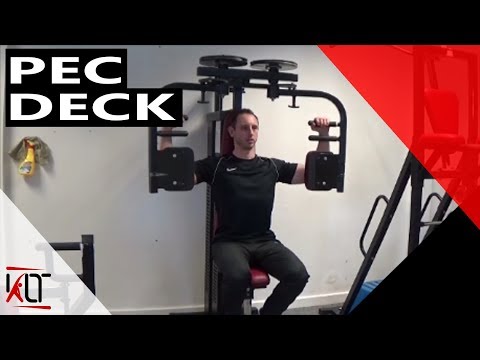 The pec deck fly is a dip alternative exercise that targets the pectoral chest muscles. This machine-based exercise is a beginner-friendly alternative to full dips. While the machine takes the onus off of the form, maintaining slow, continuous motion is essential to get the most out of this workout.
How to:
Adjust the machine height so that the bottom of the armrests are at chest height.
When the positioning is right, sit on the seat and place your arms in the armrest apparatus. You can let your arms press against the pads or grip the handles above.
Bracing your core and maintaining a strong back, bring your arms forward in a slow and controlled motion until the two armrests are almost touching.
Squeeze your chest muscles then reverse the movement, keeping a consistent speed until you're back at the starting position. That's one rep.
Don't allow the two arms to touch when you bring them together. Focus on keeping a straight spine and engaged core without leaning into the movement.
9. Standing Dumbbell Chest Fly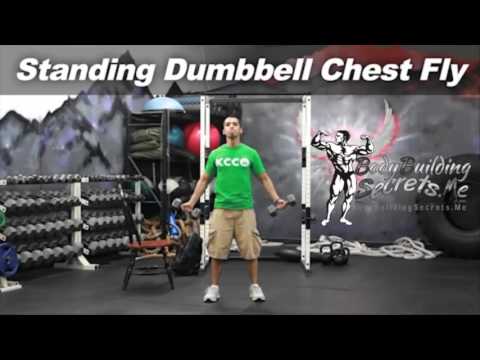 The standing dumbbell chest fly is another alternative to dips that replicates the pec deck machine while targeting the upper pectorals. This is a useful alternative for at-home workouts or when limited equipment is available.
How to:
Stand with your feet at shoulder width with a dumbbell in each hand, using an underhand grip.
Keeping a slight bend in your elbow, raise the dumbbells upward and toward the center, stopping at chest height with the weights nearly touching.
Pause and squeeze your chest muscles before slowly lowering back to the starting position.
Be sure to avoid swinging motions when doing this alternative exercise for chest dips. Keep your core engaged and your eyes looking forward.
10. Ring or Straps Chest Press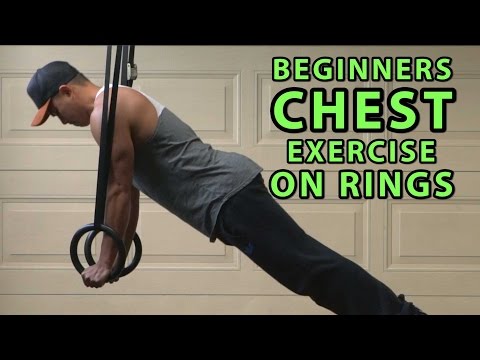 Rings and straps are versatile pieces of equipment that bodybuilders use as an alternative to dips. Not only rings are an effective alternative for a parallel bar dip, but they also open the door to other chest-focused dip alternatives.
How to:
Grab your rings or strap handles in an overhand grip, holding them away from your body.
Lean into the straps, keeping straight arms and stacked wrists to support your weight. Maintain a strong core and straight back.
Keeping your shoulders back, slowly lower yourself toward the rings or handles.
Once you've reached the limits of your range of motion— ideally with your chest level with the rings— pause and push yourself back up to starting position.
As you're targeting the chest for this movement, allow your elbows to come away from the body. The strap length will ultimately determine the intensity of this exercise. The longer the straps, the harder the upper body workout.
Conclusion
Dip alternative exercises serve as an additional option to the standard chest or triceps dips. Dip alternatives offer varied methods to build muscle in your chest or arms without relying on traditional routines. Remember to identify whether you're targeting the chest, triceps, or both when looking for an alternative to dips. Many of these exercises can be tweaked to target the other area by tucking or untucking the elbows. Practice proper form to ensure you don't cause any injuries to the shoulder joint when doing these exercises— slow and controlled movement is the key to success.