Standing calf raises are a commonly performed exercise amongst gym goers and athletes. They can be done easily, anywhere and with or without equipment. Whilst we all know the fear of being in team 'no calves' is a real thing, doing standing calf raises has more benefits than just promoting bigger calves!
In this article I will be covering all the benefits of doing the standing calf raise and how to perform them correctly, to maximize these benefits.
What Muscles Do Calf Raises Work?
Our calves are made up of two main muscles – the gastrocnemius and the soleus. Both muscles have different functions. Standing calf raises work the gastrocnemius which is responsible for the extension of our feet. It is also the visible muscle out of the two.
5 Benefits of Standing Calf Raises
Below you will find a list of the ways in which the standing calf raise can have positive effects on your body.
1. Aesthetics (Bigger Calves)
Let's start with the most obvious one – standing calf raises will aid in building mass through your visible calf muscles. Whilst some of us are genetically blessed with sizable calves, some of us need to put in a significant amount of effort to grow this area of our body. Standing calf raises are one of a few ways to build mass, and therefore, grow your calves.
2. Ankle Stability & Mobility
Though there are numerous factors to take into consideration when talking about ankle stability and mobility, and calf strength is one of them. Standing calf raises help to build strong calves and strong calves play a role in stabilizing and mobilizing our ankles.
Our calf muscles are responsible for plantar-flexion of the ankle joint, for example, standing on your tip-toes. Having strong calf muscles increases your ability to go into plantar-flexion, which in turn, strengthens the stabilizers in your ankles.
3. Injury Prevention
Weak calves generally equal weak ankles, as discussed above. Weak ankles are a recipe for injury. There are the momentary injuries like rolling your ankles – and then the injuries created over the longer term, for example, gait issues that cause a chain reaction of injury up your body.
Ankles aside, weak calves can also lead to things like shin splints, calf pulls and Achilles tendon strains. Standing calf raises are one method of preventing these sorts of injuries, due to the strength building they provide.
4. Increases Explosive Power
Standing calf raises help increase the explosive power through our lower body. Although a lot of lower body explosiveness comes from our glutes, quads and hamstrings, our calves can provide additional explosive output.
This makes standing calf raises a favored exercise amongst those who participate in sports such as sprinting, basketball and gymnastics.
5. Aids Lower Body Performance
Having stronger calves will, generally, aid your lower body performance. For example, having stronger calves will allow you to perform better during leg muscle-strengthening exercises.
Whilst your calves are not considered the most functional muscles and often take a back seat in our training regime, stronger calves will lead to the ability to squat and deadlift with better efficiency. The standing calf raise, therefore, makes for a good accessory exercise in any strength training regime.
How to Perform A Standing Calf Raise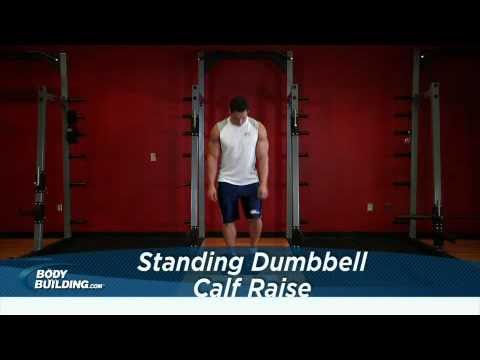 Technique contributes to the effectiveness of any exercise. There are few ways in which to do a standing calf raise and the way you do it may be as a result of what equipment is available to you. Here's a step-by-step guide to doing the most common (and available) version of a standing calf raise:
Have either a barbell on your back, or a dumbbell in each hand on extended arms.
Place a small step on the ground. You can also use weight plates.
Place your toes on the step/weight plates and have your heels on the ground.
Press up into your toes so you are on the tips of your toes with your heels elevated and your calves fully engaged.
Hold in this position for a second or two to maximize the time under resistance.
Lower your heels back down to the ground.
Note, if you have very tight calves or are feeling restricted to begin with, start with your feet level i.e. standing on a flat surface and pushing up onto your toes from there.
You can also perform this exercise with a calf raise machine: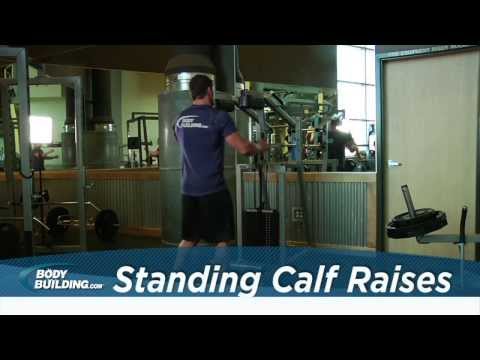 Frequently Asked Questions
So now you know about the benefits of standing calf raises and how to do them! To make sure I've covered everything, here are some frequently asked questions surrounding this exercise.
❯ How Many Repetitions of Standing Calf Raises Should I Do?
The amount of repetitions one does of any exercise is usually dependent on their specific training goals. However, calf raises are one of those exercises that are best done over more repetitions rather than less. 3 sets of 12 to 15 repetitions is a good approximate amount for this exercise.
❯ How Often Should I Do the Standing Calf Raise?
Calves recover quickly in comparison to some other muscles. If your calves are a focal point for you then you can get away with training them several times a week without adverse effects.
❯ Do Standing Calf Raises Give You Bigger Calves?
Yes and no. Gaining mass has a lot more to do with one exercise. But standing calf raises in conjunction with other good lower body exercises and good nutrition are a good way to grow your calves.
❯ What's Better Between Standing and Seated Calf Raises?
They are different. Standing calf raises focus primarily on your gastrocnemius, which is the calf muscle at the back of your shins. Seated calf raises, whilst working your gastrocnemius, also work your soleus which is located higher up behind the knee.
❯ How Much Weight Should I Be Aiming to Use?
Again, this would depend on your specific training goals. However, a good rule of thumb is to use as much weight as you can safely and effectively perform your desired amount of repetitions with.
❯ Does the Positioning of Your Feet Change the Effects of the Standing Calf Raise?
Yes! The angle of your feet when performing this exercise effects the angle at which your calf muscles are worked. For maximum benefit of this exercise, mix up your foot positioning from wide to narrow through your workout days or through your sets.
❯ What Can I Do to Speed Up the Recovery From Standing Calf Raises?
A great recovery tactic for your calves (and anywhere on your body) is foam rolling! Sit on the floor with your calves placed on top of a foam roller and roll them from the top of your Achilles tendon to the back of your knees. For extra deep tissue pressure, cross your legs and focus your body weight on one calf at a time!
Conclusion
The standing calf raise, without a doubt, has its benefits. If you're looking to gain size or strength through your calves, then the standing calf raise has a place in your workout regime. However, there are other more functional exercises that work your calves whilst conditioning other parts of your body too – for example, deadlifts and squats.
Standing calf raises don't deliver the most bang for your buck. But they do provide a good isolated workout for your calf muscles. In conclusion, standing calf raises deliver the best results when used in conjunction with a varied lower body workout.