The benefits of deadlifts are numerous, and for those serious about their gym training, the deadlift would be a staple of their workouts. When it comes to exercise, the deadlift is considered a king by many lifts. Done the right way, the deadlift benefits virtually every single muscle group in your body – including many of those deep-tissue muscles which are hard to activate. The benefits of deadlifts are felt in every part of your body even your heart, brain and hormone levels feel the benefit of regular deadlift sessions! If you had to build a short but effective workout with just three moves, it would be the bench press, pull-ups, and deadlifts.
No wonder bodybuilder Jacques James says that, "The deadlift is one of the few exercises that can turn boys into men, wussies into warriors."
Personal trainer Bryan DiSanto takes his praise of deadlift benefits even further. He says:
"In the weightlifting realm, deadlifts reign king… They build an all-around powerful, muscular, shredded physique faster than any other exercise. It's essentially cheating the weight-lifting system."
If you are serious about maximizing the benefits of deadlifts during your training sessions, take some time to read about how deadlifts target each of these parts of your body. Knowledge is key to making sure your lifting sessions are balanced and effective!
What are the benefits of deadlifts for your back?
You probably already know that the main benefit of deadlifts is that they strengthen your back. But do you know why back strength is so important?
Back pain is a leading cause of disability in the US. Even before you become legally disabled, back pain is probably going to make it really friggin' hard to do the things you love. Just ask my dad who had to stop mountaineering because of back pain!
The way that deadlifts benefit the back is by exercising two important muscles: The erector spinae and latissimus dorsi.
Erector spinae
The erector spinae are actually a group of muscles that run all the way along both sides of your spine. They sometimes get called "core muscles" or "lower back muscles" but those names are misleading because they run all the way from your head to your tailbone.
Most people would say they don't care about strengthening their erector spinae muscles (assuming they've even heard of them). Yet, these are the muscles which make it possible to:
Keep your back stable so you prevent injury
Stand up straight
Run faster
Perform better in bed…
No matter what your fitness goals are, you need to strengthen those erector spinae muscles! Even if you don't care about being fit, you still need to work those to avoid back pain (especially if you sit in a desk all day).
Guess what? Doing deadlifts is one of the best way to exercise your erector spinae since they stretch and stabilize you throughout the movements.
Latissimus Dorsi
The lats are the largest muscles in the upper bod. They attach the upper and lower body at five different points (spine, pelvis, ribs, scapula, and upper arm).
Ask a Neurokinetic therapist and they'll tell you about how important the lats are for maintaining balance throughout the entire body. Weak lats can mean problems with your neck, shoulders, elbows, and lower back.
Or, as Bro Bible says, "Strong lats = strong everything."
Benefits Overview:
Reduce likelihood of injury
Prevent back pain
Better posture
More functional strength
What are the benefits of deadlifts for the glutes?
Have you ever heard of dormant butt syndrome? It occurs when the hip flexors become tight and the gluteal muscles become too weak. Funny name aside, this syndrome causes more serious problems than just an unappealing-looking butt!
When the glutes are weak, other muscles have to take over. It puts strain on the lower back and even the knees and hips. Pain, anyone?
Note that even runners can get dormant butt syndrome. Even though they are active, the repetitive nature of their sport can cause the glutes to get weak. This is why glute-working deadlifts benefit runners.
Oh, and I should point out that doing deadlifts – especially Romanian deadlifts – will make your butt look amazing!
Benefits Overview:
Butt will look amazing
Reduced lower back pain
Less strain on knees and hips
What are the benefits of deadlifts for the legs?
One of the primary muscles worked during a deadlift is the hamstrings. While they don't get as much attention as the quads, hamstrings are really important for speed, jumping higher, and acceleration.
Unfortunately, a lot of lifters neglect their hamstrings. Consider that 98.6% of lifters have hamstrings that are non-existent or overwhelmed by their quads. One of the benefits of deadlifts is that they will work your hamstrings better than virtually any other compound exercise.
It isn't just the hamstrings that get worked during deadlifts though. Depending on the type of deadlift, your quads and adductor muscles also get involved too.
Benefits Overview:
Working hamstrings keeps quads from getting asymmetrical
Jump higher
More explosive strength
What are the benefits of deadlifts for your arms?
Again, I've got to say that the deadlift is truly one of the best exercises for working all of your body. Even though it seems like your legs, butt and back are doing the bulk of the work, your arm muscles are getting worked too.
Specifically, it is these forearm muscles which get worked:
Brachioradialis
Flexors
Extensors
Why would you need to work your forearm muscles?
If you are lifting regularly, then it is likely your forearms are being overpowered by your biceps and triceps. Muscle imbalances not only make you look funny, but put you at risk of injury.
Here is some great advice (courtesy of Danny Ajini) for getting more forearm benefits from your deadlifts:
"Do your deadlifts with a double overhand grip. Then when your grip begins to fail, start to use a mixed grip. The mixed grip, while not as effective as a double overhand grip, will still work your forearms ten times better than using straps which basically take your forearms out of the equation completely."
Benefits Overview:
No "chicken arms"
Prevent muscle imbalance
Strong forearms means better grip
What are the benefits of deadlifts for the forearm and grip strength?
Grip strength and forearm strength go together. And, like the forearm, grip strength is easy to overlook. Yet, grip strength could be what makes or breaks your lifting abilities. I mean, duh, if you can't keep a grip on the damn weights, you aren't going to be able to lift them!
Doing deadlifts is one of the best ways to improve grip strength. Your finger flexors have to work throughout the exercise to hold the bar and keep it from moving. Of course, you could train with a hand gripper, but deadlifts let you kill multiple areas with one exercise.
Stuck on a lifting plateau? Many trainees report breaking plateaus once they being working on grip strength!
Benefits Overview:
Break plateaus
Increased hand grip
Better endurance
Improved dexterity
Reduced injury
What are the benefits of deadlifts for the shoulders and trapezius?
Shoulder pain and injury are incredibly common with people doing resistance training. For other types of athletes, we know all about how rotator cuff injuries can destroy careers.
Doing deadlifts has huge benefits to your shoulder muscles. As you move through the lift, your shoulder muscles – particularly the traps – act as stabilizers. The heavier you lift, the harder your shoulders are going to work. If you do deadlifts, you won't have to do shrugs and will still get impressive shoulder development.
Benefits Overview:
Prevent shoulder injuries
Awesome looking shoulders
What are the benefits of deadlifts for your core?
We all want to have a sexy six-pack stomach. But beyond appearance, there are a lot of benefits to strengthening your core. As the central link connecting your upper and lower body, a strong core is key to everything you do in the gym.
Doing deadlifts is great for building core strength. It directly targets ALL of the core muscles responsible for strength and stability. Of course, this all depends on whether you are keeping proper form when deadlifting! Make sure your back is straight in order to get the core benefits of deadlifts!!!
Benefits Overview:
Helps prevent injury during everyday tasks and exercise
Improves posture
Protects your organs and central nervous system
Provides balance to your strong back muscles
Acts as a shock absorber when doing high-impact activities like jumping
Gives you better balance
Prevent back pain
What are the benefits of deadlifts for your heart?
We usually deadlift for muscle strength, but the deadlift is also great for strengthening your heart. Now, there is a lot of confusion about heavy lifting and heart health. It is quite complex, but here's how it works in a nutshell:
As you lift, your body raises heart rate to meet the increased demand for oxygen
Your heart rate fluctuates throughout lifting, but your heart rate averages out high
During light loads, your increased heart rate gives you a cardio workout
With higher loads, your muscles contract harder and increase peripheral resistance
Blood pressure increases drastically (known as afterload)
In response to afterload, the heart's ventricles become stronger – allowing the heart to pump harder.
Over time, the stronger heart means it is capable of handling greater pressure. Be warned though that this can take time to build up!
A lot of newbie lifters feel faint or dizzy when doing high load deadlifts for many reps. If this happens to you, then you need to reduce load and take more breaths between each deadlift. Bottom of Form
Benefits Overview:
Stronger heart and arteries
What are the benefits of deadlifts for your brain?
All lifting benefits the brain. However, as one of the most intense compound exercises you can do, deadlifting really boosts brain power. While there hasn't been nearly as much research as for cardio exercises, numerous studies have found that lifting can do wonders for the brain.
Benefits Overview:
Improved brain function
Better memory
Prevent age-related brain degeneration.
What are the benefits of deadlifts for hormones?
Hormones aren't exactly a part of our body, but they run through every part and dictate every single bodily function. If your hormones are out of whack, everything from metabolism to fertility can suffer!
When you do hardcore resistance training like the deadlift offers, lots of hormones are released. The main hormones released are:
Testosterone
Human growth hormone (HGH)
Insulin-like growth factor (IGF)
You probably already know a bit about how testosterone boosts your body's ability to produce muscle and that HGH can prevent aging and increase performance. These are just a few of the benefits you get from deadlift hormones.
Benefits Overview:
Get bigger gains
Become stronger
Reduce body fat
Improve immunity
Boost sex drive
What are the other benefits of deadlifts?
It doesn't stop there! Here are just some of the other great benefits of doing deadlifts:
It's safe: Your likelihood of injury with deadlifts is pretty low compared to other resistance training exercises.
Functional: The deadlift mimics movement that you actually do in real life. While you might never perform a movement like a bench press, you lift stuff all the time.
Weight loss: Deadlifts are killer for losing weight because of how they optimize hormones and get your entire body working.
Help prevent injury: Because deadlifts work those hard-to-active stabilizer muscles as well as critical tendons and ligaments, they are great for preventing injuries during other exercises.
Cheap: You don't need any fancy home gym equipment to do a deadlift. Just a bar and some weight is enough.
Build confidence: If you hang out in gyms, eventually someone is going to ask you your deadlift numbers!
You'll look awesome: Appearance really shouldn't be your main goal for exercising – but who doesn't want to look great? Deadlifts will help you build all of those "show muscles" so you can feel good about your body.
What are the different types of deadlift?
Did you know that there are at least 9 different types of deadlifts? Doing any of these deadlifts is going to give you benefits like reduced likelihood of injury, better grip, and increased hormones. But, depending on the type of deadlift, you'll be focusing on different muscle groups and achieve different results.
Sumo Deadlift Benefits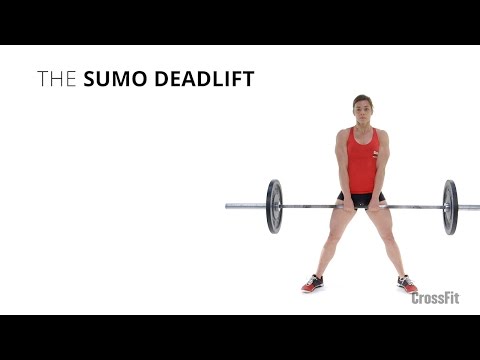 With the sumo deadlift, you spread your legs further apart. They should be out near your collar bones! Your arms are between your legs. This creates a huge difference in the muscles worked. Instead of working your back so much, you'll be targeting your legs.
Benefits:
Quads
Adductors
Hamstrings
Traps
Deficit Deadlifts Benefits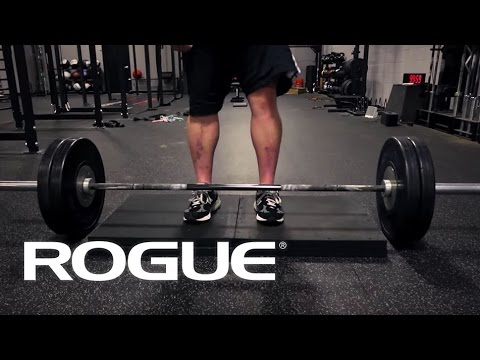 The difference with this deadlift is that you start by standing on a platform, usually about 1-3 inches in height. The platform increases the range of movement, thus increasing the amount of work you have to do. The deficit deadlift is often recommended for people with longer arms or people who have trouble with the first lifting phase of a deadlift.
If you are having trouble keeping proper form during standard deadlifts, doing deficit deadlifts can help you be better aware of your body position.
Benefits:
Quads
Posterior chain
Increases amount of hip flexion
Rack Pull Deadlift Benefits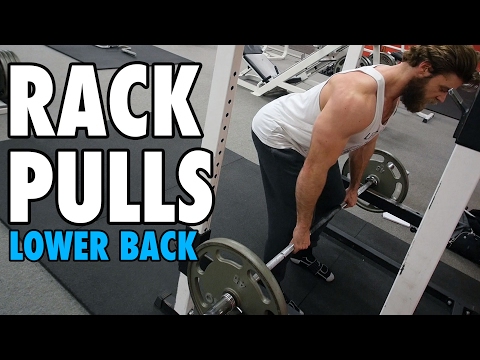 Using a rack decreases the range of movement you can do with a deadlift. You start with the bar around knee height instead of on the ground. The benefit of doing this is that you'll be able to lift much heavier loads, and it will target the back more than the legs.
Benefits:
Traps
Glutes
Erector spinae
Rhomboids
Forearm muscles
Romanian Deadlift Benefits (Stiff Leg Deadlift)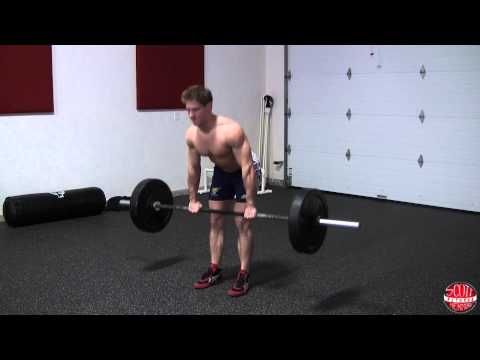 This is one of my favorite deadlift variations and it is really popular with women because of how quickly it builds butt definition. To do it, you just keep your legs stiff while your body drops/lifts. Remember to go slowly during the drop to maximize benefits!
Benefits:
Insane glutes
Adductor magnus
Hamstrings
Trap Bar Deadlift Benefits (Hex Bar)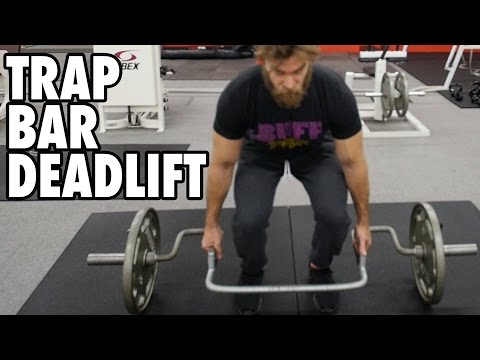 A trap bar allows you to stand within the bar. The benefit is that it will change the mechanics of the deadlift and more evenly distribute the weight. You'll put less strain on the spine and are less likely to incur injury. Interestingly, using a trap bar to deadlift isn't only safer, but also increases the amount of power.
Benefits:
Leg muscles
Less strain on back
Snatch Grip Deadlift Benefits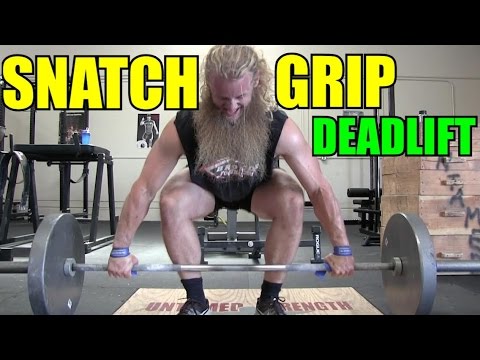 With this deadlift type, your legs remain in the standard position but you spread your arms out much wider when gripping. The change in position means you'll be using your back more than with the standard deadlift.
Benefits:
Hamstrings
Traps
Upper back
Glutes
Hack Lift Deadlift Benefits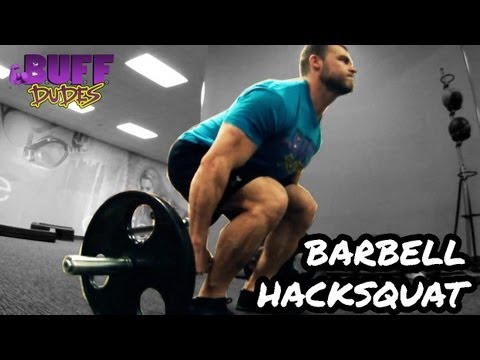 With this deadlift, you keep the standard deadlift form but the bar is behind your body. Be warned that this variation really puts stress on the knees and hamstrings. If you aren't experienced or have knee problems, don't try it without professional supervision.
Benefits:
Single Leg Deadlift Benefits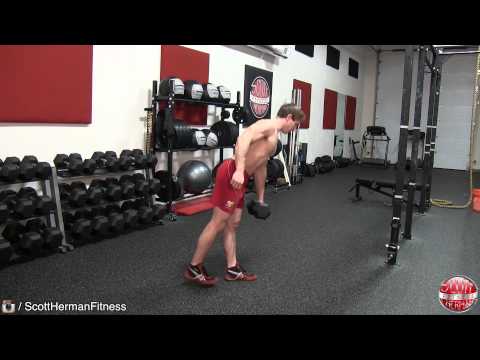 There are a lot of benefits to training on one leg – such as how it can increase your hamstring length (important if you sprint) and helps you improve force. The obvious benefit of single leg deadlifts is that you get to train each leg separately, and thus help even out any muscle imbalances and gives you better balance.
Another great thing about one legged deadlifts is that they mimic the action of many everyday movements, like kicking and running. If you play sports, then you'll want to practice these!
Benefits:
Hip extension
Muscle balance
Lengthens hamstrings
Explosive leg power
Jefferson Deadlift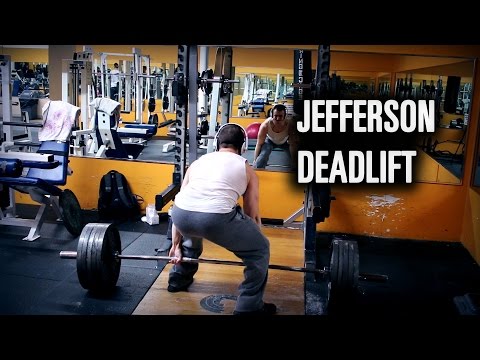 This is a rather strange lift (though sometimes people call it a squat) that most people haven't even tried. You stand with your legs straddling the bar and then lift the bar up between your crotch. The asymmetrical nature of the lift means you have to stabilize your body like hell to execute it.
Benefits:
Builds insane core muscles
How do you improve your deadlift?
Maximizing the benefits of deadlifts is all about achieving proper form. If you can afford it, hire a personal trainer for a few sessions to make sure you are using proper form. NO – simply looking at yourself in the mirror isn't enough to tell if you're deadlifting properly!
If you can't afford a personal trainer or don't have access to one, then you can try to videotape yourself deadlifting.
Set the camera, so it captures you from the side. Then you can review the video to see if your deadlift form is correct or not.
The three main things to check for are outlined below.
Neutral spine
Alignment: With the standard deadlift, your shoulders should be over the bar, and the bar should be over your mid-foot, and your shins should be near the bar but not knocking against it.
Bar path: Make sure the bar is staying completely straight up and down.
Not only is the correct form necessary to reap all the benefits of deadlifts, but it also reduces the chance of injury. The deadlift, more than any other exercise, reinforced the need for proper form over weight load. If you are new to the deadlift, introduce it into your routine slowly, and ignore the weight you are lifting. Adding weight comes from practice and correct body positioning. The benefits of deadlifts are felt at any weight.
What's your favorite type of deadlift? Let's hear your numbers in the comments!