Cable crossovers are a popular exercise for targeting the chest muscles, but they are not always accessible to everyone due to a lack of gym equipment or space. Fortunately, there are many cable crossover alternative exercises that can provide similar benefits. Cable crossover alternatives are designed to work the same muscle groups as cable crossovers, including the pectoralis major and minor muscles, as well as the deltoids and triceps. Cable crossover alternatives can be performed using dumbbells, resistance bands, or bodyweight exercises, making them a versatile option for those who want to work their chest muscles without access to a cable machine. These exercises are intended for individuals who are looking to improve their chest strength, muscle definition, and overall fitness. By incorporating cable crossover alternatives into their workout routine, individuals can target their chest muscles effectively, even without access to a cable machine.
It's no myth that the cable crossover is one of the best exercises that exists for building a strong and chiselled chest. The cable machine is always a well-loved piece of furniture at any gym, and the cable crossover a popular inclusion in many upper body workout regimes.
But what if you don't have access to cable machine? Are your chest gains doomed?
Not at all! Luckily, there are a few ways to get around the hurdle of having no cable machine and keep you well on your way to a bigger, stronger chest.
In this article, I'm going to be revealing to you how it's possible to stimulate the pectoral muscles in the same way that the cable crossover does and highlighting the exercises that will do it best!
What Are the Benefits of Cable Crossover Alternative Exercises?
You may have heard some experts claiming that it is impossible to spot target through the pectoral muscles, but rather that the chest activates in unison during chest exercises. Whilst this is partially true, it is possible to put a more significant degree of focus on the upper or lower pectorals through specific movements. The cable crossover is known to place more load on the upper pectoral muscles. However, this can be manipulated by changing the angles at which you pull the cables. So really, the cable crossover is just one of many ways to work your entire chest.
The benefits of the cable crossover can be easily gained through different chest exercises. People tend to be "stuck in their ways" when it comes to chest exercises, because…. Well, you can't go wrong with bro science!
But, there are a wide range of workout moves that are effective in sculpting impressive pecs and intensifying your chest day. And many of them place substantial load on your upper pecs – just like the cable crossover, in its traditional form.
Read on to learn about the different alternatives to the crossover, and how to execute them, below! Note, these can all be done easily from a home gym – bonus!
7 Best Alternative Exercises to the Cable Crossover
1. Resistance Band Crossover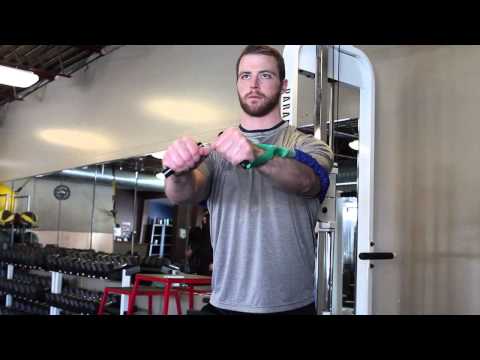 As the name suggests, this one exactly replicates the crossover. The only difference is that you make use of resistance bands as opposed to a cable machine.
Resistance bands are a highly beneficial workout tool. Here's an example of how many exercises can be done with them.
To do this exercise you need two resistance bands of an appropriate level of resistance, and something to anchor them to, i.e. a power rack.
To correctly perform these, have a band in each hand and walk forward until there is enough tension on the bands. Stand in a split stance and lean forward slightly at the hips, maintaining a straight back.
Lock a soft bend in each elbow and bring your hands together slowly to crossover in front of you, before returning to starting position (where there is still tension on the bands).
Keep your reps slow for maximum time under resistance. This is a great warm-up exercise if you use a band light enough to be able to pump out heaps of reps!
2. Flat Bench Dumbbell Fly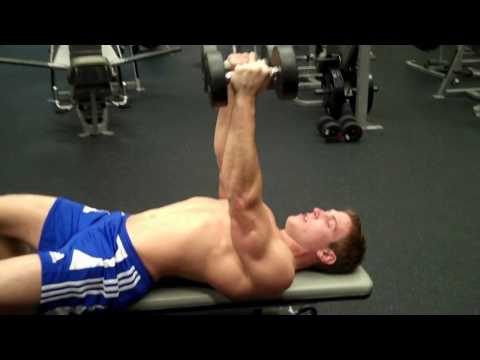 Most people have heard of the flat bench dumbbell fly. This exercise allows you to push more weight, and isolate your pectoral muscles further, given your bodyweight is supported by a bench.
This is unlike the cable crossover, whereby you require full body activation to stabilize.
To do this exercise, you will need two dumbbells of a suitable weight and a flat bench. Lie on the bench with your feet flat on the floor, knees bent at 90-degrees. Start with the dumbbells on extended arms, palms facing each other, above your chest.
Place a small bend in your elbows, and locking that position, open your arms until they are parallel to the floor, and then pull back to starting position.
Keep your reps slow and controlled. This exercise is great for fewer reps over more sets. However, it can be done in a high rep fashion or until fail, at the end of a workout for maximum fatigue!
Note, for beginners – don't bite off more than you can chew with regards to the weight, as this will set you up for shoulder injury.
3. Incline Dumbbell Fly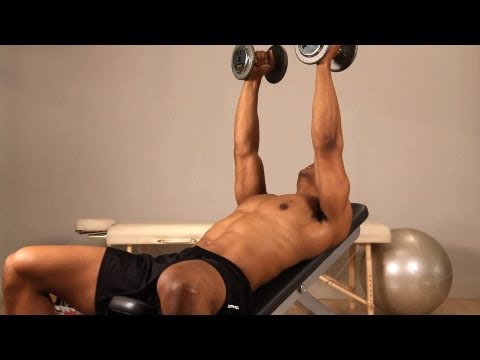 Like the flat bench dumbbell fly, this exercise follows the same movement pattern, but is done on an incline bench. This means you will feel significant load placed on your upper pectoral muscles, making it a great alternative to the cable crossover.
To do this exercise, set your bench at about a 45-degree incline. Sit on the bench and start with the dumbbells on extended arms above your chest, palms facing each other.
Then complete a fly as you would in a flat bench fly, by placing a small bend in your elbows, and opening your arms until they are parallel to the floor.
As this exercise is so like the flat bench dumbbell fly, it can be done in a similar rep range.
If you're in need of some dumbbells for your home gym to do exercises like these, you can have a look at some here.
4. Single Arm Dumbbell Bench Press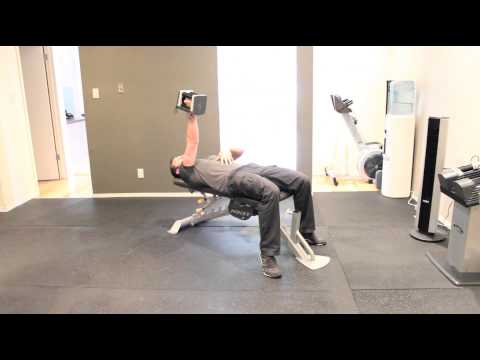 If this isn't the first article of mine you're reading, you'll know I'm a huge fan of unilateral exercises!
Unilateral exercises allow you to load and work one side of your body at a time. These types of exercises are great for building equal strength and mass through the left and right sides of your body.
You can find out more about unilateral exercises, here.
The single-arm dumbbell bench press is a great all-around chest exercise, and whether you need an alternative to a cable crossover or not, you should be doing it. You only need one dumbbell of an appropriate weight to perform this exercise. A flat bench is optimal, but you can also do it on the floor.
To do this exercise correctly lie on the bench with your knees bent at 90-degrees and your feet flat on the floor. Start with the dumbbell in your weaker arm on a bent elbow, palm facing inwards, near the side of your chest.
From here, push the weight up and back down in a straight line; your core and 'other side' will have to lockdown as to not roll off the bench.
Try anywhere between 8 to 15 reps of this exercise with as much weight as you can safely manage.
5. T-RX Cable Push Up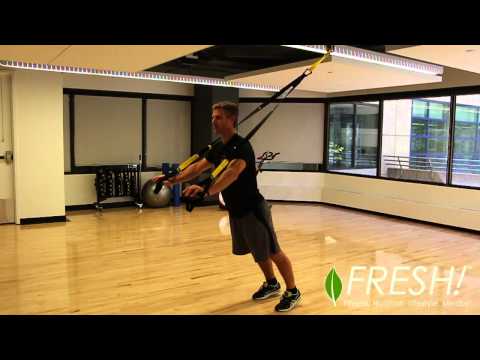 T-RX cables are amazing for building functional strength. Of course, within their wide range of exercises is a fantastic alternative to the cable crossover. A reverse cable crossover, if you like.
I love this exercise, not only because it requires full-body activation, but because it provides endless room for progression, as you can adjust the amount of your body weight you're loading by the position you assume.
Technique is everything when it comes to this exercise, so make sure you watch the demonstration video below to stay safe!
You will need a T-RX cable (like these) and somewhere to attach it to for this exercise. This cable crossover alternative is much like a push-up, only the tension is "on" all the time.
Hold the handles on extended arms in front of your chest and have your feet shoulder-width apart. By adjusting the position of your feet, you can have your body anywhere from parallel to the floor to 45-degrees to the floor (if you're just starting out).
Keep your core tight to help you maintain a straight line from your head to your toes, and a neutral spine.
Lower yourself towards the floor until your hands have reached the outside of your shoulders. Have your elbows tucked in, lower yourself down and then push back up.
Make sure you don't overdo the range by lowering yourself down too far, as to ensure your shoulders remain injury-free.
The reps you complete in this exercise would be specific to your training goals, but commonly this exercise is performed for 5 to 15 reps.
6. Chest Dips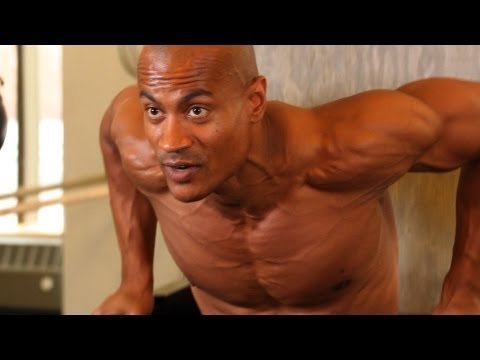 Not to be confused with tricep dips, chest dips specifically target your pectoral muscles, making them a great alternative to the cable crossover.
This exercise is difficult as you need to be able to support your entire body weight, unless you have a supported dip machine. If you have dip bars with no support plate, you can always get a friend to spot you or assist you by holding your legs, if you require help in the beginning.
To perform chest dips correctly, start by holding your body above the bars on extended (locked) arms. From here, whilst inhaling, lower yourself downwards with your elbows pointing outwards a little, and your torso angled forward at roughly 30-degrees.
Once you reach the point where you feel a minor stretch through your pectoral muscles, push back up whilst creating a mind to muscle connection with your chest and exhaling.
At the top of the movement, be sure to fully contract the muscles and hold for a second or two before going into your next rep.
The number of repetitions you do in this exercise would be specific to your abilities and training goals, and whether you have assistance. Once you have mastered dipping your bodyweight, you can add weight by making use of a weight belt.
If you're looking to add a weight belt to your home gym, check these out.
7. Standing One-Arm Landmine Press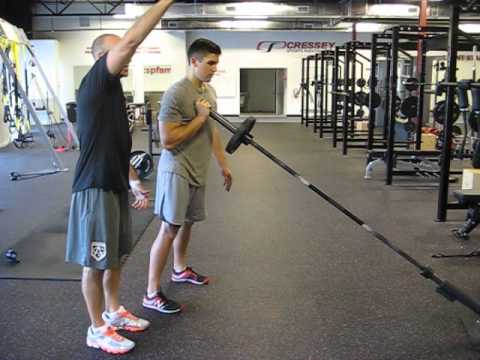 This exercise is my favorite of all the cable crossover alternatives I have covered today. It is also a unilateral exercise and I've made it clear that I am pro those!
This exercise is better suited to the more seasoned lifter, as it requires control and a general level of strength that is built over time. The standing one-arm landmine press is a great exercise for creating mass through the chest, as well as functional strength through the shoulders.
To perform this exercise, you will require an Olympic barbell and some weight plates. A landmine attachment is preferable, but not essential, as you can place the barbell in a corner for similar effect.
If you're in need of a barbell to complete your home gym (and complete this exercise), here are some good recommendations.
There is a half-kneeling version of this exercise too, but I'm going to cover the more advanced version – the standing one-arm landmine press.
To perform this lift, have the barbell in a landmine attachment or in a corner, with the opposite end loaded with weight plates, suitable to your strength. Hold the end of the bar with one hand and stand with your feet shoulder-width apart.
Push your hips back slightly and maintain a soft bend in the knees. Start with your hand holding the barbell by your shoulder, elbow by your side. From here, engage your core and push the bar away from your body until your arm is fully extended.
Squeeze your chest, hold for a second and then return slowly to starting position. Repeat all repetitions on one side, before working the other side. And remember, it's beneficial to start on your weaker side.
I enjoy doing this exercise in low amount of reps over 4 or 5 sets!
Wrapping Up
There you have it – 7 of the best alternatives to the cable crossover for you to dig in to!
I hope you enjoyed this article and feel confident in trying out some of these exercises in your next chest workout.
Nobody likes to miss out on chest gains and functional strength. So, just because you don't have access to a cable machine, doesn't mean you need to bench press until the end of time, or until your back fuses to the bench.
Your pectoral muscles are an important part of helping facilitate forward shoulder movement and bringing your arms across your body. Including a chest day as part of your workout regime will ensure a well-balanced muscular system!
Got any other alternatives everyone should know about? Let us know in the comments section below!