This post may use affiliate links. As an Amazon Associate I earn from qualifying purchases.
Many gym-goers get stuck comparing techniques and equipment to find which option is better when starting a training regimen. The logic behind this research is wanting to get the best gains for their efforts by working smarter, not harder— a goal that makes perfect sense.
A standard comparison is the dumbbell squat vs. barbell squat argument. Here's what you need to know about each type of squat and which is better for your goals.
All About Barbell Squats
The barbell squat is a foundational movement in competitive weightlifting—both powerlifting and Olympic weightlifting use variations of the barbell squat to perform key movements. In powerlifting, this movement presents as a simple back squat. In Olympic lifting, the barbell squat supports the development of the clean and snatch.
Barbell Squat Variations
Some of the typical barbell squat variations include:
Back Squats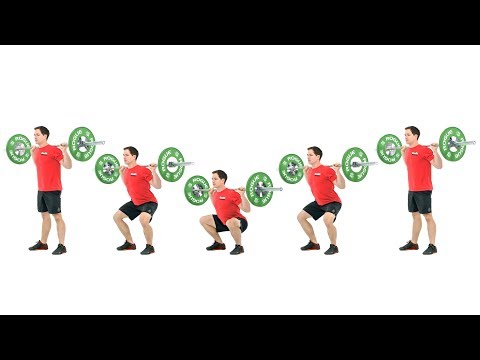 A back squat is completed with a barbell resting across the lifter's upper back and starts in a squat rack or a monolift. This lift can be completed either as a high-bar or low-bar variation, which pertains to the bar's positioning on the lifter's back.
Back squats target the posterior chain, primarily hitting the glutes, hamstrings, and low back.
Front Squats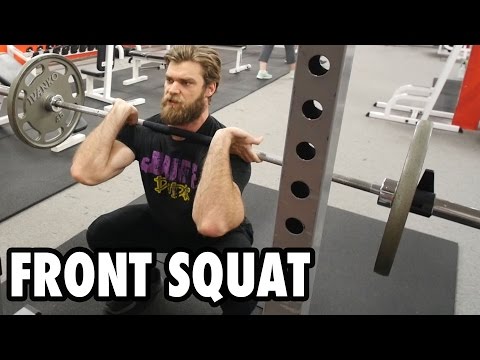 Front squats are completed with the barbell in a front rack position, resting across the lifter's chest with their elbows facing forward to hold the bar in place. This variation shifts the onus of the movement from the glutes and hamstrings to the quads.
9 Benefits of Front Squats (You Won't Want to Miss)
Overhead Squats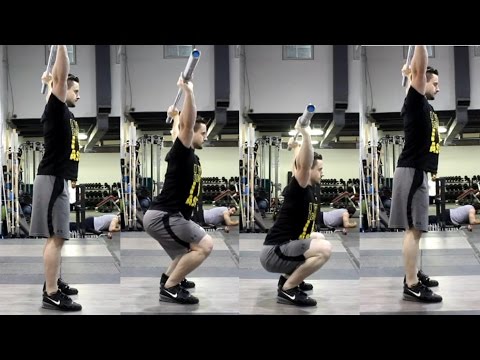 Overhead barbell squats are an essential variation for Olympic lifters and Crossfitters who do overhead work. In this variation, the barbell is held overhead with arms locked out during the squat. Positioning and stability play pivotal roles in this barbell squat variation.
Overhead Squat: Muscles Worked, Benefits & How To
Bar Variations
When you get down to it, a dumbbell is a dumbbell. However, there are various types of barbells that can enhance a lifter's training by shifting the center of gravity or enhancing the range of motion.
Some common barbell variations include:
Within those variations, there are subtle differences to consider, as well.
Benefits of Barbell Squats
Barbell squats are a clear contender over dumbbell squats when it comes to building strength and power. There are many benefits to squatting with a barbell, such as:
Heavier Load Capacity
If your goal is to progressively build strength and power, dumbbells will only take you so far. Even if you can lift two 100lb dumbbells to do a dumbbell squat, it doesn't mean that you should. Getting into the position without a rack can be risky. And the positioning can put unnecessary strain on your shoulder joint.
Furthermore, you'll likely waste more energy getting into the right position with dumbbells than you would squatting the same weight with a racked barbell.
If you want to hit the heavier weights, barbell squats are the way to go.
Large Muscle Engagement
Barbell squats are also superior for dominant muscle engagement. Large muscle groups, like the quads, core, and posterior chain, all benefit more from the progressive overload of a barbell squat.
Natural Stability and Balance
Another benefit to the barbell squat is the inherent balance and stability throughout the movement, as the weight is held in place and evenly distributed. While barbells don't eliminate compensations, they make it easier to maintain form throughout the movement than dumbbells.
Limitations of Barbell Squats
While the pros of barbell squats far outweigh the cons, there are a few important risks and limitations to be aware of, including:
Advanced Equipment Needs
Barbells and plates are more expensive to acquire than dumbbells. They also take up more space and infrastructure to use, which is a limitation for beginners interested in starting a home gym. Furthermore, many commercial gyms lack the necessary equipment for barbell squat variations.
Limitations with Solo Training
Another critical concern is the limitations with solo training when completing barbell squats. Hitting heavy weights alone without guards is never a good idea. The heavier weight also makes it easier to get hurt if you don't know what you're doing, causing permanent injury.
All About Dumbbell Squats
Dumbbell squats are completed with one or two dumbbells, depending on the movement. In fact, the ability to change it up is one of the main benefits of squatting with dumbbells. Like barbell squats, dumbbell squats also offer numerous variations for muscle targeting and cross-training.
Dumbbell Squat Variations
Some popular variations include:
Goblet Squats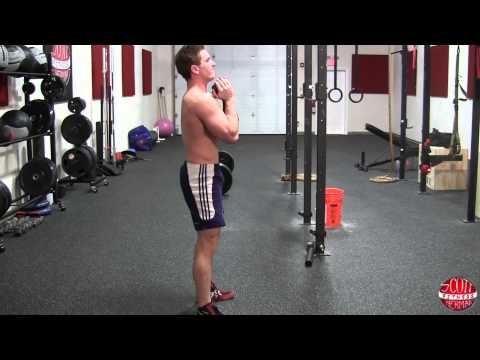 A goblet squat is completed by holding a dumbbell at chest level with elbows out and squatting. It's similar to the front squat, targeting the quads. However, it doesn't require the same shoulder engagement as the barbell front squat, making it easier to perform for those with mobility issues.
Benefits of Goblet Squat Other Exercises Don't Offer
Bulgarian Split Squat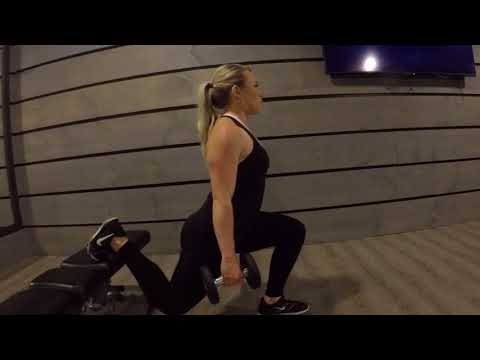 The Bulgarian split squat is a staple in bodybuilding, making the quads and glutes pop. This unilateral exercise is performed with one foot elevated behind the lifter and the front foot planted forward. The lifter holds dumbbells in each hand and squats down so that their back knee bends toward the floor.
Bulgarian split squats have been deemed as effective as barbell squats for building lower body strength. This is a fantastic accessory lift that benefits barbell squatting.
9 Bulgarian Split Squat Benefits & How to Do Them
Suitcase Squat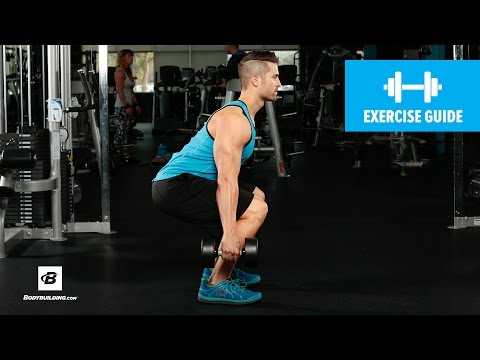 The dumbbell suitcase squat is a squat/deadlift hybrid that replicates the movements of a trap bar deadlift with a better range of motion. In this movement, the dumbbells are held in a suitcase hold, resting at the side of the thighs throughout the squat movement. In addition to strengthening the quad and hamstrings, the suitcase squat also improves stability.
Benefits of Dumbbell Squats
Many lifters wonder, "are dumbbell squats effective?"
The answer is yes!
There are many benefits to dumbbell squats that make them a worthy accessory exercise, including:
Beginner-Friendly
Dumbbell squats are ideal for new lifters who are still getting used to handling weight in their training. Whether it's a cardio-convert or an inexperienced elderly individual, using dumbbells allows for form and weight progression in a safe, non-intimidating manner.
Easily Accessible for Home Workouts
Another key consideration in our modern era is the accessibility for at-home workouts. With global lockdowns, many gym-goers are moving their training to their homes. Dumbbells are affordable, versatile, and require minimal space for at-home training.
Dumbbell squats are also easier to bail from, making them safer for solo training at home.
Allows for Unilateral Training
Another noteworthy benefit of using dumbbells is that they allow for unilateral training. Unilateral training can help rehabilitate injured lifters and reduce compensations by strengthening weakened muscles.
Consider it this way: if your left leg is slightly weaker than your right, your right leg will carry the weight during a barbell squat. By completing unilateral squats with a dumbbell, you can strengthen the weakened muscle for a more uniform barbell squat.
Trains Stabilizer Muscles
Whereas barbell squats effectively engage larger muscle groups, dumbbells are great for engaging the smaller stabilizer muscles. This engagement can help improve secondary movers, boost overall strength, and improve form while preventing injuries.
Limitations of Dumbbell Squats
The overarching pitfall of dumbbell squats is the weight limitation. You'll never safely hit the same weight with a dumbbell as you would with a barbell. Whether your form is at risk or your grip gives out, dumbbells can only take you so far with squats.
So, can you do squats with dumbbells to build strength and muscle mass? Absolutely. However, you'll hit your max with dumbbells far quicker than you will with a barbell.
Dumbbell vs. Barbell Squat: Which is Better?
Barbell squats are better for building strength and power as you advance in your lifting goals. Dumbbell squats are better for building stability and complementing barbell squats, especially for beginners.
Both have a time and place in your training. If your options are limited and dumbbells are the safest or most convenient way to train, use them, and add progression whenever possible. If your goal is to compete in powerlifting, don't overlook dumbbell squats to support your training efforts.