The safety squat bar is a weightlifting bar that is designed to provide additional support and safety during squats. This bar has a unique shape that allows the weight to be distributed more evenly across the shoulders and upper back, reducing the stress on the lower back and knees. The safety squat bar primarily targets the quadriceps, hamstrings, and glutes, as well as the upper back and core muscles. In addition to providing a safer and more comfortable squatting experience, the safety squat bar can also offer a number of benefits for those looking to improve their lower body strength and fitness. These benefits include improved muscle activation and development in the lower body, increased core stability and strength, and reduced risk of injury to the lower back and knees. The safety squat bar is a versatile and effective tool for individuals of all fitness levels who are looking to improve their lower body strength and overall fitness.
Although being a specialist barbell for keeping the shoulders, elbows, and wrists healthy, the safety squat bar is also so much more than that, it's a popular training tool in its own right. Today we're going to talk about why the safety squat bar can help your training, what to look for, and the best choices on the market!
What Is a Safety Squat Bar?
The safety squat bar (also known as the SSB) is a piece of equipment that was originally designed to avoid pain in the shoulders, elbows, and wrists when squatting.
This was a concern for powerlifters and athletes with poor mobility or injuries in the upper body. These are very common in powerlifting where mobility, joint bias, and upper body demands are high (because of low bar squats).
The bar itself is like a regular barbell but with a cambered design, handles, and the addition of pads to support the bar. This is important because of the different position they produce and the different postural demands from a regular barbell.
While the original intention of the safety squat bar was to avoid injuries (hence the name), it's become celebrated for other reasons. We're going to discuss these – what they can do for you – and some of the best products on the market.
How Much Does a Safety Squat Bar Weigh?
An average safety squat bar will weigh between 20kg (44lbs) and 32kg (70lbs). The average size is somewhat heavier than a standard comparable Olympic 20kg (44lb) barbell.
Often, higher quality safety squat bars with higher weight capacities will be larger/heavier. This is a result of the increased width and the use of heavy-duty parts to support large loads, with many rated for over 1000lbs of weight.
This makes the loading of a safety squat bar a little different since you're always going to be 5kg – 12.5kg heavier than your usual barbell. Be sure to keep this in mind if you're buying/using one at a gym or in your home gym.
Why Use a Safety Squat Bar?
Reducing Stress in the Shoulders/Upper Body
The obvious benefit of a safety squat bar is the ability to take the shoulders, elbows, and wrists out of the movement. This allows you to squat during an injury in one of these joints.
These are common injuries, with shoulder pain affecting over 40% of athletes alone, on top of common problems like tennis elbow or wrist pain. The likelihood you'll need this bar at some point is quite high!
This allows for continued lower body strength work while the upper body is either in need of more rest or experiencing pain/restriction. This is even more common among powerlifters where significant bench pressing volume and low bar squatting stress the shoulders/elbows/wrists significantly.
It's definitely a good investment to be able to squat whatever the circumstances elsewhere in your body!
Strengthening the Upper Back
One of the unintended consequences of a barbell that doesn't involve the shoulders is a totally different position on the back. This produces a significant increase in the use of the upper back during a squat.
The ability to train the upper back is important because this muscle group is one of the most important for posture. This is key for everyday life, but also translates directly to squats, deadlifts, and Olympic lifts.
Improving upper back strength is one of the most common uses of the SSB among powerlifters now. There's no way of cheating the upper back tightness with the shoulder blades (because of the handle position) and improper movement is very clear!
By making it more difficult on the upper back, this barbell forces you to develop upper back strength more specifically. This is very specific to the squat and should improve your regular barbell squat (both front and back).
A More Quad Dominant Squat
The camber of the safety squat bar places the weight out in front of the body. This is a significant change from the regular back squat and forces increased postural and quad activation.
Quad focus is what we see in an Olympic squat or front squat, while a low bar squat tends to be weak on the quads. This change can make the safety bar a great choice for targeting quad strength.
The position of the barbell and its balance in front of the body forces the correct movement pattern. If the hips drift backwards during the movement, it's very obvious from the appearance and 'feeling' of the movement.
Once again, forcing you to do the movement properly is part of the benefit of a safety bar squat. This forces proper movement for a barbell back squat, keeping the hips close to the weight rather than pushing back and dropping the chest.
The combination of the upper back and quad demands make this a perfect assistance exercise to the low bar squat. For those who are dealing with upper back weakness or shoulder pain, the safety bar is perfect.
Exercise Variety and Versatility
Not only is the safety bar a good option for accessory work, but it opens a number of new exercises you couldn't do with a regular barbell.
For example, performing yoke walks with a regular barbell is almost impossible. The risk of simply rolling the barbell off your back is huge, and very distracting! The padding and balance of the safety bar makes this a non-issue.
Equally, there are variations like the Hadfield squat are only possible with the safety bar. These aren't for everyone, but they're a good example of how the SSB opens up new possibilities for your training.
On top of this, the balance of the barbell is a great choice for common exercises like the good morning. In these cases, the upper back demand is a perfect combo, and it allows you to load from the front.
This is amazing for strength sports, which would usually require a sandbag or similar implement for effective front-loaded good mornings.
Best Safety Squat Bars on the Market
1. Rogue SB-1 Safety Squat Bar
Rogue are a pretty big name in the fitness equipment space for their work with CrossFit and the fact that all of their equipment is produced and shipped easily within the U.S.
This is a really good showing of a basic, well put-together safety squat bar. Not only does it have the classic design but also provides a great finish and style, looking and wearing well.
The Cerakote finish is great for the natural longevity of the bar (especially in unconventional climates like a garage), as well as improving overall durability. This is a 32kg (70lbs) barbell with high-quality machining and welding, too.
The pads themselves seem totally solid with heavy duty stitching and a well-wearing pad-bar holding system.
Overall, this is a predictably good piece of equipment from a reliably good company. Rogue are working well in the middle of premium and economy, and this product shows a perfect balance of the two with a great build, but also a great price!
Pros
High quality and well-designed
Reliable brand with great customer service
Heavy, well-rated barbell for lifting big loads
Good pad durability for longevity
Cons
A little more expensive than some options on the market
2. EliteFTS SS Yoke Bar
The EliteFTS Yoke bar is a little lighter than the rogue bar at roughly 29.5kg (65lbs) but comes with all the quality you'd expect from EliteFTS.
Dave Tate, one of the key players in popularising the yoke bar in the first place, was at the helm of this bar's inception. This product carries dense supporting pads (for durability and long-term performance), as well as and overall the angles and dimensions of the bar are fantastic.
The grips are well-designed, and the finish is a clear, protective coating to reduce wear and tear. The overall handling is great and the care and concern in the product really shows.
The EliteFTS bar is definitely on the premium side of things and the pedigree of the brand for serious strength is clear. Overall, a great product if you're looking for high performance, though it is a little pricier than other products we're going to discuss today.
Pros
The premium option with a venerable history
Amazing design quality that has been leading the way since 2005
Conscious design choices for higher performance, while the finish improves durability
Cons
A little pricier than many options on the market
3. Titan Fitness Safety Squat Bar
The Titan Fitness safety squat bar is definitely not the quality and design we've seen so far on this list – though it does present itself as an economy option.
While the savings against the rogue or EliteFTS bars aren't huge, the actual difference in product is notable. The overall capacity for weight also maxes out around 700lbs which is suspiciously low for a safety squat bar.
This bar is clearly a light weight, lighter duty design than the others we've discussed. It weighs only 20.4kg (45lbs) and the construction quality does speak to this. Users already note the amount of flex at lighter weights and the inconvenient handle positioning.
Overall, this is a good choice if you're looking for economy, but we can't recommend it since you're going to continue to load these bars for years. The flex is unnecessary on an SSB and the handle spacing really does make the product difficult.
Titan Fitness have also acquired a reputation as being a little sketchy or hard to work with. Customer service reviews tend to be poor, while products themselves are often asymmetrical, poorly-milled, or just low quality.
Pros
Relatively cheap compared to other products on the market
Light-weight (45lbs)
Cons
Light weight-rating for a safety squat bar, flexing with as little as 300lbs
Titan have a poor reputation when it comes to heavy duty products
Customer service is very hit and miss, with significant problems
4. TDS Safety Squat Bar
With a 1000lb capacity and a much thicker bar than the titan SSB, the TDS safety squat bar is a heavier duty model. The overall build quality is sound and there is far less flexing even at heavier weights.
The TDS barbell definitely isn't an economy option with a comparable price to both Rogue and EFT. The inclusion of spinning cuffs is a significant step up on some competitors, but existing customers already report that these are prone to breaking.
The ability for plates to spin freely is important for a consistent and predictable movement with a barbell. The lower quality of these cuffs can be a significant problem, though not always a problem.
Overall the TDS bar is a good choice, but it does have a comparable price to better, more established products. If you're going to drop this kind of cash, it probably makes more sense to opt for the Rogue or EliteFTS safety squat bars.
Pros
Decent weight-rating at 1000lbs
Spinning cuffs are great for training performance and reducing instability
Cons
As expensive as Rogue/EliteFTS without the pedigree or quality
Concerns for the quality of weight cuffs
Doesn't seem to justify the cost
5. Ader Safety Squat Bar (1000lbs and 1500lbs)
Another 1000lbs bar, but with a 1500lbs option, the Ader bar is comparable to the FTS bar for how much it can handle. There's a good chance you'll never need it, but the options are always nice.
The design of this product is similar to the TDS bar, but with increased customer choice when it comes to weight capacity. Unfortunately, there do seem to be significant problems with either the design or the quality assurance.
The weight-holding cuffs of the bar are slanted slightly, which can make loading difficult. This is only going to get worse with adding weight, as flex at higher loads can increase this issue.
Equally, quality assurance could be an issue with pads being mis-formed or asymmetrical. Obviously, given the impact this could have on your development/posture, it's worth being cautious of.
Finally, there are some really legitimate concerns outside of the product itself. Not only is customer service reportedly rather trash, but this is far more expensive than the EliteFTS bar which comes with a superior design and overall reputation.
We're not sure what the Ader bar is selling itself on, as it is a lower-performing alternative to an EliteFTS bar with a similar price tag!
Pros
Good choice of weight-ratings based on your needs
Comes with appropriate pressure collars for securing plates to the barbell
Cons
Design of the bar can make loading difficult
Expensive relative to the quality of the product
Customer service is reportedly poor
Asymmetrical padding and other quality assurance issues may be a concern
How Do You Use a Safety Squat Bar?
Set up with the barbell at the top of the shoulders/traps and your hands on the handles. This will be less "secure" than a regular barbell squat since the shoulder blades are not supporting the barbell.
From this position, step the barbell out and take your regular squatting stance (somewhere between hip-width and shoulder-width). Keeping the entire back tight, perform a regular squat with weight in the rear half of the foot.
Use the quads to stand up, pushing the floor down and keeping the hips under the bar (rather than backwards). Keep the upper back engaged and hinge from the hips (not the shoulders) while standing up.
When you return to the start position, the rep is complete.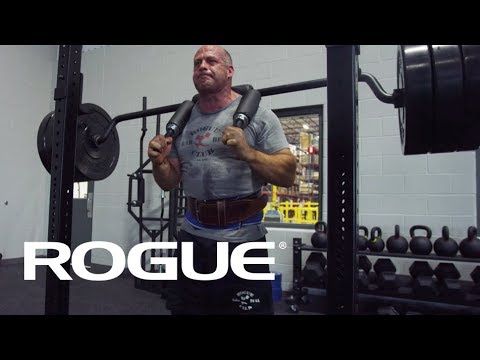 What Should You Look for in a Safety Squat Bar?
When it comes to a big piece of equipment like a barbell, we always look at them as investments. If this piece of equipment is going to be in your home gym, you're going to be using it – often – for decades.
A good bar is going to be a fantastic investment for your training results as well as juts avoiding having to re-buy! Build quality and performance in training are the two key areas that make or break a good safety squat bar.
We're going to look at some of the most important aspects of a safety squat bar that you should be looking out for.
Durability: The Key Factors
There's a lot going on with a safety squat bar that you might not be familiar with if you're used to regular Olympic barbells. The durability of this product is key and there are a few areas you want to be sure about.
First, the pads themselves need to be well-made or the whole barbell fails. The pads allow you to perform a squat without the upper traps without pain or nerve damage. When they stop working, the SSB stops being useful.
Stitching and pad filling are key for a good safety squat bar and its long-term use. This needs to be a priority.
Welding quality and moving parts are also important. These are the areas that are most likely to need attention in the long-term. Some safety squat bars don't have any moving parts, which makes them more durable but less useful in training (since the cuffs don't spin with the plates).
The collars themselves also need to be a focus, since they're where the vast majority of the friction will be. Poor quality collars are likely to damage plates, increase damage risks, and they're just inconvenient if they're sticking to plates.
These 3 areas – padding, moving parts, and collars are going to be the most important for durability and how well your SSB wears over time.
Training Performance: How Well Does It Do What You Bought It For?
The ability of a safety squat bar to improve your training is perhaps the most important aspect of what makes a good product. If it's not falling apart then – all things being equal – the most effective training tool is the best product every time.
The design and function of a product like this is our main focus. If it wasn't for the training effect, you may as well just use a regular barbell!
The camber of the safety squat bar, the position of the handles, and the ability to balance weight forwards are all key. A product that doesn't do these is likely to be a poor choice for your time, money, and effort.
Conclusion
The best safety squat bar on the market is the one that is going to last forever and be amazing to use over that time. For that reason, we strongly recommend either the Rogue or EliteFTS safety squat bars.
If you're looking for a mixture of economy and quality then Rogue is the way to go, while the EFTS bar is a heavy-duty, hard-wearing piece of kit for dedicated powerlifting. These bars represent the best investments you could make into a safety squat bar by a significant margin!
There's never a bad time to have more training options and the SSB allows you to let your upper body recover while building quad strength and better movement. These are great adjuncts for strength training, athletic performance, and especially Powerlifting.
A high-quality safety squat bar is an amazing investment for the decades of use you should be able to get from it. Considering the changes it can produce and the amount of use it will see, it only makes sense to go for the best!