Battle ropes are an underrated piece of home-workout kit. They're a great piece of conditioning work that targets your upper body – something that we're not used to training in this style. As a result, you're going to wan to have your own DIY battle ropes in your home gym.
However, there's also the problem that DIY battle ropes can be tricky to set up if you're not familiar with how they work. Setting them up can also be a real challenge if you're low on space. However, if you have the room, and are willing to spend the time building your own DIY battle ropes, then you are going to see your conditioning and overall body shape get kicked into a higher gear.
What do you need for DIY battle ropes?
To start with, you want a high-quality, suitable rope for the job. We've already reviewed battle ropes and how you can find the best, but the basics are this:
Durable
High-quality rope that isn't going to shed
Easy grips made of a distinct, non-rope material
Anchors included
Options on the length and width of the rope
Note how we said that many good battle ropes include their own, specific anchors? This is a huge benefit for a first-timer and if you can get one of these products you're off to a great start. However, we're going to talk about how to anchor battle ropes, as well as how to set up battle ropes with no anchor – so you're prepared no matter what product you bought!
The ideal approach to a battle rope is maximum mobility without the fixed point moving too much. This will make your workout less effective by dispersing the force of the movement: if the rope attachment point is moving, there's energy being wasted. This is obviously not what we want – especially if it's part of a conditioning circuit.
You want to be able to train with your battle ropes in as varied situations as possible, with wave training, slams, and beyond.
How do you anchor a battle rope?
If you got a battle rope that comes with its own anchor, you're already a step ahead: they cut out a lot of the difficulty associated with attaching your battle rope to a stable, non-moving object.
The anchors we often see are simply a wall-bracket with a metal half-loop. They simply screw into walls and other fixtures in the home to provide a relatively simple method of attaching your battle rope to a fixed surface.
If you're using one of these, we recommend a strong, familiar drywall screw where possible. If you're going to anchor it into your wall, however, be sure to check your plumbing and electrics: drywall is hollow because it stores the various pipes and wires you need. Hitting any of these while anchoring your battle rope is a really bad idea.
Preferably, try and get an anchor that allows you to lock your battle rope to a squat rack, power cage, or other heavy free-standing objects. This is usually safer on your walls and, with a high-quality home power cage, you're not going to be using your battle ropes with enough force to move it. For all intents and purposes, a power cage is an immovable object (especially with weights).
These often include lug nuts for attachment, and it's one of the reasons why the top result in our favorite battle ropes was the Power Guidance rope which comes with its own anchor, nuts and bolts. If you can get this style of anchor, even better!
Do all DIY battle ropes need anchors?
Not all ropes come with anchors and if you've made your purchase before reading our buying guide, you might have missed the bit about anchors. If you've ended up with a regular battle rope, you have two options: buy an anchor independently, or figure out how to use it without one.
The former is obviously just a matter of buying a high-quality battle rope anchor online. You can find these everywhere – from Amazon to your local hardware store. They're a very simple piece of kit: you simply need the loop to be larger than the diameter of your battle rope!
However, we're more concerned with what to do if you can't get an anchor or simply don't want to spend the cash. This is pretty common, since that extra money can go towards outfitting your home gym even more effectively. Savings here are a good choice!
To start with, an anchor is far from necessary: if you have ever played with your battle ropes outside, you already know that they're easy to use on the go. They're a versatile piece of kit!
One of the easiest ways to get around a lack of anchor is to simply thread them through a heavy object: you don't need an anchor to make the most of your power cage – you can simply thread it through the bars and place the safeties low enough to pin the rope in place and stop too much vertical movement.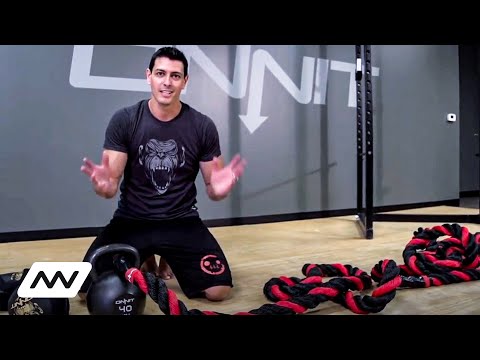 Alternatively, you can do something similar with a plate rack if you have one – these are heavy due to holding weight plates and definitely won't move when you're halfway through your workout. You can also do this with a kettlebell if you have a heavy one with a sufficiently large handle – this is another great way to use battle ropes on the go.
Finally, there's always the simple option: just tie them to something! While anchors and weights are the best way of keeping the rope fixed without constricting its movement, you can simply tie your rope around a pole or other object to stop it from slipping. This might reduce how much the rope can move sideways, but it also means it's not going to shift up and down.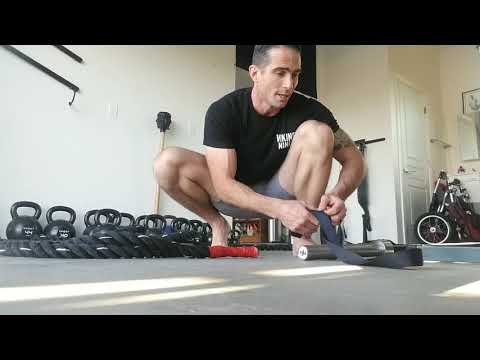 Final Thoughts
Battle ropes are special in that they challenge a part of our body that rarely deals with endurance training – they're a great way of rounding our your training. However, that's not going to work if they're not attached to a fixed point – something you might need to improvise for your DIY battle ropes.
With a little know-how and improvisation, even a set of DIY battle ropes without an anchor can be sturdy and stable. It's all about working with the objects, features, and space that you have in your own home gym. Take a look around your own gym and work with what you have. Anchors are cheap and high-quality ropes come with them, but these may even be more effort than they're worth if you have a power cage or plate rack!