"If it doesn't have a squat rack or a power cage, it's a health club" – Mark Rippetoe
Your home gym needs to be built around the big, bang-for-your-buck equipment. A home gym without a barbell or dumbbells wouldn't be a comprehensive setup for training – and neither is a gym without a squat rack or power cage.
Squats are the king of the lower body exercises, and your lower body is more than 50% of you by mass. A squat rack or a power cage is a big, versatile piece of equipment that we think any good free weights home gym needs.
Today we're discussing, which is right for you and why, so let's get straight into it…
What's the Difference?
There are a few ways you can set up to squat. The main ones are squat racks, power cages, and squat stands. They sound relatively similar – like they could be used interchangeably, but they can't.
Squat Rack
The squat rack is the piece of equipment most of us will be familiar with, whether it's from a commercial gym or your local hardcore powerlifting gym:
The defining features of a squat rack are a pair of J-hooks on a single plane; you don't have to climb into a squat rack. It stands on two feet (usually) and may or may not have adjustable safety bars/rails.
There are some exceptions where there are more feet/rails for support, but the general idea is that you can walk a bar all the way out of a squat rack. You can't do that with the next item on this list…
Power Cage
The power cage (also called power rack) is like a squat rack but with more commitment to the overall purpose. It's more commonly found in powerlifting circles where the need for a strong, stable piece of kit is higher.
The power cage limits the movement of the barbell in a significant way. It's literally a cage; a four-post, four-footed (or more) metal box, effectively. The safety bars – or pins – in a power cage are linked on two vertical posts to provide extra stability.
Power cages tend to be both versatile and heavy-duty, and there are many exemplars and exceptions on the market.
We've reviewed some of the best power racks on the market here.
Squat Stands
The squat stands are independently mobile stands that are sold in pairs. They're simply up-right stands with a J-hook or bar cradle and have a relatively small footprint: they take up very little space.
At the opposite end of the spectrum from the power cage, these offer the least versatility but the most mobility. You can get pairs that connect in the middle and become a squat rack, too.
Now you're up to date on the Jargon, and you know what you're looking for, we can get into the important stuff: what's better for you?
Power Rack vs Squat Rack vs Squat Stands
Safety
When we say safety, we mean the ease of not hurting yourself while using these racks. These are important concerns – even more because squats themselves can be intimidating in the earlier days of training.
How often do you get caught in the bottom of a squat? It's a daunting experience in the early years of training – especially when you don't know how to dump a bar. Being able to dump to a rack is one way of ensuring you don't get hurt.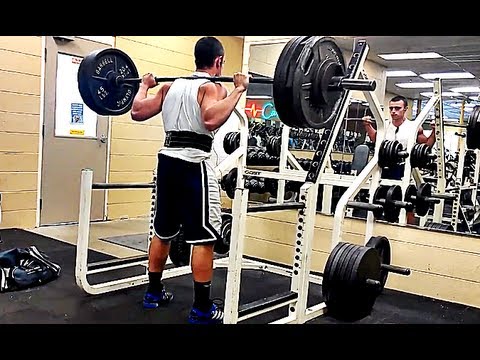 Power cages are the clear winner for this one; they offer the greatest support from the equipment. If you set the pins at the right height, they're going to take the barbell even when you fail. This means the risk of getting pancaked by the bar is negligible.
Squat racks introduce something similar to this if they have safety bars, but these aren't included in all models. Equally, they don't enclose you so you may simply miss the rack if you're walking it out too far.
Squat stands offer almost nothing in the way of safety, they're entirely free-standing and the models with safety bars achieve very little. These are primarily for bench presses, and you probably aren't able to squat close enough to the rack to make use of them.
There's a continuum here; the power cage trades mobility for safety, while the squat stands are the exact opposite. Squat racks are popular for their position in the middle of the two, offering a good combination of both.
Winner: Power cage
Stability
This isn't the same as safety, but it does matter. It's the difficulty with which the product is moved accidentally – something you'll be dealing with if you're squatting from a rack often.
The ability to move a squat rack, power cage, or squat stands can be intimidating. There's some sway to the stands which you can get used to, but feeling secure and stable in a rack is an important part of comfort in using it.
When it comes to built quality, the power cage is the winner again – but this does come at greater expense, size, and requires being bolted down. If you can get these in place, it's going to offer a serious amount of stability.
Squat stands are the clear loser here, offering very little stability. They have a small footprint against the floor, as well as relatively light materials and a generally streamlined, movable design. They're not designed to be too stable, since you can pack them away after a workout.
The winner here is either a squat rack or a power cage. The difference is likely to be the price: if you get a cheaper power cage then it can be difficult to stabilize it without bolting it into the floor. Meanwhile, a good squat rack with a heavy-duty build would be superior.
Here's the quick consideration list for measuring up a power cage vs a squat rack in terms of stability:
The size of the 'footprint'; contact on the floor
Weight of the overall product
Balance (especially the amount of weight on the other side of the vertical stands from the safety pins)
The quality, grading, and design of the upright stands
Quality and design of rubberized foot-caps
If you manage to get these sorted, you're going to have a quality product. Whether it's a squat stand or a power rack, stability comes from these key themes.
Winner: Power cage
Mobility and Space
This is where the squat stands finally start to claw it back. The mobility of a squat stand will always be superior: even the lightest squat racks are going to trade off some functionality for their weight. Meanwhile, even the best squat stands are comfortably moved across a room.
There's pretty much no chance of this happening with a heavy-duty squat rack or power cage. As a result, it's going to be important to know what you're looking for and be aware of the space you're using.
The mobility of a squat rack or power cage is often the opposite of its stability, too. The lighter and less heavy-duty they are likely to be. This isn't always a perfect 1-1 trade, but weight and size are factors that count for both mobility and stability.
Winner: Squat stands
Versatility
The squat stands lost out here, too, with the power cage taking the win. The cage offers the opportunity for a variety of exercises including heavy rack pulls, pin squats, and it can have internal or external J-hooks.
The squat rack and stands are relatively similar on this one. The squat rack will provide more versatility if it has a set of sturdy safety bars, but the cage will always offer the more stable 4-post construction. This comes with a ton of options and maximizes the value for every dollar you put in.
This is a chance to introduce a number of different exercises to your home gym with a single piece of equipment. Given the space and cost of a product like this, it's a great benefit to have.
Winner: Power cage
Comparison Chart
Squat Stands

Squat Rack

Power Cage

Safety

Safe if you have the right plates/platform
Require you to squat upright
More suitable for Olympic lifting
Safety pins aren't useful except for bench press

Great safety if the safety bars are good
Requires strong balance
Avoid fixed-height safety bars

Fantastic for safety
The best, and even more so if they're heavy-duty and/or bolted to the floor

Stability

Least stable
Not designed for stability since they don't catch the weight
Small 'footprint' on the floor and easy to wobble for taller individuals

Often good stability, though some lightweight examples don't provide this
Often correlates with price or weight
Designs with weight pegs are very stable

Most stable
Lightweight designs may require bolting down
Lateral stability is important in cheaper models

Versatility

Relatively low: squats, shoulder press, and bench press are key
Safety pins don't offer much value

Good versatility – especially with the inclusion of safety pins
Lighter rack pulls, pin squats, presses, and other exercises are possible
Very individual to the design of the product

Very versatile with multiple functions
Often support bands above/below the bar
Pins are great for heavy rack pulls/pin squats

Price

Usually the cheapest, with some options in the $100 region.

Product-specific
Often a mid-range between a cage and stands
More variety than other products

There's a very close relationship between price and quality
Many poor quality, cheap products
Can be most expensive at the top end

Mobility

A clear winner for size, mobility, and storage
Collapsible and small footprint
If you have a platform, they take up nearly no extra space

Depends on the size and type
Often relatively mobile compared to a cage
Doesn't often need bolting down, improving mobility

Very low mobility
Often bolted into the floor
Light, cheap models tend to be lower quality

Shipping & Construction

Easily shipped and built
Most good stands only have a few moving parts
Construction is pretty simple and easy

Depends on the model
Shipping can be difficult and expensive
Construction varies: some are single-weld while others are fiddly
Construction of larger models can be difficult

Shipping can be pretty difficult
Construction requires significant time and effort
Expensive shipping and lots of parts; all the fun stuff!

Who Should Use It?

Olympic lifting enthusiasts – especially those with bumpers and a platform

If it has safety pins, it's perfect for the average joe trying to get fit, strong, and healthy

Anyone, but specifically powerlifting enthusiasts.
It comes with a ton of safety features that are going to save you if you're playing with huge weights. Bolt it down and rack pull to your heart's content.
Rounding Up: Everything You Need to Know
There are some pretty clear conclusions you can come to with these products. These are the simple rules of thumb that you want to look out for.
Squat Rack
Squat racks are a varied bunch. They've been around for decades and they're going to benefit you best if you find the right kind for your goals. We recommend safety rails/bars, and ideally a product that has good balance.
You can get a pretty good squat rack cheaply and – if you're looking for a compromise of absolute top quality and economy – the squat rack is probably for you. It doesn't require you to own expensive bumper plates or a platform, nor does it take up the same space, time, or effort of a cage.
The mobility is low, and the construction may be a bit difficult but it's a solid piece of kit and perfect for your recreational lifter.
Power Cage
Planning on getting real heavy? You're going to spend most of your time in the cage.
There's a bunch of safety options that will serve you well over time and you'd better be safe than squashed. The dual-support safety bars/pins will be a huge peace of mind if you're ever doing 1-rep-max squats.
A good quality, heavy-duty power cage is going to withstand more weight than you could ever lift. It's an investment in peace of mind, as well as the opportunity to use a single piece of equipment for tons of exercise.
Most powerlifting workouts for the squat, bench, and deadlift never need to leave the cage. You can perform pull-ups on the cage, add your own ab straps or gymnastic rings, attach resistance bands, do whatever you want. The versatility is huge and really justifies the additional space and cost!
The cage is your best friend.
Squat Stands
They're not a niche choice anymore, but the squat stands play a pretty clear one-dimensional role. They're for squatting – and probably not even for benching if you're a big bencher and want stability.
The squat stands are mobile, light and they don't have any frills. Perfect if you're going to squat off of them with an Olympic high-bar technique, removing the need for safety pins in the first place.
If you have a platform and bumpers – or just a floor you don't care about – squat stands are a great choice for your home gym. They hold the bar and you can squat from them – if you want any more than that, however, they're probably not for you.
You can also jerk from stands, just watch out for the collar-crushing re-rack. Tasty.