The front squat is a great exercise for pushing your muscles and maximizing growth in your core and your quads.
The downside? It's a very challenging exercise and the way you hold the barbell can cause wrist problems. It may be that the fearsome front squat is simply too challenging or painful for you. So, what do you do?
Never fear, we're here with some alternatives to the challenging front squat!
General Squat Pointers
Before we get into the exercises, here are a few pointers to help you make sure that you get the most from your squats.
When lowering always make sure that your knees don't go further forward than your toes.
When lowering, arch your back and pull your shoulders back to maintain a strong core and straight back,
Keep your head up as this will. This helps to maintain your backs position.
Simple Front Squat Alternative Exercises
These exercises are the simpler ones. IF you have struggled with the weight of the main front squat or are returning from an injury then we recommended starting with these. Similarly, if you prefer a higher intensity workout with more emphasis on higher reps and shorter breaks then these are more likely to be the exercises for you!
1. Smith Machine Front Squats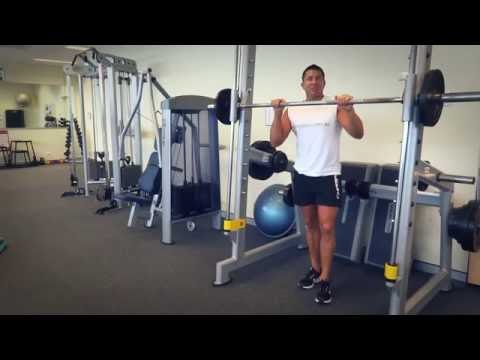 One alternative that you can do is to continue the front squat on the smith machine. The smith machine helps by supporting some weight for you and by giving you a channel in which to squat. This can prevent the weight from being too much and helps you to build your form.
TIP: You can arch your back slightly more as the machine will take some of the weight.
How to do it:
Raise the bar as high as possible but don't let your shoulders touch it. Place the required weights onto the machine.
Place yourself on tiptoes and raise the bar. As you do twist it forward so that the catch is off and the bar can move up and down.
Place your arms at a comfortable position and lower your body until your legs are at 90 degrees.
Push straight up through your heels until you are standing and repeat for the required number of reps.
When complete twist the bar back to return it to rest on the machine.
2. Goblet Squat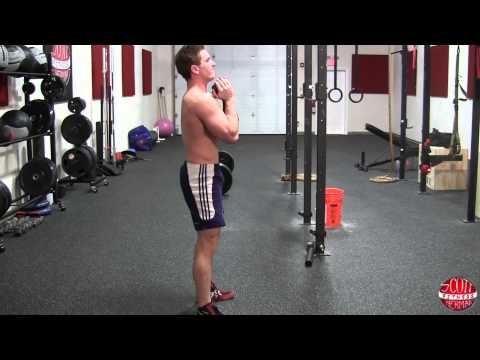 Another alternative is the Goblet squat. This is especially useful for anyone who is struggling with the front squat because of the heavyweights. It replaces the barbell with a dumbbell and the hold is much easier on your wrists. It's especially useful for those suffering from lower back issues as it eases some of the pressure from the lower back.
TIP: As you do this exercise, ensure that you keep the dumbbell close to your chest.
How to do it:
Select an appropriately sized dumbbell and hold it at chest height. Your palms should be at the upper end of the dumbbell and should face in.
Lower yourself until you are in the squat position. Ensure that you pull your shoulder blades back so that you maintain a neutral back.
When your hips go below your knees this is deep enough. Lowering yourself too deep will cause the back to round and lose form.
Raise yourself to the starting position and make sure that your hips extend fully. This will complete the repetition.
Repeat for the desired number of reps.
3. Dumbbell Squat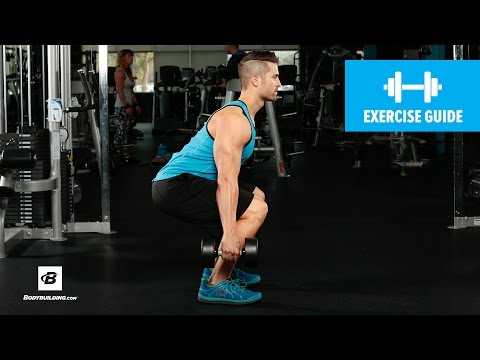 A simple alternative that will allow you to build up the necessary muscle needed for the front squat. Keep your knees behind your toes as you descend. This is similar to the Goblet Squat except the dumbbells are held in both hands.
TIP: Hold your squat position at 90 degrees for two seconds for an added workout.
How to do it:
Stand straight and hold an appropriately sized dumbbell in each hand. Your palms should face in. Place your feet at the required distance apart and slightly point your toes out.
Lower yourself until your legs are at 90 degrees.
Push into the floor with your heels and raise yourself to the starting position.
Repeat for the required number of repetitions.
4. Backwards Lunges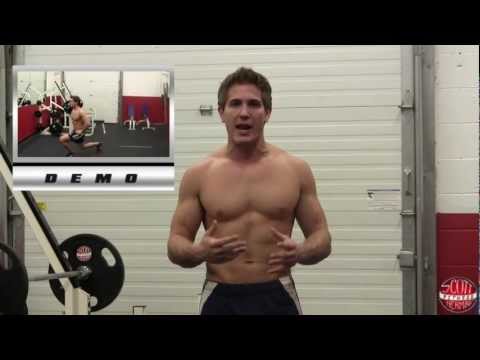 If squats really aren't your thing, then try the backward lunge! It's a simple exercise that can be weighted appropriately using dumbbells. It is as simple as it sounds yet far tougher!
An easier alternative to the Bulgarian split squats, this exercise will build your thigh muscle. They are also excellent for forming explosive speed for sports. These can be done either with dumbbells or without.
TIP: Hold your chest up to maximize the effect on your glutes.
How to do it:
Select an appropriate dumbbell set and hold one in each hand with your palms facing in. Place your feet shoulder width apart.
Take your right leg and step back onto the ball of the foot. Lower your knee until it nearly touches the floor. Make sure that your joints are in a straight line.
Raise the leg just lowered back to its starting position.
Repeat with the other leg to complete one rep.
Repeat until the required number of reps.
Challenging Alternative Exercises to Front Squat
These exercises are more challenging. If you prefer using heavier weights and lower reps then these are the exercises for you! Alternatively, if you have mastered the simpler exercises then move onto these exercises.
5. Zercher Squats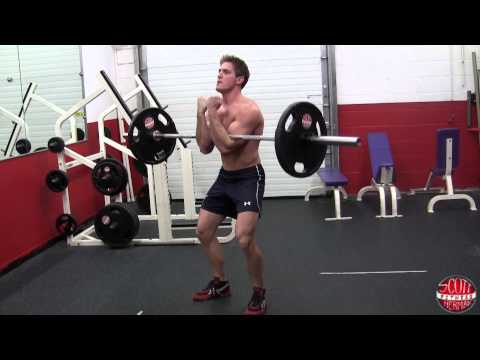 These are perhaps the most difficult of all the squat alternatives. Instead of holding the barbell on your shoulders, you rest it in the crock of the elbow. This gives you a stronger ability to hold the weight and removes the strain on your wrists, whilst keeping the benefits of the squat.
TIP: push your knees out whilst you return to your starting position.
How to do it:
Deadlift the barbell to your thighs and rest it on your
Rest the bar on your thighs and place your arms underneath the bar. You want the bar to rest on the crease of your elbow.
Lower yourself in the squat position, paying attention to squeeze your core and push your knees out. When the bar touches your thighs, you have gone low enough.
Raise yourself to the standing position and then repeat for the required repetitions.
Once completed, safely rest the bar on your thighs before lowering it to the floor.
6. Bulgarian Split Squat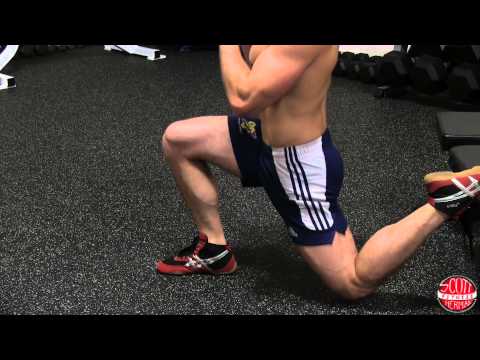 This emphasizes the quads more as it allows you to go lower than the normal split squat. However, it does require more balance. Again, you can do it with a dumbbell.
TIP: Stepping further from the bench will active your glutes more, whilst having a closer stance will work your quads.
How to do it:
Place the foot of your desired back leg onto a bench whilst keeping the front foot flat on the ground.
Lower yourself into a deep lunge where your front leg is at a 90-degree angle and your back knee is nearly touching the floor.
Raise your leg by pushing through your heels until you are at the standing point.
Complete all the reps one side before swapping legs.
Conclusion
So, there you have 6 alternatives to the dreaded front squat. Some will be more suitable than others depending on your ability and workout type. Personally, I favor dumbbell squats and backwards lunges as they fit in better with my high-intensity workout style. However, if you prefer to lift heavier weights with lower reps then the more challenging exercises might be for you!