The overhead press is a compound exercise that targets multiple muscle groups in the upper body, including the shoulders, triceps, and upper chest. The exercise is performed by pressing a weight overhead while standing, typically using a barbell or dumbbells. The overhead press benefits include its ability to build upper body strength, improve muscle definition, and increase overall athletic performance.
Incorporating the overhead press into your workout routine can be done by beginners and experienced lifters, as the exercise can be modified to suit different fitness levels and goals. It's a great way to add variety and challenge to your upper body workout routine, and to see significant results in terms of muscle definition and upper body strength.
The overhead press, also called the military press or just simply "the press", is an exercise you rarely see done in commercial gyms. The main reason for that is, it's hard. It stalls first while all your other lifts are still going up. The weights go up in microscopic increments.
But on the flip side, the press is among the most badass movements you can do. What is more primal than picking something up and lifting it above your head? There is a reason it was included in the original three Olympic lifts – it is a test of total body strength.
If you aren't pressing things up and above, you are doing yourself a disservice. Here's why.
Overhead Press Benefits
Some of the benefits of incorporating overhead press into your workout routine include are below.
Improving posture and core stability
Improving shoulder stability and mobility
Building upper body strength and muscle mass
Increasing muscle activation and definition in the shoulders, triceps, and upper chest
Enhancing athletic performance by developing explosive power in the upper body
Reducing the risk of injury by strengthening the upper body muscles
Below we're looking at some of these benefits in detail.
Benefit #1: Improve Your Posture
First, let's clear up exactly what I mean when I say overhead press.
I mean that you will be standing up and pressing a weight overhead. Not sitting down on a bench. We want to do this for two reasons: first, it trains the whole body, including your core and legs. Second, it gives you the potential to lift more weight compared to the seated version and consequently, build more muscle.
Ok, now that that's out of the way, we can continue.
When you balance a weight overhead, you entire body needs to be below it to be stable. It needs to be in perfect alignment: hips stacked on top of the knees and feet, a straight back with shoulders above the hips and extended, arms fully lifted with the barbell directly above the shoulders.
Looks pretty similar to ideal standing posture, right? Any deviation from this will cause you to lose your balance and drop the weight. In that way, you are being trained to maintain perfect posture under heavy load – which means that doing it in your daily life will be that much easier.
Benefit #2: Balance Your Shoulders
You might have heard that a training program needs to be balanced. If you do five sets for chest, you should also do 5 sets for your back.
Only doing push-ups will build an impressive chest, but it will be hidden by your Quasimodo-like hunched back. That is why they need to be balanced with, for example, rows.
However, overhead press is a little bit different. It doesn't need to be balanced in the sense other exercises need to be: it is a balancer itself.
Despite what some people claim, it does not contribute to shoulder impingement. In fact, when done properly, it reinforces correct movement of the shoulder joint. It actually helps maintain proper scapular-humeral rhythm, which helps maintain proper spacing in the subacromial space.
The epidemic of rotator cuff problems in the weightroom only started some time after the press fell out of favor and was replaced by the bench press. Hmm…
Benefit #3: Strengthen Your Whole Body
This is a huge benefit that you can't get from the seated press. The standing version demands whole body tension: your quads, glutes, core, upper back will all have to stay tight to support the weight that your arms are moving.
While the press is an exercise that is used to build the shoulders primarily, it is also incredibly useful to all athletes who need to be able to tense their whole body. Dan John tells a story about a thrower whose only exercise was the overhead squat with the equivalent of his bodyweight on the barbell.
Benefit #4: Increase Your Bench Press
You don't actually need to bench to bench more weight. Sound weird?
Well, it's true. Many programs for breaking bench plateaus include copious amounts of overhead pressing. That is because the press has direct carryover to the bench; the reverse isn't true.
By training the weak parts in your benching – usually the triceps and shoulders – you can easily bust a plateau in a month.
How To Do The Overhead Press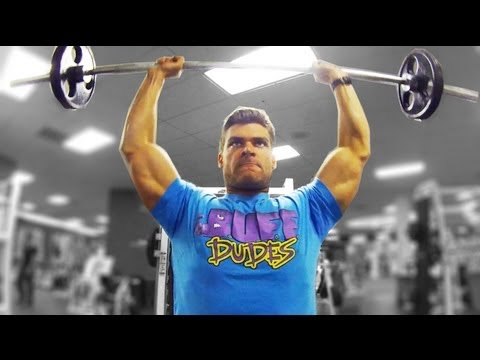 Get the bar in your hands. This can be done by lifting it from pins in a rack or by cleaning it from the floor. The grip width should be with your hands just outside your shoulders.
Stand with your feet at about shoulder width.
Next, tense your whole body. The quads, the glutes, the core should be contracted.
Arch your upper back, as if you were puffing up your chest. All of this creates a stable base to press from.
Now, tuck your chin and move your head slightly back as you press the weight over your head to a full lockout. Use full range of motion (ROM): from your shoulders to full extension of the arms complete with a shrug of the shoulders. The full ROM was shown to activate more muscle than other variations.
On the way down, repeat the process in reverse.
Different variations to do overhead press
As we've agreed to leave the bench for the elderly, all of the following variations are to be performed standing.
The classic overhead press with a barbell is the most common variant. It is the one that allows the most weight on the bar and therefore build the most strength.
The dumbbell press version doubles the requirement for stabilisation. It is best for volume and for ironing out any imbalanced between your left and right arm. You can also do it one arm at a time.
The landmine press is a great variation for someone who might now have the shoulder mobility to the the overhead press correctly.
Should you do behind the neck?
I believe that unless you are a competitive weightlifter (or plan to become one), there is no need to do any kind of behind the neck press work. It requires even greater mobility compared to their more common "front" counterpart and give no additional benefit while possibly being more dangerous.
Press on
The overhead press may have fallen out of favor, but that does in no way diminish its usefulness for both athletes and fitness enthusiasts. For building big shoulders, strong arms and an athletic, attractive physique, few exercises can compare. It's time to bring the press back and it all starts with you.