Medicine ball slams are an awesome plyometric core and full-body exercise. However, not everybody has access to a medicine ball or enough space to slam one into the floor. Luckily, there are plenty of medicine ball slam alternatives that offer a similarly effective workout that anybody can attempt.
The traditional medicine ball slam is an explosive movement that sees people lifting a weighted ball overhead and slamming it into the floor for a varying number of repetitions and works all of the major muscles in the body. While many mainstream gyms have locations dedicated to such moves, many do not, or there may be such a queue you just skip that section altogether. Knowing the best medicine ball slam alternatives is a way to ensure your body still gets the workout it needs without having to wait around for a medicine ball to become available.
Incorporating medicine ball slam alternatives into your workout is also a great way to keep your body guessing and your workouts varied. Variety ensures the body doesn't become too comfortable with your exercise regime and ensures you get the maximum return on your efforts.
Eight Great Medicine Ball Slam Alternatives to Change Up Your Workout
Below are eight great medicine ball slam alternatives that target the whole body and will shock your body into new and improved gains.
1. Dumbbell "Slams"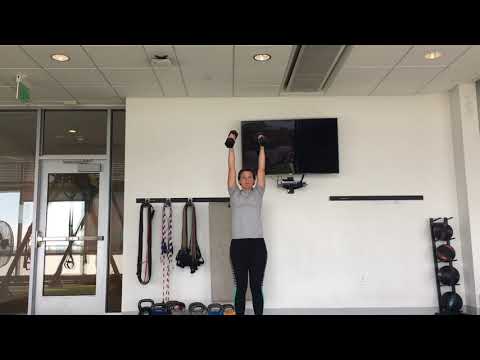 Let's say you're working out in a gym with limited equipment or in an area that frowns upon medicine ball slams for whatever reason. If this is the case, a dumbbell "slam" is a good replacement exercise to consider.
For this exercise, you'll need a pair of light-to-moderately-heavy dumbbells.
Grab a weight in each hand, then follow the following six instructions:
Hold the weights in a neutral grip with palms facing inward
Press the weights up over your head, maintaining a neutral grip
Inhale and brace your core
As you exhale, explosively "slam" the weights, bringing them straight down toward your sides as you bend your knees and lower into a half squat
Keep holding onto the weights for the entire exercise — you don't actually want them to slam on the ground!
Inhale and press the weights back up to repeat the movement again
2. Cable "Slams"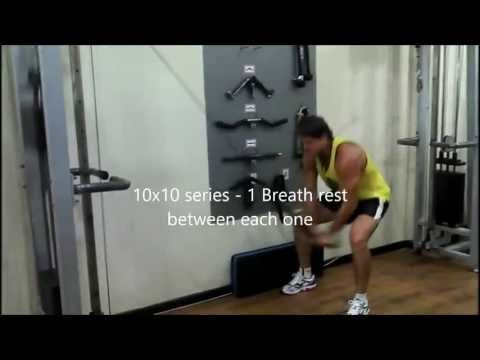 If you have access to a cable machine, you can also use it to simulate a medicine ball slam. Start by hooking a rope attachment to the end of the cable, and adjusting it so it's at the highest point on the machine.
Grasp one end of the rope attachment in each hand, then walk backward a few steps to create tension (think about setting up the same way you would if you were going to do a straight-arm cable pull-down) with your arms extended overhead.
From here, follow the below four instructions:
Inhale and brace your core with your arms extended overhead
Exhale and "slam" the rope attachment down toward the ground with as much power as possible
Bring your arms down to your sides and end in a half-squat position (don't let go of the rope attachment)
Inhale and reach your arms back overhead so you can start again
3. Woodchops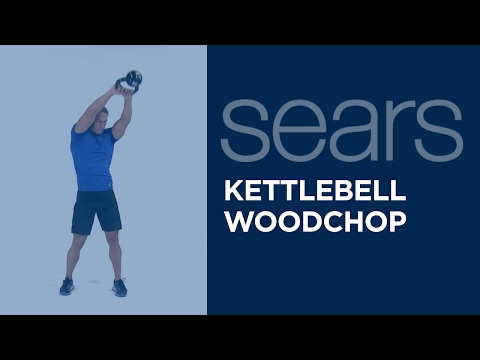 If you're looking for a good lateral medicine ball slam substitute, kettlebell woodchops are a great exercise to work into your routine. They still challenge your core and give you a chance to work on generating power, but they're less noisy, and you don't have to worry about a ball bouncing back and hitting you.
Follow the below six steps to perform kettlebell woodchops correctly:
Start by standing with the feet about shoulder-width apart as you grasp the kettlebell with both hands
Hinge the hips slightly and bring the kettlebell over to your right side (it should start slightly above your right knee)
Inhale and brace your core
Exhale and extend your hips as you swing the kettlebell overhead and over to the left side (it should end at a 30-45 degree angle from the head)
Squeeze your glutes at the top of the exercise
Inhale and return to the starting position
Remember to initiate the rotation from your hips and upper back rather than the knees or your lower back. Keep your core braced through the entire movement.
4. Dumbbell Thrusters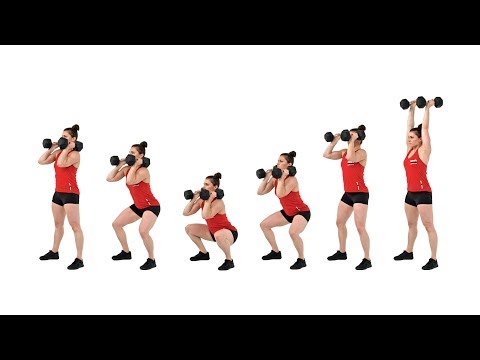 For those who are looking for a med ball slam substitute that they can do with dumbbells, thrusters are another effective option. They mimic many of the same movements executed during a medicine ball slam, and they do a great job of targeting all the major muscles of the body.
To do a dumbbell thruster correctly, follow the below six instructions:
Stand with the feet about hip-distance apart and hold a dumbbell in each hand
Bend your arms and bring the dumbbell up so they rest in front of the shoulders
Inhale and lower into a squat, aiming to bring your hips at least parallel to the floor
From here, exhale, push into the floor, and rise up out of the squat
As soon as you've returned to the standing position, press the dumbbells straight up overhead
Inhale and lower into a squat to perform another rep
5. Battle Rope Slams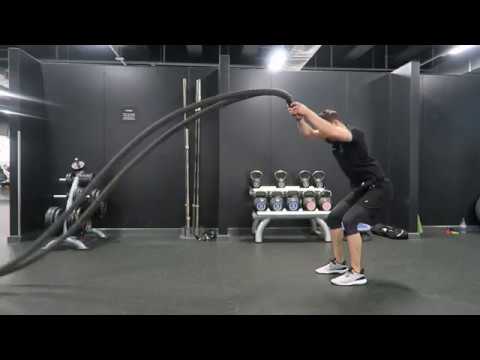 Because you primarily use your arms to move the ropes, it's easy to assume that battle rope exercises are meant to only work the upper body. In reality, though, your core also has to do a lot of work during this movement.
When doing this exercise, start by holding one battle rope in each hand in front of the hips. Stand up straight with your feet and hands spaced about shoulder-width apart.
Follow the below five steps to perform perfect battle rope slams:
Inhale and brace your core
Raise both arms up over your head
Exhale and lower your arms explosively down toward the floor
Slam the ropes on the floor as hard as you can, ending in a half-squat position
Inhale and set up for another rep
You can also do this exercise with alternating arms if you want to work on each side of the body individually.
6. Kettlebell Swings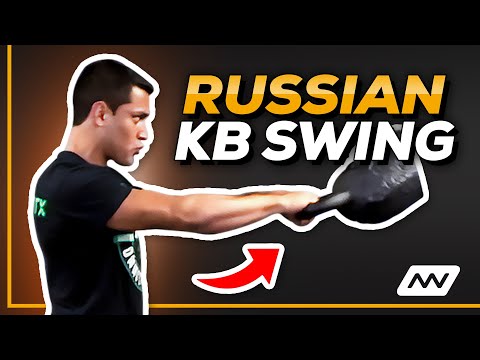 A kettlebell swing helps you practice your hip hinging while also increasing your power output and getting your heart rate elevated. They're great for strengthening your core, too.
When doing kettlebell swings, be sure to keep the following four steps in mind:
Start with the feet about hip-distance apart, the kettlebell sitting on the ground about six inches in front of you
As you reach down for the handle of the kettlebell, hinge the hips and send them backward (remember, this isn't meant to be a squatting exercise)
Grasp the handle of the kettlebell and, as you inhale, lift it off the ground and pull it through your legs behind you (keep it as close to the body as possible)
On an exhale, bring the hips forward, squeeze the glutes, and let the momentum from this movement send your arms and the kettlebell away from your torso
Some people find it helpful to keep their upper arms glued to the sides during this exercise. It helps them to ensure they're using the momentum from their hips and core to move the kettlebell, rather than letting their arms do too much of the work.
7. Kettlebell Snatches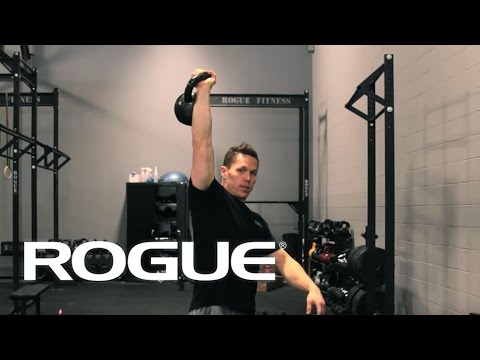 The kettlebell snatch is a more advanced kettlebell exercise that can replace medicine ball slams while providing many of the same benefits.
Follow the below seven steps to perform the snatch correctly:
Stand with the feet about hip-distance apart and the kettlebell on the ground about six inches in front of you
Sit your hips back and grasp the kettlebell as you would for a swing, but with only one hand
Swing the kettlebell back between your legs on an inhale, then exhale and swing the bell forward with the momentum from your hips
As the inertia from the kettlebell starts to pull your arm upward, shrug your traps (upper back muscles), release the fingers, push into the handle of the kettlebell with your palm
This movement will send the bell up and over your hand so it lands on the other side of the wrist (remember, your wrist never flips)
As the kettlebell moves over your hand, lockout your arm in a single-arm press position overhead
From here, turn the palm toward you and swing the kettlebell back down into a swing position as you inhale
Remember, this is an advanced exercise. It'll take some practice before you're able to nail the movement. Try practicing with a lighter kettlebell to minimize bruising on your wrist.
8. Sprinting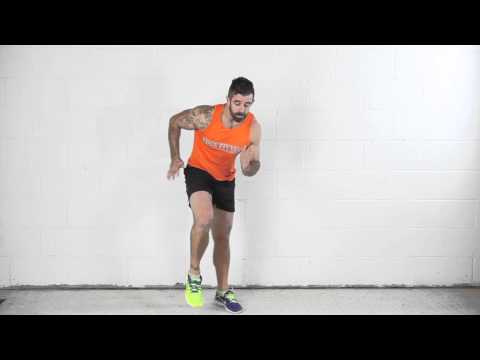 At first, sprinting might seem like a strange alternative to medicine ball slam. In reality, though, sprinting is a very explosive exercise and a great option if you want to work on your power output.
Remember, there's more to sprinting than just running as fast as you can.
The following five steps will help you with your sprints:
Maintain an upright posture with the chest lifted, shoulders relaxed, and core engaged
Think about moving your feet in a circular motion (raise the thighs until they're parallel to the ground, then drive your knees up and down)
Land on the forefoot and push off with the toes
Hold the arms at 90-degree angles, driving elbows straight back to help you create more momentum
Think about kicking your butt as you push off the ground with your toes (this helps to complete the circular motion)
If you don't have access to a track or treadmill, you can also practice these movement patterns by sprinting in place, as shown in the video above.
Why should you incorporate medicine ball slam alternatives into your routine?
You should incorporate medicine ball slam alternatives into your gym routine because they offer a great way to change up your workout and keep your body guessing. Whether you have the room and the equipment needed for ball slams, it is vital to change things up and stop your body from becoming bored with the same old exercises week after week. Adding a few medicine ball slam alternatives is a great way to ensure you are still getting a full-body workout but keep your body guessing at the same time. Changing your workout to include medicine ball slam alternatives keeps you from hitting that dreaded training plateau and ensures you see the results of all your hard work.