Lat pulldown machine exercises are effective for a well-rounded upper-body workout. Exercises that are done on the lat pulldown machine work the upper body, helping to strengthen and build muscle. Standard pulldown exercises target the latissimus dorsi muscle, but variations will build on other areas such as the biceps and triceps. Variations also take advantage of the versatility of the pulldown machine. The machine has several attachments and capabilities that are modifiable to your workout.
The lat pulldown machine is ultimately designed to work your lats through a variety of pulldown exercises. However, there is a range of unique ways to use the machine that allow you to work a lot more than just your lats! Below, we'll explore eight lat pulldown machine exercises. We'll also go over how to complete them and other tips to consider.
1. Straight Arm Pulldown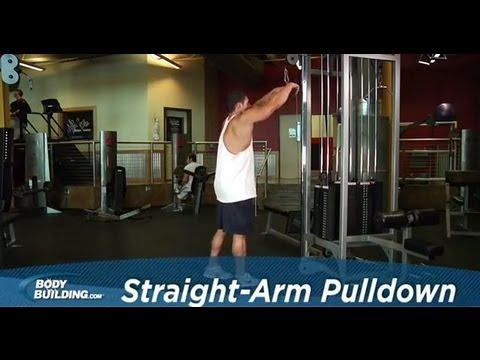 The straight-arm pulldown is a lat exercise that helps add to the width of your back. The straight-arm pulldown is a rarely seen but useful exercise that incorporates the pulldown machine's straight bar attachment. A straight-arm pulldown is an isolation exercise as the movement is derived from only one joint. However, it works numerous muscles throughout your upper body, with the bonus of recruiting your core for stabilization. The exercise targets the latissimus dorsi, deltoids, triceps, and abdominal muscles.
Keeping your arms straight during the pulldown is critical in eliminating bicep involvement. The more your biceps work, the less your back does. So, straighten out those arms and focus on your wings, baby!
2. Reverse Close-Grip Lat Pulldown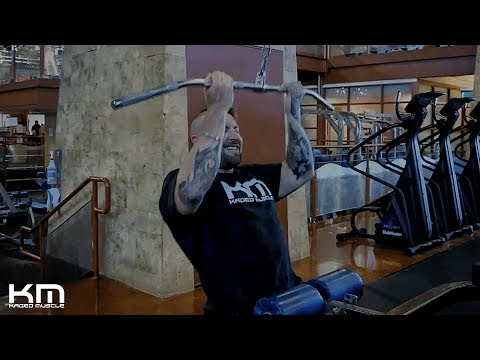 The close grip reverse pulldown is a variation of the first exercise we explored. The close grip is a lat pulldown machine exercise that targets the muscles toward the middle of your back rather than your wider lats. The exercise uses the straight bar attachment on the pulldown machine and works the rhomboids, lats, and biceps as part of a well-rounded upper-body workout routine.
It makes sense to think of it this way – the wider your grip, the further out towards the sides of your back the exercise works; the narrower your grip, the closer towards the center of your back the exercise works.
You should aim to keep your elbows as close to your body as possible as you pull the bar down to just above your chest. Concentrate on retracting your shoulder blades as you go through the motion, so that they are squeezed together hard at the bottom of the movement.
Allow your arms to go to full extension, creating a stretch through your lats before you pull down into your next repetition.
Maintaining a small bend in your knees, having your elbows tucked by your sides, and keeping your core engaged will help power you through this movement safely and effectively.
Learn more: 5 Powerful Lat Pulldown Alternatives With Dumbbells
3. Reverse Grip Tricep Pulldown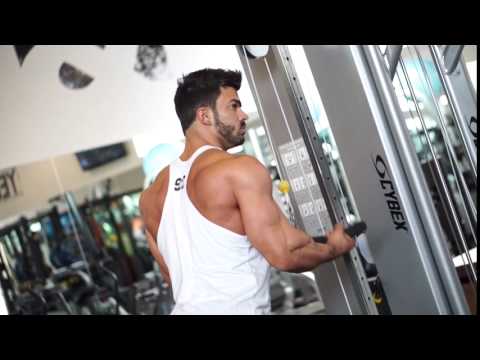 The reverse grip tricep pulldown employs the lat pulldown machine's straight bar attachment. The underhand grip placement focuses on the medial head of your triceps, unlike its overhand counterpart, which focuses on the lateral head. While the lateral head is great for aesthetics, the medial head significantly aids the functionality of your elbow joint. Consequently, it will boost your performance in your other exercises requiring movement through the elbow joint.
Hold the bar with an underhand grip, shoulder-width apart. Keep your elbows fixed by your sides as you pull the bar downwards until your arms are straight and your triceps fully contracted. Standing with your feet hip-width apart and hinging forward slightly at the hips while you perform this will provide a solid and stable base for you.
4. Single Arm High Cable Bicep Curls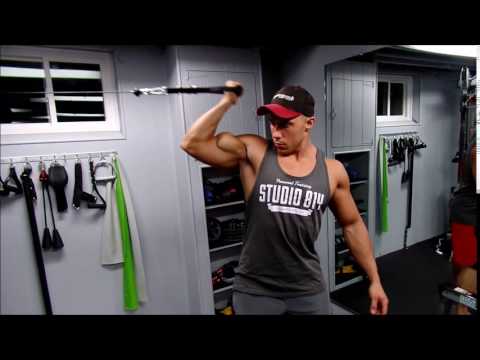 The single-arm high cable bicep curl is a pulldown machine workout that's ideal for working the biceps and forearms. The exercise utilizes the machine's single-handle attachment and targets the inner head of the bicep—giving your biceps a thicker and wider aesthetic. You can do the exercise double-sided using a cable tower. However, the lat pulldown machine lends itself to the single-arm version.
It is an isolation exercise as the only joint fuelling movement is your elbow joint. Your biceps will get 90% of the work with just a little help from your forearms.
Don't let your elbow drop throughout this exercise – it's important to keep your arms parallel to the floor to maximize the benefit of these curls.
5. Single Arm Lat Pulldown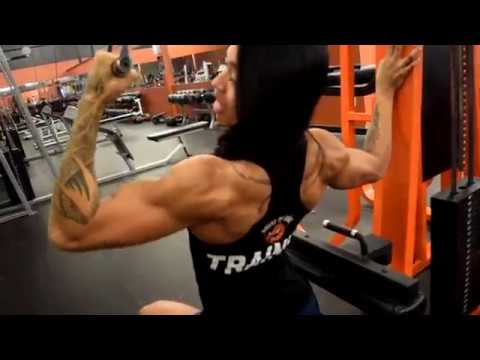 The single-arm lat pulldown is a compound pulldown machine exercise for building unilateral strength and shape through your upper body. The exercise employs the single-handle attachment. Some prefer the exercise done with both arms, while others prefer the single-arm variation as it develops a greater mind-to-muscle connection. The primary working muscle is your lats, but it also works your rhomboids, deltoids, and your obliques somewhat.
As far as technique goes, use the same plane of movement as you would when doing double-arm lat pulldown. Draw your shoulder blade back and down as you pull your elbow down to end up tucked by your side.
In the eccentric phase, allow your arm to go to full extension, creating a stretch through your lat before pulling down into your next repetition.
6. High Cable Row/Face Pull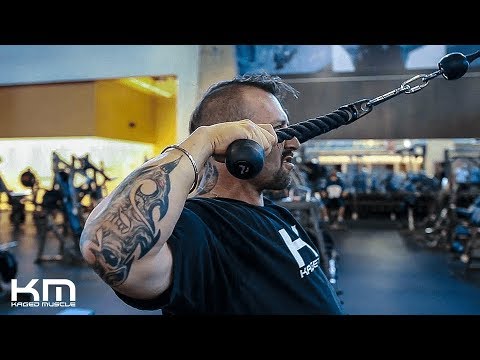 The face pull is a favorite posture-enhancing exercise on the late pulldown machine. The exercise uses the double-ended rope and works the muscles through the back of your shoulders and the middle of your back. Deltoids, rhomboids, and abdominal muscles all get a workout. The muscles targeted by the face pull are responsible for keeping your upper back in an optimal position.
Doing this exercise helps draw your shoulders back, counteracting the downsides of doing regular push exercises. As this is a standing exercise, your core also gets a workout from having to stabilize your body.
It's best to stand in a split stance while performing this exercise. Pull the rope to your face, sending your elbows out wide. Remember to squeeze your shoulder blades together and hold there for a second before returning to starting position.
7. Overhead Tricep Extensions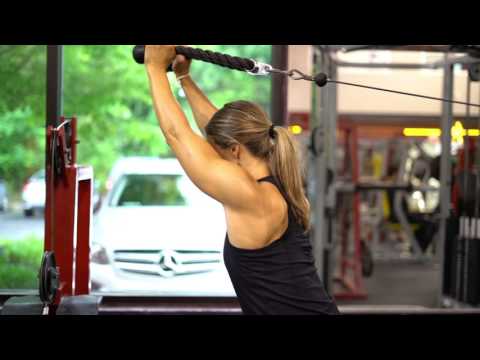 The overhead tricep extensions use the lat pulldown machine's double-ended rope. The exercise places constant tension on your triceps and works them from a unique angle. It makes for a fantastic finisher exercise at the end of your workout, if you want to go out with a bang!
My favorite element of this exercise is the stretch it provides through your triceps in your base/starting position.
If you feel like you're using your body weight to pull the rope/extend your arms, the weight is too heavy for you. It is an isolation exercise, meaning only your elbow joint should be going through the motion. Your torso should stay fixed and your arms close to your head.
Flexing your wrists at the top of the movement will allow for 100% contraction of the triceps, which is what you're aiming for. Give it a go!
8. Parallel Grip Lat Pulldown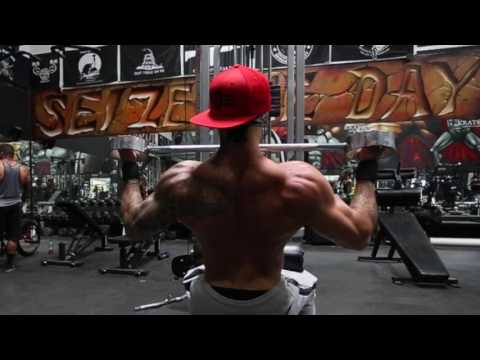 The parallel grip is a version of the lat pulldown that targets your lower lats and applies the grip attachment. The muscles are sometimes hard to reach in the more traditional versions of lat pulldown machine exercises. The parallel grip recruits your biceps and forearms as well, making this a great all-around upper-body exercise.
Strengthening this combination of muscles and teaching them to work in unison will significantly increase your performance in other exercises such as pull-ups, chin-ups, and all variations of rows. So, it's a great 'bang for your buck' exercise to include in your upper body workout day!
There is a range of parallel grip bars available, offering various widths of grip handles. Ultimately, you want the handles to be over shoulder-width apart. Using a parallel grip handle will result in your palms facing each other/inwards.
Extending through your thoracic as you pull the bar down to just above your chest will give you the best contraction through your lats. Remember, time under tension is everything, so keep your reps slow and controlled – especially through the eccentric phase of the exercise.
Putting it all together
It's possible to create a full upper body workout by putting all the pulldown machine exercises listed above together. Depending on your training goals, you could do these exercises in a giant circuit, split into supersets, or you could pick and choose a few of them to do in a set and rest style workout.
My personal preference for these pulldown exercises would be to do them in circuits or supersets and towards the higher end of the rep range scale, utilizing 45 to 60 second rest periods.
A good approach would be to work within the 10 to 12 rep range for the exercises that recruit larger muscles, for example, your lats. And work within the 12 to 15 rep range for the exercises that target smaller muscles, i.e., your triceps.
Final Words
There are many variations to the lat pulldown machine exercise. Some examples include the overhand grip to underhand grip, wide grip, narrow grip, single-arm, and behind-the-head pulldowns. The lat pulldown machine provides a versatile exercise station on which you can get a solid upper-body workout done. The versatility of the lat pulldown machine, as mentioned before, makes it a good home gym machine. It also provides a solution to those over-crowded, peak-hour gym feels when the cable tower and other machines you may need have queues winding their way out of the gym and down the road. I encourage you to test some of these out in your next workout.