There is an ongoing debate about whether the dumbbell pullover is a chest exercise or a lat exercise. To be fair, it's both. Whether it works your chest more or lats more, ultimately comes down to how you execute it.
The dumbbell pullover is one of the 'original' bodybuilding exercises, made famous by the Alan Calvert's and Arnold Schwarzenegger's of the world. In this article, I'll be telling you everything you need to know about this power move, from what muscles it works to the benefits of it, to how to perform it perfectly!
Which Muscles Are Targeted?
The dumbbell pullover is an upper body exercise that delivers on its promises. It targets numerous muscles throughout your upper body, and some that you'd not usually expect to get working together.
The main muscles targeted through this exercise are:
Latissimus Dorsi
Pectorals
Triceps
Serratus
Whilst other stabilizing muscles come into play whilst moving the weight, the muscles mentioned above are the primary movers and the ones you can expect to feel working during this exercise.
5 Benefits of the Dumbbell Pullover
Though this exercise is not for everyone (due to the mobility required to perform it correctly), it is not short on benefits for those that have the appropriate range of motion to be able to execute it safely.
If you're intending on putting the dumbbell pullover into practice, here are some of the benefits you can expect to experience.
1. Development of Upper Body Lean Mass
It's rare that you come across an exercise that can pack lean mass on your chest and back at the same time. Of all the benefits that the dumbbell pullover presents, this one would have to be my favorite!
It is one of the only upper body exercises that can target opposing muscles at the same time, making it a very efficient route for adding lean mass to your upper body. And it doesn't end at your chest and back – your arms and abs come into play too. So, when I say upper body, I really mean your whole upper body. No messing around!
2. Stabilizer Muscle Maintenance and Improvement
Due to the positioning and range of movement required to perform the dumbbell pullover, your stabilizers get involved, significantly. For example, your glutes and core are used for spinal stability and your scapular works hard to stabilize your arms and shoulders whilst the load is behind/over your head.
The dumbbell pullover exercise, therefore, is great for maintaining and further developing the strength and conditioning of your stabilizing muscles, particularly in the core. You should consequently add dumbbell pullovers to your core workouts because their benefits will be a driving force behind a lot of other exercises that require good stabilization.
3. Enhanced Upper Body Flexibility and Mobility
As mentioned earlier in this article, a baseline level of flexibility and mobility is required to be able to execute the dumbbell pullover safely, in the first place. However, performing this exercise on an ongoing basis does wonder for maintaining and enhancing the flexibility and mobility of your upper back, specifically your lats and shoulders.
It goes without saying that more than this exercise is needed for optimal upper body flexibility and mobility, but it's certainly a good contributor to the cause.
4. Lat Isolation
The dumbbell pullover can be done in such a way that it hits your lats more than your chest and vice versa. When doing the 'lat intensive' version of the exercise, your lats get the chance to work without the assistance of your forearms and biceps, as in most other lat exercises.
Think pull downs, pull ups and rows – they all recruit your forearms and biceps (a lot) to help shift the load. Whereas the dumbbell pullover, especially in the first 25% of the lift, your lats are required to do all the work themselves.
5. Loaded Pec Stretch
The dumbbell pullover is an exercise that allows you to load your pecs considerably whilst they are stretched, more so than any other chest exercise. Whilst there are other exercises that allow for stretch through your pecs, they are unable to be loaded quite as much as this one – take the chest fly, for example.
This exercise creates a distinctive stimulus through which your pecs are hit with stretch and volume at a unique angle. It's a damn good recipe for hypertrophy. Get cooking!
How To Execute The Perfect Dumbbell Pullover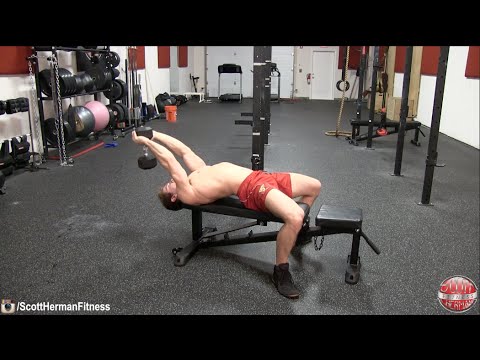 Here are the steps you can take to acing the perfect dumbbell pullover:
Lie on a flat bench with your feet firmly on the ground.
Hold a dumbbell between your hands with your palms facing upwards.
Start with the dumbbell on extended arms above your chest then lower it down behind your head until the dumbbell is just below head height (for optimal lat activation).
Hold in this position for two seconds before pulling the dumbbell back up and over your chest to starting position, fully contracting your pecs.
Your arms should remain extended with only a small bend in the elbows.
Note, the first phase of pulling the dumbbell back up over your body is the lat dominant part and the second phase, once the dumbbell is over your head to your chest, is the pec dominant part.
To accentuate the lat element of the lift, lower the dumbbell as far as you can safely lower it behind your head before pulling back up. To accentuate the pec element of the lift, squeeze your hands together whilst executing the movement.
Wrapping Up
If there is one thing that you take from this article, it should be that the dumbbell pullover is a unique exercise that provides a combination of benefits, unlike any other single exercise.
If you want to pack on some serious size through your upper body, then this should be one of your go-to exercises. Dumbbell pullovers can be easily worked into your workout regime. They work as a great starter exercise and are an equally good finisher, depending on what your workout entails.
It's important to realize, however, that this exercise is NOT safe for everybody. Baseline strength, flexibility and mobility are needed to keep you free from injury during this movement. So be safe and start slow!