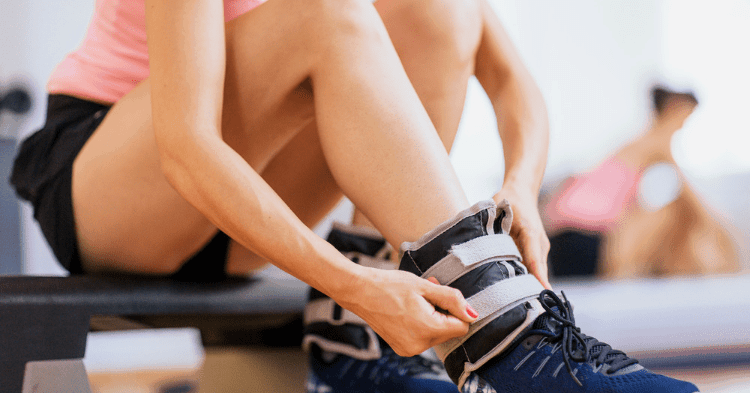 This post may use affiliate links. As an Amazon Associate I earn from qualifying purchases.
Ankle weights are growing in popularity. And if your aim is to make your workouts more challenging, you might wonder: do ankle weights work?
Before you implement ankle weights into your workouts, you should know how they work, their benefits and potential disadvantages.
We want to make the decision-making process easier for you. So, in today's article, you'll find everything you need to know about the efficacy of ankle weights, the pros, and cons.
Are Ankle Weights Good?
It depends on how you put it. Typically, exercising enhances your flexibility and resistance. We all agree on that.
Still, if you want to obtain excellent toning and shaping results, adding resistance to your workout is mandatory.
We're not referring to implementing heavy weights, since these may have a bulky effect. That's why numerous people (women, in particular) steer clear of using weights during their workouts.
Still, truth be told, in order to boost your strength, you should work your muscles until they tire.
In this respect, when used right, ankle weights will tone and shape your body, while growing your resistance.
According to research, ankle weights boost training intensity and energy expenditure. So, that may be translated in enhanced cardiovascular fitness and better weight loss results.
Taking into account these aspects, we could say that ankle weights are good.
1. Engaging in a Variety of Physical Exercises
Moving on to another advantage linked to ankle weights, we would have to refer to their versatility.
As you probably know, having the same exercising routine isn't quite recommended.
On the opposite, changing your workouts increases the effectiveness of exercising, while deterring the likelihood of injuries.
That being said, ankle weights enable you to engage in a variety of activities.
Still, bear in mind that you shouldn't wear these while running or walking. That would place too much stress on the ankle.
Try These 18 Ankle Weight Exercises
2. Burning More Calories During Workout
If you're seeking to increase the calorie burn while working out, wearing ankle weights might do the trick for you. This official study confirms this affirmation.
To clarify:

When you apply more force and energy, this determines your body to burn more calories.
So, if we were to compare the effectiveness of a workout with weights and one without weights, we would say that the first one is more useful.
Do you want to lose those extra pounds? Adding ankle weights may aid you in this direction!
3. Using Ankle Weights for Water Sports: A Possibility
Swimmers utilize ankle weights due to the benefits they bring.
When used in water, they aim at strengthening the leg muscles. In addition, they grow your resistance.
Plus, in water, the risks of joint injuries are considerably diminished. So, this is an option you should consider if you're an avid swimmer.
Are Ankle Weights Bad?
We thought we should address this question as well so that you could make an informative decision.
We already highlighted that ankle weights are known to grow calorie burn and your resistance. In spite of that, experts indicate that they may strain the leg muscles or the ankle joints.
It goes without saying that this could grow the risk of suffering from an injury.
Not Recommended for Extended Use
Regarding the pros and cons of ankle weights, we would have to mention that they aren't fit for certain activities.
Orthopedics expert Dr. Anthony Luke mentioned in this source that wearing them on a regular basis is more likely to induce joint stress, instead of bringing calorie-burning and muscle-building benefits.
In the same respect, overweight people struggling with joint pain should definitely steer clear of ankle weights.
In such cases, there is another effective way of boosting the intensity of your workouts. That is to grow the speed of your walks or runs.
The Bottom-line: Not All Bad, Not All Good
So, are ankle weights good or bad? After evaluating the most common ankle weights pros and cons, we could say that the answer is in-between.
They aren't all good just as they aren't all bad.
At the end of the day, it comes down to this: how you intend to use them. The frequency of use is also important for your safety.
As always, making an informed decision is quintessential. So, we recommend you to discuss with your doctor before adding ankle weights into your workout routine.
Do ankle weights help? Definitely, but they aren't for everyone, and should be used as recommended.