This post may use affiliate links. As an Amazon Associate I earn from qualifying purchases.
Everybody wants a six-pack, right? Maybe not, but rock-hard abs popping out is often seen as the ultimate fitness goal.
Even if you don't want the aesthetic, a strong core is vital for the rest of your workouts, so it's worth putting in the time.
The bad news? Well, there's a reason abs are seen as the holy grail. They're incredibly difficult to get. Not only do you have to build up the abdominal muscle but you also have to shed the belly fat hiding it.
The good news? We're here to show you one of the best abdominal workouts! The exercise? The Captain's Chair….
What Is the Captain's Chair?
You've probably already seen it in your gym – It might look a bit like this….
It might look terrifying but if used properly it can be instrumental in forming those abs!
What Muscles Does Captain's Chair Exercise Work?
Your Abs! Yes, it's true! The captain's chair does predominantly target your Rectus Abdominis, or abdominal muscles. But it works a lot more than that. It also hits your abdominal hip flexors and external obliques.
They are also Isolation exercises so allow you to focus on building that great core!
This makes it an excellent tool for building and strengthening your core; a vital component of raising your general fitness.
A study by the University of San Diego showed that the captain's chair was the 2nd most effective exercise for creating those great abs!
The Most Common Captain's Chair Exercise Mistakes
You may find that your exercises aren't working like you wanted them to. There are a few common mistakes to avoid making during this activity.
Don't use momentum. This is the most common mistake and one defeats the point of the exercise. The temptation when swinging is to use your momentum to raise your legs. Avoid this and tighten your core to make sure that you are lifting with your abs and not with your legs.
Engage core before you lift your legs. Not only will this protect you from injury but will help you get the most from the exercise.
Don't arch your back. When faced with the pressure of raising legs, it can be natural to arch your back against the support. Avoid doing this to actively engage your core.
Don't let your back sag. Again, another reaction will be to just hang and let your back sag. Don't. Make sure your back remains tight to ensure that you are getting the best possible stretch.
Make sure you breathe. The temptation is to hold your breath as you lift so that you can focus on engaging your core. This will actually make the exercise harder. As with any exercise, your muscles need oxygen to perform so regulate your breathing in time with your lifts.
Captains Chair Exercises Setup (Starting Position)
Before we get down to the variations on the exercise, there are a few unifying things. In all these exercises these steps will provide the basis.
Grip the handles firmly, resting your forearms on the pads. Place your back against the padded support.
Let your legs hang to the floor and tighten your core whilst keeping your upper body straight.
Beginner Exercises
These are the best exercises for you if you're a beginner or you haven't tested your core strength in a while.
Knee Raise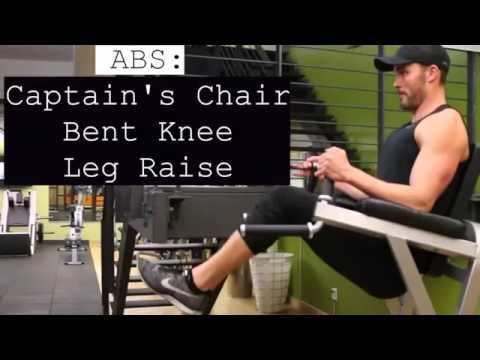 The simplest of all the captain's chair exercises, this is where you should start as a beginner. Remember to engage your core before you lift.
Starting position
Bend your knees and hold them together, forming a squat position in midair.
Raise your knees to your chest. It is important to raise them above your hip flexors, to make sure that you work out the abs.
Lower them to the starting position and repeat.
Leg Raise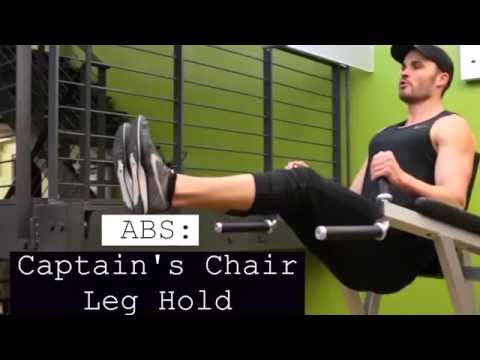 Another simple exercise, that will build the core strength required to take on the variations. Remember to keep a slight bend in the knee as you raise your legs.
Starting position
Slightly bend your knees and then slowly raise your legs. Stop when they are at a 90-degree angle. Hold this position.
Slowly release your legs until they return to the starting position. Be careful to tighten your abs as you go and don't let your legs drop.
Leg Hold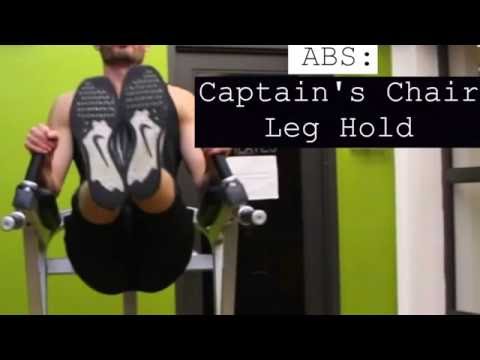 This exercise is almost identical to the previous one, but instead of lowering the legs, you maintain them. This tightens the core and puts the pressure on it, causing the muscles to work harder.
Starting position
Raise your legs to a 90-degree angle.
Maintain this position for the desired amount of time. If new to this exercise, we recommend starting at 30 seconds.
Intermediate Exercises
When you've mastered the basics and want to challenge yourself a bit more, then these are the exercises for you!
Side Knee Raise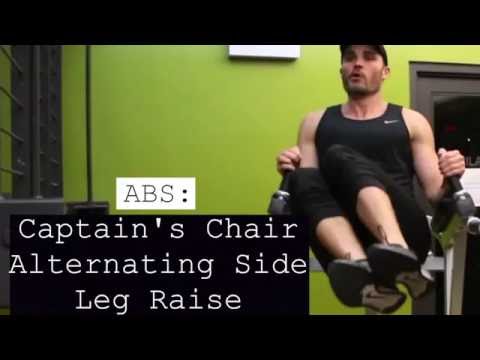 This exercise is similar to the earlier knee raise but targets the obliques more!
Follow the steps for the knee raise.
As you move your knees up to your chest, angle them towards the right side.
Lower your knees, then repeat for the left side.
Bicycle Crunches
You might be more familiar with this exercise from the floor mats but it's also a great captain's chair variation. The rapid movement causes a sweat whilst being suspended makes the exercise much more challenging.
Starting position
Raise one leg up so that it is at a 90-degree angle. Leave the other leg hanging.
Raise the second knee to the parallel position whilst simultaneously dropping your original leg.
In a continuous motion, repeat. Make sure to maintain a steady pace and to ensure that each knee is raised to the correct level.
Advanced Exercises
When you've mastered the simpler exercises and want to kick it up a gear then these are the exercises for you!
Scissor Kicks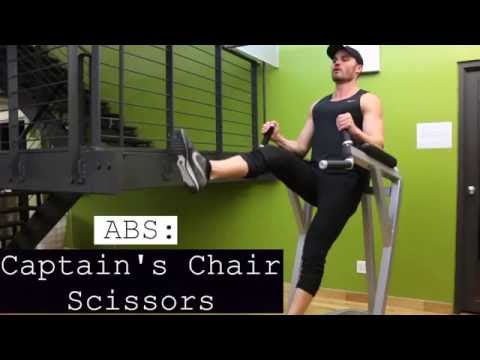 A more challenging version of the leg raise. This exercise will target some cardio elements as well allowing you to really build up a sweat!
Starting position
Raise your left leg so that it is at a 45-degree angle to your chest.
Explosively push your right leg to the same position, whilst simultaneously dropping the left leg.
Without stopping and whilst maintaining the pace, repeat.
Weighted Leg Raises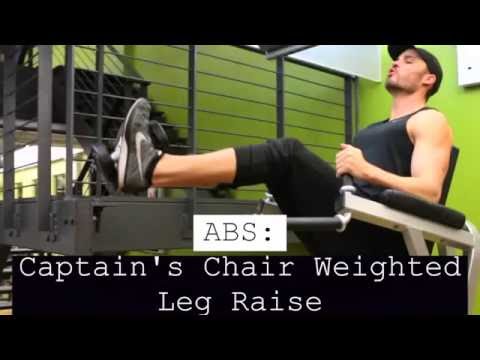 This is a step up from the leg raise that we looked at earlier. If you find that you have to do a high number of reps on the leg raise, then this is the progression.
Follow the steps for the leg raise exercise.
Clasp a dumbbell between your feet as you raise your legs. Make sure that you do this exercise slowly, ensuring that you have total control over the weight.
Criss – Cross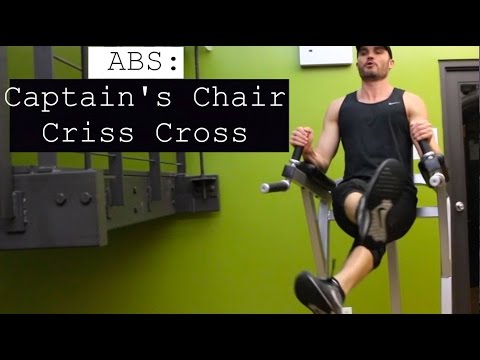 A very challenging captain's chair variation. You are looking for your legs to cross horizontally whilst maintaining tension.
Starting position
Raise your legs until they are approximately 90 degrees, with a reasonable gap between them.
Move both legs inwards, allowing the right leg to pass over the left.
Return both legs to their original positions
Repeat maneuverer, this time with your left leg going above your right.
Keep repeating, maintaining a steady pace.
Single Leg Lifts
Another more challenging variation on the leg raise. As the name suggests, here you are raising one leg at a time. This allows you better control over the lift and really targets the muscle development. Be sure to move slowly to ensure that you maintain form.
Follow the steps for the leg raise exercise, but this time only raise your right leg.
Slowly lower your right leg.
Repeat with your left leg.
Repeat for the desired number of reps.
Conclusion
There you have some of the best variations on the captain's chair exercises.
if you are new or haven't recently tested your core we recommend starting with the basic exercises.  You will progress to more challenging exercises as time goes on and your core strength builds.
Our personal favorite is the Leg Hold, as it gives a blissful relief once you relax and drop your legs!
Some people do a dedicated abs day and if this is you then these exercises are an absolute necessity.  Alternatively, you can slot these into your other workout days to ensure that you are always giving your core a good burn.
Either way, if you want those rock-hard abs for summer, then you better get in the chair m'captain!