Slam balls are overdue a come-back in the mainstream!
They're a versatile piece of kit, with applications for core training, conditioning work, strength for sports, and general fitness. It's a single piece of equipment that provides a wealth of benefits – exactly what we look for when building a kick-ass home gym out on a budget!
Stick with us, and you'll learn why you need a slam ball, what you should use it for, and which one will best suit your needs.
Top 6 Slam Balls On The Market
1. Titan Fitness Slam Ball
At first glance, the variety and choice we get with the Titan Fitness slam ball is a great start. They range from 10lbs to 60lbs, covering the needs of most athletes. Elite-level athletes might need more weight than this, but that takes a serious amount of training. For most people, this range is comprehensive!
The reviews on this product fall in line with our initial concerns about the size: it's much larger than most slam balls. For most slam balls, you're looking for a product that fits comfortably in both hands – this is a key part of keeping a good grip. The Titan fitness has a much larger diameter than we're used to, and this has been a challenge for some users.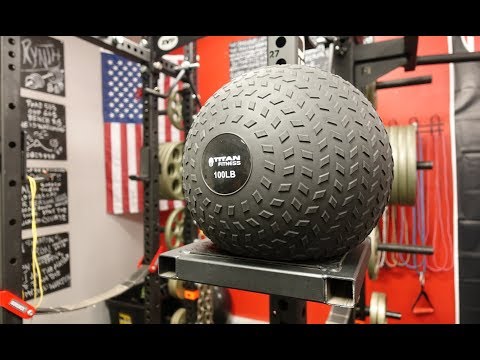 This doesn't prove a huge problem, but if you're a smaller athlete or you're struggling to deal with the size, it can be prohibitive. For larger athletes, this might not be a problem. Either way, you need to understand what your individual needs are before you buy.
The durability of this product is reliably great. Titan is a well-regarded brand and the reviews for this product show a minimum use-time of 15 months. This is shorter than we'd like to see for a slam ball, but there's only one review complaining of damage. This is a great sign, with plenty of positive reviews for the build-quality.
Pros
Hardy and durable
Good grip
Very good reviews
2. Rep V2 Slam Ball
This product is aimed at meeting the need for a high-quality, durable slam ball – it even comes with a year warranty to ensure that you're getting a quality product. We're huge fans of a warranty in any context – it shows that the seller has faith in the quality of their product and, if it fails, you're not out-of-pocket!
The second big positive for this product is that it comes in a huge range of sizes – from 10lbs to 100lbs! This means that there are a weight and size for every athlete/sport. The range of exercises you can use makes the top-end balls necessary and effective, so it's great to see that Rep Fitness has put out this range.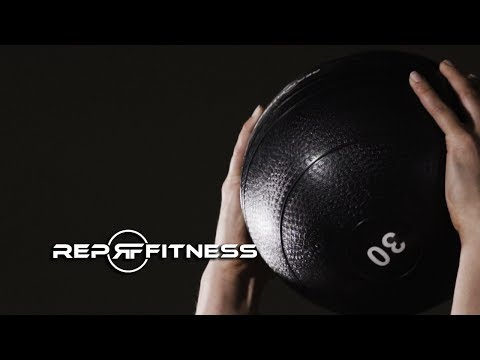 This is a slightly smaller product than the Titan fitness ball, but it is still going to be slightly larger than your regular slam ball. This should be totally manageable – they only get bigger as you go past 30lbs. Anything above this weight requires a very specific sport or large athlete, who will be fine with the size.
Reviews are generally good for this product, and focus on 2 areas: the ball popping/splitting within the warranty period, and the size. While the warranty is great, breakages during this time are a problem with the build of the product. They're under warranty, but there's a definite problem of inconvenience – you'll lose time if you have to return and replace!
Pros
1-year warranty for home use
Great range
Cons
Breaks within warranty quite often
Inconvenient to return/replace the product
3. TRX Training Slam Ball
TRX's slam ball has great quality – it has a heavy-duty, ruggedized outer for easy grip. They also make it look pretty cool! These are two key aspects of the ball that we love right off-the-bat. The reviews bear this out – most of them focus on the durability and grip-quality of the TRX ball.
As we said before, getting the basics right is key. The negative reviews make up only around 5% of this product feedback, and many are related to customer error (such as buying the wrong size).
As with any object designed to be thrown at a floor/wall, there are occasional damages. This is the only problem we'd like to see addressed so far: there's no extended warranty when buying through Amazon. You get the 30-day standard return window, but if you break after this, you're out of luck.
The texture surface and grip benefits are important. Some have complained that it's slippery, but we find that this is a problem with all slam balls to start with, and it gets better with time and wear. A sworn rubber tends to provide a much better grip, and countless reviews suggest that the ball is extremely grippy.
Pros
Great grip
Textured and durable
Better range than similar products
Cons
No warranty or consistent replacement policy
4. Power Guidance Slam Ball
Power Guidance's slam ball is similar in appearance to the TRX ball – the raised surface with a textured shell is a great way of boosting grip and keeping the ball in good shape. The range with power guidance is narrower – it only goes up to 30lbs.
For most people, 30lbs on a slam ball will be plenty. However, this is assuming that it's being used for simple slams and throws. The versatile nature of the slam ball means it needs to be available for more than this – overhead throws, scoop-toss exercises and other sport-specific needs might need a heavier ball.
Our only real concern for this product is that the 25-30lb slam balls are massive compared to others on the market. With the number of complaints we've seen surrounding size, this is going to be a problem.
There aren't many reviews on this product yet, but there are two focuses in those that exist: power-guidance is an amazing company for its customer service, and the ball itself has too much "squish" for many users.
Squish in a slam ball is a problem for many people because it deforms too much and can be difficult to use consistently for the wide variety of exercises it covers. This has a trade-off: it's harder to break and damage. Overall, this is essential to consider before you buy, but it's not a deal-breaker by itself!
The quality of customer service is reputedly fantastic for power guidance, and the way that they deal with customer concerns/experience is a massive plus. While there's no specific warranty on the product, their history of customer service focus plays out well, and you're likely to get a replacement if your slam ball doesn't live up to their "guaranteed satisfaction" claims!
Pros
Squidgy and durable
Fantastic customer service track record
Textured and grippy
Cons
Squidgy might not suit everyone's exercise needs
Range is only 10-30lbs, which might not fit everyone's needs
5. OneFitWonder 100lb Slam Ball
The OneFitWonder ball makes a bad first impression. The product is very general throughout, and the copywriting strikes us as poorly-translated. These aren't specifics of the product, but they speak to a questionable customer-experience.
With only one customer review of their product, the OneFitWonder product is a mixed bag. The review itself points out that it fails the grip fundamental – as they have to use specifically-designed resin grip (or 'tacky') to keep a good grip on the ball. This is a fundamental problem.
The lack of reviews on the product overall is a concern for us – a product that isn't tried-and-tested probably shouldn't be the first place you go for an investment-product like a slam ball. It has a lot of impact in its future, and the lack of feedback/poor presentation combine to make us skeptical.
There's a huge range on the OneFitWonder ball, however: you can get balls from 10lbs to 150lbs, giving it the largest size-variety of all the balls we've reviewed today. However, the 150lbs ball is not currently available from the manufacturer, so you're going to be paying for shipping from China for 150lbs of sand, with many locations unable to even receive it at all.
Overall, we're unimpressed with this product – there's no reason to choose it over competitors.
To start with, the product is relatively untested. There's only a single Amazon review and it provides a mixed set of opinions on the product – effective, but not very grippy. The reviews on the proprietary site are good, but they're not as well-verified and certain, so there's still a risk with the product.
A risk worth avoiding, when there are so many great alternatives.
Cons
Lack of customer reviews
Can't get some of the heavier balls anywhere
Shipping costs from the manufacturer can be a real challenge
6. J-Fit Dead Weight Slam Ball
Nearly 20% of the reviews on the Jfit ball are critical at 3* or less. The durability of this product is a real concern – with many of the reviews focusing on how it breaks in less than a year. The average shelf-life for this product seems to be anywhere around 1-6 months for these 20% of people.
The sizing and composition of the product are great for their use, but the unreliable build of the product makes this almost entirely irrelevant. You won't be covered by a return policy, and Jfit doesn't offer any specific warranty on their product. This is a real concern because you're going to need to replace this if it breaks, when other products have better customer-assurance.
We could run through a comprehensive list of the problems with this product, from the popping to customers being sent the wrong product twice, but the telling fact is that around 10% of reviews on this product are 1-star. This is a huge risk on a cheap product with poor build-quality and a company that doesn't seem to understand or cares what customers want.
This is definitely the worst product-choice we've looked at so far today. While the previous slam ball was unproven, this one is downright bad!
Cons
Poor quality with breaking very common
Poor customer service
What Are Slam Balls?
They're balls that you slam.
They're specifically designed rubber balls with variety of weights that are used to train sub-maximal strength. They allow you to focus on things like coordination, strength, conditioning, and power in ways that you can't with traditional equipment.
They're often confused with medicine balls, but they have some subtle differences. The med ball was designed for indoor use, with a softer leather outer. They're designed for rotating throws, overhead throws, and other non-slamming movements. They're gentle and aren't designed for maximum impact.
Slam balls are more versatile because they're designed for all the power you can throw them with, impact with other surfaces, and use outside. You should store them indoors, but throwing them on outdoor surfaces (like grass, sand or concrete) is much safer than using a med-ball. They won't bounce, they're full of sand and they'll stay still.
The most popular movements are slams and throws. These movements are great for shoulder health, core workouts, and power training. You'll see them performed with both med balls and slam balls, but the tough, non-bouncing slam ball is the better choice as you can put in more force and not worry about it splitting!
Why Should You Use Them?
With a variety of weights, you can train for your sports' specific needs, as well as developing movement patterns in 3-dimensions. They're truly functional: they build stability, rotational strength, coordination, and you can use them to load the specific movements you perform in your sport.
They are especially helpful for any sport or activity that has a large rotational demand. This includes everything from golf to sprinting. They don't get enough attention in our training, but the rotational slings that support the body are actually critical for long-term health and sports performance.
What Makes A Good Slam Ball?
A good slam ball is 3 things:
Easy to grip
Durable
Available in a variety of weights
It's really that simple. This is a good example of a simple product – all that matters is that they get the basics right. You're not going to see any brand revolutionizing the slam ball because there's nothing to revolutionize: it's a weighted ball that doesn't bounce.
While we've seen reviews complaining about slam balls not bouncing, this is a problem with expectations. A good slam ball won't bounce, it'll absorb all that kinetic energy. You'll be able to bounce a med ball off a wall, but a slam ball will just fall to the ground with a thud.
What we're looking for is a great approach to these simple characteristics. The stand-out slam ball will be the best at the basics!
Slam Ball Exercises & Workout Routines (Video)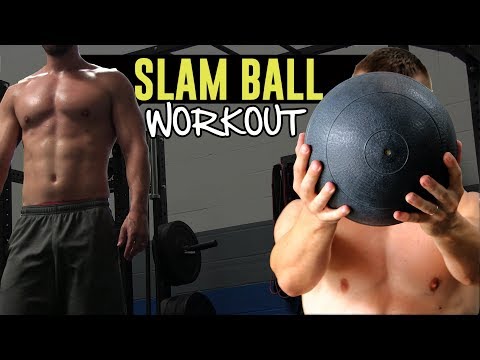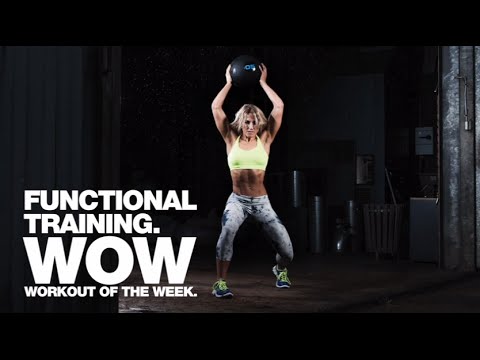 Q&As About Slam Balls
Can use medicine balls for slamming?
You can – though the med-ball is different from the slam-ball by its intended purpose.
The former is a simple weighted ball to add resistance to movements, while the slam ball is designed for impact. You can slam both, but the slam-ball is tougher and you can use it in any conditions, while the med ball will take damage too easily.
You can slam them both, but your best bet is to use the ball designed for this type of impact. It's in the name: slam the slam ball!
Can you use a slam ball as a medicine ball?
You absolutely can: while the med ball doesn't work well as a slam ball, the slam ball is a great replacement for the med.
The idea of a medicine ball is simple: an easy-to-hold way of loading your exercises without using a dumbbell or barbell. The slam ball is exactly the same, but it is more durable, doesn't bounce and has a greater range of exercises as a result.
There's very little reason to pick a medicine ball over a slam ball for a home gym. The added resilience and ability to put maximum force into a slam ball makes it a winner. You can perform all the med-ball throws you want with the slam ball, but not vice-versa. If you're looking for value-for-money, choose the latter!
If you need a solid ball, look through the specifics for each product, as some are perfectly-suited to this.
What weight slam ball should I use?
This is all about your goals, strength, and experience with slam balls.
To start with, you don't need to go heavy for general use. World-renowned slam-ball expert Eric Cressey famously talks about how his 240lb athletes use 5-10lbs balls. There's no reason to use huge weights if you're focusing on power, rotational strength, and coordination.
When it comes to adding weight over time, focus on your own needs and be self-aware. Movement-quality comes first, so if you're stuck between two balls, go for the lighter one.
You also need to think about what you're using it for. A rotating throw doesn't need much weight, while an overhead throw for power is 100% down to your own strength, and a ball for core strength/conditioning is somewhere between the two!
Our advice is to always start lighter. Women tend to start with the 10lbs slam ball, with men around double this weight, but these are totally general guidelines and your own experience should always lead the way!
Our Final Choice
We've looked through a real range of products with some drastically different strength and weaknesses.
Customer service is one of the saving graces of a product that is specifically designed to be thrown at things. We are usually a big fan of warranty, but the RepFitness ball's warranty seems to be tested too much – but we'd love to see this used by more companies in this market!
Our top pick is the Power Guidance ball. This starts with the fact that it's very similar to the TRX ball with all the same benefits (such as the textured surface), but their smaller slam balls have great durability and their existing customer service/product replacement track-record wins big points.
The Titan slam ball comes a close second. This is perhaps more typical of what we're used to seeing in the gym. It's a simple, effective piece that absolutely nails durability, with good grip and a predictable weight-distribution. It's not fancy, but it gets the job done and it won't split on you in the first month!
With a product this simple, it really is just a matter of a well-made product that knows what it's for. The customer service makes or breaks it, and we've seen some big successes on this list from Titan, TRX and Power guidance!
Last update on 2023-11-28 UTC -5 / Affiliate links / Images from Amazon Product Advertising API - Details