When it comes to functional training, sandbags are an absolute essential.
There's nothing more functional in strength training than being able to lift and carry weird, unstable, unusual weights. If you're looking to add a great strength and conditioning tool, a sandbag is a great way to get all of this in one product.
You're probably only going to need a few of these through your entire training career since they're hardy and unpleasant and you're limited by the awkwardness of a sandbag more than just the weight. This means you're going to want to get the best, since you're going to be spending a lot of time with it!
What Makes the Best Sandbags for Training?
A workout sandbag isn't the same as a regular bag of sand.
While there's always one guy who suggests going to a hardware store and buying sand, that's actually an awful idea. A regular bag of sand is made of thin, poor-quality plastic because it's meant to be moved and then opened.
A workout sandbag, on the other hand, is designed to last for years while being lifted, dropped, carried, and pressed thousands of times. Investing in a good sandbag means keeping your eye out for a few key factors:
Durability: the number one selling point is that it needs to keep the sand in the bag when you're working out and provide plenty of support for the weight. If it breaks, it's expensive and useless.
Grip and Usability: while a sandbag is meant to be challenging, it should be because it's moving around while you grab it. It should not be hard to use because the surface is hard to grip. A good sandbag is easy to hold – this isn't a grip-focused piece of equipment.
Size/Weight: you need to find a bag that matches your current strength, as well as the overall bulk and size you're looking to move. This means that a sandbag with a greater range of size/weight options is going to be superior to a more limited set of choices. You're probably going to want something that weighs around 25-50lbs depending on your sex. strength and size.
Price: obviously – better value means a better choice.
Additional Features: it takes a lot to improve on something as simple as the sandbag, simply because adding flashy features isn't usually any real benefit. Look for simple, well-integrated features that actually make your training better.
Most sandbags range from 50lbs up to heavyweight bags with 200lbs+. You should start with a lighter sandbag if you're going to use it for conditioning or if you deadlift less than 315lbs. As you get stronger, you'll naturally be more comfortable handling heavier bags, but starting light and adding heavier bags is much better than starting too heavy and getting injured.
The 5 Best Workout Sandbags of 2020
1. Rogue Fitness Sandbag
The Rogue sandbag has seen some serious use and the overall reputation is one of simple excellence. It doesn't do anything fancy, because it does the simple stuff so well: it has great durability which is going to be king if you're working out at home and need to get a great kit on a budget.
Speaking of a budget, the Rogue range is a great choice from the value perspective, with options starting at just $25. For a piece of equipment like this, you're going to get some serious bang for your buck.
The Rogue Sandbag has handles for grip, but the real grip challenge is the body of the bag itself. Fortunately, the Rogue bag holds up great here, too, being made of a fabric outer. It's a little slicker than you might want for sandbag loading and other challenges, but it holds up relatively well and – given the durability it brings – is still a great choice.
This is the only real criticism we might have for the Rogue sandbag: it's clearly designed as a conditioning tool for loaded runs, lunges, etc. This is fine, as it is clearly designed for CrossFit training, but we'd like to see it play a more effective role as a Strongman-style implement so that it can be carried, gripped, and held more effectively.
Overall, this is a fantastic product that goes hard on the basics. This makes it a great choice if your intended purpose lines up with its intended use, but it's only average if you're going to try and use it for other types of exercise such as loading.
Pros
Great quality/durability
Reliable brand
Great customer service
A really solid, simple piece of equipment
Cons
Single-purpose
Less features than others on the list
2. Brute Force Sandbag
The Brute Force bag is another great product, being designed with a similar style to the Rogue bag, but also carrying the "heavy hitter" option. This enormous sandbag actually comes in at around 400lbs at the top level and is clearly designed to be versatile enough for both CrossFit-style conditioning workouts and serious Strongman strength-endurance.
This choice is the stand-out feature for the brute force sandbags. The "athlete" (CrossFit/S&C) style sandbag is comparable to Rogues, though it does include a greater choice of handles for different grip training styles. Overall, it presents a great alternative to the Rogue bag, even if it doesn't set itself apart.
However, the heavy hitter and barebones bags are both designed to offer something different: no handles, heavy weights, and a challenge to push the envelope on functional training. Arguably more effective for the difficulty they bring, these hardcore sandbags are a fantastic choice and provide a great single piece of kit for everything from strength to conditioning.
Again, if you know what you're going to use it for, the brute bag is going to be a fantastic addition. If you're looking for an all-rounder, the athlete bag is a relatively good competitor to the Rogue sandbag.
Pros
Multiple use
Great range of weights/styles
Well-built
Direct competitor to the Rogue bag
Cons
Design isn't as clean as Rogue
May not be as well-known as larger competitors (but the product itself is great)
3. GarageFit Sandbag
The GarageFit bag is a medium-weight bag solution with the majority of their products running between 25 and 75lbs. This is a fine working weight for most beginners, but it will feel light for those with more training experience and precludes using it as a strengthening tool: it's a conditioning bag.
The bag features all the hallmarks we've seen so far: multiple handles, adjustable weights, and decent durability. However, being more expensive than the rogue bag, it has a lot to do to out-work it that we're not seeing. The features – such as the handles (similar to the brute force but with lower build quality), and cordura outer – are seen in other models.
There's nothing wrong with the GarageFit bag – it performs well and we're a fan of both the design and the idea behind it. However, it struggles to distinguish itself in a market where the Rogue and brute force bags have already got great coverage. The biggest criticism of the GarageFit bag is simply that it fails to stand out in a market filled with better competition.
Pros
Great sandbag with effective build and durability
More handles
Cons
Doesn't compare favorably with Rogue or Brute Force
Is out-classed, but still a great product
4. RepFitness Sandbag
Rep Fitness falls into the exact same problem that GarageFit has, but with a more exaggerated showing of the "nothing to say" problem. While the former has a good basic setup, the RepFitness bag struggles to stand up to even the GarageFit indirect comparisons. The only real benefit here is that the RepFitness bags are designed to vary by 100lbs from 25-125 in the same bag.
However, the outer and construction quality is poorer than those on the list so far, the design leaves a lot to be desired, and it has fewer grips than both the GarageFit and Brute Force bags. It struggles to compete as it cannot compete 1-1 with any of the others on this list in any area. If we look at the way it stacks up, this is obvious:
Durability: inferior to both Rogue and Brute Force, based on both the outer and the stitching patterns of the handles.
Value: comparable to others, but the long-term longevity of the product is dubious
Grip: outer quality is lower and the materials is both too fine and slick to function as well as the others on this list
Features: the handles are less numerous and less-secure than the Brute Force model, specifically.
This sets a serious disadvantage for the RepFitness bag and we can't see how it gets past any of the others listed above. We can only say that this is not a bad bag – it is, once again, outclassed at every turn. The lack of product identity matches up with the production method of branding a generic product: it doesn't look good for RepFitness.
Pros
Solid build quality and functionality
Cons
Easily out-classed by better products
Build quality is lower than others mentioned above
Design is forgettable and generic
5. FitShit Sandbag
No, it really is called that.
The FitShit bag is a no-nonsense approach to the sandbag – as you might have guessed from the name. It's got a defined niche in the market as a conditioning-only bag based on the very lightweight of 25-65lbs.
The problem with the FitShit product is that it lives up to its name: it's an inferior product to most of those named on this list. While the plastic cladding grips on the handles may be useful for some purposes, they provide a serious pain-in-the-ass during a workout as they can dig into the neck.
Additionally, 65lbs is light, even for conditioning. While this might be a great bag for beginners, it's not going to pose much challenge for anything other than long, long walks if you're experienced and actually-strong. The lack of resistance is significant since you're going to be struggling to use it for lunges, step-climbing, and other basic exercises if you squat more than 400lbs.
The military fitness vibe we get from this product is probably going to go a long way to explain this: it's clearly designed for grueling chippers, but then it would need to be more durable. The competitors just out-class it across the board, from durability to comfort to features.
For example, the star-rating of this sandbag shows that it has a serious problem with splitting and falling apart, while the poppers are unreliable and a common spot for damage and malfunction. While FitShit has shown their customer service to be awesome with these problems, the reality is that poor quality build is a key concern and the time spent replacing it could be spent training.
We have a lot of love for the no-nonsense branding that FitShit brings to the market, but it doesn't make their products more competitive with alternatives. You can be no-nonsense when your products are the best choice for no-nonsense training, but the product has to come first, and we've found that this simply isn't the case with the FitShit sandbag.
Pros
Quirky branding
No-nonsense approach
Cons
Poor build quality
Narrow range of weights/sizes
No-nonsense branding but a high-nonsense product with many poor reviews
Sandbag Workouts for Beginners
The point of a sandbag is to increase strength, strength-endurance, and make traditional conditioning more effective. The instability is part of the training and makes it a great choice for building core-stability.
Strength Workout with Sandbags
When we look at sandbag training, it's all about using as much as possible: combining the core, leg, and muscles of the hips/lower back. You need to make sure you're using all of these as effectively as possible since the weight won't always be super-heavy.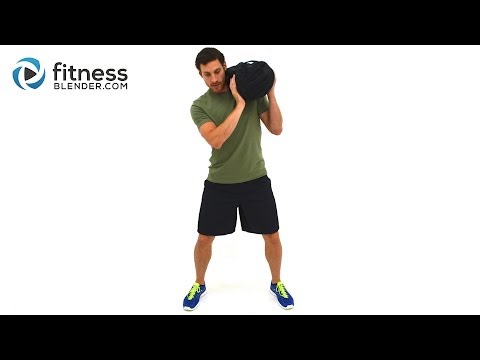 When we look at using a lighter bag for functional strength, there are a few awesome exercises that are going to deliver the best workout as either a workout or warm-up. This begins with the Turkish get-up with the sandbag. This is a brutal core and hip preparation/training exercise and you're likely to see some serious mobility benefits, too.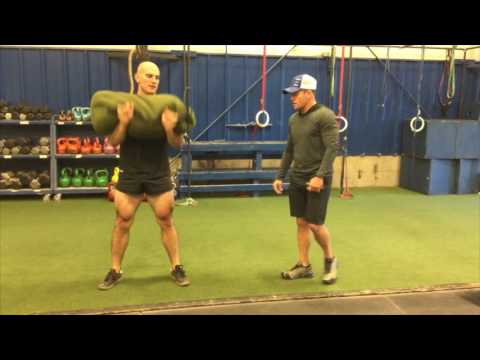 You can also use throws and jumps in combination with the sandbag to build strength and power in a way you might not with barbells. Throwing your sandbag as far as possible, then chasing it down, is one of the simplest HIIT workouts you can perform and may only take 8-10 minutes to get totally gassed out. You can also do this with sideways/rotational throws for core strength.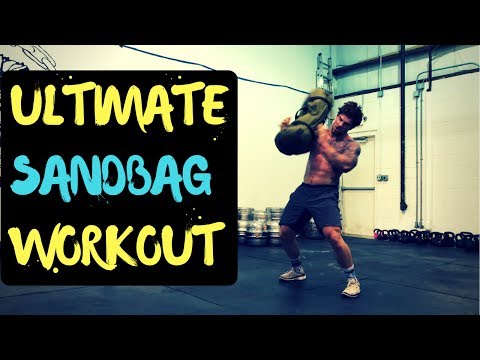 Conditioning Workout with Sandbags
Sandbags are made for conditioning, so you have a huge amount of options. One of the most effective and an instant classic is the simple carry. This is just about moving with the sandbag – marches and runs are both popular, but the simulated buddy-carry upstairs is a great choice. Simply sling it over your shoulders and climb the largest stairs you can find.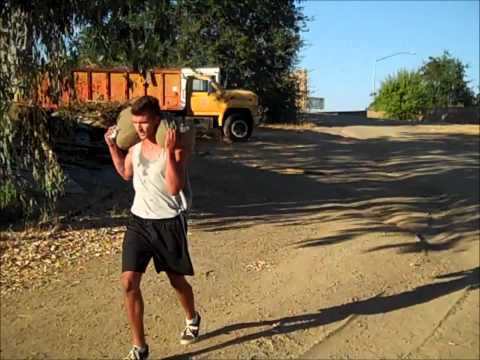 You can also perform a circuit of runs and slams to provide a great workout. Pick out two points to run between and then, when you arrive, slam the sandbag and pick it up again. You should find a distance that is a decent pace for the run – 40yds is a great choice and has some obvious benefit for sports like football where 40yd is a staple distance.
Finally, the simple sandbag swing is a great choice. This is a simple side-to-side movement that is going to look/feel similar to the woodcutter you might perform on a cable machine. It's a rotational movement which is great for emulating real-world movements and it is a key way of rounding out your core, challenging your conditioning, and generally improving your conditioning.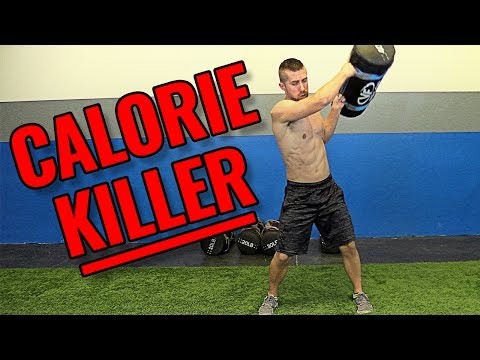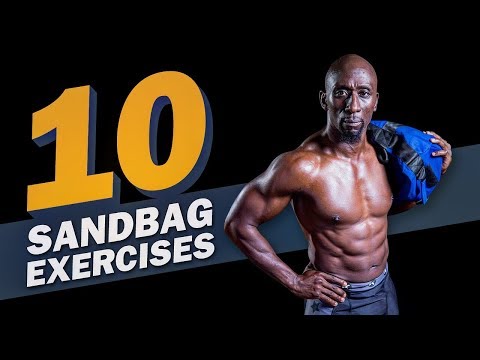 Final Notes
Overall, sandbags are one of the best value pieces of workout equipment you can invest in. However, you want to get a top-quality workout sandbag – this is a piece of equipment that makes or breaks your home gym and you don't want to be dealing with a low-quality sandbag, especially with how much time you'll spend with it on your back!
Make sure you know what you're going to use it for, check through this list, and you'll be well-prepared to get the best bang for your buck.
Last update on 2023-09-30 UTC -5 / Affiliate links / Images from Amazon Product Advertising API - Details