A Roman chair is a piece of exercise equipment that is ideal for hyperextension exercises. The best Roman chair allows for proper spinal flexion and extension. Proper use of a Roman chair results in stronger glutes, hamstrings, abs, and a more flexible lower body.
If you want to add a roman chair to your home gym setup we are here to help you pick the best product for your needs. This equipment is an essential piece of any gym and it will allow you to round up your workout routine with a handful of very effective exercises.
We are going to review the best roman chairs you can purchase in 2023 and provide you with a step by step buyer's guide.
What are the best Roman chairs of 2023?
1. Powerline Roman Chair/Back Hyperextension
The Powerline Roman Chair has a nice and sturdy build, being designed to support up to 250 pounds (note this will include any additional weight you might be using – such as barbells or dumbbells). The frame is solid 2×2 inches heavy-gauge steel which has nice grey paint. The welding on the joints looks solid and has a nice finish.
The base is wide enough to offer sufficient stability, without taking up too much floor space. Fully assembled, this Back Hyperextension measures 36 x 46 x 25 inches.
The manufacturer offers a 10-year warranty for the steel frame and just 1 year for the other parts.
Both the hip and ankle pads are adjustable up/down, so you can set the difficulty of the exercises as desired. However, you will not be able to adjust the distance between the two pads, which is roughly 32 inches. So if you are well over 6 feet tall you might have problems using this product.
Both pads are firm, but comfortable and offer good support. On top of that, the hip pad is actually made out of two separate pads to offer more comfort for male users. The only downside is that the ankle pad is quite narrow so you will have to keep your feet close together or you might slip off the pad.
Pros
The 2-pad hip support
Great stability
Nice overall finish
Very compact and light weight
Cons
Ankle support is too narrow
Will not fit tall users
Only 1 year warranty for the pads
2. BodySolid GHYP345 Back Hyperextension
This is one of the most well-crafted Roman Chair you can find on the market. I would say this is commercial grade – I wouldn't be surprised if I would see this model in the public gyms rather than home gyms.
It has a telescopic hip pad that can be easily adjusted for everyone's height, using a pin to select the way you want it. Unfortunately, there is no angle adjustment so you can't really control the intensity of the workout unless you are using weights. This is a 45 degrees fixed Roman Chair.
There is also no ankle pad, but instead, you have a solid metal plate for foot placement which works really well. For the hips support there are 2 extra thick (3 inches) pads which are very comfy and nicely designed.
The machine is quite heavy to move around so you might want to think carefully where you want to put it because it's unlikely you will move it around anytime soon. Even so, it doesn't really take up that much floor space, which is a good thing.
Pros
Extremely well built
High quality materials
Adapts easily to different heights
Cons
You can't adjust the angle / intensity
Very heavy equipment
3. XMark 11-Gauge Roman Chair XM-7456
XMark's Roman Chair is built around a 2 x 3 inches 11 gauge steel frame which makes it very solid, stable and quite heavy as well.
For ankle support, it uses two roller pads which are comfortable to use, but could be a little bit longer. You will need to keep your feet close together or else you might slip off the pad. You can adjust the height of the roller pads by selecting between 10 different positions and therefore set the right intensity of the workout. For an effective abs workout, you will have to set the roller pads higher than the seat.
There is no adjustment for the hip pad, but honestly, I don't see why anyone would need it. The distance between the hip and feet pads is roughly 27 inches. This should fit users within a wide range of different heights.
The equipment is rated for a maximum load of 350 pounds.
You can tell by the paint job, the anti-scratch coated finish and the design of the handle bars that this is a superior product. The warranty details are not available, you will need to contact the manufacturer for more information.
Pros
Wide range of intensity adjustment
Very solid, doesn't wiggle at all
Premium built quality
Will fit most users
Cons
The ankle support is a little bit narrow
4. Marcy Adjustable Hyperextension Roman Chair
This Roman Chair is definitely designed more with the home user in mind. It comes within a lower price range and an average built quality. But it can be a great pick if you want to get a good deal and to have a multi-functional lightweight/portable equipment.
With this hyperextension bench, you will get two adjustable roller pads for the legs, a fixed pad for the mid-section and high-density padded handle. The adjustments will allow you to select between different intensities, but we would've liked to see a wider range to choose from. There is no adjustment of the distance between the hip and ankle support pads.
The handles are great to use when getting on and off the machine so it's comfortable and easy to use. These can also be used for doing push-ups or even dips if you are not very tall.
Be careful, if you plan on doing sit-ups on this machine, it might be a little bit tricky to get into the right position. This is due to the limited adjustment on the roller pads. It will work great for back extensions and working out the obliques though.
The product includes a 2-year warranty from the manufacturer and it is rated to support up to 300 pounds.
Pros
Great value for money
Very light equipment
Very stable despite the light weight
The handlebars are very useful
Cons
Average design and materials
Hard to setup for sit-ups
5. Stamina Hyper Bench
This is another budget Roman Chair which offers great value for the money. It is a standard 45-degree chair which comes with adjustable height by moving up or down the hip pad, but also the feet pads.
You will be able to use this machine regardless of your height. The only downside is that you can't adjust the angle. The manufacturer rated it for 300 pounds maximum load, but several users reported some wiggling when using as much as 250 pounds load (including the dumbbells).
Overall, the built quality is above average and you can tell it is designed mostly for home use. This Hyperextension Bench is foldable which is great of you want to save up some space or just put it away if you decide not to use it anymore.
The Stamina Hyper Bench also comes with handles for easier use. There are no details about the warranty, which is a little bit of a letdown.
Pros
Great value for money
Foldable equipment
Adjustable hip and feet pads
Cons
Becomes unstable for heavy users
What is a Roman chair?
A Roman Chair is one of the most compact pieces of equipment you can add to your home gym. In fact, if you are just getting started on buying gym equipment you might consider getting this affordable item first.
Commonly referred to as a hyperextension bench, this equipment will allow you to work out your entire back chain of muscles: lower back, glutes, hamstrings and also your core. You can consider this exercise a bodyweight version of the stiff-legs deadlift – which uses the same muscle groups.
Who should use Roman chair?
A Roman Chair is great for beginners who want to make the shift from a sedentary to a more active lifestyle. All without struggling with lifting heavy weights or spending time to commute to the gym and back home 3 or 4 times a week.
Most sedentary people have back issues so it's a really good idea to start off by focusing your workouts on this particular exercise.
Once you gain strength you can start holding a light-weight dumbbell or small plate while exercising. This will increase the intensity of the workout.
Although great for beginners, this awesome equipment has been a 'piece de resistance' in many hardcore gyms, including the original Gold's Gym. So don't worry about not needing it once you gain more strength.
Exercises you can do on a Roman chair
The Roman Chair can be used to perform a variety of exercises, so you get even more bang for your buck. You don't need to limit yourself to only doing back hyperextensions. You can use it to perform a variety of abs exercises as well. Here are just a few examples: sit-ups, lying leg lifts or roman chair twists.
Here is a video showing how to perform several Roman Chair exercises.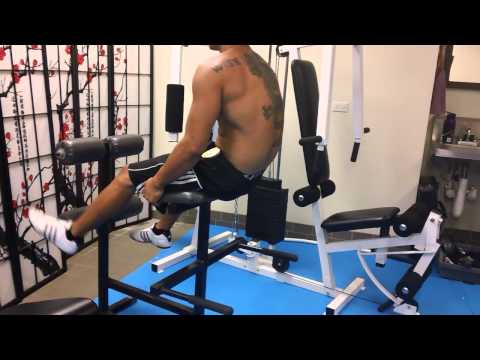 With nothing to support your upper body, all the tension will be on your core and lower back muscles, making the workout very effective. As a matter of fact, roman chair exercises can outperform the effectiveness of many of the traditional abs workouts.
To summarize, using a single, compact and inexpensive gym equipment you will be able to effectively workout your:
Lower back
Glutes
Hamstrings
Abs
Obliques
Benefits of the Roman chair
Here are some of the benefits you get from using a Roman Chair.
Strengthens the core
Even though most of the time the Roman Chair is used for back hyperextensions, it can also be used to perform a variety of abdominal exercises. You can target the abs and even the obliques directly by doing sit-ups or twists. Play around with the intensity by holding an additional weight when performing the exercise.
Builds up the legs
By adjusting the range of motion on your back hyperextension you can put more focus and emphasis on your glutes and hamstrings. To do this go as low as you can, but when you go up, stop right before your upper body is in line with your lower body.
Don't expect to build much muscle mass by using the Roman Chair though. This equipment will help you improve your fitness level, will get you toned up, more flexible, will increase endurance, but it will not actually develop the muscles that much. You will need to do some weight lifting for that.
Remedy for back pain
Many sedentary people regardless of their age have back pains and poor back flexibility. Doing a few sets of back extensions on the Roman Chair 3 times a week will work wonders. To benefit the most from this exercise make sure to use a full range of motion, instead of just going half-way as instructed above.
So go as low as you can and then go up until you feel your lower back doing the work. Perform the movement slowly and controlled, don't swing your body.
Improves posture
Poor posture is not determined only by weak back muscles, but also by weak core muscles. The Roman Chair will allow you to improve exactly these muscles, which ultimately will result in better posture.
Minimizes injury risk
Being a machine that mainly uses body weight, the risk of getting injured is very small. Even so, it helps to do a few minutes of stretching before jumping right into the workout.
If you plan on doing weighted exercises on the Roman Chair, do at least one high rep warm-up set using your bodyweight before.
Compact equipment
Last but not least, the Roman Chair is a small piece of equipment that will most likely fit any home designed gym. Whether you have an entire garage to use as your gym or just a spare room in your house I'm sure you can fit the Roman Chair nicely in there.
What to look for when buying a Roman chair?
Getting the right product might be a little tricky especially if you've never bought a Roman Chair before. After using Roman Chairs for many years, here are our top tips on what to look at when shopping.
Safety
First and foremost you want a product which is safe to use for you. Make sure it fits your height and it supports your weight without wiggling around. Keep in mind that you might be using extra weight at some point. Don't take into account just your bodyweight.
Usually, heavy machines are more stable than lighter ones. So you will probably need to make a little compromise on portability.
Adjustability
Ideally, you want a Roman Chair which will allow you to adjust both the angle and the height (distance between the feet pad and hip pad). Most of the times you will find models that only allow just one of the two adjustments.
Your best choice would be to pick the product which matches your height and allows you to set the intensity by adjusting the angle. Not all Roman Chairs will allow you to do sit-ups because of the lack of adjustment, so keep an eye out for that as well.
Warranty
Make sure to check out the warranty period offered by the manufacturer. There are quite a few who offer just 1 or 2 years warranty for the pads. Pads are the first pieces that will wear out over time, so keep an eye out for that.
Built Quality
Last but not least you want to get a product that uses quality materials. Everything is important. From the frame to the pads and the adjustment pins. The quality of the welding is very important as well. I'm sure you don't want any broken parts.
Best Roman chair: Final thoughts
Now that we've looked at different models of roman chairs, some more on the expensive side, some more on the value for money side, it is up for you to make your mind. Pick wisely the one that suits you better and start exercising.
Get rid of that back pain, get your flexibility back and start building a better physique.
Last update on 2023-11-29 UTC -5 / Affiliate links / Images from Amazon Product Advertising API - Details