The leg press is one of the most interesting and heavy-duty strength/muscle machines in the gym.
It's a piece of equipment that can build leg strength and mass and works beautifully when combined with single-leg exercises.
Today, we're going to take you through the best home leg press machines and what they can do for you.
This is a big piece of kit, so you need to get the best possible product to maximize results, get the best value for money, and build your home gym to last!
The Best Leg Press Machine (Our Top 5)
We've done the heavy lifting for you to research the best leg press machine you can bring home. We looked at things like price, reviews, pros, and cons, so that you can make an informed acquisition.
Here's what our team of experts found out and which is the best home leg press machine.
---
Powerline Vertical Leg Press
is a simple example of the vertical leg press. This is where all the benefits and problems come from – and there are definitely more of the latter!
The design is simple and easy to use. It's a frame with a small sled on and you sit underneath it on the pad. The vertical design makes for really easy weight counting/measuring and you will know for sure what weight you moved since it's aligned with gravity.
The problems for this product are mostly centered around the vertical positioning, too, however. The main complaints surround the difficult and uncomfortable lower back position that it necessitates to be useful. This can pose a serious concern for your wellbeing and long-term health, so we're definitely weighing this up as a serious drawback.
The capacity for loading on this product is also considerably smaller, which presents problems. You can always switch to single-leg presses, but those can be dangerously asymmetrical which may put pressure through the soft tissues of the knee.
The actual machine itself tends to be unstable compared to others on the market, as well as having a dubious safety mechanism when compared to competitors. This is a simple rail system without effective, durable, heavy-duty safety pins. Additionally, it's rated for a relatively low 400lbs – nowhere near the weight you'd expect to see on a high-quality leg press machine.
On top of this, you're probably going to want to lubricate this product's rails since they tend to squeak during early usage. Overall, there are certainly a few concerns with this product, but it does what it says at a relatively low price, which could well suit your goals – especially if you're a smaller human.
Pros
Simple, easy design
Vertical for easy weight counting/measures
Cons
Relatively low capacity for strength training with only 400lbs rating
Uncomfortable seat
Squeaky and requires lubricating
Quality assurance problems
Lower back positioning is BAD for health and posture
---
Bodycraft 45-degree Leg Press
is an example of a commercial-style leg press machine that you can keep and use at home, offering the entire experience under your own roof.
The 45-degree design offers the huge loading we've already mentioned, so you're going to need to provide a significant amount of weight. This product is perfectly designed to stand 1000s of lbs of resistance, however, so if you have the weight and can handle it this is the product for you.
The stability and durability are through the roof, with a heavy-duty, commercial-standard build and a fantastic reputation for longevity. This product is designed to last for decades at a commercial gym – it will definitely hold up in your home when you're the only one using it!
Obviously, this standard of product comes with a price tag which is the big negative for most of us. However, if you're looking for a product that lasts and comes with the same hard-finish you expect from gym equipment, this is a great investment.
Make sure the product matches your needs – as it can be a little bit difficult for shorter people to use to maximum effect. Check your height and get some practice on a leg press before you commit!
Pros
Actual, commercial-standard leg press: offering top quality but with a higher price
45-degree sled at a commercial level of quality and durability
Stable and unlikely to move
High loading capacity
Cons
Quality costs money and this product demands both!
Shorter people may struggle to get the maximum effect of this product
---
BodySolid Leg Press and Hack Squat Machine
attempts to be a 50/50 between the cost of a full leg press and the weight restrictions of a vertical leg press.
It's a good mid-ground
between the two and provides a relatively reliable approach to training without the cost/quality problems of either the full 45-degree leg press or the vertical press.
We really like this machine for its balance between the two – it is an affordable and versatile approach. This is also obvious from the dual-function, where it also provides a way of performing hack squats and other sled-based squat alternatives at home.
This is a winning combination as it provides a variety of ways to train in the comfort of your own home. This makes the BodySolid hack squat/leg press machine a fantastic hybrid and our current #1 pick.
There are some small problems we would like to see addressed – the quality can be relatively difficult since some parts experience problems during use and may not always be in perfect condition.
However, these are relatively small problems that can be addressed easily. We think this is an overall winner so far and balances weight, versatility, and the overall needs you're going to run into in your training!
Pros
Decent weight allowance
Better value than previous products
Ability to perform hack squats, a great tool for leg development
Cons
Parts occasionally experience problems during use
Hard to move (though this is a foreseeable problem with a leg press machine, in our opinion!)
---
Powertec Fitness
leg press is
relatively light
compared to some on this list. It provides a way of training the legs
up to 1000lbs
, which is a relatively normal amount for a leg press.
Considering that many stronger individuals easily surpass 1000lbs, it's really going to be down to your goals. If you want to be an effective powerlifter in the heavier weight classes this might not be at all appropriate for your needs.
For the average person, the weight limit really isn't a huge problem – but the expense is still very high despite lower quality than the previous model on this list, and the instructions are cryptic at best (and impossible at worst!).
These problems do add up and, while it provides an effective way of training, it does miss out on the overall quality and versatility we saw with the previous product. The lack of weight-allowance and the supremacy of a hack squat enabled leg press mean that Powertec is simply outclassed.
This is a good product, but in a market this competitive it really struggles to stand out.
Cons
Poor instructions and difficult construction
Expensive for the quality still
Relatively low rating at 1000lbs (for a 45-degree sled)
Outclassed by other products on the market
---
TDS Premier
product provides some serious upgrades to the fundamentals that we took issue with on the Powerline vertical leg press. It has a more heavy-duty design that reflects increased loading ability, which tends to better durability and stability, but other areas are still lacking or uncomfortable.
There's nothing about this design that is inherently bad, but it also lacks performance when compared to the 45-degree presses we've discussed so far. Despite the price tag still being considerable, these products have a much lower weight tolerance and lack the stability, durability, and versatility of others on the market.
The simple, easy design is great, but the leg press is an important piece of kit that really doesn't benefit so much from being stripped down. The lower back positioning on this product is significantly better than the Powerline product but still feels unnatural and uncomfortable.
The actual balance of the product and the weigh specifically all perform much better than Powerline but struggle to compete with the 45-degree models on the market. While this provides a better showing for the vertical leg press, it still struggles to compete with the bigger boys on the market.
This is definitely the best vertical leg press we're going to discuss today, but it still only sits in the 3rd or 4th place spot, depending on how important economy is to your needs. When it comes to this product, we think the best alternative to a 45-degree leg press is probably just a squat rack.
Pros
Simple, functional design
Vertical press for easy measurements
Far more stable than powerline's vertical leg press
Cons
Uncomfortable seat with all the same problems as the powerline product
Inferior overall performance when compared to even the lower-end 45-degree leg press machines
Different Types of Leg Workout Machines
Leg press machines come in a variety of designs. There are some things they have in common: they're plate-loaded, they're built on sleds to allow you to lock them in place, and they are either upright or 45-degree machines.
However, there are a few styles you should keep your eyes open for. The main differences here are between the vertical and 45-degree leg press. These offer very different experiences with their own advantages and disadvantages
Vertical Leg Press Machine
These are the simpler, cheaper machines.
The angle of the resistance – being straight to the floor – means you're pushing exactly the weight that is on the frame. The inclined, 45-degree machines are less faithful to gravity. This kind of product provides a vertical stimulus, which makes it easier to measure the amount of weight you're pushing against.
This type of machine also makes for a much tougher workout with the same amount of plate-weight. This can maximize the benefits you get without the additional cost of buying tons of weight plates that you might see with a 45-degree machine.
If your home gym is a smaller setup and you don't have 500lbs of weight lying around, this style may suit you better.
However, there are problems with these products. Firstly, the design is far lighter and may not be as durable. They don't need to move as much weight, but they're not as heavy-duty as their 45-degree counterpart.
They're also built at a very uncomfortable angle and the experience of a vertical leg press couldn't be called "pleasant". Working out isn't always meant to be about maximal comfort, but this type of leg press is often reported causing pain and discomfort in the lower back and hips.
With the intention of this product to be reduced lower back stress while working the leg muscles, it makes no sense to increase pain- and injury-risk. This is a serious concern: the vertical leg press may be cheaper, but is it worth the health of your back and hips?
45-Degree Leg Press Machine
The 45-degree sled-weighted leg press is a heavy-duty build, taking up serious space, weight, and cash. This is an investment all by itself, but it also comes with the aforementioned need for serious amounts of weight at your home gym.
With the inclined position, you're not actually lifting the whole weight of the sled. You're usually lifting about 85% of the weight, so there's an increased need for weight and increased pressure on the knee and hip joints.
This does mean less comfort than the associated risks with the vertical leg press, however. It's a far more comfortable anatomical position and reduces the stress and pain you might experience, so clearly, there's a trade-off between resting position and the overall weight you're putting through your joints!
Things to Consider When Buying a Leg Press Machine
When it comes to leg press machines, you're going to want to focus on the important specs that affect your daily experience. There a few essential categories you want to look at.
Weight Allowance and Type
The amount of weight that you can load onto a leg press is essential to consider. It's not a massive feat of strength to leg press 100s of pounds of weight, so you need to know your leg press can handle it.
Vertical leg presses can handle less weight but also don't need to, since they're a more accurate and directly-loaded form of training. On the other hand, a 45-degree leg press machines need to carry far more weight since they're mechanically easier to move.
You also want to use a product that has the right size pegs (Olympic at 2" or 'standard' at 1") or at least an adapter peg. You need to make sure that this product suits the weights you have at home, since they do not come with weight.
As mentioned, the actual angle and design of the leg press machine will change how your workout feels and how you can progress.
The actual force required to move the same weight is not the same between all machines. Friction challenges and the angle of the weight change the difficulty, but they also change based on personal preference.
If you're familiar with a vertical or 45-degree leg press, then picking the one you're most familiar and comfortable with might be the right choice. We recommend using whichever leg press you're more familiar with.
Comfort and Lower Back Positioning
This is key to keeping yourself healthy and reducing any risk of pain or injury.
The different machines place different stresses on the lower back and hips based on the position they place you in. The 45-degree seat can be challenging on the hips, as it places direct weight transfer through the hips into the pad.
On the other hand, the angles of the pad on a vertical leg press machine can easily feel uncomfortable and lead to lower-back compression forces if you're not careful.
These are about effective positioning and finding which machine feels more comfortable for you. If you're buying a home leg press machine then we recommend trying these machines out at your local gym to get a better understanding of what you're buying.
There are some leg press machines on the market that are clearly not designed for tall people. There are, equally, some products on the market that don't fit shorter people very well.
The height of the safety supports on a leg press machine make a huge difference to the length of the movement, while the length of the overall pressing motion can easily be limited by the size of the leg press machine you're buying.
Be sure to buy a product that is specific to your length and purposes. If your repetitions are cut short through the incorrect choice of product, you're going to see increased risks to knee health, a slower rate of progress, and reduced overall results.
A full range of motion with effective stretch-shortening cycles is key to proper strength development and building stronger/healthier tendons. A good leg press needs to account for these differences and support your health and progression.
If it's not providing the best workout, it's not the best leg press machine!
These products can be a serious investment. We could bang on about the importance of getting the best value, but it's really simple. If you're dropping hundreds or thousands of dollars on a leg press, you want one that makes it worth your while!
A manufacturer that is willing to support you, ensure quality, and replace faulty products is a great partner in this investment. You may have this machine for decades, so it's important to consider who you're buying from and what guarantees/warranty they can provide you.
How to Use Leg Press Machine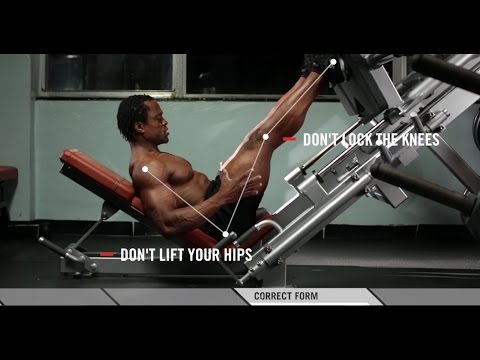 Using the leg press is a simple and intuitive process that should be easy once you get use to it.
Leg workout machines, brief guide:
Take a seat in the leg press machine, resting your hips tight to the support pad with your hips directly aligned with the foot plate.
Press the footplate until the sled raises off the security supports
Adjust the handles to remove the safeties, holding the weight on slightly-bent legs
Slowly bend the knees and allow the weight sled to lower as far as possible or until the end of your comfortable, pain-free range of motion
From the bottom position, push your feet "through" the foot plate, extending the knees and hips
Push until the footplate returns to the original position, where the rep is complete.
Once you've completed the desired number of repetitions, push the footplate to extension and return the safety supports to position before exiting the leg press.
---
Home Leg Press Machine: Conclusion
A leg press machine in your own home means a good leg workout is never far away.
The home leg press machines we've discussed in this review provide everything from cost-effectiveness to an elite level of training options. There are some clear winners and some clear losers, but the variety alone is great to see.
Our favorite choice is the BodySolid Leg Press and Hack Squat Machine. We think this is a fantastic, versatile solution to at-home leg training with machines. The combination of functionality as a leg press and hack squat is a great combo and offers numerous ways to train with a single piece of equipment.
This maximizes the benefits of the product and really does cut down the relative cost of the product since you can perform multiple exercises, effectively, with a single machine. On top of this, the quality and customer satisfaction are reliably great, and the overall product seems to be a great choice.
We'd warn against using a vertical leg press in any situation – the actual benefits really don't match up to the discomfort and difficulty associated with their use. There's a reason you don't see this kind of equipment in gyms – it's not much cheaper or easier than a full 45-degree leg press but brings plenty of its own risks and awkwardness!