Training for kickboxing or martial arts is about practice: getting hundreds and thousands of repetitions to perfect movement.
Keeping a free-standing heavy punching bag at home is an easy way to get this practice in without relying on a gym's opening times. This added convenience can be a huge benefit to your training – but which is best for you and how do you know what to buy? One option is buying the most expensive thing you can find and hope for the best, but we have a better idea.
Today we're going to outline some of the best options on the market, what makes them great, and what you can use to figure out the best product for your needs. By the end of this piece, you should have a clearer idea of what you need, where to get it, and be well on your way to getting the best value for your money!
What Makes a Good Free-Standing Heavy Bag?
The best freestanding heavy bag for home – especially a home gym – is the one that fits your training. This means a buyer's guide needs to start with a quick look at your needs and work forward from there.
We can roughly break down the goal of a bag for training into a few simple roles:
Developing power
Practicing movement
Improving cardio
Giving you the chance to play with techniques at home
So, evidently it needs to be good for at least most of these purposes, but they also come with some practical demands. A great bag to train kickboxing at home will need to be easy to use, easy to anchor or support, and easy enough to fill/refill/adjust. These are some pretty standard things we can use to judge different type of bags.
We're going to use this simple 4-point basis for discussing all the bags, and then talk about their individual differences and selling points:
1. Durability
If you're going to be kicking, kneeing, and punching a bag it needs to be able to withstand some punishment. A bag that can't take a hit is not fit for purpose, so ideally a good freestanding bag for kickboxing, boxing is going to be well-built and sturdy.
2. Usability
This is pretty obvious – if it doesn't work or its difficult to use for its intended purpose then it's not worth your hard-earned cash. This means anything that doesn't work well as a bag or is poor in its "free-standing" set up, or any other combination of silly problems that make it hard to use.
3. Value
If you're spending serious money on building out a full home gym, or you're just looking for a freestanding bag for kickboxing by itself, then you're going to want to get a good deal. These things aren't always cheap but investing in a great product or getting a great bargain both make it well worth your time.
4. Features
The heavy bag is a tried-and-tested piece of kit for anyone looking to get better at striking. Whether you're throwing elbows for Muay Thai, kicking for kickboxing or throwing punches to improve your boxing, you'll be familiar with it. Adding features to a product like this isn't easy and its usually a bad idea, but if a good feature comes along, it'll be worth your attention!
Freestanding Heavy Bag vs Hanging
This is one of the first questions you're going to need to ask yourself when you start looking into buying a freestanding heavy bag. The diversity of products on the market can be bewildering, but if you take it one question at a time, it can get simple fast.
The first point is that the hanging heavy bag is usually the best. This is why it features exclusively in almost every gym, with very few choosing to pull for a free-standing bag. The balance and reliability of a bag that will swing, but not fall, is something that puts you at a real advantage. You can train power punching/kicking on a hanging heavy bag far more effectively than a freestanding alternative.
However, the hanging heavy bag isn't always easy to use. The problems come from the fact you're now going to have to hang potentially-100s of pounds of weight from your ceiling. This is only compounded by the jerky movement of the chain when performing certain strikes. The real challenge for the hanging bag is logistical.
To keep it simple, the hanging heavy bag is a great piece of kit, but it comes with an increased risk to your structure. If you're hanging it from a roof or a beam you have to be sure that it can bear the weight and won't simply pull free during hard training. Freestanding bags come with less bulk, but they tend to be easy to use for lighter strikes and not risk damage to your ceiling!
If you've got somewhere that is going to be sturdy and stable, a hanging bag is a good way to get the most out of your space and money. If you haven't, you need to work around the limitations that your home has and get a free-standing heavy bag instead. The latter is especially useful if you're traveling around, since it is easy to move and use anywhere.
The Most Popular Free-standing Heavy Bags for Home
1. Ringside Elite Freestanding Bag
This product is our current golden standard for freestanding heavy bags.
Rather than attempting to build stability by increasing weight and anchoring to the floor more-securely, it splits into weight-stability and sway. The base itself is incredibly heavy and stable, meaning it has a solid foundation and is going to be hard to move.
However, the genius of this product comes from the amazing use of sway and flexibility to improve the bag's stability. This sounds contradictory – to become more stable by increasing sway – but movement in the bag itself and the attached lower section means that the base itself never has to move.
This makes the Elite bag able to withstand all but the hardest strikes without moving. The sway may be annoying if you're looking to combo several heavy hits in a row, but this is the exact same kind of challenge you'd have with a hanging bag. If anything, the Elite bag works more like a hanging bag than most of the other freestanding bags we've seen!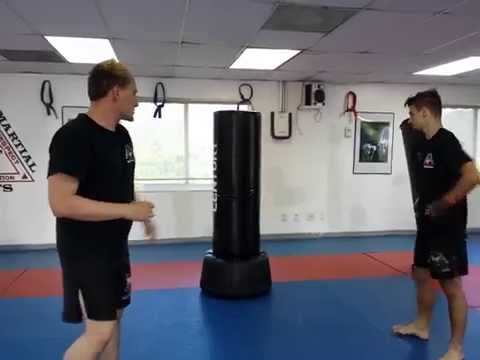 In fact, the reviews discussing this product have a very small collection of problems that are either mild inconveniences or down to company error. There are almost no problems with the product itself apart from "being hard to move" – which strikes us as being a selling point!
The remaining reviews discuss concerns with the manufacturer's shipping of products and the state in which they arrive. This means that occasional defective products occur, while others complain that the holes for filling the base are too small – or that the base itself has a puncture upon arrival.
This raises concerns with the quality of Ringside's quality control and shipping, but nothing of the product itself, which is fortunate. Even so, be sure to keep your e-receipt when buying online and check the returns policy ahead of time just so you're aware of what to do if the product arrives in poor condition. If it doesn't this is an amazing freestanding bag with some fantastic features!
Pros
Great stability
Can take a kick
Good feedback and "bite"
Base width to height ratio is great
Cons
Hard to move
Some questions about quality control with the first batch
The filling hole can be small, slowing down the filling process
2. Century Wavemaster XXL Training Bag
This freestanding bag doubles down on the stability, with a heavy, wide-set base to reduce the risk of wobbling and sliding. While it still comes with the disadvantages of being freestanding, it minimizes them while providing all the benefits of a mobile, freestanding bag.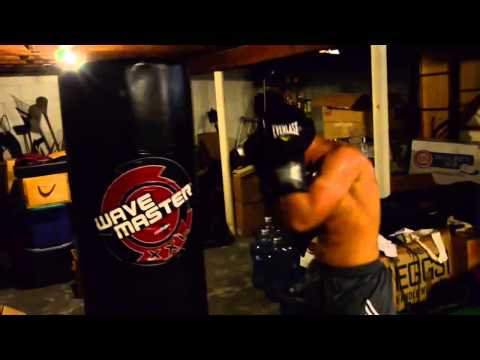 To start with, it's a huge 270lbs when filled with water and stands 69" tall, making it a great size for strength and stability. With these impressive stats, it's going to provide a far more stable heavy bag than many cheaper models. This is obviously the biggest concern we have with a freestanding bag, so it's nice to see a product that hits the basics hard.
However, some customers have mentioned that there is a hard limit to the build-quality and it may not be the most durable bag. Despite the great weight, it does continue to face the challenges of wobbling during use, and occasionally we see the bag may break at around 100 hours of use with kicks.
This is a possible risk with all heavy bags, so we're not too concerned about this. There are always concerns about durability in anything designed to be kicked. The only other concern is with the "feeling" of the high-density foam, but a freestanding bag simply won't have the same feel to a hanging sand-filled bag.
With that in mind, the Century Wavemaster is a solid product.
We recommend this bag for training boxing, as it stands up to punches well, but struggles to deal with strong kicks as seen in Muay Thai, Kickboxing and Taekwondo. A push kick or turning side kick is going to cause problems if you're a strong, well-built man.
Pros
Weighty and solid
Great stability compared to many models on the market
225lbs dead-weight, 270lbs top-weight.
Cons
The "feel" lacks resistance and bite
Some mild build-quality concerns: cheap screws/fastenings may be a concern
3. Ringside FHB3
This is the exact opposite of the previous bag – the Ringside bag is very light at around 140lbs. The difference here is that the product has decent response and a good feeling of "bite" when striking, but it comes with an increased risk of wobbling or being easily-moved during training.
The value on this product is great if you're looking for a budget bag, but it does come with the added concern of the low-weight compromising the usefulness of the product. It is obvious this is designed to be used for cardio and movement training, and thus it really isn't a heavy bag specifically.
A medium-bag design is pretty common, and it's important to use it for the intended purpose. However, this doesn't totally exonerate the product. The foam is not dense enough to totally stop the bag from moving and the light build means that there's a big trade-off of easy mobility for absolute stability.
This means you may end up chasing this product around during training if you're power punching/kicking. It will easily fall over – possibly due to the small base – so you're going to struggle with this product if you're a large, strong, or experienced combat athlete.
Pros
Light and portable
Easy to store and doesn't take up much space
Cons
Designed for light punching only
Easily falls over
The base is small and unstable
4. Century Original Wavemaster
The Original Wavemaster, being smaller than the XXL version, comes with a better balance of weight and resistance. The reviews discussing the "feeling" of the bag itself are far more positive, while the weight is a lower 225-250lbs. This might make a small difference, but on balance we think this is probably going to be a better choice for most home-training.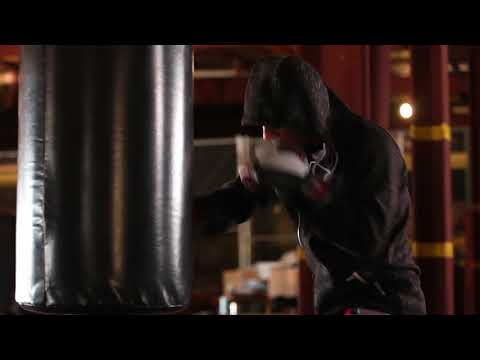 The ability to adjust the height of the bag itself is also a useful change – as this makes it easier to store and move, as well as being useful to allow children's and those of extremely tall/short height to get the most from this freestanding heavy bag.
The problems this bag runs into are emblematic of the freestanding bag in general: despite the weight and size, it still struggles to remain in one spot, and the grip to the floor has some challenges. Even users who filled the product with sand found that it would still move around. We have to remember this is relative, however, and it's still more stable than many market alternatives.
Overall, it's important to remember that these features are an inevitable part of using a freestanding bag. Century isn't making a bad product: the very design of a freestanding bag means you're trading convenience for absolute stability.
As with the XXL model, this product is going to be more effective for punching than kicks, as the position of the bag and the weight of the base can cause problems when kicked. Tepe kicks and turning side kicks will rock the bag in a serious way, which can cause some problems with stronger or more-powerful fighters.
Pros
Heavy
Adjustable height
Good resistance
Cons
Weight isn't everything: seems to wobble and move
Many critical reviews
Sliding and poor floor-grip
5. Century Aerobic Wavemaster
The manufacturer has labeled this as an aerobic bag, which is to suggest that it is designed to be light and used for taps. This isn't a heavy bag by design, but it is important that it still fulfills the functions that you'd use a bag for. Simply put, being an aerobic bag doesn't mean it can be flimsy.
Sadly, this is what we've seen with the reviews of this product online. They tend to fall into two categories: problems with the quality of the product itself and the problems with the customer service that has resulted from those concerns.
Initially, the Aerobic bag isn't just light – it's almost non-functional as a result. This is a combination of extreme wobble under even the lightest touch and the fact that the plastic outer is easily deformed from strikes. While the manufacturer points out that it's not a heavy bag, there is a point where this is just apologetics for a poor product.
Century's heavy bags have a great reputation and the Wavemaster is one of the best products on this list, but the aerobic version doesn't seem to hold up to this reputation. The wobble is expected, but to the point of making this product almost entirely useless – reviews even suggesting that it doesn't work for children aged 4-6 years old.
The problems with this product are huge – we love Century's other products but the aerobic Wavemaster is a real struggle. It seems to be more effective for boxercise than actual boxing, kickboxing or other training. It's like a double-ended bag but without the security of roof-attachment.
Overall, we're struggling to find any benefits to this product, with construction and usability being very poor.
Pros
We can't seem to find any
Cons
Poor build quality – not very durable
Poor customer service reviews
Base often breaks, plastic is easily deformed, and it doesn't fill the role of a punching bag
6. Century Versys VS.1 Fight Simulator
The Versys fight simulator is the last Century product we're going to discuss today. It fits the role that the aerobic bag should. It's a lighter, aerobic-themed bag with a focus on flexibility, versatility, and easy transport.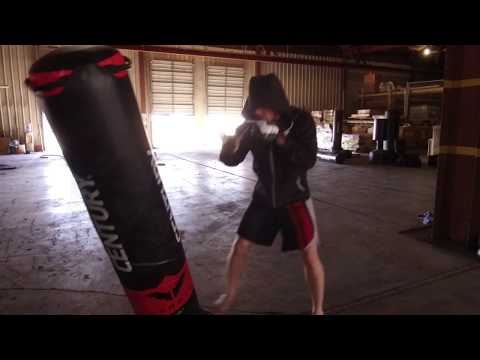 The problems we can see right from the start are a very narrow base and the persistent problems with customer service. This means both a customer-pays return policy (which is incredibly unscrupulous) and deliveries that are often missing parts.
This product fails spectacularly as a heavy bag but has a much better performance as an aerobic bag than the last product we discussed. The reviews continue to cite the ease with which this product falls over – a commonality among all of the products we've looked at – but less than the aerobic bag.
The height-to-base ratio here seems to be the major problem. We recommend this product if you're looking for a cardio workout and light punching. While it's still going to be rocked very easily, it can provide a more effective alternative to Century's purpose-made aerobic bag. This is an unintended benefit, but it's definitely better in terms of both function and value-for-money than the latter!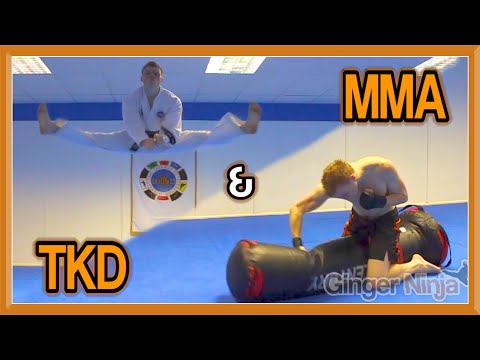 The second real benefit to the Versys is as a bag for working strikes from the clinch in Muay Thai and MMA. The handles at the top of the bag make it a much easier product to grip on and simulate a clinch, with knees and elbows being suitable here. The clinch grips stop the bag from falling over during these strikes, which starts to show the Versys bag as a totally different product.
There has even been talk of using the Versys bag as a training tool for MMA, with the ability to take it to-ground and work strikes from dominant positions like mount and side-control. This adds some extra value, but it does lack the specificity in this area you'd see with a specifically-designed ground and pound training bag/dummy.
The fact it can stand, despite awful performance as a standing bag, also makes it a possibility for training takedowns. This is another essential aspect of MMA and Sambo training, where moving the fight from the feet to the ground is key. This bag can be used to practice shooting-in, though again it won't perform as well as a training partner or a purpose-built bag.
Additionally, the durability of a hanging bag might make more sense for training the ground-game where elbows and hard strikes are dropped on an object that can't move freely. This can be a problem since the durability of this bag doesn't have the best reviews.
This may even be the best product we've looked at so far if used for these versatile purposes: its impossible to develop punching or kicking power with a freestanding bag, but a middle-tier bag can make for a great aerobic training tool as a result. The bite and feeling suit this purpose brilliantly, with additional versatility when it comes to clinch-fighting and wrestling work.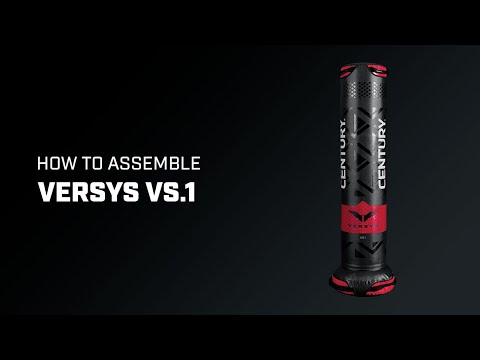 Pros
Light and easy to move
More effective than the Aerobic bag
Clinch grips are useful for Muay Thai and MMA
Surprisingly good for the money
Cons
Light and easily-moved during training
Height: base ratio may be a concern
Design is not that of a heavy bag at all, so shop carefully
Final Notes
Overall, it's going to be essential to remember that a freestanding heavy bag and a hanging heavy bag have very different purposes. Power strikes are tough for anything that pivots against the floor – so a freestanding heavy bag is always a mid-ground between power training and lighter, technical- or cardio-focused striking.
The best products we've looked at today are the Ringside Elite and the Versys Fight Simulator – though totally unintentionally. The Elite is a great attempt at reducing the movement of a heavy bag, despite occasional concerns with manufacturer error and quality control.
The Versys, however, is a great bag for aerobic training & HIIT workout since it is heavy enough to not fall over all the time despite being small and light. It makes up for this with effective clinch-grips, a design that is perfect for knees and elbows, and the ability for dual use with clinch-fighting and wrestling training.
Having the limitations and purpose of these bags in mind is crucial when you're shopping for them. If you're not able to hang a bag, you're going to need to look for the Ringside Elite Freestanding Bag. This is a limitation that is beyond the manufacturer's control, and we're glad they're putting effort into overcoming it.