Whether you're a bodybuilder or an everyday gym-goer, just about everyone out there wants a strong core and nice-looking abs. One of the best tools you can use to achieve these goals is an ab roller (sometimes referred to as an ab wheel).
If you're not sure which ab roller you should buy, keep reading. Explained below are some of the best ab roller options on the market today.
1. Perfect Fitness Ab Carver Pro Roller
Perfect Fitness's ab roller might seem a bit intimidating at first. It's not just for advanced exercisers, though. Built with a wider-than-average wheel and ergonomic handles, it's meant to be a viable option for everyone, including beginners who need extra support and stability.
Pros
Wide wheel and ergonomic handles make it a beginner-friendly option
Internal spring allows for more advanced workouts
High-density foam knee pads are included with purchase
Cons
The larger size makes it inconvenient for travel workouts
The higher-than-average price point makes it inaccessible to some
2. Valeo Ab Roller Wheel
The Valeo ab roller features a strong steel shaft that can withstand a lot of weight without bending. It has two textured wheels, too, so you don't have to worry about it slipping when you use it on different surfaces.
Of course, you can't ignore the price of the Valeo ab roller, either. It's far cheaper than many of the other options included on this list, making it a perfect fit for those who are working with a tight budget.
Pros
Textured wheels provide extra grip
The dual-wheel design increases stability
Handles are durable and won't bend easily
Affordable price point
Cons
Some users complain about the handles getting slippery during sweaty workouts or in humid climates
3. Iron Gym IRG013 Speed Abs
Like the Perfect Fitness ab wheel mentioned above, it also features a wider-than-average wheel and ergonomic handles for increased stability and comfort. The wheel is textured and can be used on a variety of surfaces, too.
The Iron Gym ab roller has more of a middle-of-the-road price point as well. It's a good fit for those who are willing to spend a little extra money but don't want to invest a lot in an ab wheel.
Pros
Wide wheel and ergonomic handles make it beginner-friendly
Very durable
High level of comfort and stability
Steel coil provides extra resistance for varied workouts
Safe to use on any floor surface
Cons
Some users have complained that it develops a rattling noise with extended use
4. Wacces AB Power Wheel Roller
The Wacces ab roller comes in multiple colors and features two wheels for additional stability. The wheels are textured to minimize slipping and joined to a solid metal bar to increase the roller's durability.
Many people also like the comfort this ab wheel provides. With cushioned rubber foam grips on its handles, you'll be able to use it easily without having to worry about developing calluses or having your hands slipping during sweaty workouts.
Pros
Lots of color options
The textured double-wheel design increases stability and prevents slipping
Cushioned grips provide additional comfort
Affordable, mid-range price point
Cons
Does not support as much weight as other ab rollers
May wear out more quickly with frequent use
5. SKLZ Core Wheels
Because the SKLZ ab rollers feature one wheel on either side of the handle, they're meant to provide additional stability and control. The foam grips help to prevent slipping, too.
These ab rollers are lightweight and easy to pack in a suitcase, making them an ideal travel workout option. Some common complaints, though, are that they're more expensive than other rollers and are better suited to advanced exercisers.
Pros
Very durable design
Lightweight and good for working out on the go
Foam grips provide additional comfort and stability
Cons
Higher-than-average price point
Can be difficult to use, especially for beginners
6. Fitnessery Ab Roller
Fitnessery's ab roller has a width of 11 inches, making it one of the smallest rollers on the market. It's still very durable, though, and comes with a lifetime money-back guarantee.
This roller is made of stainless steel and PVC and features a non-slip rubber wheel, so you can use it on a variety of surfaces. It's designed to withstand plenty of weight and frequent use, too, so you don't have to worry about it getting worn out.
Pros
The small size makes it ideal for travel
Durable design
Textured wheel prevents slipping
Lifetime money-back guarantee makes it a safe purchase
Cons
Some users complain that the wheel doesn't roll as smoothly as they'd like
7. Vinsguir Ab Roller
This ab roller has a 3.1-inch wheel made of non-slip TPR material to encourage balance and minimize slipping. The unique grain design of the wheel also provides additional grip support and stability.
The handles of the Vinsguir roller are made of stainless steel and are covered in a special EVA rubber cotton. You'll never have to worry about your hands slipping when you're using this roller.
Pros
Wheel width provides extra stability
High weight limit
Moderate price point makes it a fairly affordable option
Free knee pad included
Cons
Doesn't provide much additional resistance for advanced exercisers
8. Rogue Fitness Ab Wheel
Made with a nickel-plated steel shaft, this ab wheel does not contain any plastic, is extremely durable, and will last through even your most challenging core workouts. It has sealed bearings as well to allow for smooth and precise rotations. It boasts easy-grip NBP rubber handles, too, to minimize slipping.
The wheel features a durable rubber tread and slightly rounded edges. This design makes this particular ab wheel more challenging than many others on the market.
Pros
Very durable design makes it unlikely to wear out
Easy-grip handles help to prevent slipping
The rounded wheel creates an extra challenge for advanced exercisers
Sealed bearings allow for smoother rollouts
Cons
The rounded wheel may make this roller harder for beginners to use
The very high price point makes it inaccessible to many exercisers
9. Odoland 3-in-1 AB Wheel Roller Kit
The Odoland ab wheel features foam soft-grip handles and two separated rubber wheels to allow for more stability. The wheels are supported by a steel shaft and can withstand quite a bit of weight, too, without you having to worry about bending.
The unique structure of this ab roller might throw users off at first. Most people quickly adjust to the separated wheels, though, and don't find that they hinder their workouts.
Pros
The double-wheel design provides extra stability
Textured wheels prevent sliding
Soft-grip foam handles minimize the risk of slipping
3-in-1 kit makes it easy and affordable for you outfit your home gym
Cons
The separated double-wheel design takes some getting used to
Some users say the additional equipment (jump rope and push-up bars) feels a bit cheap
Ab Roller Buying Advice
It's easy to feel overwhelmed when you first start looking for an ab wheel roller. There are tons of different choices out there, and they all claim to be the best. Our buying guide will break down some of the most important factors to keep in mind:
Wheel Texture
Most ab rollers feature a wheel with some kind of texture. The texture is meant to help minimize sliding and make it easier to push and pull the ab roller in a straight line.
It's a good idea to invest in a textured ab wheel, but pay special attention to the amount of grip on each wheel. Some have deeper grooves and provide more traction than others.
If the wheel feels super smooth, it might slide around more than you'd like and could end up being hard to control. This is especially true when you're first getting started and are trying to get the hang of how to use the ab roller.
Wheel Resistance
Some ab wheels feature built-in springs. They're meant to provide additional resistance during your workouts.
If you're an advanced exerciser and have experience using ab rollers, you could benefit from looking for an ab wheel that has this feature. Adding resistance will make your workouts more effective and will help you to continue seeing results over time.
Even if you're not very advanced and don't think you need resistance yet, you may still want to use an ab roller that comes with a spring. That way, as your core gets stronger, you'll be able to continue using the same tool and won't have to invest in a new one to make sure your workouts keep feeling challenging.
Wheel Size
The size of the wheel (or wheels) on your ab roller can have an impact on your stability and the amount of difficulty you experience when using it. In general, a wider wheel can make staying balanced easier.
Wider wheels are often considered to be an ideal option for beginners and intermediate exercisers, as well as those who have never used an ab wheel. A roller with a wider wheel, in some cases, might also last longer and be less prone to damage than a narrow one.
Number of Wheels
In addition to the width of the wheel, the number of wheels included in the ab roller can also make a difference. Some devices feature a dual-wheel design, meaning they're composed of two wheels rather than just one.
Dual-wheel ab rollers can provide more stability. They may also be less prone to slipping and sliding than a roller made with only one wheel.
Handle Materials and Shape
Pay attention to the materials used for the handles of your ab roller. Most feature some kind of rubber or foam material that coats the handles and makes it easier for you to maintain your grip. If your roller's handles don't have anything coating them, they might become slippery if you're sweating a lot during your workout.
The shape of the handle is important as well. Most ab rollers feature handles that extend straight out from the wheel. These work fine for some, but those who struggle with wrist pain might find them to be a bit uncomfortable and could be better off with a roller that features ergonomic handles.
Durability
Some ab wheels are more durable than others. One that's made of a material like steel or another sturdy metal is often going to last longer than one that's made primarily of plastic. If you want a roller that's going to last and that can support higher weights with ease, it's worth it to focus on the materials from which it's made, as well as its overall durability.
Frequently Asked Questions
You have a better understanding now about what to look for in an ab roller. You might still have questions, though, about the best way to use an ab roller or how to maximize your workouts when using it. Here are answers to some of the ab roller wheel questions we get asked the most:
Is an Ab Roller Hard to Use?
When you look at ab roller reviews, you might see that some people are critical of these tools and say that they're too hard to use. It's true that, at first, an ab roller can be a tricky piece of exercise equipment. This issue is especially common if you don't spend a lot of time working on your core or if you don't do many rollout-style movements in your typical workouts.
An ab roller might be hard for some people to use in the beginning. That doesn't mean it's not worth using, though. This inexpensive piece of equipment can help you strengthen all the major muscles of your core and is a staple in many people's home gyms.
What Muscles Does the Ab Roller Work?
Speaking of muscles of the core, an ab roller can help you target pretty much all of them. The following are some of the major muscles you'll work when you use an ab roller:
Rectus abdominis
Obliques
Erector spinae
When you work out with an ab wheel, you also utilize other secondary core muscles. This includes the latissimus dorsi (the large muscles of the upper back), your hip flexors (specifically the iliopsoas), and your shoulder and chest muscles.
What Kind of Exercises Can I Do with an Ab Roller?
The most popular exercise to do with ab roller is, of course, the ab wheel rollout. This exercise is performed on the knees and involves pushing the ab wheel out in front of you while extending your arms and keeping your core engaged. You can see a video demonstration below.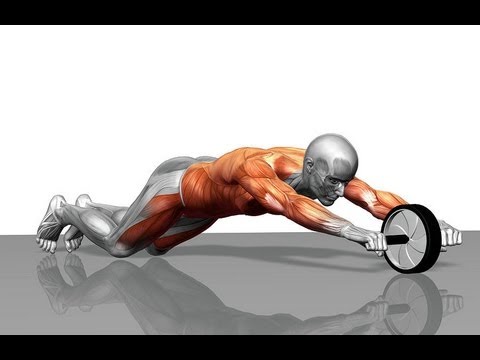 There are plenty of other ways to exercise with the ab wheel, though, including the following:
Learn more: 9 Killer Ab Wheel Exercises (from Beginner to Advanced)
How Often Should I Do Ab Roller Exercises?
If your main priority is strengthening your core and building out your abs, you'll want to incorporate ab roller exercises into your routine on a regular basis. Many experts recommend training the core no more than five times per week, though, and taking at least a couple of days off to let these muscles rest.
Remember, if you don't give your core muscles a chance to rest and recover, you're not going to be able to build strength and see significant results. As with any other muscle group, you shouldn't train your core to failure (with an ab roller or any other piece of equipment) every single day.
Is an Ab Roller Bad for My Back?
Some folks are also critical of the ab roller because they think ab rollouts are bad for the back. What they might not realize, though, is that almost any exercise or piece of exercise equipment can be bad for the back (or other muscles) if the exercise is done incorrectly and/or the equipment isn't used properly.
This is why it's important to start slowly and get guidance from a trainer or other professional before you start, including ab rollouts and other ab wheel exercises into your routine.
Learning the basics will help you avoid injuries and make sure you're performing these exercises in a way that keeps you safe and helps you see results.
Will an Ab Roller Help Me Get a Six-Pack?
Ah, six-pack abs. Everybody (or, at least, almost everybody) wants them and wants to know what they can do to get them. Doing ab roller exercises on a regular basis can help you on your journey to getting a six-pack. There are other steps you need to take, though.
For example, if you're not eating a balanced diet and monitoring your calorie intake, you'll likely have a harder time getting visible abs, no matter how many ab rollouts you do during your workouts. You need to nourish your body properly if you want it to be a reflection of all the work you're putting in at the gym.
Learn more: Does the Ab Wheel Really Work? (Here's the Answer)
Invest in an Ab Roller Today
You know what an ab roller has to offer and what to look for when you start shopping. Now, it's time to pick one that's the right fit for you.
There are plenty of options, but our number one pick is the Perfect Fitness Ab Carver. It has an ergonomic design and is great for people of all fitness levels.
If this roller is out of your price range, consider the Valeo Ab Roller Wheel. It will still help you to see great results, but it's more affordable and also better suited to workouts on the go.