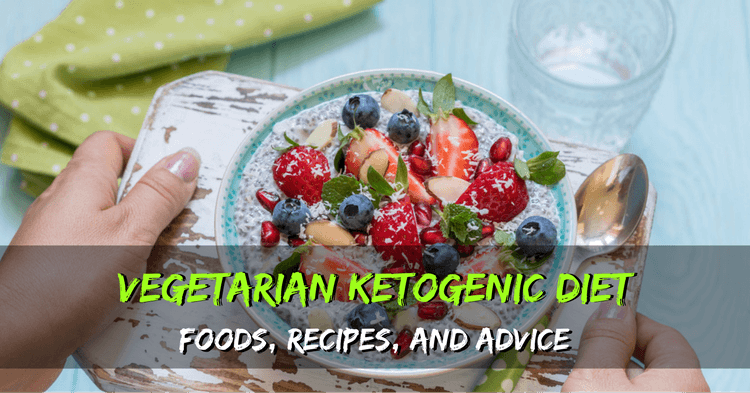 The ketogenic diet involves eating foods which are very low in carbs, low protein, and high in fat.  The goal of the diet is to induce a state of ketosis in the body so the body starts producing ketones and using fat as fuel.  If you want to learn more about how the ketogenic diet works, check out these great keto cookbooks.
Planning a Vegetarian Ketogenic Diet
Typically, vegetarians and vegans are advised to get most of their calories from whole grains, legumes, and fresh fruits and veggies.
Grains and fruits are obviously off limits on the ketogenic diet because of their high carb amounts. Protein is moderately allowed on a keto diet.  However, even protein-rich vegetarian foods, such as lentils and chickpeas, still have high amounts of carbs.
That many leaves you with vegetables, nuts, seeds, dairy, and eggs as your foods for a keto diet. If you are trying to do a vegan keto diet, then it's mostly just veggies and nuts/seeds.
Because of these issues, you are probably going to have to put a lot of extra planning into your vegetarian keto diet than someone who eats meat.  To plan it out, you need to look at net carbs, nutrient ratios, and fat content.
Calculating Net Carbs
Remember that it is NET CARBS which matter on a ketogenic diet.  To calculate net carbs, you:
Find total carbs in grams
Subtract fiber
The number you get is the net carbs.
The reason we subtract fiber is because dietary fiber is not absorbed in the body.  Rather, it passes out through the digestive tract.  So, fiber isn't going to increase blood sugar and prevent your body from going into ketosis like other carbs.
For example, the total carbs of 1 cup of macadamia nuts is 19 grams – which is very high for the keto diet.  However, 11.5 of these grams are fiber.  When we subtract them, we get a net carb total of 7.5 grams.
Vegetarian Ketogenic Diet Ratios
In order to induce ketosis, you need to keep both net carb and protein intake low.  Protein is an issue because protein can be converted into glucose in the body, which would prevent ketosis.
Depending on which expert you go by, the recommendations vary.  One good standard is:
70-80% of your nutrient intake should be from fat
20-25% of your nutrient intake should be from protein
No more than 5% of your nutrient intake should come from net carbs.
An easier way to calculating the ratios is this a 4:1 ratio. That means for each gram of protein and net carb, you should eat 4 grams of fat.
Add Fat to Meals
Very few vegetarian foods meet the keto diet ratios on their own. They simply do not have enough fat in them!
To make a vegetarian food keto-friendly, you must add fat.
This is actually pretty easy because you can just smother keto-friendly vegetables in oil.   The oil makes the veggies taste great and also helps you feel full.  Oh, and your skin and hair will probably start looking awesome from all those extra Omega 3s.
Vegetarian Keto Foods List
With the exception of the oils and avocados, none of these vegetarian foods on their own are actually keto-friendly.  In order to make these foods work with the keto diet, you have to add fat.  This is true of most non-vegetarian keto diet foods too. The difference is that meat naturally has a lot more fat in it.
Best Oils for Vegetarian Keto Diet
Pretty much all natural oils are suitable for a vegetarian keto diet because they are almost pure fat with virtually no carbs or protein.
However, it is still important to choose your oils wisely. The oils listed below have many health benefits because of the types of fatty acids they contain.
***When cooking with any of these vegetarian keto oils, be careful you don't go above the smoke point.  This will cause the oil to burn, destroying many of the health-promoting parts of the oil and also producing some toxic byproducts in the process!
Coconut oil: This is a great choice because it is a type of Medium-chain triglycerides (MCTs), which is an easily-digested saturated fat. When you consume an MCT, it goes straight to the liver to be used as fuel.
Ghee: Ghee beats butter for the keto diet because virtually all proteins and carbs are removed during the clarification process. It is rich in vitamins A, D, E, and K2 and has numerous health benefits.
Cocoa butter: Usually we use cocoa butter to rub on our skin, but you can also use it for cooking while on a vegetarian keto diet. It contains high amounts of stearic acid, which has benefits that include improving muscle mass and balancing serotonin levels.
Extra virgin olive oil: Rich in Monounsaturated fatty acids, EVOO will help improve your cholesterol levels and has antioxidants which can boost immunity.
Flaxseed oil: Flaxeed oil is great because it has high amounts of omega 3 but low amounts of omega 6. This ratio is important for reducing inflammation and ensuring the body can produce the fatty acids EPA and DHA.
Macadamia nut oil: Like with olive oil, macadamia nuts are also a great source of monounsaturated fatty acids.
Red palm oil: While not as well-known as the other keto oils, red palm oil has the highest amount of vitamin A and E of any plant-based oil. Note that this is NOT the same as palm oil, which is usually highly-processed and hydrogenated!
Best Vegetarian Keto Vegetables
What makes these vegetables suitable for the keto diet is that they are low carb and low protein.  However, they don't have much as far as fat goes.  So, as mentioned earlier, you've got to smother them with oil to make them suit your vegetarian keto diet! Amounts are per 1 cup serving.
Mushrooms, white:
Fat: 0.4g
Protein: 2.9g
Net Carbs: 0.8g
Artichoke hearts:
Fat: 0.6g
Protein: 4.8g
Net Carbs: 5.6g
Pickles:
Fat: 0.3g
Protein: 0.5g
Net Carbs: 1.6g
Sprouted mung beans:
Fat: 0.1g
Protein: 1.8g
Net Carbs: 1.7g
Zucchini (boiled):
Fat: 0.3g
Protein: 2.6g
Net Carbs: 3.8g
Celery (chopped):
Fat: 0.2g
Protein: 0.7g
Net Carbs: 1.6g
Cauliflower (boiled):
Fat: 0.6g
Protein: 2.2g
Net Carbs: 2.4g
Radishes (sliced):
Fat: 0.1g
Protein: 0.8g
Net Carbs: 2.1g
Asparagus:
Fat: 0.4g
Protein: 4.4g
Net Carbs: 3.8g
Best Leafy Greens for a Vegetarian Keto Diet
I'm putting these in a category all of their own because it is very important that vegetarians and vegans eat their greens!
Okay – we ALL need to eat our greens.  But, with vegetarians and vegans, eating greens is even more important.   These are often the only source of core nutrients like iron, calcium, vitamin K, zinc, and magnesium.  Since you aren't going to be eating grains on the keto diet, you'll especially need greens for your iron and other minerals.
Pretty much any greens are okay to eat on a keto vegetarian diet.  The ones listed are just the best options in terms of net carb count.  Amounts are per 1 cup.
Mustard greens (cooked):
Fat: 0.3g
Protein: 3.2g
Net Carbs: 0.1g
Cabbage (raw):
Fat: 0.1g
Protein: 1.1g
Net Carbs: 3g
Kale (raw):
Fat: 0.5g
Protein: 2.2g
Net Carbs: 5.5g
Collard greens (cooked):
Fat: 0.7g
Protein: 4g
Net Carbs: 4g
Broccoli (boiled):
Fat: 1.1g
Protein: 6.7g
Net Carbs: 10.9g
Vegetarian Keto Nuts and Seeds
When choosing nuts and seeds for a keto vegetarian diet, look for the ones with the most fat. The fat content is what will balance out the high amount of protein and carbs in the nuts.
Nuts and seeds which are LESS-suitable for the keto diet are: pistachios, cashews, almonds, sunflower seeds, and pepitas because these all have lower amounts of fat.  Amounts listed below are per 1oz servings.
Sesame seeds:
Fat: 17.1g
Protein: 5.7g
Net carbs: 0.2g
Flax seeds:
Fat: 11.8g
Protein: 5.1g
Net carbs: 0.5g
Coconut meat (raw):
Fat: 9.4g
Protein: 0.9g
Net carbs: 1.8g
Coconut meat (dried, not sweetened):
Fat: 18.1g
Protein: 1.9g
Net carbs: 2g
Walnuts:
Fat: 18.3g
Protein: 4.3g
Net carbs: 1.7g
Brazil nuts:
Fat: 18.6g
Protein: 4g
Net carbs: 1.3g
Pecans:
Fat: 20.8g
Protein: 2.7g
Net carbs: 1.2g
Hazelnuts:
Fat: 17.1g
Protein: 3.8g
Net carbs: 1.7g
Pine nuts:
Fat: 19.1g
Protein: 3.8g
Net carbs: 2.7g
Macadamia nuts:
Fat: 21.2g
Protein: 2.2g
Net carbs: 1.6g
Dairy and Egg Foods for Vegetarian Keto Diet
As a vegetarian on the keto diet, you'll probably be eating a lot of eggs and cheese.  These products will be where you get the most of your protein from, as well as nutrients like B12.
Most dairy products are keto-friendly.  Just note that many dairy products do have high amounts of carbohydrates and protein.  As a general rule, young cheeses are the best choice for the keto diet.
Brie cheese (1 cup):
Fat: 4g
Protein: 49.8g
Net carbs: 1.1g
Camberet cheese (1 cup):
Fat: 59.7g
Protein: 48.7g
Net carbs: 1.1g
Goat cheese (1oz):
Fat: 5.9g
Protein: 5.2g
Net carbs: 0.2g
Quail eggs (1 egg):
Fat: 1g
Protein: 1.2g
Net carbs: 0g
Egg (large hard-boiled):
Fat: 5.3g
Protein: 6.3g
Net carbs: 0.6g
Other Vegetarian Keto Foods
If you think outside the box, you'll find lots of vegetarian keto foods.  Here are just a few more that don't fit into the categories above.
Tofu (1/2 cup):
Fat: 5.3g
Protein: 10.3g
Net carbs: 1g
Avocado (1 fruit):
Fat: 21g
Protein: 2.7g
Net carbs: 2.6g
Coconut milk (canned, ½ cup):
Fat: 48.2g
Protein: 4.6g
Net carbs: 6.4g
Unsweetened soy milk (Silk brand, 1 cup):
Fat: 4g
Protein: 7g
Net carbs: 1g
Vegetarian Keto Recipes
Cooking vegetarian keto meals is actually fairly simple: just take any low-carb food and saute it in lots of oil.  Or, if you'd rather eat the foods raw, then just make a salad and drizzle lots of oil over it.  The oil will increase the fat content and help you meet the recommended ratios (which is 4 grams of fat per each 1 gram of carbs or protein consumed).
For example, I LOVE making a vegan keto curry using tofu, mushrooms, cauliflower, and whatever leafy greens I happen to have in the house.
To make it, I first saute the tofu in lots of coconut oil.  Then I add the mushrooms and cauliflower and let them saute too.  Then I pour in coconut milk and curry powder.  After it has cooked for 5 minutes or so, I add the greens, cover the pan, and cook until the greens wilt.
Or, if you aren't a fan of coconut milk, just fry up some tofu with your favorite keto-friendly veggies.  You can't go wrong so long as you use lots of oil!
Here are some vegetarian keto recipe ideas to inspire you!
Vegan Ketogenic Recipes
It is definitely harder to do a vegan ketogenic diet because so many recipes are based on cheese and eggs.  However, there is a lot you can do with veggies, nuts, and tofu.  Here are a few ideas.
No one said doing a vegetarian keto diet is going to be easy.  However, any change (no matter how good for your body) can be hard to make.  Just stick with it and keep adding healthy oils to your meals.
Have you tried a vegetarian keto diet? How did it go and what did you eat?