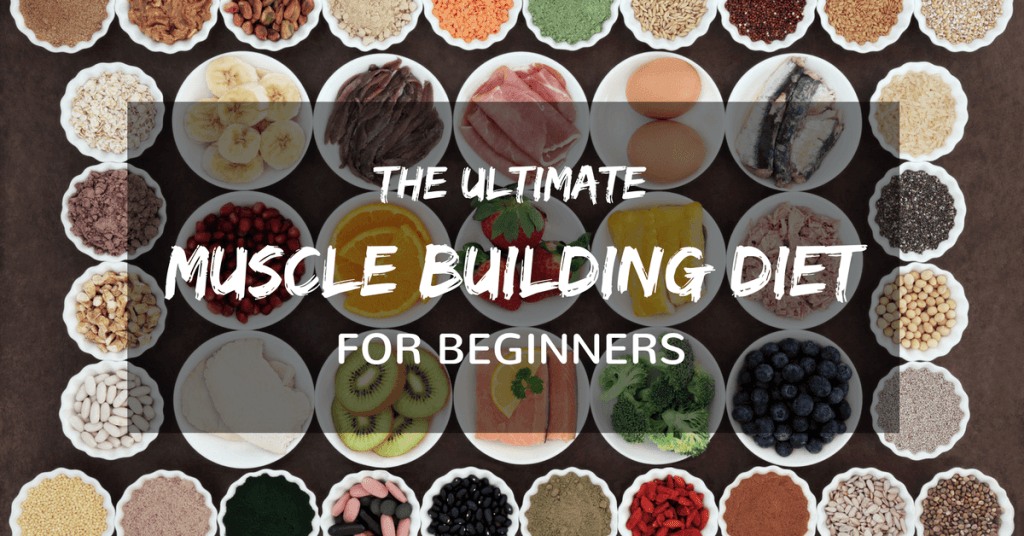 There is no doubt that nutrition plays a major role in the results you will get from your training. Yes, doing the right exercises, using the right intensity and volume is also important. But without a proper diet you will not make progress towards a more powerful and muscular physique.
Nutrition can make or break a physique no matter how much time and efforts you are putting in your workouts. In fact, for many people the hard part is sticking to clean and healthy eating. Sweating in the gym and lifting heavy is the easy part.
Fortunately for us, thanks to scientific research, but also anecdotal evidence, we have easy access to the right information when it comes to nutrition. You just need to look for it.
In this article we are putting together the ultimate nutrition guide for building as much muscle as you possibly can. All naturally, in a healthy way. But most importantly, we will do it in an enjoyable way. A diet should be enjoyable and sustainable. A diet should become a lifestyle that you can adhere to forever.
You can have a great, lean and muscular physique without eating rice and chicken breast twice a day, so why do it? Unless you are stepping on stage to complete in bodybuilding, you can stay lean and have muscles that turn heads on the street by enjoying big and tasty meals.
Here is how.
1. It All Starts with Calories
No matter what everybody else tells you, losing or gaining weight is determined by how many calories you eat. There is no way around it. It all starts with the calories, and if anybody is telling you different they are selling you a scam.
There are no shortcuts to building muscle or losing fat overnight.
Every single lab research done in the past century has confirmed this principle. Take this study for example. Weight loss is all down to energy in versus energy out – which is basic thermodynamics if you think about it.
Building muscle or losing fat will simply not work if you don't have a pretty good idea about how many calories you are eating. Or, to be more specific about it, you need to know whether you are in a caloric deficit or surplus.
Deficit, surplus…..what's up with all that? Let me back up a little bit and start with an example.
Let's say your body uses about 2,200 kcal in a day, including all the activities you do throughout the day and including your training. That is your total daily energy expenditure, or TDEE as you might see it referred as very often.
Now, say you are eating 2,000 kcal a day. This will put you in a caloric deficit of 200 kcal, meaning you are burning more calories than you are eating. This will result in weight loss.
On the other hand, if you are eating 2,500 kcal you will be in a caloric surplus of 300 kcal. This means you are burning less calories than you are eating and you will gain weight.
Losing and gaining weight are a little bit too vague terms for our purpose. We need to be more specific. We don't want just to lose or gain weight. We want to lose fat and gain muscle. Moreover, ideally we want to do both at the same time.
Unfortunately, losing fat and building muscle at the same time is impossible for the vast majority of people, except in two cases:
you are a total beginner at weight training
you are using steroids.
Most of the times, if you want to build muscle, you will have to put on a little bit of body fat as well. There is no way around it. However, if you do it smart, you can maximize the amount of muscle you gain and minimize the amount of fat. All you need to do is to pay a little bit more attention to your diet, as we are about to see later on.
Figuring out Your TDEE
When you start dieting, regardless of the goal you have – lose fat or build muscle, the very first thing you need to do is to accurately determine your total daily energy expenditure. Start by using an online calculator such as this one for example.
These online calculators are using mathematical formulas which are more like best estimates rather than exact measurements. Everybody is different so there is no way these tools will provide the right number for everybody.
That's why you need to tweak and adjusts.
Consider the calculator output as a reference value, start tracking how many calories you are eating and weigh yourself regularly. If the scale does not move in the right direction and you are counting calories right, it means you need to adjust your TDEE. It might have been under or over estimated.
It's trial and error until you start to see results. At this point you should have determined your TDEE pretty exactly.
Lean Bulking
As mentioned above, you will need to be in a caloric surplus if you want to get more muscular. And of course you need to accompany that with train hard. Eating alone hasn't got anyone muscular.
The common mistake that many people do when bulking is over eating. Yes, you need to eat more to build muscle, but a mild caloric surplus is enough to build muscle at the same rate as you would if you would be eating two times as much.
Achieving your maximum muscle growth rate requires only a 5-10% caloric surplus. In real life numbers, this means just 100-200 kcal surplus. Anything above that will be stored as extra body fat. If you think about it, 100-200 kcal is just one extra banana or one tall glass of milk each day.
That's it! You don't need to stuff your face with food if you want to build muscle. By over-eating, all you will do is get fatter.
You know you've hit the sweet spot when you are gaining 0.5 to 1 pound each week.
Under no circumstances you should follow a calorie restrictive diet and expect to build muscle. Calorie restrictive diets will hinder muscle growth by:
decreasing protein synthesis (which is fundamental for muscle growth)
increasing protein degradation rate
negatively affecting your performance in the gym (you will have less energy for working out).
Cutting
We just said that cutting down on calories will not build you any muscles. So what's the purpose of this paragraph in a muscle building diet?
Well, at some point even if your initial goal was to build muscle, you will need to start cutting. The purpose of cutting is to keep your body fat within reasonable limits after your bulk.
In fact, this is what bodybuilding is about – alternating between bulking and cutting phases.
Now, the issue is that a caloric deficit can "eat off" your muscle as well, not just your body fat. This can be minimized by setting the right caloric deficit.
Studies have shown that you can set a 40% caloric deficit without losing that much muscle mass. However, a 20-25% deficit is preferred simply because is more easy to adhere to and more enjoyable.
Because the caloric deficit and protein turnover rate go head to head, what you want do to here is to maintain a high protein diet. So when dieting, make sure to include in your meals plenty protein-rich foods.
You know you got things right when you are losing weight at a rate of 1-2 pounds per week. This is a healthy weight loss rate.
When to Bulk and When to Cut?
This is a very common question especially among beginners. As a beginner unless you are seriously overweight you should not be cutting.
Beginners are that special category that can build muscle while losing fat. There is no reason why you wouldn't want to take advantage of that. On top of it, muscle growth rate is very high when you are first starting to workout. So it makes no sense to hinder that my not eating enough. You will have time to cut later on when you are not able to build muscle as such a high rate anyway.
The decision on whether to cut or to bulk should be made based on your body fat levels. Even though there are no right or wrong thresholds, we have some guidelines for you.
Gender
Body Fat
What to Do
Male
10%
Bulk
16%
Cut
Female
13%
Bulk
20%
Cut
2. Setting the Right Macro Split
Moving on, we are going to look at where the calories are coming from. The 3 macros we need keep in check for achieving any fitness goal are: protein, carbohydrates and fats.
Each of the 3 macros have their own caloric contribution. One gram of protein or carb contains 4 calories and one gram of fat contains 9 calories.
The way you decide to split your calories between the macros will not affect your total bodyweight, but it will greatly influence your body composition and your health.
I bet you are not in the mood for an anatomy lesson so we're going to keep things simple. From a fitness / bodybuilding point of view, each macronutrient has its role.
Proteins are the building blocks for muscle growth, carbs with fuel your body and enable you to kill your workouts. Lastly but not least, fats will keep everything running like a clock at hormonal level, and will also take care of the joints, hair, nails and skin.
This is a very simplified explanation of the roles of macros, but you get my point.
Stay Away from Low Carb Diets
You know there is a big hype nowadays about low carb diets and how carbs make you fat. Yes, low-carb diets work if you want to lose fat. But they are just as good as any other traditional caloric restrictive diets.
For example, professor Mark Haub was both the author and subject of a very unusual study. For 10 weeks straight he lost 27 pounds following an unhealthy high carb diet. His diet was based on Twinkies, nutty bars and donuts.
However he ate only 1,800 calories a day while his maintenance level (TDEE) has 2,600 calories. So, carbs don't make you fat, eating too much does.
Anyways, carbs are super important in building muscle, for two main reasons.
1. First and foremost carbs will put glycogen inside the muscles. Glycogen is the fuel used by the muscles during training, hence eating enough carbs will enhance gym performance. Better performance in the gym means more muscle gains.
2. Secondly, carbs will increase insulin level, which will improve protein turnover rate, by hindering protein breakdown. In other words, eating plenty of carbs will is good for building muscle mass.
There are plenty of studies on how carbs influence muscle growth and the conclusions are more or less the same. If you want to build muscle, a high protein high carb diet is superior to a high protein low carb diet. Here is a study and here is another one and another one.
Bottom line, if you're trying to get bigger do not restrict carb intake at all. I would recommend getting around 40-50% of your calories from carbs.
Eat Plenty of Protein
Everybody is saying that protein is the king of the macros if you are trying to build muscle. And it is true. Proteins are the building blocks of muscles. Muscles recover and grow after workouts by synthesizing proteins.
However you don't really need to eat crazy amounts of proteins in order to build muscle. If you set your protein intake to about 1 gram per pound of bodyweight you should be covered.
For the average Joe this means you should eat about 170-180 grams of protein per day, which is quite reasonable, even without using supplements.
I'm sure you've read other articles, or better yet, supplement companies advices telling you to eat as much as 300-400 grams of proteins per day. That is non-sense and it will not make you any bigger than a more manageable amount.
And you don't have to take my word for it. There is scientific evidence that diets which contain as little as 0.8 grams of protein per pound of bodyweight are sufficient for maximizing protein synthesis, while in a caloric surplus. For individuals who train very intensively 1 gram of protein per pound is recommended though.
A higher protein intake is also recommended when cutting down on calories. This will prevent losing muscle mass while dropping body fat.
Eat Dietary Fats
There is no doubt that fats are important for health reasons – such as maintaining cellular health or taking care of hormonal stuff that is going on inside our bodies.
However, the level of fat intake doesn't seem to have any influence on the amount of muscle mass one can build.
Well, not directly anyway.
So, under these circumstances, a wise thing to do would be to eat just the minimum amount of fat you need to stay healthy. This way you will save the rest of your calories from protein and carbs which have a direct impact in the muscle building process.
What Is a Good Macro Split
Let's get a little bit more practical and see what an optical muscle building macro split would look like based on your caloric intake.
1. Caloric Deficit / Cutting
Set protein intake to 1.2-1.4 grams per pound of bodyweight. During caloric restrictive diets you want to make sure you are losing body fat, not muscle mass. A higher protein intake will minimize muscle loss rate
Next, make sure you get in 0.3 grams of healthy fats per pound of bodyweight.
Take all your remaining calories from carbs – this should make the diet more enjoyable and will keep your mood up, which is quite a challenge when you are trying to lose weight.
2. Caloric Surplus / Bulking
If you are in your bulking phase you can ease off the pedal with the proteins and set them to just 0.8 – 1 gram per pound of bodyweight.
The fat intake should remain the same – 0.3 grams per pound.
This will leave you with even more room for carbs, which is great because you will have more energy to put in your trainings. Eventually this will result in higher muscle hypertrophy.
3. Nutrient Timing
This is fancy term to define when it's the best time to eat your food. Is there an optimal time to eat your food so that you make the most out of it?
Generally speaking, if your calories and macros are on spot, you can pretty much eat your food whenever you like.
Yet, for many years people believed that there is this very short, post-workout window when protein synthesis is heighten and if you missed that it's the end of the world. Bodybuilders were literally chocking on protein shakes in the locker room after their workout.
Later on, through research and studies, we found out the protein synthesis is indeed heighten post-workout, but this period lasts for up to 24 hours post workout. So, based on this information, you would not be mistaking if you would say that you can eat whenever you want and still benefit from the "anabolic window".
This is why intermittent fasting has become so popular in the fitness industry. You can skip meals, you can train fasted or you can eat 6 hours after your workout without. As long as you stick to the diet, it will not affect your results.
However, there are plenty of respectable fitness professionals which recommend eating at least 50 grams of carbs before your workout. The purpose of this pre-workout meal is to increase gym performance and just have a better workout.
4. What Foods to Eat
I am a big fan of the IIFYM (if it fits your macros) diet. This pretty much allows you to eat anything you want as long as at the end of the day you hit your calories and macros. And the funny thing is that this actually works.
There are no foods that will make you lose weight or gain weight. Calories do that.
Setting the macros and calories right will clean up your diet anyway, so you won't be able to eat crappy stuff non-stop anyway. That's why this diet works.
Things get a bit uncomfortable when you are cutting. Because you are eating less food every day, you are likely to feel hungry and irascible often.
To avoid this, it's a good idea to include in your diet foods that are low in calories and high in volume or satiety. Such foods are: lean meats, fruits and vegetables, low fay dietary and whole grains.
On the other hand, foods that are low in volume and high in calories are considered "bad foods" for dieting. They are not necessarily unhealthy though. Take cashew for example – a caloric bomb (around 550 kcal per 100 grams), but a great source of mono-saturated fats and vitamins such as vitamin C, B1, B3, B6 and vitamin E.
Bottom line, you can anything you want if it fits the caloric threshold you set and the macro split. How cool is that?
5. Fine Tuning Your Muscle Building Diet
Everything seems very easy and straight forward until now, right? Well yes and no. The theory is always simple. Implementing might not be the same though.
You may find yourself not making any progress towards building more muscle, even if you follow everything above religiously. If that's the case, and assuming you are following an effective workout program, chances are you are just not eating enough.
But before we dive into what that, let's briefly discuss what your muscle building expectations should look like.
Setting your muscle building goals should be based in two things.
Scientific research in terms of maximum muscle growth rate/potential
How much time and effort you want to put into it.
From a scientific point of view there are a two well-known models that should be used as reference.
The Alan Aragon Model
| | Rate of Muscle Gain |
| --- | --- |
| Beginner | 1 - 1.5% total body weight per month |
| Intermediate | 0.5 - 1% total body weight per month |
| Advanced | 0.25 - 0.5% total body weight per month |
The McDonald Model
| Year of Proper Training | Potential Rate of Muscle Gain per Year |
| --- | --- |
| 1 | 20 - 25 pounds (2 pounds per month) |
| 2 | 10 - 12 pounds (1 pound per month) |
| 3 | 5 - 6 pounds (0.5 pound per month) |
| 4+ | 2 - 3 pounds (not worth calculating) |
Both of them are based on how long you have been training for. For beginners muscle growth rates are higher, while for advanced lifters muscle gains will be harder.
The figures above represent the average maximum genetic growth potential, considering that your weight training and nutrition is spot on. Take this into consideration when setting your goals and deciding if your making progress at a good rate or not.
Personally, I would suggest to set your goals somewhere between 60-80% of the actual muscle gain suggested in the models above.
How that we have set realistic goals, here's how to adjust your diet and start building muscle right away.
If you are not gaining any weight you probably set your TDEE to low. All you need to do is increase you caloric intake.
Step #1
Maintain your protein intake at about 1 gram per pound and fat intake at about 0.3 grams per pound.
Step #2
Add more carbs to your diet, so that your total daily caloric intake increases with 100-200 kcal.
Step #3
Weight yourself regularly and see what happens after a couple of weeks. If you are gaining weight at a healthy rate of about half a pound per week you're in the sweet spot.
If you are still not making progress, or if your weight gain rate is lower than half a pound per week, add another 25 grams of carbs to your diet.
Make sure you are tracking the calories accurately and that you are consistent with your weigh-in. Weigh yourself each morning in the same conditions. Preferably, roughly at the same time each day, on an empty stomach, after using the bathroom.
Bodyweight fluctuates a lot during the day so it's important to weigh in each day in the same exact conditions.
Supplements
Don't be afraid to use supplements, but do it in a smart and safe way. There just two supplements you want to consider, both of them well researched and with no health risk.
Creatine
Creatine has been around for decades and is probably the most researched fitness supplement. This substance is naturally produced by our bodies. Supplementing with 5 grams a day has proven effects in:
Getting stronger
Increasing muscle size
Increasing endurance
Reduce protein breakdown rates
Your body is not able to produce 5 extra grams of creatine each day no matter how much you eat. Therefore creatine is probably one of the best supplements you can add to your diet if you want to build more muscle.
Protein Powder
Just in case you can't get from food sources all your protein for the day, you can have a protein shake to supplement your protein intake. Use any whey protein powder you want, they all work in the same way.
Bottom Line
Training hard in the gym and eating enough outside the gym will build your muscles. Design your own personal diet based on the rules outlined in this article and you will make progress.
Eat foods that you like, make your diet enjoyable, make it a part of your lifestyle. If you don't like a specific so called "healthy food" simply don't include it in your diet.
If things don't seem to work out, revisit your calorie intake, make sure your training is in check and start making adjustments as needed.