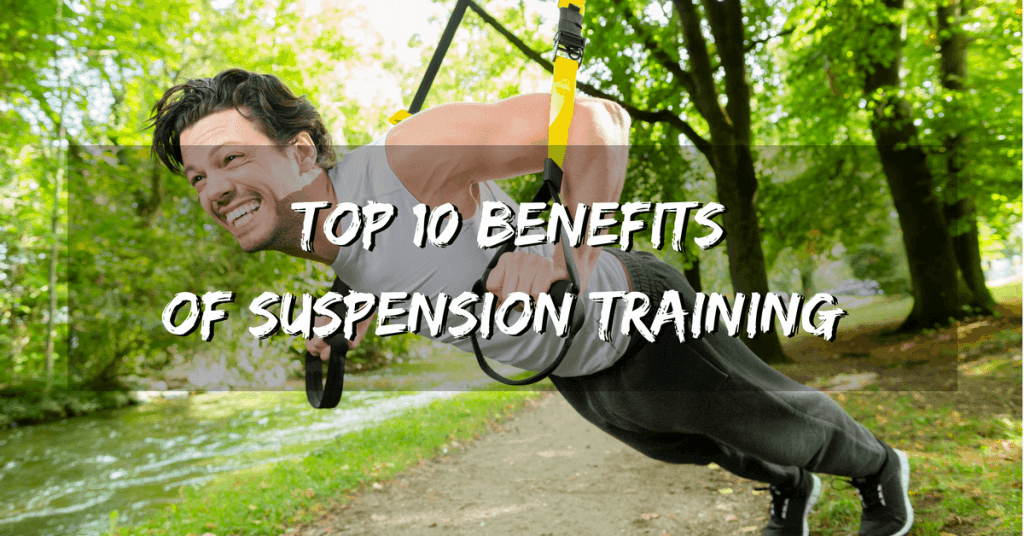 Has your workout routine become repetitive and boring? Do you want to try a new training that offers a wide range of exercises and gives better results? Suspension training might be a good option for you, and this short article will give you suspension training benefits that you need to know.
Suspension training involves the use of your body weight to execute unique movements while an adjustable band supports your feet or hands. It offers a combination of mobility and support to improve your core stability, balance, endurance, and strength.
To help you take a closer look, we've listed down the benefits you can acquire from this training.
For more of my home exercise equipment recommendations, have a look through these popular KAHG guides: Dip Bars, Gymnastic Rings and Push Up Bars.
1. Accessible for All
People in all fitness levels can do suspension training. Beginners can start doing light resistance level training by adjusting their body in a steeper position. Moderate to advanced trainers can adjust their body lower to the floor for more challenging routines.
Moreover, advanced trainers can perform more difficult exercises by placing their feet in the suspension stirrups. This increases the involvement of the core muscles. You can turn a standard push up exercise into a multi-body exercise.
In traditional training, you must go around the gym—from one machine to another—to work out all your muscles. This can take up a lot of your time and decrease the intensity and disrupt the momentum of your workout.
In suspension training, the easy adjustment of the suspension trainers decreases your downtime between sets and improves your overall workout.
2. Builds the Core
Your core doesn't only include your abdominal muscles but also your chest, abdominal muscles, back and pelvic muscles. It controls your body's stability, flexibility, and balance. Suspension training challenges all those three elements through its unique exercises. Therefore, your core is constantly at work.
Since you need to keep one end of your body grounded, your core will always have to adjust throughout your training. It is always at work even during exercises that are not related to your core muscles, like shoulders presses or lunges.
Making your core stronger offers several benefits. Since it serves as the body's source of power, strengthening it will allow you to easily perform exercises. This will also improve your lower back muscles and help you prevent back and spinal pains.
3. Improves Coordination and Balance
When you exercise using the traditional equipment, you only concentrate on strengthening one main muscle. This is not ideal since that muscle is only being worked in isolation. This type of exercise will not improve your coordination and balance.
Consider the chest press machine. When using this machine, you don't need to pull any balancing or stabilizing muscles because you only move along a fixed direction.
More muscles work during suspension training. While performing the chest press on suspension straps, you need to use your core muscles to balance yourself while doing the movement.
Furthermore, your shoulder, back and neck muscles are being used to provide control and balance while moving the handles in and out. You need to make these muscles work together to produce the amount of force needed to move.
This results in improved coordination and balance.
4. Good Cardiovascular Workout
Suspension training does not only improve your muscle strength but it also improves your cardiovascular endurance. Your heart rate is maintained throughout the whole training because you quickly move from one exercise to another.
Cardiovascular endurance is also related to core balance and stability which is one of the main suspension training benefits.
5. Offer Wide Range of Exercises
Suspension training gives you a huge variety of exercises. The device needed for this training only involves two adjustable bands but it can already provide you with various workout exercises ideal for every muscle of your body.
When you turn your face away from the suspension straps, you can perform exercises that involve pushing movements which are good for strengthening your shoulders and chest. While the opposite—facing the suspension straps—allows you to do pulling exercises which are ideal for your biceps and back muscles.
You can also easily change your routine's level of difficulty by simply adjusting the angle of your body. Since suspension training uses your body weight as the weight stack, lowering yourself to the floor will make your exercise harder. Doing the opposite will make it easier.
6. Transportability
Suspension trainers are usually composed of suspension straps, handles, and buckles which usually come with a small bag. This makes it one of the most compact exercise trainers.
It can easily fit into your suitcase and can be brought wherever you go, ready to give you a good workout. The suspension straps can be attached to any surface and don't leave any markings.
This is especially ideal if you travel since you can exercise even if the hotel you are staying in doesn't have any gym or fitness center. You can just hook it over your door and you are ready to go.
You can also use your suspension trainers outdoors. Just find any sturdy upright surface—like a tree—attach your bands and you can start your workout right away.
7. Promotes Group Training
A lot of fitness centers and gyms offer regular suspension training classes throughout the week and joining one can help you understand the whole workout better since you can personally ask a professional trainer.
Training with a group of people can help motivate you to do better. Not to mention, you have a personal trainer who can cheer you on.
Group classes bring out the competitiveness out of everyone and help you train more. Studies also show that group exercises help people achieve their goals faster than exercising alone.
8. Allows Single Limb Training
Suspension training is a good option for people who suffer from muscular imbalances in which one side of the body is weaker than the other. Muscular imbalance can result in several injuries.
You can easily work on one side of your body through suspension training. You can focus on one muscle to allow your body to perform optimally. It is also safer compared to using traditional equipment which usually involves full body movements.
9. Low Impact on Your Body
Several traditional exercises can leave harsh impacts on your body. Your joints can suffer after using equipment such as machine weights or barbell sets.
Suspension trainers are better for the joints because you are suspended in the air while doing your exercise which means that your body doesn't have to respond to any harsh resistance.
This training is also suitable for people who suffered from an injury and wanting to gain their strength back. Suspension trainers allow them to choose the intensity of their exercise and gradually build their strength without any risk of further injuries.
10. Gives You Motivation
Boredom is one of the biggest challenges one must overcome. Traditional training can often get a little boring especially when they don't offer any kind of variety.
However, suspension training gives a wide range of exercise options. It gives you several challenges to work on so you won't get bored and instead keep you engaged and focused. It makes your workout fun, fresh and motivating.
Closing Words
Suspension training is becoming more popular these days because it can be practiced by anyone, no matter what their fitness level is.
Suspension training is also a unique and effective workout technique that needs strength, control, balance, and coordination. If you want to experience various suspension training benefits, then we suggest you give this training a try. It can be fun, challenging and gives you fast results.