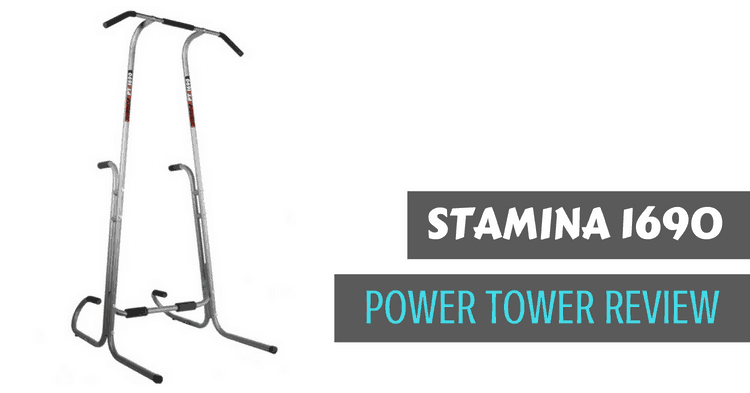 Today we're looking at the Stamina 1690 power tower – a lightweight model whose main benefits and drawbacks are exactly the same! It's a light alternative to other models, making it easy to transport but difficult to use for anyone but novice/light trainees.
We look at who it's for and where it misses out compared to market alternatives, so you know where to spend your hard-earned cash!
What is it?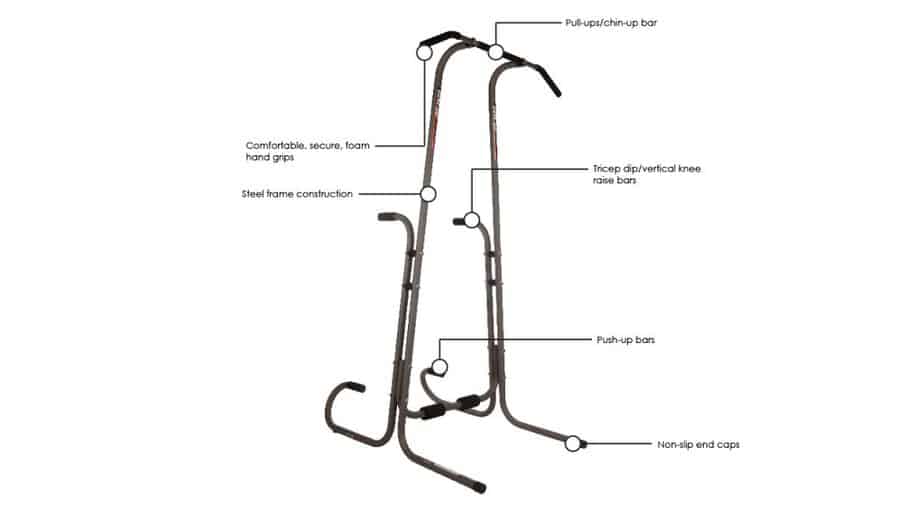 Stamina 1690 power towers are a light-weight, multi-function piece of home gym equipment. They provide a variety of ways to work out at home with a classic bodyweight tool. This power tower aims to provide you with the best equipment for performing classic gymnastic strength training exercises:
These are great ways of building bodyweight strength and a well-rounded physique. The varied exercises allow you to get a well-balanced home gym workout without missing out any body parts. The design combines everything from dip bars to paralletes for push-ups, allowing you to scale your "push" exercises between beginner and advanced exercises.
The mission of this product seems unclear when compared to competitors. The obvious mission is to help you workout at home, but it seems to revolve around the ease of assembly/disassembly for this type of equipment. With a light, steel frame and bolt-secured assembly, it seems to be designed to be taken apart and put together easily.
User rankings consistently put the Stamina power tower in the top-100 for categories such as home workout and gymnastics equipment, but this isn't much finality when we see that other products with a similar purpose are higher in these rankings. The price is equally comparable to other products – it's not the cheapest or most comprehensive on the market.
What we see from this product is primarily that it is one among many products on the market. We're struggling to see just what it is providing above and beyond competitors. It's definitely a decent value purchase with very few cheaper units, but equally, it's not providing a huge advantage over any competitors.
Who is this product for?
This product is clearly designed for people who want to get a good workout at home. Power tower designs have been around for decades and they serve this purpose well. This specific model might be the best choice for anyone that moves around semi-regularly.
The stamina model provides the same benefits as other products with a more lightweight design and a less complicated approach to building/deconstructing the tower. You're going to have a much easier time transporting this product than its competitors.
We're not sure who specifically this is for, but we can imagine that if you're traveling around between two key locations every week/month, this might be the best choice for you to keep a workout routine up. It provides opportunities for bodyweight training on the move.
This additional mobility is also useful for moving it around the house or flat. With the light frame and rubberized "feet", you can place this tower almost anywhere in the home and move it with ease. This lightweight design makes it practicable for storage and moving around the house, so you're not stuck with a tower in the corner of your lounge!
Who ISN'T this Product For?
The problem with this product is how tall, skinny, and light it is. The very appeal of the product is based on it being lightweight, but it is a problem for anyone that is heavy or performs weighted movements.
This does place an upper limit on the types of training you can perform on this piece of equipment. It is a piece of equipment for beginners: individuals who weigh around 200+lbs will struggle with the kit and you cannot advance to other forms of dip (like the Russian dip) without destabilizing the structure.
This is our concern with the unique selling point of this product: being lightweight is a bad idea for a power tower. The movements associated with its use require it to be heavy and stable to counter-balance the weight of the body and any additional weight being used for dips or pull-ups. Stability is more important than mobility for this product!
This is an easy way to end up on your favorite gym fails Instagram account – a dip station or pull up bar that is liable to fall over when used by anyone that isn't a beginner is a real problem. The safety of the product relies on weighting it down independently or
To recap, this product is for people who weigh less than 200lbs, perform weighted dips, or have less than 90" of vertical clearance. This is the height you'd need to perform a pull-up safely on this product. The problem is that this is 7.5 feet, so you need to make sure you're not going through the ceiling!
What's included?
The product is pretty simple: it's the power tower and the tools necessary to assemble it. There's not much necessary, so there aren't any real concerns with the included-parts.
The best addition here is foam end-stops to make sure there's no slipping on the floor, and that your grip on the smooth, slippery steel of the construct is secure. These are thoughtful additions, meaning you can use it on almost any type of flooring (despite tipping issues).
The only thing that we'd like to see with this product is a substantial counter-weight to reduce tipping risks and make it appropriate for more advanced training. The obvious problem is that this would hike up the shipping costs which are also relatively high due to the weight of the product.
Getting the Most out of the Stamina Power Towers
Getting the most out of this product is relatively simple: you need to assemble it and be part of the intended clientele. If you're buying this with the hopes of sharpening your gymnastic or bodyweight strength skills, you won't get much out of it.
Selecting this product as an entry-level piece of kit to get yourself into the basics of bodyweight training is how you get the most out of it. It provides scaling-down options, like the push-up bars, rather than scaling-up options.
The best way to get the most out of this piece of kit is to use it as a "my first gymnastic training" introduction. This isn't bad, but it is worth noting that this product has benefits for those who are new to this type of training and don't need to add weight to their training.
You're also going to want to make sure that it's backed up against a wall and, ideally, use something to counter-balance the back of the tower.
When shopping for the Stamina power tower, try and get the version with the additional pads for the forearms and back-support. This is the superior version as it has additional weight, and it makes movements like the leg raise possible – something that can be a barrier to beginners in the pad-free version.
If anything, this piece of kit is probably the best for practicing gymnastic movements on a daily basis. You're not going to be able to add load to them, like you would to progress, so it's best to use it as a practice model. Work on technique and endurance, rather than weight and strength.
This makes it a great tool if you're also training at a gym but are on a strict schedule or your gym doesn't have the equipment to practice these movements. It's a great complimentary piece of kit, but it doesn't quite fulfill all of the needs we have from this type of product.
Alternatives: What's on the Market?
There are countless alternatives on the market and we can't discuss them all without boring you to death over 100s of pages! What we're going to do is look at the feature that sets the power tower apart from other market options.
Weight is the real issue for this product – as we've mentioned. There are many alternatives that are less transportable, but far more stable. The Oanon tower is a similar cost and style but provides a heavier, more grounded product that has greater integrity and similar features.
This model isn't particularly unique on the market either, but it picks up on the main problems with lightweight towers and solves them by being a chunkier build with better floor-contact resolves some of the tipping issues.
It still has some issues with weight, but it also has a better design for counter-balancing easily. It's shorter, more stable, and has additional cross-bracing supports to reduce movement during exercise. A much better alternative for exercises that involve a lot of movement at poor leverage angles.
On the other hand, alternatives like the Resolve Fitness power tower deal with leverage at a much lower height. This makes them a more versatile alternative if you don't happen to have 8' of vertical clearance. If you're trying to get a great workout in a small space without tipping over, this could be the superior alternative for you.
Closing Remarks
This isn't a bad product – it just has a very specific set of uses.
It's an introduction to basic gymnastic training – definitely not designed for anyone that has a foundation of gymnastic strength. The risk of tipping the rack due to its lightweight and poor floor-contact make it difficult to use more than 200lbs without experiencing serious instability/movement. Some reviews make similar complaints with as little as 155lbs.
You can get around this using a counter-balancing weight, but you'd be better off spending a few dollars more to get a more stable alternative. There are many power towers on the market, so there's no reason to rely on the Stamina version unless you're split between locations semi-regularly and need to take it apart and transport the whole rig.
The important thing is that you're aware of what you're spending money on. That's why this review has been so important: this product is great for a narrow group of people and understanding what it is for and why can make or break your results with gymnastic strength training!
Last update on 2019-10-19 UTC -5 / Affiliate links / Images from Amazon Product Advertising API - Details