Updated: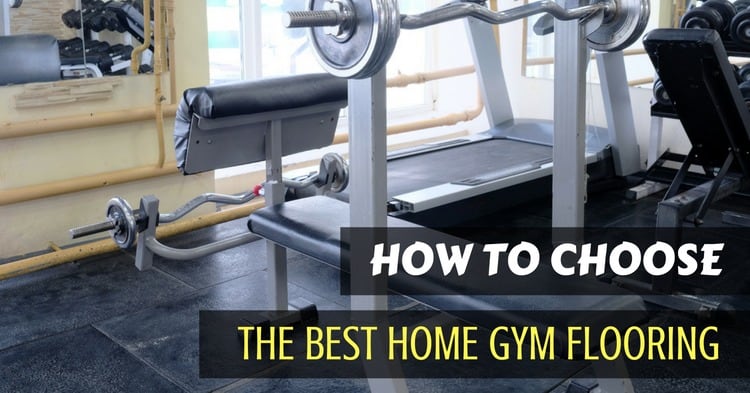 This post may use affiliate links. As an Amazon Associate I earn from qualifying purchases.
If you want to shift some weights outside of a gym, you need to make sure that you're not breaking anything. This goes double for the home gym, where your floor is your responsibility and breaking stuff is only going to cost you hundreds or thousands of dollars.
Needless to say, you want to avoid this and make sure that everything stays intact. Putting together a home gym is a real task, but if you're interested in Weightlifting, Powerlifting, Bodybuilding or CrossFit it can be an amazingly rewarding process.
One of the first things you have to sort out is protecting yourself from this type of damage to your home. Good floor-matting should come before anything else – it isn't optional. Money invested here is saving you money on repairs and re-surfacing down the line.
What are the Big Factors in Gym Flooring?
There are a few factors you're going to consider when flooring your home gym.
The first consideration is obviously cost: you don't want to spend thousands of dollars on matting or you may as well have just re-built the damn floor. Getting something affordable and effective is the goal – you don't want to build a commercial gym, you want to idiot-proof your floor.
Durability is also key. If you have to repeatedly replace and repair your floor-matting, you've missed the point. You're going to end up wasting time, money, and valuable workouts worrying about the state of your flooring. This defeats the whole point of building a home gym in the first place.
Shock absorption is literally why you buy matting. It needs to be good at this – it's the number one factor in how well it works and what sort of benefits you'll get. This is why we worry about thickness, material and build-quality when looking for home-gym flooring. If it doesn't absorb shock then it's just a fancy rug, in reality.
Installation is a concern depending on your goals and budget. If you're going to try and save money – you want to install it yourself. If you're just looking for the ultimate home-gym experience, then you may get it fitted by someone else. We're not made of money, so we're going to discuss the ease of installation based on reviews, feedback, and the matting itself.
Cleaning is another aspect you want to consider. If you're not down with the "dungeon gym" aesthetic, you'll want to clean your floors from time to time. An easy to clean floor mat will come up trumps when you are wiping up all the blood, sweat and tears that build up over the years.
Home Gym Flooring Options and Materials
There are many different types of gym flooring on the market. It's a diverse market and, with the explosion of CrossFit boxes and home gyms, it's a bigger and bigger part of the fitness industry.
This means that we see some great products, but also many that miss the point ever so slightly. There are two key things to look for when we compare these types of flooring:
Material type
Build quality
Material type is a concern because there are many rubber-foam hybrid products on the market. While these are cheaper and can protect floors effectively, they increase the risk that you put your joints under during weight training. These foam-filled products are common on the market and should be avoided if you're looking for heavy weight training or durability.
There are also many non-rubber, or air-filled "rubber" products on the market. These are a problem because they're low-density and able to deform really easily. Low-density is great if you plan on doing cardio and want to reduce shock, but it also means that the floor will compress and 'groove' over time.
The fact is that you need to know what you're looking for: a 100% rubber, high-density floor is perfect for the type of multi-purpose flooring we see in home gyms. It provides stability for lifting, protects the floor, is durable, and you can store equipment on it without worrying about coming back to a plate-shaped dip in your floor!
Interlocking Tiles
Rubber and rubber-hybrid flooring tiles are one of the most popular options for both home and commercial gyms. It's sold by the "tile" – interlocking sections that have been pre-cut and make for big convenience.
They're designed to be easy to install and clean, making them some of the most convenient choices on the market. They'll fit the area you've got and they can be re-arranged if they don't work out. Because they come apart, it's also easy to remove them and clean them individually. An easy-to-use solution.
The build-quality and shock-absorption of some of these products are relatively poor, however. If you're lifting big weights, a high-density foam might not be the best choice. At ½ inch thick, you're definitely not going to want to drop weights onto this type of matting. It's going to protect your floor more than nothing, but it's definitely not enough for weightlifting or powerlifting movements.
Reviews are positive for this type of matting, but that's not a great indication since many people are, in fact, weak.
The rubber tiles fare better, with a much higher density. This makes them more appropriate for lifting, though it comes with two major problems: it has seams where the tiles lock together, but they also tend to be quite thin. This can be a problem for heavy lifting, and you have to be careful to place equipment away from the seams or they can deform.
Many people have had to buy multiple sets to cover a decent area, or double-layer to prevent damage. They won't deform very easily, but they're prone to delamination, are quite soft and won't absorb force in an effective way for heavy-weight exercises.
Long story short, this type of tile is a reasonable purchase if you're dealing with light weights, gyms that don't use free weights (i.e. don't need matting) or you're trying to save money. This is a decent flooring option for friction and stability, but not for protecting concrete floors from heavy lifting – the main reason a home gym should exist.
Rubber Floor Rolls
Floor rolls are available as either a high-density PVC/foam mix, or a relatively low-density flecked rubber. These come as a roll and require some installation savvy. They don't interlock so you need to get handy with a Stanley knife and cut it specifically for your needs.
Again, many brands don't provide sufficient support for heavy weight training – the ¼ inch design is far too thin to protect a floor from damage when weights are dropped. If you're looking to weight train at home, this may not be the best choice – even if you lower the weight under control (like a powerlifter). Definitely not a good choice for weightlifting where overhead-drops are common.
If you're going for a rubber floor roll, you want to try and get the highest thickness possible. A 1/2-inch roll is going to be moderately effective, but thicker models are both rare and superior.
They tend to be relatively low-density, even if they're 100% rubber. Many rolls are lightly-packed and do not provide the same solid-throughout you might get with a pre-cut mat or high-quality tile. This isn't an outright reason to not buy rubber foam rolls – it just means you need to be discerning about the type of material, thickness, and density you're shopping for!
It makes for a good gym floor underneath a squat rack, however. As there is no risk of dropping the bar on the floor under a squat rack of power cage, this is a good choice. There are no visible seams and ridges, as in the interlocking tile flooring, and the smooth surface is sufficiently dense – you don't squidge the floor when you squat (again, as you would on EVA foam tiles).
One thing you definitely want to avoid is diamond plate flooring. Whether as an interlocking tile or a roll, heavily-textured flooring is a real problem. The use of this type of matting can cause unpredictable bouncing in weights, add unusual texture under-foot, and will wear down in unusual and unpredictable ways. You might think it looks cool but
It doesn't
It doesn't perform as well as a flat, 'textureless' mat
Rubber Gym Flooring Mats
These are designed as something of a mid-ground between interlocking tiles and floor rolls. They're not designed to be cut, so there's no additional fitting logistics, but they do provide enough size and space that they can be used individually. At a size of around 4-6 feet by 6 feet, they take up the right amount of space for general gym training purposes.
You can perform your dumbbell movements on here, and with a width of ½ inch of pure rubber, they're far more effective at absorbing shock than the deformable rubber-foam hybrid of interlocking tiles. If you're careful, you might even be able to perform deadlifts on this surface without totally ruining your floors.
The problem with this type of product is the inexplicable tendency of manufacturers to add texture to the top-layer. This makes no sense as it is more deformable and likely to unbalance you than a flat, non-textured top. Avoid these types of products and stick with the simple mat.
You can find a few ¾ inch mats on the market – these make for the best, easiest protection for most purposes. They're incredibly durable (and heavy-duty) which makes them a great choice for anyone performing powerlifting movements. They can handle light Olympic lifts too, as long as you're careful and guide the bar down as gently as possible. Not optimal, but the best on the market.
Foam Gym Flooring
Foam gym flooring sucks for anyone that actually wants to lift any weights.
Foam is crap because it's a compressible material. This is the same problem that you will be familiar with if you've ever tried to lift in tennis shoes. As you push into the ground, the force is dispersed through the foam sideways, rather than being applied straight through the floor.
This type of flooring is totally fine if you meet any of the following conditions:
You like being weak
You don't plan on lifting weights (why?)
You only plan on training the upper body (why?)
You're only going to use dumbbells (why?)
You don't mind having injured knees.
Sarcasm-aside, you need to be careful with foam flooring. The instability can rapidly deform the materials, breed poor movement patterns, ruin your balance during heavy lifts, and the instability while loaded can legitimately put the joints of the lower-body at risk of injury.
Foam gym flooring is effectively flooring for people who like saving money, rather than saving their knees and hips. There are very few situations where it is going to compare well with rubber matting. The only example we can think of is if you're planning on doing a lot of handstands or acrobatic movements and need something soft to land on.
How Thick Should Home Gym Flooring Be?
Thicker.
A thicker gym floor is better for absorbing shock and reducing the amount of force that goes through your floor. If you are using rubber, the thickest possible flooring should be your choice – it provides a huge amount of protection through the floor and is so solid that you don't need to worry about increased instability or injury risk.
We use hard soles when weight training for a reason: they're stable and predictable and have great force-transfer. We want the same thing from flooring: it needs to provide stability and a solid foundation to apply force to.
There's more important in the material of a gym floor than the thickness alone. 1" of foam is far worse than 3/8 of an inch of rubber. The quality of the material is top priority, and the thickness of that material comes afterward.
As mentioned above, the ¾ inch rubber floor is probably the best choice as it combines a top-quality material with a relatively thick mat. This means that you're going to provide maximum safety to the floor while also ensuring that you can lift safely and effectively.  Marrying the benefits of both quality and quantity is crucial for getting the most out of your home gym's flooring.
What about Budget?
The budget for your home gym has very little to do with the type of material you buy and more to do with the size of your home gym.
The different methods of flooring your home gym that we've discussed are relatively similar prices. They're all likely to be around $100 per 4x6ft area. The differences come in the quality of the materials and the additional conveniences that they can bring.
The rubber matting discussed above continues to be our favorite for this reason, too. It costs only $10 more than the interlocking tiles or foam matting, but provides a more effective benefit in terms of practical use. The cost differences across all of these products are almost negligible.
Instead of saving $10 with a foam-ier product, we' actually recommend just being savvier with your space. After all, you'll only be using one piece of equipment at a time, and a 24 sqft. The area is plenty to cover anything you're doing – from dumbbell work on a bench to deadlifts. Improve your management of space before you worry about the cost of additional flooring.
Versatility: Interlocking, Pre-Cut and Rolls
You can get 72 square feet of coverage with 3 rubber mats at a grand total of $330. The only real difference is how versatile the matting will be: a custom-cut roll of rubber matting is more easily-adapted to your space, but the rectangle-cut 4×6 rubber mat with ¾" of material is going to be good enough for most people/spaces.
There are obvious benefits to using interlocking tiles if you're dealing with an unusual space. IF you can use pure-rubber tiles, you may be able to save the hassle of setup. However, there will be additional challenges to finding interlocking tiles of sufficient thickness, with no additional textures and with smooth seams for areas under a squat rack/power cage or to deadlift on.
The exercises and demands you require will shape the way that you shop for these products. Price is almost no object in this discussion, as the cost differences are minimal, but the effect-difference is huge between rubber and foam products. The type of product you shop for is highly-dependent on what you're trying to achieve and what you need from it!
Home Gym Flooring FAQ
Over the Concrete
This is the most common. It's necessary because concrete is fairly brittle and will shatter into lots of pieces if you don't provide sufficient shock absorption.
You could, theoretically, lift on concrete without it but you'd definitely damage your floors. The problem is not unique to concrete, but it's the most common type of flooring in the US garages and that's where home gyms are most likely to live.
Over the Carpet
This is a bit of a mistake. You can put rubber over the carpet, but the problems of compression and force-dispersion are a problem. You'll add another layer of soft, squidgy stuff between yourself and the floor.
It's possible and, if you have no alternatives, it can be okay. Ideally, however, you'd put your matting over concrete or another solid surface.
Does it work Outside?
Yes.
Be careful if you live in a climate with too much heat, cold, or rain though. Exposure to the elements is a serious problem for most training equipment and this is no different.
The degradation of these types of materials under extreme conditions can seriously reduce their longevity and ruin a few hundred dollars' worth of equipment. We recommend using them outside, but storing them in a sheltered location like a garage or shed.
Is it waterproof?
Rubber is waterproof, but you don't want to get it wet. This can result in delamination of some floors and reduce the quality of the upper. Alternatively, the water will just sit on the surface and make it impossible to use.
This might not be a problem if you place them up to dry, but exposure to water should be limited to cleaning where possible.
How do you clean it?
Water is probably good enough.
Maybe soap and water if you got it gross. Be sure to place it somewhere it can dry effectively before use.
Does it smell?
Sometimes, to start with, it will smell like rubber. This isn't going to last long, and it will only smell if you don't clean your old, dry, stale sweat off routinely.
Gross.
Is it eco-friendly?
This is debatable, hard to define, and depends on the product you buy. The market for this type of product contains some eco-friendly products, but also many that are not. This depends on the specific brand you purchase it from.
Many home gym flooring mats are made from recycled rubber and provide a good alternative to incineration. What is eco-friendly is not driving your car to and from the gym several times a week because your home gym has good flooring and you can do all your exercise at home.
How do I cut it?
With a Stanley knife.
Alternatively, you get a professional to do it for you. This is arguably the better alternative, as cutting rubber is a dangerous process and if you don't know how to cut rubber, you probably shouldn't be cutting rubber.
The cost of getting an experienced handyman or flooring-fitter to deal with this problem is pretty insignificant. Additionally, get interlocking or pre-cut mats – they're usually a better choice for most people.
Closing Remarks
While there's a definite individual component to buying the right matting, there are some general guidelines we can point out.
First, try and get pre-cut rubber matting where you can. It's robust, heavy-duty and there are better thicknesses available. This cuts out the dangers and logistics of setting up, and the pricing is often competitive with lower-quality materials/flooring.
Second, always go for 100% rubber if you can. Foam protects your floor by risking your joints. That's an awful trade-off and there are very few situations where a rubber-foam hybrid is going to be a better choice. These situations definitely don't include weight training.
Finally, make sure to put the quality first and worry about cost/quantity afterward. A top-quality 4×6 mat with ¾" – 1" thickness will be more useful and effective than a thinner mat with a larger area.
Gym flooring is a way of protecting your floor. Buying cheap here doesn't just mean buying twice, but also paying for repairs to a broken concrete floor. The economy here isn't about getting the cheapest product, but the most effective.
We have given you the information you need to choose, but our recommendation continues to be a pre-cut, ¾" (or more) rubber mat for the general public.