Updated: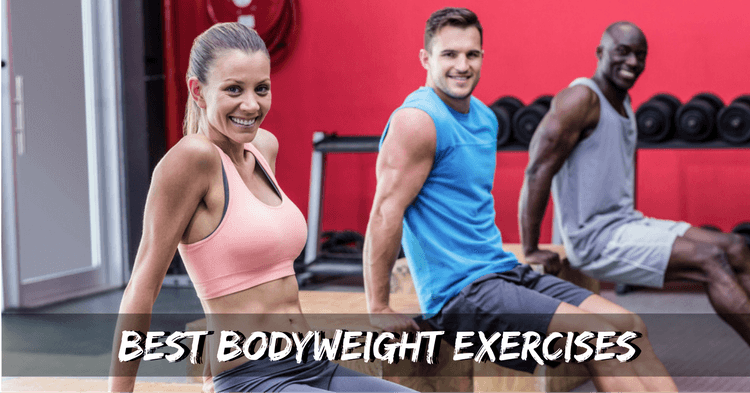 This post may use affiliate links. As an Amazon Associate I earn from qualifying purchases.
If you want a toned body, you have to go to the gym to lift weights or use machines – right? This is probably one of the biggest fitness myths (and one of the reasons people spend a fortune on gym memberships).  Doing just bodyweight exercises, you can get the sculpted body and results you want.
What Are Bodyweight Exercises?
Also known as calisthenics, bodyweight exercises use the weight of your body as resistance.  Instead of moving a free weight from point A to B, you instead move your body from point A to B.  You are probably already familiar with many bodyweight exercises such as push-ups and pull-ups.
Benefits of Bodyweight Exercises vs. Free Weights
No equipment required for most bodyweight exercises. Other bodyweight exercises can be done at free places like playgrounds or with minimal equipment like a bar.
You get a full body workout instead of isolating certain muscles.
Great for weight loss because a lot of cardio is involved in bodyweight exercises.
Bodyweight exercises are functional. You'll develop flexibility and actually be able to utilize your new strength in everyday life.
Easier on the joints and less likelihood of injury.
More interesting – there are so many bodyweight exercises and variations that you won't get bored.
Downsides of Bodyweight Exercises vs. Free Weights
You are limited to your own body weight
It is harder to isolate certain muscle groups with calisthenics.
Bodyweight exercises have a steeper learning curve for beginners.
Correct posture is crucial for doing bodyweight exercises.
Can You Build Muscle with Bodyweight Exercises?
I really want to address the myth that you can't get a ripped, toned body with just calisthenics.  This is simply not true!
Anytime that you have resistance while doing exercises (whether the resistance is from your bodyweight or free weights), you will build muscle.  The problem occurs when your bodyweight isn't challenging enough anymore.
Progressing with Bodyweight Exercises
For beginners, bodyweight exercises can be very tough.  However, eventually, the exercises should become easier.  At this point, you won't build more muscle unless you do one of these three options:
Do more reps: At first, doing 10 pull-ups might be enough to build your muscle. When that becomes easy, you could just do more reps to build muscle.  This also means the exercises will have more cardio in them so you'll get very lean.
Do harder bodyweight exercises: There are endless variations of bodyweight exercises. Simply changing your position/angle can make calisthenics much harder and better for building muscle.
Add weight: When you do this, it technically won't be a bodyweight exercise anymore. However, there are simple ways to add weight. For example, have a small child sit on your back while doing push-ups or wearing ankle weights during pull ups.
Calisthenics Body vs. Gym Body
One more thing to address about the "can't get buff with calisthenics" myth is the type of body you want.
For years, a gym body was considered to be a sign of fitness.  But we know that super-sculpted bodies aren't necessarily healthy.  They come with risks of muscle imbalances and poor flexibility leading to injury.  Further…
Why would you even want a gym body???
Most of us don't want to look like a mass monster.   Ask any woman and she'll probably tell you she prefers the body of Channing Tatum to that of Arnold Schwarzenegger.  And most men cringe when they see the sculpted bodies of female competitive builders.  Heck, GQ's list of hottest male bodies is pretty much all calisthenics bodies!
I like how Joe Martino explains why he only does bodyweight exercises instead of lifting weights:
"My goals were never about impressing people with my body. I wanted to be healthy, have functional strength, enjoy movement, have healthy joints, build strong neurological connections to my body, and exercise in an environment I liked."
So think about it.  Are you exercising to impress people with your sheer mass?  Or are you exercising so you can look and feel good?  If it's the latter, then bodyweight exercises are the way to go!
Back and Bicep Bodyweight Exercises
Ask any trainer and they'll probably tell you that pulls up are the king of upper-body exercises.  There is good reason that pulls ups, along with these other listed bodyweight exercises, are so good for your back and biceps.
These bodyweight exercises will strengthen your back, shoulders, arms, and chest.  Because they are based on functional movement, they also require lots of core strength and will give you a sexy six pack. Think about it – have you ever seen anyone who can do pull ups who doesn't have a tone stomach?
Another major benefit of these bodyweight exercises compared to gym exercises is that they help posture.  Posture might not seem like something very "sexy," but it is definitely not sexy to have slipped discs and the other many problems caused by bad posture.
#1. Bodyweight Row
Also known as the inverted row or reverse bench press, a bodyweight row is great for people who don't yet have the strength to do pull ups or chin ups.  The exercise works out all of your pull muscles. If you've been doing a lot of push exercises, you'll need to do pull exercises to stay balanced.
How To:
Lie on the ground underneath a sturdy bar.
Grab the bar. Your palms should be away from you.
Keeping your body straight, pull yourself up to the bar.
Go all the way down and repeat.
If the exercise is too hard for you, start higher up. Instead of lying down, your body will be at a lower angle – something like 45 degrees.
Tips:
Make sure your butt doesn't sag.
The bar should go on the middle of your chest.
Your abs should feel tight while doing the exercise.
#2. Narrow Grip Pull Ups
How to Do Narrow Grip Pull Up
Narrow grip pull ups primarily target your latissimus dorsi, aka the "lats." These are the wing-like muscles along your sides.  However, as is the case with bodyweight exercises, they also target multiple other muscles including the brachioradialis (forearm muscles), biceps, triceps, pectoralis, and coracobrachialis.
Pull ups are great for promoting shoulder joint stability.  If you do sports such as climbing, boxing, or swimming, this is crucial.
How To:
Grip the bar with your palms facing away from you. Your hands should be inside the width of your shoulder.
Then, on the exhale, start pulling yourself up.
Pull yourself up until your head clears the bar.
Exhale and extend downwards to starting position.
Tips:
Always begin the exercise from the dead-hang position.
To relieve stress on your wrists, keep your palms gripped 4-6 inches away from each other.
#3. Wide Grip Pull Up
How to Do Wide Grip Pull Up
Compared to narrow grip pull ups, wide grip pull ups take the strain off of the shoulders and the biceps aren't as involved.  This means that they target the lats much more heavily. It also means they are harder to do then narrow pull ups.
How To:
Grip the bar with your palms outwards.
Your hands should make a Y shape. Your hands will each rest approximately 8 inches out from the straight overhead position.
Pull yourself upwards and get your chin above the bar.
Use deliberate motions. Try not to swing around.
Tips:
Keep your elbows behind you to prevent yourself from pulling with your wrists.
If you have trouble doing pull ups, try the greasing the groove method.
When these get too easy, you could consider using a dip belt.
#4. Narrow Grip Chin Up
How to Do Narrow Grip Chin Up
Compared to pull ups, chin ups activate the pecs and biceps much more, and active the lower trapezius less.  To make sure your body remains balanced, you must do chin ups as well as pull ups! Narrow grip chin ups are easier to do than wide-grip, so start with these.
How To:
Grab the bar with your palms facing towards you.
Your hands should be about 6-8 inches apart.
Start in a dead hang. Your legs should be pointed slightly in front of you to make a C shape.
Lift yourself up until your neck or chest touch the bar.
Tips:
Press your thighs together as you lift yourself. Your body should stay rigid the entire time!
Your movements should be slow. Don't quickly drop down.
#5. Wide Grip Chin Up
How to Do Wide Grip Chin Up
Compared to narrow grip chin ups, the wide grip is harder because it exercises more of the smaller muscles in the mid back.  These muscles can be difficult to activate with other exercises because or large muscles take over whenever there is a high amount of resistance.  This makes wide grip chins up a great bodyweight exercise for improving posture and preventing back injuries.
How To:
Grip the bar widely with your palms facing toward you.
Brace through your core as you lift yourself up.
Tips:
Descend all the way. This ensures you get the most out of the exercise.
Do not swing your body during the exercise. Remaining rigid is important for activating the right muscles.
#6. Superman Exercise
The superman is great for engaging the back and abdominal muscles at the same time. It is great for people who suffer back pain, particularly because it is very safe to do
How To:
Lay down on a flat surface.
Extend your arms in front of you.
Raise your hands and legs off the ground 4-5 inches as though you are superman flying.
Hold for 5 seconds before returning to starting position.
Tips:
For a variation, you can lift just one arm and leg. Lift the left arm with the right leg, and the right arm with the left leg.
Move slowly! This ensures your muscles are being worked to the fullest.
Chest, Shoulders, and Triceps Bodyweight Exercises
If you go to the gym, you'll probably notice a common mistake: lifters spend too much time working their chest muscles (pecs) and not enough time on their shoulders and triceps. This can result in a dangerous muscle imbalance – hence the frequency of shoulder injuries with builders.  Bodyweight exercises are much safer and effective because they work these muscles together.
#7. Chair Triceps Dip
How to Do Chair Tricep Dip
What makes triceps dips such a great bodyweight exercise is that they take your triceps through its entire range of motion. Dips will also activate your abs, pecs, and deltoids too.
How To:
Start by sitting in the chair.
Hold onto the front of the chair as you scooch down.
Your hips and legs should be out and your back close to the chair edge.
Bending at your elbows, lift your butt off the chair. Walk your feet forward.
Dip your body downwards. Don't let your elbows bend to smaller than 90 degrees.
Tips:
Keep your chest elevated and head up while doing the chair dips.
Don't let your knees bend past the toes.
#8. Push Up
The push up is a cornerstone bodyweight exercise.  Before trying any variation of push ups, make sure you have mastered the basic push up.  Posture is incredibly important here.  When first starting, see if you can't have someone check it for you.
How To:
Get down on the ground. Your hands should be placed slightly wider than your shoulders.
Keep your body in a straight line. Your butt shouldn't sag or stick out.  You should be looking slightly in front of you.
Push yourself up until your arms are straight.
Slowly lower yourself down until your chest hits the floor.
Your elbows at your side should be at 45 degrees.
Tips:
The wider apart you set your feet, the more stability you will have.
Clench your abs and glutes. This will help keep your body in proper alignment.
#9. Exercise Ball Push Up
How to Do Exercise Ball Push Up
One of the benefits of using an exercise ball for push ups can activate twice the amount of core muscles involved. This is because the instability of the ball causes your whole body to get involved.
How To:
Put your hands on each side of the exercise ball.
Put your feet outwards.
Keep your body straight.
Push yourself up and down in proper push up form.
Tips:
Remember to exhale with each push upward
Keep your elbows in tightly
#10. Diamond Push Up
Diamond push-ups are one of the harder bodyweight exercises and good for people progressing towards one-handed push ups.  By bringing your hands closer together, you activate the triceps and pectoral muscles much more.  The close positioning of the hands also means your body isn't as stable, so the rest of your body is activated for stabilization.  Another benefit is that diamond push ups put less pressure on the shoulders so you are less likely to experience overuse injury.
How To:
Put your hands together with the thumb and point fingers touching to make a diamond shape.
Get down on the map. Your chest should be right over the diamond shape you made.
Using proper push up form, push yourself up and down.
Tips:
Focus on pinching the elbows in tight as you go up and down.
Make sure your hands aren't too far in front of you.
Core Bodyweight Exercises
Aside from the fact that everyone wants abs like an ice tray, core exercises are key to stability.  I know that stability doesn't sound very sexy, but you must be stable if your body is going to support your super-strong legs and arms.  The goal of core calisthenics is actually to link your muscle groups together – as your body was designed to do!
Note that a lot of people have no clue what the core really is.  They think of it as those "six pack muscles" and overlook all of the smaller, hidden muscles that provide stability and support.  To make sure you are activating all core muscles, you've got to do more than just crunches.  Doing these core bodyweight exercises listed will ensure you aren't overlooking any muscles.
#11. Plank
Even though sit ups and crunches are the most popular abdominal exercises, you are probably better off doing planks.  Planks not only activate more muscles (including those difficult-to-reach stabilizing muscles), but they do it without straining your back.  You'll also be activating muscles throughout your body as you do planks.  These are great for improving posture!
How To:
Get into push up position on the floor.
Now bend your arms and rest on your forearms. Your elbows should be right underneath your shoulders and at 90 degrees.
Keeping your body straight, hold the position for as long as you can.
Your shoulder blades should be pulled down. Your abs, butt, and hips should be tucked in.
Tips:
Do planks until they hurt and then try holding for 30 more seconds.
Once you can hold a plank easily for 2 minutes, switch to harder variations of planks. For example, you can lift up one arm and the opposite leg.
#12. Side Plank
Compared to normal planks, side planks activate your obliques (the muscles on your sides) more.  You'll still use your abs though, and the pose also helps open up your hips and leg muscles.
How To:
Lie straight on your side, with your body resting on your forearm. Your elbow should be right under your shoulder.
Lift your hips off the floor.
Keep your body in a straight line and hold the position.
Repeat on the other side.
Tips:
Try to hold planks equally on both sides so you don't get a muscle imbalance.
Once side planks get too easy, you can make it harder by lifting up your top leg.
#13. V-Up
Also known as the Jackknife, V-ups are a more challenging core bodyweight exercise. You should definitely feel like you are getting a core workout with V-ups! Make sure you have adequately stretched all of your muscles (particularly leg and low back muscles) before attempting a V-up.  It's also smart to warm up your abs by doing other bodyweight core exercises.
How To:
Lie flat on your back with your legs and arms fully extended.
Exhale as you pull your legs and arms up.
Lift your legs and arms up until you touch your toes, then return to starting position.
Tips:
Make sure you are contracting at the core as you pull up. Otherwise, you can strain your back.
Your legs and arms must be kept straight during the exercise.
#14. Mountain Climbers
How to Do Mountain Climbers
Mountain climbers may look like a simple exercise, but they work your entire body.  The core and upper body work to stabilize the body as the lower body moves.  When done quickly, mountain climbers are also sure to give you a good cardiovascular workout.
How To:
Start in push up position.
Bend one leg so you bring your knee towards your chest.
Move that leg back to starting position.
Now move the other knee towards your chest.
Tips:
Keep your backside as low as possible while doing mountain climbers.
Squeeze your abs while doing mountain climbers. This will help you keep your body as straight as possible.
Leg Bodyweight Exercises
Building mass and strength in your legs using just calisthenics can be a bit trickier than with other muscle groups.  This is because we already spend a lot of time with weight on our legs when we walk and stand (well, except for those of us who sit all day long…).
To get the most out of leg bodyweight exercises, you've got to do two things.  First, go slowly!  The slow movements ensure your leg muscles get worked at all positions.  Second, you need to pay careful attention to positioning.  If your body is positioned even a bit incorrectly, it will change the angle of your joints and change the amount of resistance on your muscles.
When getting started, do leg calisthenics in front of a mirror.  Look to make sure your toes are forward and shoulders in proper alignment.
#15. Bodyweight Squats
How to Do Bodyweight Squats
Squats are great exercises because they mimic motions that we should do in everyday life. Unfortunately, most of us are sitting way too much so don't exercise the squat muscles like our bodies were designed to before the computer era. Don't be surprised if your glutes and leg muscles hurt a bit after trying squats for the first time.
How To:
Stand with your feet spread apart at shoulder width.
Bend your knees as if you were about to sit into a chair.
Go down to at least 90 degrees, or more if you are able to.
As you return to starting position, exhale and squeeze your glutes together.
Tips:
Put your arms out in front of you if you need more balance. Alternatively, put your hands on your hips.
Keep your knees behind your toes as you go down.
Your core and body should be tight throughout the entire squat.
#16. Pistol Squat
Once you've mastered standard bodyweight squats, you can progress to pistol squats.  These require a high amount of strength and balance to execute! Read more about the benefits of pistol squats.
How To:
Standing up straight, put one leg out in front of you.
Bend your other knee so you go down into a squat.
Go down as far as you can. Keep your arms out in front of you for balance.
Your extended leg should stay off the ground.
Return to starting position and repeat.
Tips:
Focus on the back of the leg you are standing on. You should be able to feel its muscles doing the work.
If you keep falling on your butt as you squat, try holding onto a pole until you get the hang of it.
If your hip cramps while squatting, try doing the pistol squats on a box. Then you can keep your elevated leg straight instead of holding it in front of you.
#17. King Squat
Want legs of steel? King squats look a lot like lunges but activate your back quadriceps and hamstrings.  Don't skip this bodyweight exercise because it does a good job of working other small, stabilizing muscles that often get overlooked during weighted exercises.
How To:
Start by standing about 2 or 3 feet in front of a chair or bench.
Extend one leg behind you so your foot is resting on top of the chair. The leg you are standing on should be slightly bent as you start.
Inhale and lower your body down into a squat. Go down as far as you can go.
Exhale and lift your body all the way up. The leg you are standing on should be straight and slightly in front of your body.
Then swap sides and do again.
Tips:
Keep your shoulders back as you go down.
Do this in front of a mirror to make sure your back stays straight.
#18. Step Up
If you have back problems, step ups are great to do.  They put a lot less strain on your back than squats, but involve the same muscles.  Step ups are also good for developing explosive leg power, which is great if you want to jump higher or be a faster sprinter.
How To:
Stand in front of a sturdy chair or step.
Put one foot on the chair.
Slowly lift your entire body up.
Lift your opposite knee as high into the air as you can.
Lower the knee and put it back on the ground.
Then switch legs and do again.
Tips:
Control the eccentric movement! In other words, go slowly during the lowering part of the step up instead of letting your body just fall down. This ensures your muscles get worked through the entire range of motion.
Increase the height of your step incrementally.
#19. High Knees Exercise
The high knees exercise is basically an exaggerated form of running in place. Runners love this exercise for helping them get more speed, but it is great for anyone who wants to tone their calves, glutes, and hamstrings.
How To:
Stand straight. Your elbows should be bent at about 90 degrees and hands in front of you (as though you were about to run).
Drive one knee up towards your hand.
Now drive the other knee up towards your hand.
Once you've got your knees going at a steady pace, get your hands into the exercise. It should look like you are running place but with your knees going very high up.
Tips:
Make sure your core remains tight throughout the exercise to give you better support.
Land on the balls of your feet.
Your breathing should be steady and have a good rhythm.
#20. Forward Lunge
In addition to working your glutes, hips, and leg muscles, forward lunges activate those hard-to-reach muscles of the inner thigh. Further, it is actually pretty hard to keep your torso upright while lunging. So, (when done properly) lunges will actually help you build a lot of stability.
How To:
Stand upright.
Keeping the upright posture, take a big step with one leg.
Dip straight down so your knee almost touches the ground. Your front leg should be at 90 degrees.
Return to starting position.
Now step forward with the opposite leg.
Tips:
Look straight ahead of you while doing lunges. This will help you maintain proper posture.
Don't let your front heel come off the floor. If it does, you need to take larger lunges forward and drive your heel down when returning.
Your feet should NOT land parallel with each other. Make sure your feet are at hip-width when starting and maintain this width when landing. You can draw two lines on the ground (one line for each foot) to prevent this problem.
#21. Glute Bridge
The glutes aren't just important for looking awesome in a bathing suit.  They aid in hip flexibility, leg movement, and stabilizing the lower back.  If you work a desk job, then your glute muscles are probably very weak and you could really benefit from glute bridges.
How To:
Lie on your back with your knees bent.
Squeezing your glutes, lift your butt off the ground so you are resting on your shoulders.
Return downwards and repeat.
Tips:
Go down slowly. You want to emphasize the eccentric motion.
Once you master the normal glute bridge, you can try variations like a single-leg glute bridge.
Plyometric Bodyweight Exercises
Did you know that you have two main types of muscle fibers: Slow-twitch and fast-twitch fibers? The goal of plyometric exercises is to get your body utilizing the fast-twitch fibers so you build explosive strength.
The science behind plyometric exercises can be quite confusing for newbies, especially with all the talk about "Strength-shortening cycle" and "maximum power output."  Rather than getting caught up in the science, think of your muscles like a rubber band. The further a rubber band is stretched, the greater power it will exert when released.
Plyometric exercises will train your body to stretch muscles before contraction so they release a lot of energy at once.  Any athlete who needs to jump high knows all about plyos.  Even if you aren't an athlete though, you can still benefit from doing plyo exercises because they improve body control and happen to be great cardio too!
#22. Burpee
The burpee exercise is best known for its fat-burning abilities.   Yes, your heart will be racing during burpees! But the burpee is also great for building strength throughout your entire body.
How To:
Start standing up straight.
Squat down with your hands on the ground right below you. They should be shoulder-width apart.
Kick your legs out behind you into a plank position.
Perform a push up.
Jump back into the squat.
Return to starting position. Repeat.
Tips:
Go slowly at first. Master form before you speed things up.
You can use burpees as a warm-up for other exercises.
#23. Jump Squat
Another benefit of plyometric exercises which is very apparent with jump squats is improving agility.  The first few times you do jump squats, you'll probably feel really awkward and it will take you time to get into proper position.  After you master it, the motions will flow together effortlessly.
How To:
Start in a standing position.
Go down into a low squat.
Jump upwards with your hands towards the sky. Put as much force into the jump as you can.
Land softly in another squat.
Tips:
Squeeze your glutes as you jump. This will give you much more force.
Land with your toes, not your entire foot. You want to keep the landings soft.
This is a high-impact bodyweight exercise. Don't do it if you have knee or back problems.
#24. Jumping Jacks
Jumping jacks are foremost a cardiovascular exercise.  However, even if your main goal is strength training, it doesn't mean you should skip them.  They do wonders at strengthening your entire body but also improve oxygen flow. You need good circulation if your muscles are going to get tone!
How To:
Start with your arms at your side and feet together.
Move your legs outwards as you bring your hands together overhead.
Return to starting position.
Tips:
Don't be lazy about it! Make sure you do the full range of motion.
Jumping jacks are great for warming up before doing other bodyweight exercises.
#25. Clap Push Up
The clap push up is one of the most challenging bodyweight exercises.  It requires a lot of explosive power in your chest.  There is virtually no better way to build this explosive power in your upper body – and you'll need it for sports like basketball, martial arts, or volleyball.
How To:
Start by doing a regular push up.
When you are in the down position, push your body upwards with explosive force.
While the body is in the air, quickly do a clap.
Tips:
Make sure your body remains tight throughout.
Exhale as you push your body upwards.
Always warm up before attempting this exercise. Otherwise it will put way too much strain on your joints.
As a general rule, you are ready to try clap push ups once you can perfectly do 30 push ups in a row.
Just Try 'Em!
Still not sold on bodyweight exercises? You don't have to give up your free weights and gym machines, but virtually everyone could benefit from adding calisthenics to their workout routine. You'll get functional strength, flexibility, and a calisthenics body which rivals any bulky gym body.
Resources for this article:
http://www.livestrong.com/article/543754-calisthenics-vs-weightlifting/
https://fitbodybuzz.com/benefits-calisthenics/
https://www.quora.com/Which-is-better-calisthenics-or-the-gym
https://madbarz.com/newspost/185-why-clap-push-ups-maximize-your-chest-growth
https://breakingmuscle.com/fitness/pull-up-vs-chin-up-a-comparison-and-analysis