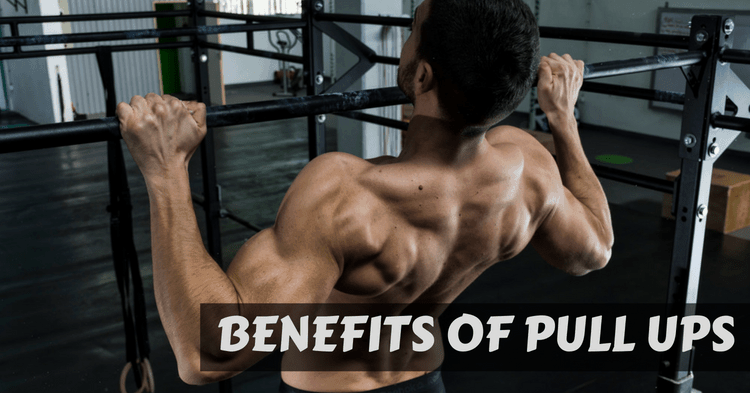 If there's one exercise you'll find in most training programs, it's pull-ups. Pull-ups are used by bodybuilders, the military, martial artists, sportsmen, crossfitters – even surfers. The reason everyone advocates doing them is that a list of benefits of pull-ups is very impressive.
Only select few other exercises can compare. Let's take a look at what regular old pull-ups will do for you.
Benefit #1: Best Back Builder
Pull-ups are a very effective exercise to pack on back and arm muscles. The prime movers here are the lats. Pull-ups isolate them better than, say, rows.
The rest of the pulling muscles get their fare share too. Traps, biceps, rhomboid, posterior deltoids – all of these muscles will get stronger and bigger thanks to pull-ups. Dedicating a separate exercise to each of those is a big time investment. It's much more efficient to spend that time working on simple pull-ups.
When you can do more than a dozen pull-ups in a set, add weight. Dumbbells, plates, a backpack full of books or just plain increase in bodyweight can make pull-ups hard enough to give a challenge.
All good things must come to an end, though. As you become stronger, you'll find pull-ups still hard on the lats, but easy on the rest of the musculature. At some point you will have to work muscles such as traps with specific movements.
That point, however, is a long way away. For most, pull-ups are more than enough as their main upper back training exercise.
Benefit #2: Injury Prevention
Big thing about the pull-ups is that they keep your shoulders healthy.
Pull-ups work a lot of small muscles that make sure your shoulder joint is moving and functioning like it should. The shoulder is one of the most complicated joints of the body, so keeping it safe is no small task.
Fortunately, pull-ups are up to it. They are the bare minimum you should do if you want to keep your shoulders healthy. Are a few pull-ups every now and again enough? Depends. Do you do other exercises, too? Do you play sports where a lot of overhead motions are involved?
If you do, well, good for you. But possibly not so good for you shoulders. Especially you don't follow the "pull for every push rule".
Pushing movements, like bench or overhead press, develop anterior deltoids (front part of shoulder muscle). Pull-ups, on the other hand, develop posterior deltoids (back part of shoulder muscle). These two are constantly playing tug-of-war with your shoulder joint.
When their strength is equal, all is well. The problems appear when you push a lot more than you pull.
Your anterior deltoids become stronger than posterior ones. They constantly pull on the joint, overpowering posterior deltoids and forcing the shoulder into an unnatural position. This results in an increased risk of injury and shoulder issues.
The issue isn't limited to just bench and overhead press. Push-ups, and even constantly throwing and punching without balancing it off with pull-ups, can potentially lead to shoulder imbalance and injury.
Thus, "pull for every push" rule, and another point on the "benefits of pullups" list. You don't have to do a pull-up for every single push-up. And you definitely don't have to do a pull-up for every punch you throw. But do try to keep some kind of balance.
Benefit #3: Most Functional Back Exercise
Pull-ups are one of the most functional back exercises. Even compared to other compound back movements such as barbell or dumbbell rows, pull-ups come out on top when function is concerned. This benefit of pull-ups is due to them being a closed-chain kinetic exercise.
Without getting scientific about the topic, here's the gist of it: if your hands or feet don't move during upper or lower-body exercise, respectively, it's closed chain. Squats and pushups are closed-chain. Leg press and bench press are not.
This Physiopedia entry gives a better definition and links to studies showing that closed-chain exercises are more functional than open-chain ones. Wikipedia confirms that such exercises indeed provide more athletic benefits.
And pull-ups, thanks to being an open-chain movement, are a great way to improve sport and everyday performance.
Benefit #4: Do Them Everywhere!
A benefit of pull-ups that's not to be underestimated: you can do them everywhere.
It's easy to find something to grab onto and pull yourself up. A sturdy branch, a railing, a convenient door frame – all can be used to get a quick pull-up workout. Or you can install a pull-up bar at home.
This is more than convenience, though. Since you can do pull-ups everywhere, you don't have to do them in the gym. Spend your time there doing other back exercises. Throughout the day, whenever you can, do a set of pull-ups.
It won't turn you into an Arnold overnight, but it will help with strength, size, health, athletic performance – you name it.
Recapping the Benefits of Pull-ups
The benefits of pull-ups are many. But what really makes them unique? Why not do, say, rows instead of pull-ups?
Here's the reason: there's no other way to grow your lats while protecting your shoulder joint, but with pull-ups.
You can't strengthen all the small stabilizing muscles with isolation exercises. You can't really target lats with other compound exercises like rows, particularly barbell ones.
With pull-ups, though, you can.
And on top of that, you get to do an exercise that is functional, and that can be done anywhere.
Of course, you can pick up something like lat pulldowns, combine then with rows and lat shrugs, spend a workout dedicated to your back, and still fail because you screwed up form. Or you could do pull-ups, both bodyweight and weighted, whenever and wherever you want.