Intermittent fasting is a dietary pattern that involves periods of eating and periods of abstinence from food. It is a form of time-restricted feeding (TRF) and it can be an effective strategy for weight loss, improving metabolic health, and even increasing longevity. One of the main mechanisms behind the benefits of intermittent fasting is the process of autophagy, which is the body's natural mechanism of cleaning out damaged cells and recycling cellular components. This process is triggered by the absence of food, which causes the body to break down and recycle damaged cells, potentially resulting in improved overall health.
The theory behind intermittent fasting is that by restricting food intake to a specific time window, the body is able to enter into a state of ketosis, where it burns stored fat for energy instead of glucose. This can lead to a decrease in body fat and an increase in muscle mass.
This post may use affiliate links. As an Amazon Associate I earn from qualifying purchases.
If you are searching online for "intermittent fasting", you already made your very first step towards a leaner physique and healthier lifestyle. Yes, I know that sounds a little bit bold, but it is true.
When I first heard of intermittent fasting I thought it was nonsense and was just another online scam that you see on every shady website, video or ad on the Internet. The funny thing is that this stuff actually works and has helped a lot of people become healthier, lose weight and feel better about themselves. It's no bullshit. It is as real as it gets.
Disclaimer – It Takes Work, Not Money
I am not trying to sell you anything here, there is no service or product to buy. All you are getting is access to free, useful information which you just need to apply. But that is the hardest part – applying stuff, putting in the work. That is something that you have to do on your own. Something that you have to work on by yourself. All you need is discipline and hard work – and that is something you can't buy.
Now, enough with the motivational speech and let's get back to the topic – intermittent fasting tips and the results you can get by fasting.
What Is Intermittent Fasting Anyway?
Intermittent fasting (IF) is a pattern of eating that involves alternating periods of voluntary abstinence from food and periods of normal eating. It is a form of time-restricted feeding, where the individual chooses a specific time window during which they will eat, and then abstains from food outside of that window. There are several different types of intermittent fasting, including the 16/8 method, where an individual eats during an 8-hour window and fasts for the remaining 16 hours, and the 5:2 diet, where an individual eats normally for five days and restricts calorie intake (500-600 caliers per day) for the remaining two days.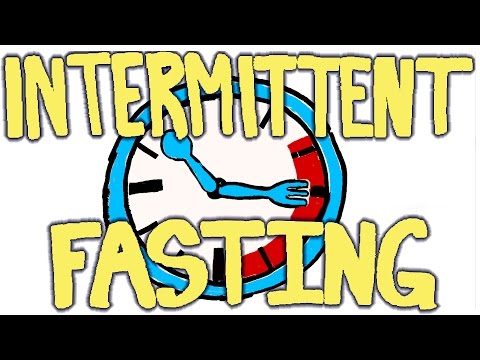 First and foremost let's get things straight. Many people think of intermittent fasting as a diet. But it is not a diet. Intermittent fasting does not tell you what to eat. It doesn't do that. All it does is telling you when to eat and when not to eat.
So it's not about What but When to eat. Intermittent fasting is a way of arranging or structuring your meals throughout the day.
As the name suggests, you will have a fasting period or window and an eating window. Theoretically speaking you can define your own fasting and eating windows, but there are a couple of very popular splits/methods which we are going to discuss in a bit.
So what's so special about this, you may ask. Our bodies go through regular fed and fasted periods all the time – we eat during the day and fast during the sleep. And we do this every day, so it's intermittent, right?
Well, that is right, but there is one little rule that comes along with intermittent fasting. The fasting window should be significantly longer than the eating window.
Basically, what intermittent fasting does, is limiting the amount of time you are allowed to eat in a day and expanding the time our bodies stay in "fasted mode".
The Science Behind Intermittent Fasting
After each meal, our body breaks down what we eat in different types of molecules with the purpose of feeding the cells. Proteins are broke down into amino acids, carbohydrates into glucose and fat into fatty acids.
Another very interesting thing that happens every time we eat is that the insulin level inside our bodies is rising. Insulin is a hormone produced by the pancreas. One of the key roles of insulin is to carry the nutrients from the bloodstream to all the organs and cells.
Once the nutrients have been absorbed by the cells, the insulin has done its job and the insulin level drops again. This cycle repeats whenever we eat something.
However, insulin has another vital role, which is not kindly looked at by the fitness industry – fat storage. Here is how this works.
Right after we eat, insulin will notice that new fatty acids and new sources of energy are available. When it does that, it tells our body to stop burning the existing fat storages because new nutrients are available. So the body will use the new nutrients to feed on and turn any excess calories in body fat.
There you have it – that's why we are getting fatter and fatter.
But here comes intermittent fasting to the rescue. Here is a nice graph that explains how insulin levels vary throughout the day when we're doing intermittent fasting.
The red humps represent two meals which are squeezed into out 8 hour eating window and the green portion represents the fasting period.
As you can see for yourself, intermittent fasting will trigger low levels of insulin for a long period of time. This will allow the body to be in a fat burning state for longer periods of time.
Now look at how typical eating habits affect the insulin levels (source: weightology.net) and you will understand why so many people are overweight.
At this point, I think there is no argument that fasting for long periods of time has benefits when it comes to losing fat. We just need to learn how to incorporate intermittent fasting into our personal lifestyle so that it is sustainable.
To help you with that we came up with a list of 11 intermittent fasting tips which you can implement right away.
Top 11 Intermittent Fasting Tips Revealed
1. Skip breakfast
In order to see good results with intermittent fasting, you need to fast for at least 14-16 hours each day. This leaves you with an eating window of about 8-10 hours per day. Most people can't achieve this unless they are skipping a meal, which is fine.
Considering the daily schedule of the average person which works 9 to 5, the best meal to skip is the breakfast, so you can enjoy the lunch and then the dinner at home with your family or friends. Intermittent fasting doesn't mean you need to give up your social life. Plan your meals so that they fit your lifestyle.
2. Don't eat after dinner
The purpose of limiting the time you are allowed to eat is to limit in fact the number of calories you are taking in. At the end of the day weight loss is calories in versus calories out, so any extra snacks beside your meals will hinder weight loss.
On top of that, eating later after dinner will mean you will need to postpone your lunch in order to maintain the length of your fasting window. The later you eat at night, the later you will be allowed to eat next day. So stop eating right after your dinner.
Usually, if you have just two meals a day, these can be really big and fulfilling. Chances are you will not be hungry anyway after dinner.
3. Drink black coffee in the morning
Some people are very hungry in the morning. That's just how they are built. There is a little trick you can do to overcome this. Coffee is a well-known natural appetite killer which you can use to make things easier for your when fasting.
Since you are not allowed to take in any calories during the fasting window, don't put any sugar in your coffee. It will have to be back! Yes, calories from beverages still count as calories.
4. Drink plenty of water during your fasting periods
Staying hydrated is good for your health anyway, especially if you do weight training. On top of that, it will also help you cope with hunger. Get in as much as 3 liters of water per day if you are a guy or 2 liters if you are a girl.
5. Adherence
This is probably the most important tip. The best diet is the one you can adhere to in the long run. And by long run I mean forever. Your diet should be part of your lifestyle.
Yeah, you can probably stick to any kind of diet for a couple of months, you can lose 20 pounds with it, but what happens after that? If it's not something you can stick to you will gain all the fat back again.
Make intermittent fasting a part of your lifestyle. Adjust you fasting and eating windows so that they don't interfere too much with your social life, eat foods you like and enjoy life.
6. Fast when at work
It's easier to keep your mind off food when you are busy with stuff. Arrange your fasting window so that it overlaps with the part of the day you are most occupied. It can be your office job or whatever other activities keep you busy for longer periods of time.
7. Watch out for calories
As mentioned above already, losing weight is all down to calories and placing yourself in a negative caloric balance. Simply put, you need to eat fewer calories than your body burns.
This is valid with any type of diet and intermittent fasting is no exception.
Ideally, I would go as far as tracking down your caloric intake. You can do it the old fashioned way by writing it down or you can use tools such as My Fitness Pal or other apps.
What you want to do here is to stay in a caloric deficit of about 20-25%. This way you should be dropping weight constantly. Just make sure you track everything correctly and you estimate your basal metabolic rate as accurately as possible.
There is no calculator that will tell you the exact numbers, it's more like a trial and error method. Track your calories and measure your bodyweight constantly and make adjustments as needed. If you're not losing weight, you need to drop your calorie intake. It is as simple as that.
8. Train fasted
This tip will really help with burning more fat. Remember the whole insulin story at the very beginning of the article? When fasting the insulin level is low and our body runs low on energy. This means it uses body fat as a source of energy and there is no insulin in there to tell it not to burn fat.
Super, that's exactly what we want. By doing any kind of exercising when fasted you will accelerate this process. You don't have to take my word for it. There are several studies that have confirmed this theory, like this one and this one.
Unfortunately, there are a couple of downsides of training fasted. When you are on a calorie restricted diet, muscle break down rates are higher, so your body might not be able to fully recover after an intense workout. In other words, you might not be able to increase muscle size when dieting. Especially if you already have a decent amount of muscle mass.
Another downside of training fasted is that your energy levels will probably not be as high. Therefore, your workouts might be affected by that, meaning you will not be able to train as hard or hit a new PR.
9. Be patient
You didn't get fat overnight and you will not get shredded overnight. Weight loss takes time so you have to be patient. Everybody expects quick results but that is not going to happen.
Give it at least a couple of weeks or a month to see noticeable results. A healthy weight loss rate is 1-2 pounds per week. Anything less than that is not optimal and anything more is not healthy.
10. Big post workout meal
Another smart thing to do is to have a nice and big, protein-rich meal right after your workout. This will enable your muscles to benefit most of the training and will decrease the muscle burnout effect.
On top of that, it is scientifically proven that protein synthesis in higher after working out. Thus you can benefit from better protein break down if you eat post workout. This is also referred to as nutrient timing or anabolic window.
I recommend consuming 20-25g of whey protein, immediately post-workout to jump-start the anabolic process.
11. Track your macros
Even though I left this for last, it's a very important tip. Macronutrients are important for two reasons:
They determine more or less your body composition
They will make the diet easy or not so easy to follow.
As you probably know, the building blocks or our muscles are proteins, or amino-acids to be more specific. Eating plenty of proteins will, therefore, support muscle growth.
Carbohydrates are equally important if you want to have energy for the workouts. For a good workout, you need to include in your diet sufficient amounts of carbs as well.
Lastly but not least, fats are important for keeping us healthy at the hormonal level, for the hair, skin and for maintaining the joints in good condition.
A protein rich diet will consist of more satiating foods which will help you cope better with the caloric deficit. So it will be easier for you to adhere to a diet which is high protein based. Ideally, you want to split your calories between macros as follows:
30-40% proteins
40-50% carbs
15-20% fats
You don't have to be really strict with it, but being around those figures will definitely help you stick to the diet while making the most of your workouts.
Top 3 Intermittent Fasting Splits
Now that we know quite a few things about intermittent fasting and how basic weight loss works, let's look at some the most popular ways of implementing it.
Leangains
The absolute most popular way of doing intermittent fasting, and the way I used to do it is the Leangains protocol. This method was introduced to the bodybuilding world by Martin Berkhan and works like this.
Males: fast for 16 hours and eat in a 8 hour feeding window.
Females: fast for 14 hours and eat in a 10 hour feeding window.
As the name suggests, this implementation of intermittent fasting is supposed to enable athletes to stay lean while building muscle. For this purpose, the diet should be high in protein, high in carbs and low in fats.
The author, Martin Berkhan, also suggests calorie cycling. This means that on your training days you should consume slightly more calories than in your rest days. The purpose of cycling calories is to support your workout performance on training days.
Eat Stop Eat
I am not a big fan of this way of fasting but it seems there are many people which find it very practical and manageable. It was created by Brad Pilon and it works like this:
Fast for 24 hours straight every 4 or 5 days
….and that's it.
Seems quite simple, but I find it very difficult to apply. This method is for those who don't have a hard time going for 24 hours without eating anything. On top of that, when you break your fast, after 24 hours you should not binge eating. Your meals should be "normal size".
Again, from my point of view, if your goal is to have a well-built physique, you train and you want to build muscles, you are better off with the Leangains method.
The Warrior Diet
The 3rd and last method we are presenting here was created by Ori Hofmekler and involves eating just one big meal each day.
Fast for 20 hours and eat in a 4 hours window.
With this implementation of intermittent fasting, you are very unlikely to go over your calories. I mean, how much can you possibly eat in a single meal, right?
So, from this point of view, the diet does work. However, you will probably miss out on other benefits such as nutrient timing and not getting in enough protein or carbs to sustain your workouts and muscle growth process.
The Bottom Line of Intermittent Fasting
First and foremost, I think that intermittent fasting is a great tool to use whether you want to lose fat or just maintain your body weight. But remember – nothing works unless you do. You have to put in the effort, you have to be disciplined and stay true to your goals.
Don't let anybody fool you. Weight loss takes time and work. There is no workaround method, so don't fall for the "lose weight fast" scams.
As long as you feed your body less energy than it consumes you will be losing weight. Don't let anybody tell you different.
Intermittent fasting has science behind it. It supports caloric deficit through better meal scheduling and better control of calorie intake. Make sure you follow the tips presented in this article and make dieting a part of your lifestyle. The results will follow along.